Eastern Michigan vs. Michigan State: Live Scores, Analysis and Results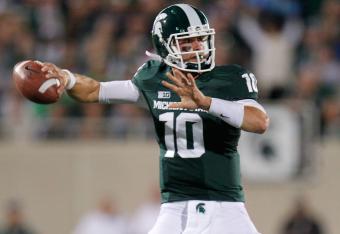 Gregory Shamus/Getty Images
Spartans 23, Eagles 7 -- FINAL
Hey everyone. I'm Nick Mordowanec, today's live blogger for the Michigan State-Eastern Michigan game. Follow me on Twitter -- @NickMordo
The Spartans are trying to recover from a bad home loss on Saturday night of last week, and this is a good recovery matchup against an in-state school.
And that will do it in East Lansing. After being down 7-3, the Spartans score 20 straight points to go 3-1 on the season. Big showdown against Ohio State next week, also at Spartan Stadium.
Thanks to everyone that followed the blog. Follow me on Twitter: @NickMordo ....I'm entertaining, I promise.
Scratch that Bell comment. He has another huge run and ends up with 253 rush yards. He is a beast.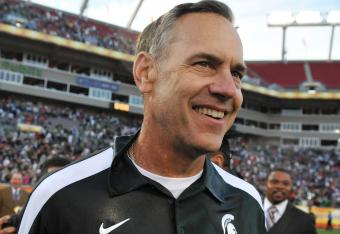 You have to wonder what Mike Hart is thinking right now. I would love to see a Dantonio-Hart showdown after the game, maybe like the Schwartz-Harbaugh scuffle from 2011.
I can dream.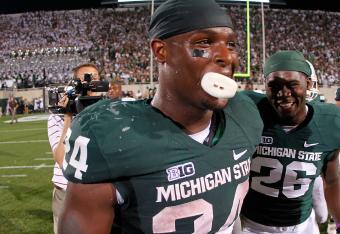 This was a monster game for Le'Veon Bell. He had a career-high 213 yards rushing and he also became the 16th player to rush for 2,000 yards in MSU history.
Bell seals the deal for MSU. 23-7 Spartans.
It's safe to say that MSU will win this game.
It's safe to say that MSU's defense has come out with a purpose in the 2nd half. Maybe Narduzzi offered a bounty in the locker room. I kid, I kid. That only happens in New Orleans.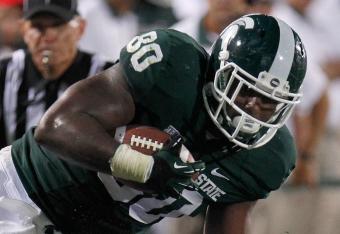 Hey! Someone in green and white found the end zone!
Maxwell TD to Sims gives MSU a nine-point lead, 16-7.
Bell is hurt. Scrap the season! (sarcasm...maybe)
MSU's defense is actually playing pretty well, besides getting beat deep on EMU's last drive (the dropped TD). Bell is also doing his thing.
Win or lose, I don't think the Spartans will enjoy looking at the rankings on Sunday. If Michigan went down a notch after beating UMass, MSU may as well drop out of the Top 25.
I'm just not sure whether the past two games (today included) is just an aberration or a sign of things to come. MSU still has to get through today.
Conroy gives MSU its first lead of the game, 9-7, over the Eagles. We have ourselves a game, people! Not an overly exciting game that anyone should ever watch again, but it's still a game.
The fact that MSU has had good field position all day and has basically nothing to show for it against Eastern Michigan is...mind boggling.
I think everyone who watches this game deserves a free gift, like a make-your-own six pack or free pizza for a year.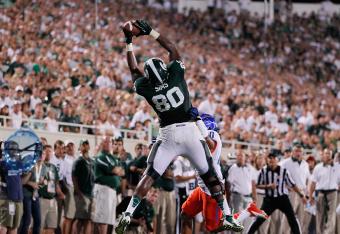 Dion Sims comes alive and makes two consecutive completions. He is MSU's leading receiver.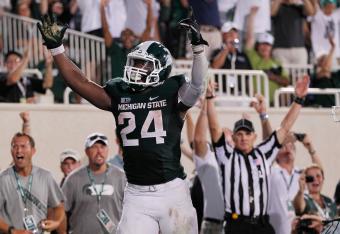 You have to wonder: Can Bell continue to carry the load or is Maxwell going to put something -- anything -- together?
MSU needs to escape this game. Still plenty of time remaining, but the offense for the Spartans looks horrendous beyond Bell.
The Eagles defense is just stacking the box and focusing all their energy on Le'Veon Bell. They are daring Maxwell to throw.
And it worked --- again.
MSU recovers fumble. The defense is playing hard now. I imagine Pat Narduzzi (defensive coordinator) went ape in the locker room.
The spread for this game was MSU -32.5 (Sportsbook). People must be raking it in Vegas if they took EMU.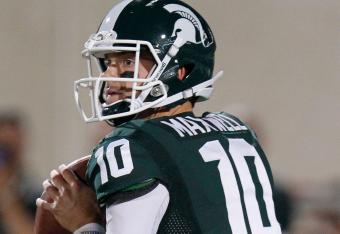 Andrew Maxwell throws a six-yard pass on 3rd and 10...
Conroy makes the field goal. It's 7-6 Eastern Michigan in the 3rd quarter. Or, as MSU fans would say, "Scrap the program!"
Looks like MSU is giving Bell the rock after they failed to do so in the second half against Notre Dame.
@ESPN_BigTen Michigan State is averaging 6.7 yards per run, 1.6 yards per pass. Hmmm...what should Spartans do in second half?
I'm no genius but maybe they should...run?
EMU starts 2nd half with ball.
Here's the scoring summary as well:
2nd Quarter
MSU, Dan Conroy -- 35-yd FG
EMU, Donald Scott -- 23-yd TD reception (from Tyler Benz)
Second half coming up soon...
Halftime stats (courtesy of ESPN):
| | EMU | MSU |
| --- | --- | --- |
| 1st Downs | 4 | 9 |
| 3rd down efficiency | 1-8 | 1-8 |
| 4th down efficiency | 0-1 | 0-0 |
| Total Yards | 88 | 151 |
| Passing | 61 | 31 |
| Comp-Att | 7-13 | 9-19 |
| Yards per pass | 4.7 | 1.6 |
| Rushing | 27 | 120 |
| Rushing Attempts | 16 | 18 |
| Yards per rush | 1.7 | 6.7 |
| Penalties | 3-30 | 2-20 |
| Turnovers | 0 | 1 |
| Fumbles lost | 0 | 1 |
| Interceptions thrown | 0 | 0 |
| Possession | 13:42 | 16:18 |
It's hard to believe MSU trounced CMU and CMU beat Iowa. Is Iowa that bad or is MSU not that good?
This article is
What is the duplicate article?
Why is this article offensive?
Where is this article plagiarized from?
Why is this article poorly edited?

Michigan State Football: Like this team?