Kentucky vs. Florida: Live Scores, Analysis and Results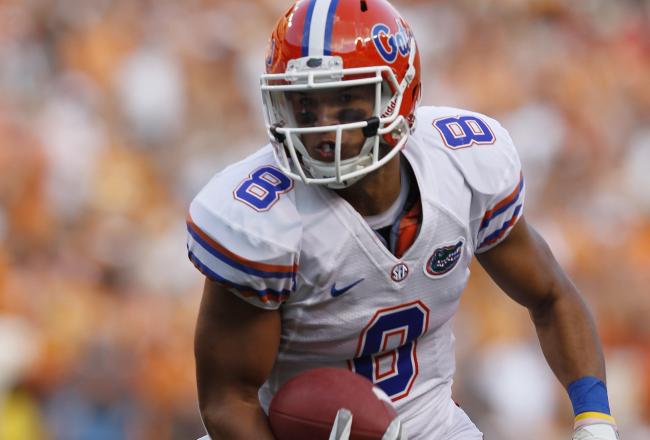 John Sommers II/Getty Images
FINAL: Florida 38 Kentucky 0
The Florida Gators earned their first shutout of an SEC opponent since defeating Mississippi State 52-0 in 2001.
Florida went into the locker room at halftime up 24-0 but didn't look as good as the scoreboard would lead you to believe. The offense stalled on their first two possessions but picked it up from there. Jeff Driskel finished his day early in the fourth quarter going 18-of-27 for 203 yards, one touchdown and one interception. Driskel was able to add another score on the ground.
Mike Gillislee rushed just 13 times for 56 yards but was able to get into the endzone. Mack Brown and Matt Jones combined for 14 carries and 76 yards. Both of the backup tailbacks ran the ball hard and looked the best they had all season.
Florida out-gained Kentucky 403-to-219 on the day and held Kentucky to just 60 yards passing. Kentucky came into the game with the SEC's top ranked passing offense, averaging 322 yards a game. The Wildcats were able to rush for 159 yards on five yards per carry. That's something the Gators will need to clean up before LSU and the SEC's top ranked rushing attack come to town.
Thank you to everyone who showed up and followed the game with us here at Bleacher Report.
Stay tuned for "10 Things We Learned From the Gators Win over Kentucky" that should be coming to you at some point tonight.
That's all for us here at the live blog, feel free to post any thoughts, comments or questions down below and I'll try to get to as many of them as possible.
The fat lady is singing and the game is over.
Florida extends their winning streak over Kentucky to 26 games.
The Gators came out flat and didn't really "wow" you with their performance on offense or defense.
Florida goes into a bye week now and can certainly use the extra week to get some of their walking wounded ready for LSU.
It's tough to watch Brissett come in and not attempt a single pass.
What do you guys think? If it were you, would you rather play and not throw a single pass or stay on the sideline and watch someone else hand the ball off for a quarter?
After another Kentucky punt the Gators will start inside their own 20-yard line.
With 4:26 left on the clock, Florida should be able to run most of, if not all of the clock down and finish with the shutout.
Kentucky 0 Florida 38
Florida kept the ball on the ground the entire drive with Matt Jones running seven times. Brissett scored from one yard out for another Gator touchdown.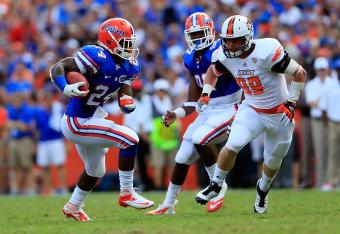 Freshman, Matt Jones, is running the ball like this game is tied 0-0.
I know you're up 31 points late in the game, but let Brissett throw the ball.
This is his first game action since the opener against Bowling Green and he should be able to do more than just exist between the snap and handoff.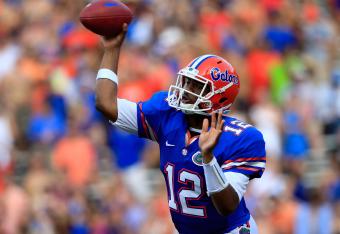 Whitlow delivered two nice passes that were both dropped by his receivers. Kentucky looks dead out there. They're just going through the motions.
Jacoby Brissett is getting loose on the Florida sideline.
He deserves to get some playing time.
Kentucky makes a switch at quarterback.
Freshman, Jalen Whitlow, gets his first collegiate action and has to start on his own six-yard line.
Three-and-out for the Gators forces their first punt of the game since the first quarter.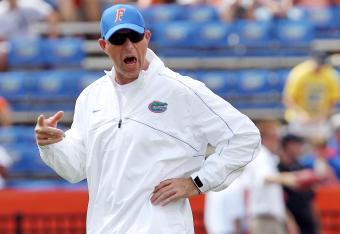 Going into the fourth quarter it doesn't seem like Brent Pease's offense will be able to reach the 50 point mark that Pease spoke about this offseason.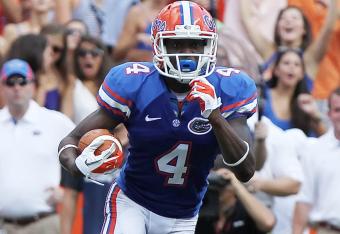 Despite muffing his last punt return Andre Debose was out on the field for another Kentucky punt.
It appears that Debose must have been suspended for the first half.
Will Muschamp wasn't asked before the game or before halftime and nothing was announced prior to kickoff.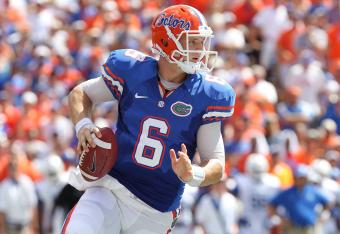 Florida's last drive ate up just over nine minutes of the game clock and was their longest drive of the season.
Jeff Driskel continues to get better every week but he will face a defense in two weeks that is head and shoulders better than any defense he has ever played against.
Kentucky 0 Florida 31
After a review of a Florida touchdown the officials overturn the call and give the Gators possession on the 1/2 yard line.
Jeff Driskel picks up his first rushing touchdown on a QB keeper.
Jeff Driskel has been high on a bunch of throws today, but that pass to Jordan Reed is what makes Gator fans think this kid could be special.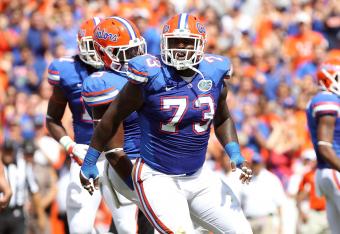 Sharrif Floyd was not on the field for the Gators first defensive possession. He left the field early in the first half after he was shaken up on a play.
After a penalty forced Kentucky into a third-and-long, Jon Bostic makes a nice open field tackle to force a punt on Kentucky's first drive.
Andre Debose gets into the game to field the punt and he muffs the first attempt.
He's not going to get out of Muschamp's dog house doing that.
Maxwell Smith is on the sideline without pads and with ice on his shoulder.
Looks like it's Newton's ball game the rest of the way.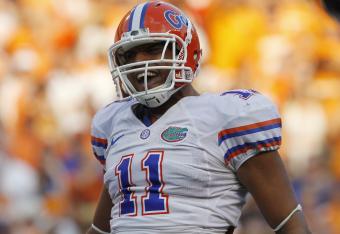 Jordan Reed was able to hold on even as he was hit high by two Kentucky defenders.
You can take a look at the hit here.
While the scoreboard reads 24-0, the offense was far from crisp, the defense was run all over and if not for how bad Morgan Newton played the game could be a lot closer.
Kentucky ran for 111 yards in the first half and that is without their best running back CoShik Williams. The Wildcats were only averaging 106.3 yards on the ground a game coming into the game.
I can't understand why Maxwell Smith isn't in the game yet. He must be really hurting if Kentucky sticks with Newton in the second half.
Will Muschamp reported that Trey Burton suffered from back spasms on Friday afternoon and that is the reason he isn't on the field today.
HALFTIME Kentucky 0 Florida 24
Jeff Driskel gets sacked on the Gators first and only play after the interception and the clock expires.
Morgan Newton throws his first interception of the game, this one to Michael Taylor.
With :16 left on the clock Florida should be able to get points before halftime.
Kentucky 0 Florida 24
After sailing a couple of throws over his receivers, Driskel finds Quinton Dunbar in the endzone.
A nice two minute drive for the Gators to end the half.
Driskel connects to Jordan Reed on a deep pass and will get another 15 yards after a helmet to helmet hit on Reed.
This article is
What is the duplicate article?
Why is this article offensive?
Where is this article plagiarized from?
Why is this article poorly edited?