Barcelona vs. Granada: Complete Player Ratings for Tito Vilanova's Barca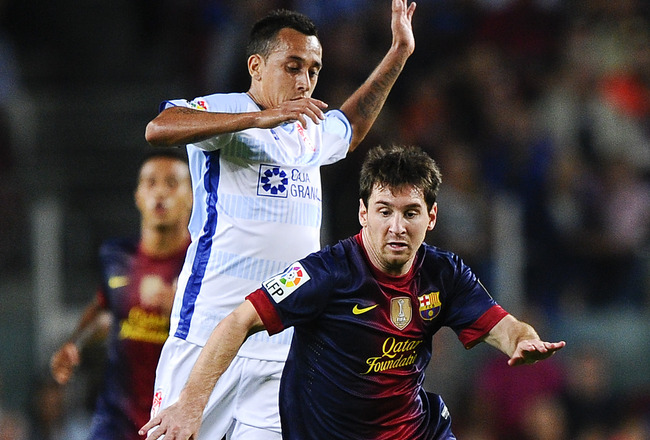 David Ramos/Getty Images
Barcelona kept up their 100-percent winning record in this season's La Liga with a 2-0 win over Granada, but the entire Barça side were made to work extremely hard for their three points.
It took a very special strike from Xavi Hernandez to beat Granada's 'keeper Toño who had put in an awesome performance until then along with central defender Iñigo Lopez to keep the Blaugrana at bay.
The home team dominated in terms of possession but looked oddly lacking in invention at times, constantly trying to break through the channels while Granada locked them out with numbers.
Following Xavi's goal late on, Barcelona wrapped up the win with a late own goal from Borja.
Here are the player ratings for Barcelona on the day.
Goalkeeper: Victor Valdes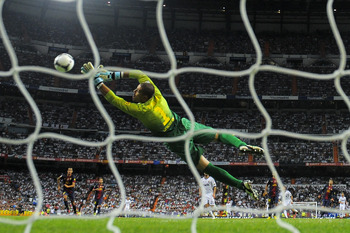 David Ramos/Getty Images
Valdes had an extremely quiet game, with Granada rarely managing to get players forward to test the Spanish stopper.
He did, however, make two good saves when it mattered at 0-0—in the first half, he stood up well to tip an effort from Siqueira over the crossbar, and then late on in the game, he was solid against El-Arabi who missed a great chance to give Granada an unlikely lead.
Not a bad game for the goalkeeper.
Victor Valdes: 7/10
Full-Backs: Dani Alves and Adriano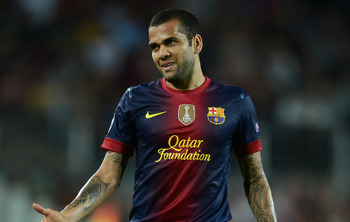 Jasper Juinen/Getty Images
On the right side of defence, Dani Alves was his usual adventurous and athletic self, rarely getting called upon to perform actual defensive duties but always an option to open the pitch up and drive into space down the flank.
He combined several times with Alexis in the first half and put over a couple of interesting low crosses, but ultimately, he didn't manage to create any clear chances on goal.
Opposite to him, Adriano was less noticeable, but perhaps, more effective in attack, playing in a succession of low balls in the second half which very nearly led to the opening goal.
Only some excellent defending by the Granada side prevented Adriano from claiming at least one assist.
With both full-backs pushed up so often, they were, at times, leaving their central defenders exposed, but that is to be expected and accepted with the duo providing a valuable service in attack.
Dani Alves: 7/10
Adriano: 8/10
Centre-Backs: Alex Song and Javier Mascherano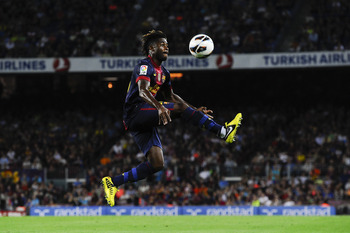 David Ramos/Getty Images
A new partnership in defence for Barcelona, possibly with El Clasico in mind, with Carles Puyol and Gerard Pique unavailable.
Javier Mascherano and Alex Song—both defensive midfielders at their previous clubs in England—took a little while to start playing comfortably alongside each other. The duo got in each other's way a couple of times and were not looking assured as to who was supposed to be doing which job—sticking with forward Floro Flores or dropping off for the loose ball.
It was a relatively quiet game for the two of them defensively, though, as Barcelona dominated play for most of the game.
A few late counter-attacks from Granada were well dealt with by the pair.
Javier Mascherano: 6/10
Alex Song: 6/10
Central Midfielders: Sergio Busquets, Thiago and Cesc Fabregas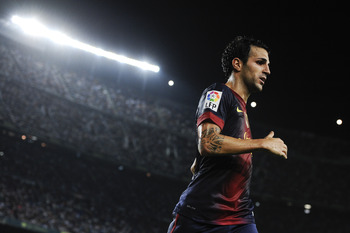 David Ramos/Getty Images
Possession-wise, Barcelona were their usual dominant selves, and the three central midfielders were instrumental in that.
In terms of penetration, though, and helping to really create goal-scoring chances, none of the three were overly involved.
Sergio sat deeper, of course, and aided possession recycling quickly, but after a few early bursts into the box—including one dragged shot well wide—Thiago faded quickly as an attacking option, and it was no surprise when he was substituted.
Cesc was always available around the edge of the box during those prolonged periods of on-the-ball activity for Barça, but again, never really managed to construct a chance of quality for his teammates or look like a threat himself, save for one early effort which was drilled straight at the goalkeeper.
Sergio Busquets: 7/10
Cesc Fabregas: 7/10
Thiago: 6/10
Wide Forwards: David Villa and Alexis Sanchez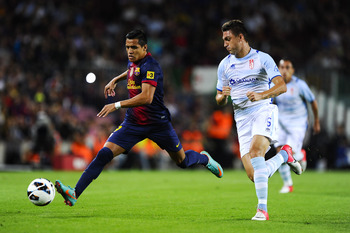 David Ramos/Getty Images
Getting a chance to shine from the start, David Villa will be a little frustrated at his own performance, and perhaps, the lack of real sharpness about his team's play in general which left him, at times, just a little ahead of the play.
He was called offside several times when making his runs in off the left flank, though at least one of those calls was incorrect and cost Villa the chance of taking a shot at goal.
Another occasion saw his first touch let him down when clear of the defence in the area. Villa was also substituted in the second half.
Alexis had an interesting game; he was largely involved in much of Barcelona's attacking play but seemed to lack a real end product against Granada, especially in his shooting.
During the second half, Alexis switched to the left side, and though he managed to put a couple of crosses into the 6-yard box, he, perhaps, should have scored at least once given the chances which fell his way.
David Villa: 5/10
Alexis Sanchez: 6/10
Centre Forward: Leo Messi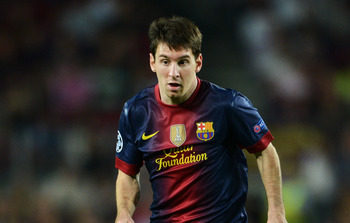 Jasper Juinen/Getty Images
No goal for once but Messi was, of course, the most creative and threatening player on the Barcelona team of those who started.
His solo run culminated in the killer second own goal in injury time, but his shooting was, for once, wayward, and Toño pulled off a couple of good saves on the occasions that Messi did hit the target.
Strangely, though, he seemed to be overly aggressive and annoyed with his teammates, berating Thiago for shooting wide in the first half and then later arguing with David Villa.
Iñigo Lopez also felt the force of Messi's ire as Barça became frustrated with their inability to take the lead.
Not his finest game, but he still helped have a telling impact.
Leo Messi: 7/10
Substitutes: Xavi, Pedro and Cristian Tello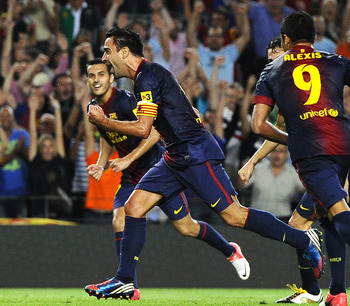 David Ramos/Getty Images
The double change of Xavi and Pedro swung the game in Barcelona's favour as the two players immediately helped up the tempo of their team and provided a real threat in the final third—and Xavi's goal was one of the finest you might see this season.
A terrific strike on the half-volley which crashed in off the crossbar, it took something really special to beat the Granada goalkeeper on the day, and Xavi looked in determined mood from the moment he entered the pitch.
He also should have scored earlier, only to be denied by another great save from a low shot in the centre of the goal.
Pedro also had a good impact, running at Siqueira in the left-back position for Granada and sending over several low balls for his teammates to attack.
The wide forward had a good chance to score himself too, but like many of his teammates, was unable to find his usual clinical touch.
Cristian Tello came on late in the game and didn't have too much time to have an impact but still made two good goalscoring chances for Barcecelona from the left.
Xavi: 8/10; Barcelona's player of the game
Pedro: 7/10
Tello: n/a
Keep Reading

FC Barcelona: Like this team?