UAB vs. Ohio State: Live Scores, Analysis and Results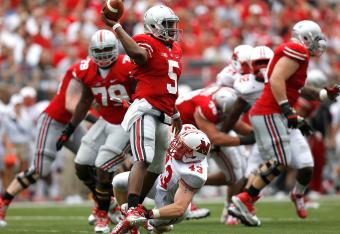 Kirk Irwin/Getty Images
Final: Ohio State 29, UAB 15
The No. 16 Ohio State Buckeyes (4-0) looked sluggish in a 29-15 victory over UAB (0-3).
Braxton Miller threw for just 143 yards with no touchdown passes, but he rushed for 64 yards and two scores in the 14-point victory.
The Buckeyes were outgained 403 yards to 347 yards in their worst performance of the year. Braxton Miller's Heisman campaign certainly took a hit today despite the victory.
Live game analysis is posted below:
Alright folks, that's a wrap. Let the gold-coated vocal chords of notable Florida State alumni Scott Stapp catapult you through the rest of your amazing day.
Someone show Urban Meyer the Iowa - Central Michigan score and tell him it could be worse.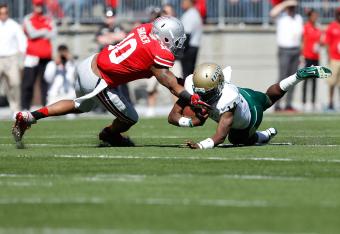 Buckeyes hold on their last defensive possession, winning the game 29-15.
WOW! Devin Smith should have caught that touchdown pass. Then Ohio State fans could have been like, what do you mean we struggled, we beat them by three touchdowns!
Another late-half turnover will doom the Blazers. Doran Grant snags his first interception, all but guaranteeing an Ohio State victory.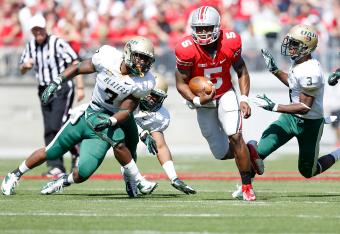 Braxton Miller just put the entire Ohio State team on his back, scoring on a one-yard carry and then converting a two-point conversion. Buckeyes lead 29-15.
Does an Ohio State field goal here eliminate UAB's chances of winning this game?
If the Buckeyes are going to get anything going on this drive, they need to get Braxton involved in the running game. Just seven carries so far today.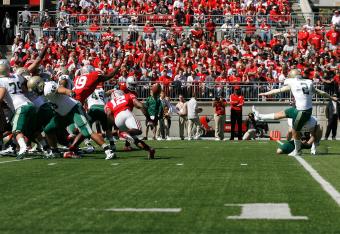 Death by a thousand field goals? Nope, Ty Long misses his first field goal of the day, and the Buckeyes dodge a bullet. They still lead 21-15.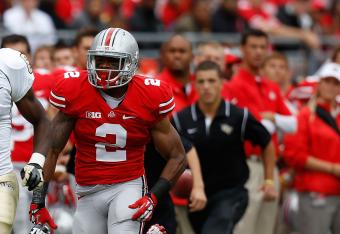 Christian Bryant draws a bone-headed taunting call. He just wanted to give Joel Hale some company running those stadium steps.
UAB has a serious chance to win this game. Aside from a late flurry in the second quarter from the Buckeyes, the Blazers have looked like the better team today.
Everyone who thought this would be a one-possession game in the fourth quarter, raise your hand. That way we'll know where all the dirty liars are.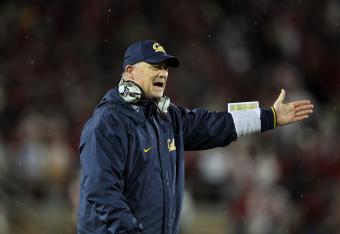 I bet Cal is watching this game and thinking, if we had UAB's kicker, we would have beaten Ohio State.
Another successful Ty Long field goal for UAB cuts the lead to six. Ohio State is up just 21-15.
You know what was awesome about that third quarter?
Nothing. We'll never get the time we spent watching that quarter back. I could've like... ordered and eaten a pizza or something. Life's missed opportunities.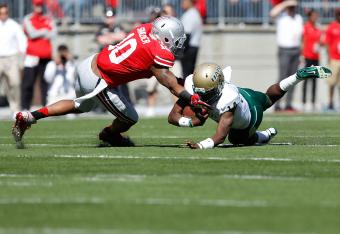 Third Quarter Stats:
Ohio State total yards - 43 yards
UAB total yards - 93 yards
Whole lot of meh.
Joel Hale lines up offsides, negating a Travis Howard interception.
Urban Meyer is going to introduce Hale to an amazing stadium-steps drill later this week. And I bet Howard throws a red sock into the washer when Hale is washing his white undershirts too. Or something equally life-ruining.
There's a serious lull in the action in Columbus. You know who never failed to entertain his crowds? Notable Florida State alumni Scott Stapp.
Here's some real action for anyone who might be bored.
Nathan Williams leaves the game, favoring his already-injured knee.
It's a bad day for knees, apparently.
Braxton Miller's touchdown run from the first half, highlighted by a video-game spin move, in gif form.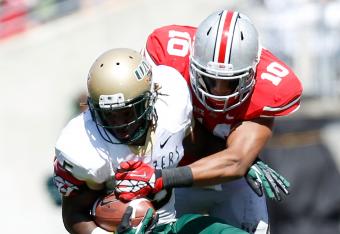 Ohio State and UAB start the third quarter trading three-and-out blows, football's equivalent to a pillow fight. And we're not talking about the big, stiff couch pillows. We're talking about the nice, fluffy pillows with 600 thread count pillow cases.
I think UAB intentionally went three-and-out after their successful onside kick. UAB's coach just wanted to troll Urban Meyer with his superior special teams.
UAB starts the third quarter with a successful onside kick.
Uhm. Wow.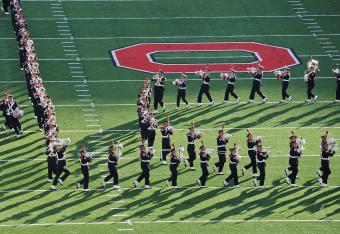 Love when Ohio State does four Script Ohio's instead of one. I have a hard time eating and watching television at the same time, so I can appreciate that kind of coordination.
After gaining just 42 yards in the first half, the Buckeyes got things going and scored touchdowns on their last three drives of the half.
This article is
What is the duplicate article?
Why is this article offensive?
Where is this article plagiarized from?
Why is this article poorly edited?

Ohio State Football: Like this team?