WWE: Why Kane Is a Legend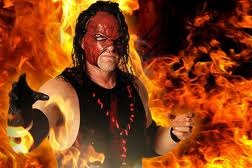 Kane is on fire. Image by WWE
He is the Big Red Monster, the Devil's favorite demon, the Brother of Destruction...Isaac Yankem D.D.S?
With so many names, it is to wonder if he isn't the Devil himself.
Kane has been with this company since the mid-90s and has earned his place in the hearts of the WWE Universe.
Love him or hate him, the man has proven many times why he is a phenomenal character and has made an impact on the scene over the years.
There is just no one like him. He is legendary, unique and some day he will also be a Hall of Famer.
That time has not yet come, but the following should clearly illustrate why Kane is a legend in this sport.
Flip the page and believe.
Begin Slideshow

»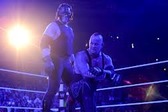 The 1000th Raw...what a moment! Photo courtesy of Tumblr.com
With a father like Paul Bearer and a brother like The Undertaker, it doesn't take a genius to figure out that Kane himself possesses enormous power.
That may be part of his character, but if you apply the rules of real life, Glenn Jacobs (Kane) has been chosen by Mark Calloway (Undertaker) to play out their story all these years.
He could have said no in the beginning and Vince McMahon could have looked to another, but it was meant to be.
Has anyone taken "The Phenom" to his limits at every turn? Sure. Shawn Michaels, Triple H and Bret Hart, of course, but Kane as well.
The Big Red Monster won the battle last time and buried his brother alive.
There is great chemistry between him, Undertaker and Paul Bearer. They are just excellent together and Kane completes his "brother" so well.
You just can't be a pro-wrestling fan and not know about Kane—it is impossible.
Lights go out and then...POW!!!
The fire burns!!! The eerie music plays!
He comes, he comes!
All these years, whether beloved or hated, Kane has made everyone cheer when his pyro and music begins. It is just awesome. Seeing it live makes all the difference, too; every fan should experience that at least once in their life.
The Undertaker has the best one yet, but Kane's is a not-so-distant second. Again, a great sign of compatibility between the two "brothers."
It is things like this that make Monday Night Raw a cut above the rest. The spectacle, the theater. What would the "world" be like should Kane ever leave?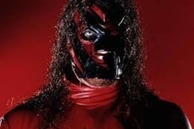 Kane is a demon! Image by Bleacher Report
Kane is one of the last of his kind. A dying breed.
A pure product of the "Attitude" era and an incredible character all on his own.
That time when all was permitted, anything was possible and nothing was barred. Kane appeared and cleansed the WWE by fire, one Superstar at a time, until he met (and matched) his "brother" The Undertaker in the ring.
His signature mask is a fearful thing to look upon and with its new, transformed look, it is better than ever. Why not don a long, black cloak to really get that "deadly" feeling?
He hardly said a word back in the day, but everyone understood—get out of the way.
What a clever character concept this one is. How will the WWE continue the trend?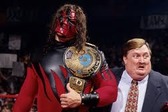 Ohh yesss!! My son Kane!!!! Photo by WWE
Besides all the extravagance of his character, Kane is an extraordinary performer.
He has all the tools necessary: look, attitude, in-ring skills, mic skills, etc. Despite his big size, Kane is quite agile and can work the ropes very well, like a cat. The big boot and his flying clothesline are testaments to his amazing abilities.
The man is also one of the few standing Grand Slam Champions in WWE. Having won all the necessary championships to make the cut, Kane is Hall of Fame bound for sure. That makes him legendary!
He doesn't have a t-shirt out there, but who needs one? Fear is what he sells and everyone loves this guy. Everyone!
On paper, what are his stats?
- WWE Champion
- World Heavyweight Champion
- Intercontinental Champion
- Tag Team Champion
- Hardcore Champion
- Money In The Bank winner
Etc, etc, etc...
Yeah, that's what I said...legend!
I am the Tag Team Champions!!! Image by Sports News Now.co.uk
Whether he may be on his "last run" or not is unknown.
Like Undertaker, The Rock, Chris Jericho and Triple H, only he will say when and where, and that should be merriment to all fans of pro wrestling out there.
There is still plenty to do with his character and having a run as Tag Team Champion alongside Daniel Bryan is just the beginning. His line about "going to Disneyland" simply made Night of Champions even more "buyable."
He will never cease to surprise and amaze people. That is a legendary trait. No one can deny his contributions all these years and when he does hang 'em up, you can be certain that, like his brother, The Undertaker, Kane will go out in style.
In fact, he will go out in a blaze of glory. Hopefully rending the "world" asunder.
Who will be left standing in this brave, new world?