Virginia vs. TCU: Live Score, Highlights and Analysis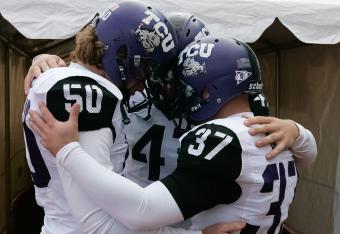 Otto Kitsinger III/Getty Images
FINAL TCU 27 Virginia 7
The Virginia Cavaliers head into Fort Worth, Texas trying to turn their season around after an abysmal performance in their road opener against Georgia Tech.
Texas Christian, conversely, is trying to continue its roll and justify an early Top 25 ranking with a strong victory over a BCS conference opponent.
Virginia knew that its defense would be a question mark entering 2012—the team's entire first-string secondary is occupied by sophomores. Against the unconventional option attack of Georgia Tech, they looked greener than the grass on the field.
The Cavalier defense has heard all week from defensive coordinator Jim Reid about the 594 yards of offense they allowed last Saturday, 461 of them on the ground.
Perhaps even more concerning was that Virginia's rushing attack could only muster 98 yards on 28 carries. After accruing just 32 yards on the ground the previous week against Penn State, the offensive trademark of 2011 is strangely absent in 2012.
The Cavaliers will have a tall task in trying to stop a TCU team ready to make a statement in their inaugural season in the Big 12.
Horned Frog quarterback Casey Pachall, who threw for 335 yards and two touchdowns last week in a 20-6 win over Kansas, will be testing this inexperienced defense all game long.
Of course, he knows that his team has to avoid silly turnovers like the four fumbles that kept the Jayhawks in contention last week.
The question remains, was the Georgia Tech game an anomaly of a quirky offensive scheme for Virginia or a trend for a disappointing season?
Fortunately, we are about to find out.
Final Stats Worth Noting:
1. First Downs Virginia 16, TCU 18
2. Total Yards Virginia 353 TCU 438
3. Virginia 164 rushing yards
4. Virginia had four turnovers and TCU has two
Most importantly...
5. Virginia 3-of-16 on third downs, TCU 6-of-14.
Phillip Sims, the supposed savior for Virginia was 5-of-12 for 63 yards and a touchdown. He replaced Michael Rocco who finished 13-of-28 for 126 yards and two picks.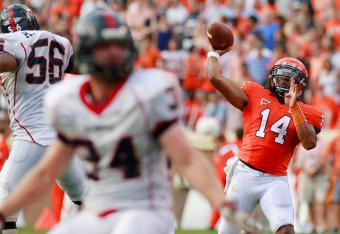 4th Quarter 4:22 TCU 20 Virginia 7
It took nearly 56 minutes but Virginia is on the board and in the end zone with a passing touchdown from Sims to E.J. Scott.
That drive was far from a thing of beauty, it was a 14-play microcosm of the season with solid execution and plays of complete ineptitude.
Sims clearly needs more seasoning back there, but you can see potential. Most importantly, you see a competitive kid that is not afraid to get hit or timid with his throws.
The accuracy that made me drool week one is not where it was against a top 25 defense that still had most of their starters, but it could have been worse.
At least Virginia avoids the shutout.
4th Quarter 6:54 TCU 20 Virginia 0
Phillip Sims finally makes a completed pass for a 40-yard gain showing off his arm.
His poor decision at misreading the route shows his inexperience with the playbook.
Sims saves a potentially depressing drive with a fourth down scramble to give Virginia a new set of downs in TCU territory.
With over 20 plays in the Horned Frog side of the field, the Cavaliers have zero points.
They do, however, have plenty of turnovers to last them the rest of the season.
4th Quarter 9:42 TCU 20 Virginia 0
Phillip Sims finally makes an appearance and is under-whelming to say the least. His passes were closer to his opponent than to his receivers.
As much as Virginia has squandered opportunities to make this a game, TCU has found ways to avoid making this a complete rout.
Both teams will find things to work on in the weeks to come.
The question is whether Virginia can mentally be able to handle the opportunity in front of them with games against Louisiana Tech, Maryland and Duke on the horizon.
3rd Quarter 1:24 TCU 20 Virginia 0
On third down, Virginia has lived and died by the pitch play.
Kevin Parks kept the hopes of Cavalier competitiveness alive with a 49-yard run on third-and-short, dancing around the sideline for the biggest play of the game.
Michael Rocco has stayed in the game, but his role was rather limited on this drive until wide receiver Darius Jennings was knocked out by a defender on the goal line that cost Virginia a touchdown on third down.
Instead it was the dynamic duo of Perry Jones and Parks, making defenders miss with their speed and agility.
With the game on the line, Virginia will go. How will they fare?
3rd Quarter 5:45 TCU 20 Virginia 0
Virginia cannot catch a break.
A terrific interception is called off by a pass interference call by Brandon Phelps in the secondary. Fortunately, a dumb spiking of the ball by player of the game Brandon Carter allowed TCU to back up those same fifteen yards and force another long field goal by the true freshman.
The Horned Frogs have the longest winning streak in the country and Virginia is not going to slow them down.
With this game pretty much in hand, now is the time to put in Sims and move the Cavalier program forward.
He is the future of the team and he needs experience.
What better time than now when TCU must still compete but the margin is at such a length that the current offense has no prayer of making a comeback?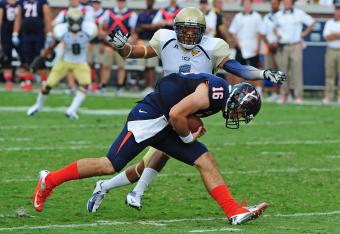 3rd Quarter 7:17 TCU 17, Virginia 0
Quarterback Michael Rocco is smart but his brains cannot help an inaccurate arm on this drive.
Virginia used a poor defensive effort by TCU to allow Rocco to roll out left with no defenders and run for 27 yards and put the Cavaliers in contention.
However, a poor throw on first down inside the TCU 40 combined with a third down interception and Rocco's days as the Virginia starter may be officially over.
Rocco simply does not trust his arm anymore and the gun of an arm that Phillip Sims has cannot be ignored much longer.
TCU looks to be on the verge of scoring when Virginia was going to make this game competitive once more.
I think I heard that one before.
3rd Quarter 10:39 TCU 17 Virginia 0
Virginia's defense bent but it did not break to start the second half.
After targeting Brandon Carter early, quarterback Casey Pachall finally faced some pressure up the middle in Virginia territory and had to set for a 46-yard field goal by true freshman Jaden Oberkrom.
Virginia may be down by three scores at the moment, but they can turn the tide with a good offensive drive to start the second half. That means finding lineman Oday Aboushi and running behind him consistently and powerfully.
Will Michael Rocco and offensive coordinator Bill Lazor crack the code on TCU's defense and finally find pay dirt?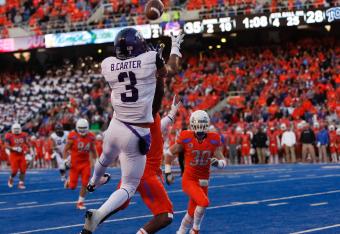 3rd Quarter 14:55 TCU 14 Virginia 0
An unforced error by TCU to start the second half. The Horned Frogs took the kickoff from halfway in the endzone and a block in the back gives them a long field to manage if TCU wants to score and salt this game away.
With Brandon Carter's play-making ability though, it might not matter.
Key Statistics of the First Half:
Virginia's Michael Rocco 10-of-17 for 103 yards with an interception.
TCU's Casey Pachall 10-of-16 170 yards with two touchdowns and an interception.
Third down conversions: Virginia 0-6, TCU 6-9.
Rushing Yards: Virginia 34, TCU 42
Turnovers: Virginia 2, TCU 1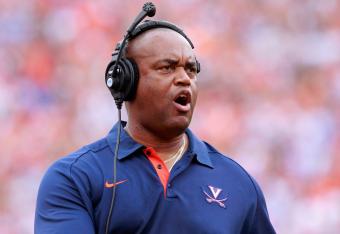 HALFTIME TCU 14 Virginia 0
Virginia's coach Mike London is a very likable person.
He once served his community proudly as a cop and was a terrific defensive coordinator at Virginia before winning a national championship with the Richmond Spiders and returning to try and turn around a Cavalier program stuck in mediocrity.
However, London still has something to prove to many skeptics out there who question his in-game management.
Virginia has put up numbers comparable to TCU in this first half. Both teams have had costly turnovers that potentially cost them points.
Yet the Horned Frogs are up 14-0 and have appeared to be in total control of this contest. Their coach Gary Patterson has the most wins in school history, cranking out ten win seasons and a 2011 Rose Bowl title.
His team looks prepared for these challenges.
The Cavaliers need their leader to inspire them, to trust them to make big plays and then for them to actually execute.
As much as quarterback Michael Rocco has had to deal with, his reads on third down are simply unacceptable.
He is not giving his time a chance for success on the biggest plays and his receivers have let him down when he has attempted the game-breaking play.
Virginia may still be in the game, but they feel like close to the proverbial cliff.
How can they expect compete when they are competing against their own demons, let alone the Horned Frogs?
2nd Quarter 2:00 TCU 14 Virginia 0
Statistic of the game: Virginia is 0-6 on third downs and only once has the attempted pass been past the line of scrimmage.
TCU calls a timeout because they aggressively want to make up for their turnover and put this game out of reach.
Hint Virginia play-callers, that is how a winning program plays the game.
2nd Quarter 3:02 TCU 14 Virginia 0
Sophomore Brandon Carter just punked the Virginia secondary, stiff-arming one Cavalier and juking the other for a big gain all the way to the one yard-line.
The defense, however, got the last laugh as true freshman Maurice Canady picked off the pass on third-and-goal to survive the potential dagger.
Still, how much confidence can this Orange Crush defense have in the inept offense that has shot itself in the foot so many times.
Virginia has to be beside itself to see yet another poor performance from a team expecting to build off last season's success.
Quarterback Michael Rocco should not be the scapegoat for this debacle, but you wonder what else coach Mike London can do to turn things around then to put in back-up quarterback Phillip Sims.
2nd Quarter 5:12 TCU 14 Virginia 0
After burning two timeouts and accumulating some impressive yardage, Virginia ends it with a costly turnover.
A third-and-14 pass to Khalek Shepard ricocheted into the air and landed in the hands of a Horned Frog defense man.
Virginia probably would have needed a mini-miracle to make the 50+ yard field goal, but the -7 turnover margin for the season it is extremely disconcerting.
Can the defense respond with a big stand?
2nd Quarter 7:24 TCU 14 Virginia 0
Look it's a bird, it's a plane, it's the return of Superman!
After hobbling off the field earlier, Perry Jones returned to the game late in the first quarter but finally got some attention after the Kevin Parks fumble.
Jones has responded on this drive with some of the explosiveness that characterized his 2011 season. Two big catches from out of the backfield and a strong run has Virginia rolling into TCU territory.
Looking at the numbers, the two offenses stack up pretty similar in terms of yards. The difference has been execution in the clutch. The Horned Frogs are converting on third down and Virginia has not.
If the Cavaliers can avoid penalties and mental errors, they can come away with points here.
More importantly, they can come away with momentum and a renewed faith in the running game.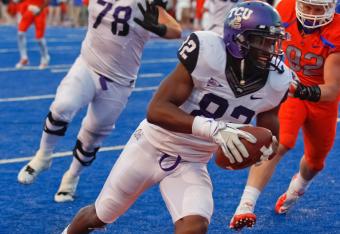 2nd Quarter 9:43 TCU 14 Virginia 0
We knew Horned Frog quarterback Casey Pachall could throw, this drive we saw him run on a big gainer that got TCU into the redzone and then converted on third-and-goal by connecting with Josh Boyce for his 18th career touchdown, a school record.
TCU has been patient and gone with what Virginia gave them. While the Cavaliers have preferred a slow and painful death since the opening drive, Virginia cannot hold off TCU forever.
Their conservative play-calling seems to be sucking the soul out of these drives. Virginia cannot expect to out-talent a top 25 team, they need to take risks and execute when they do.
More dropped passes, silly penalties and unforced turnovers are going to cost Virginia more than a victory if it continues this afternoon.
It could cost set the tone for the rest of the season.
2nd Quarter 13:30 TCU 7 Virginia 0
The Virginia defense has had to listen to how terrible their play was last week against Georgia Tech and played well on the road against an explosive offense.
TCU had one big play but has contained Casey Pachall and picked up a big turnover when the Horned Frogs threatened to blow things open.
Well, one turnover begets another.
After a genius call to run a draw on 3rd and 12, Kevin Parks fumbled the ball and TCU now is on the doorstep of blowing this game open.
For the game, Virginia is 0-for-4 on third down and averaging 9.7 yards to go per third down.
Time to step it up offense.
1st Quarter :20 TCU 7 Virginia 0
Football is all about toughness.
Not just the physical toughness of having to beat your man and make a play but mental.
Virginia gained mental toughness last season, shaking off years of futility to make a run in November and reach a bowl game for the first time since 2007.
This year, however, ever since the Penn State debacle, Virginia looks listless. The talented offense continues to make mistakes.
Whether it is a poor holding penalty by the offensive line, a dropped ball or an errant throw, Virginia just lacks mojo and it is making a tough task look impossible.
TCU is not going to just sit back and wait for the Cavaliers to be competitive. Virginia's unforced errors could lead to another Georgia Tech disaster sooner than we think.
In just two offensive possessions, the Virginia offensive line has been the focus of discontent.
On the very first play, coach Mike London clearly wanted to help out the running game by going in a two tight-end formation, only two miss a blitzing linebacker.
After a couple of first downs and a three yard gain by running back Kevin Parks, offensive lineman Luke Bowanko got completely beat on the second down play and thrust Virginia in a third down situation it could not convert.
The other big weakness, the secondary, has been tested four times already. Two complete passes, a pass interference and a touchdown have been the result.
Enough said.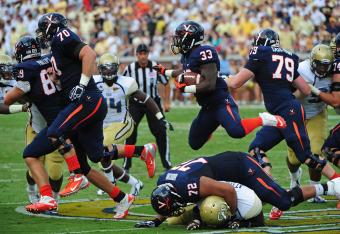 1st Quarter 7:05 TCU 7 Virginia 0
Suffice it to say, so far things have not gone the way Virginia and their defense wanted.
First, starting running back Perry Jones goes out of the game after the first play from scrimmage and then the Cavaliers waste two opportunities on third down to stop the Horned Frogs and gave up the big pass play to allow TCU the early 7-0 lead.
Clearly with all the offensive line woes, Virginia will have to throw its way into this game but dropped passes like what Darius Jennings had on third down and six will not get the job done.
Virginia needs a confidence booster, and it is tough to see just who will provide it.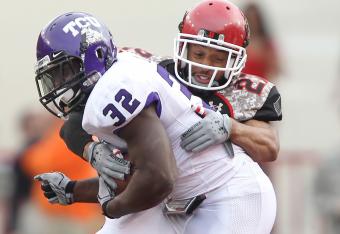 Injury Report:
TCU dropped a bombshell on Wednesday when they announced that leading rusher Waymon James was out for the season with an injury he sustained in the Horned Frog's victory over Kansas last weekend.
While this may seem like good news for the Cavaliers, his replacement Matthew Tucker is not much of a drop-off. His 700 yards last year as the secondary back goes to show the talent the young man possesses.
Virginia's injury situation is far more cryptic since their was no official report released to the media this week.
Running back Clifton Richardson had a setback in his debut against Georgia Tech and may have to take a medical redshirt if his hamstring injury persists. The Washington Post reports that an official decision will be made by the Duke game on October 6th.
Offensive lineman Cody Wallace and his injury continue to be a nagging thorn in the side of the Virginia running game. The lack of depth and continuity on the line this season is the biggest reason the Cavaliers are looking pedestrian on offense.
Wide receiver Tim Smith and defensive end Bill Schautz remain question marks but most likely doubtful, leaving Virginia without two important play-makers.
No wonder the Horned Frogs are favored by 18 1/2 points in Vegas.
This article is
What is the duplicate article?
Why is this article offensive?
Where is this article plagiarized from?
Why is this article poorly edited?