UFC 152 Results: Questions Heading into UFC on FUEL TV 5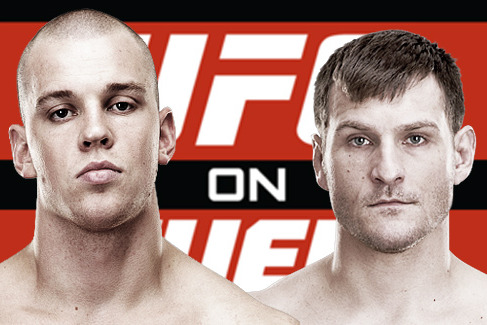 UFC 152 is in the books, and the UFC crowned Demetrious Johnson as the promotion's first-ever flyweight champion, while Jon Jones retained his light heavyweight crown with a fourth-round submission.
Here are the full official results:
-Jon Jones defeats Vitor Belfort via submission at 0:54 of Round 4
-Demetrious Johnson defeats Joseph Benavidez via split decision (48-47, 47-48, 49-46)
-Michael Bisping defeats Brian Stann via unanimous decision (29-28 x 3)
-Matt Hamill defeats Roger Hollett via unanimous decision (29-28, 30-27, 30-27)
-Cub Swanson defeats Charles Oliveira via knockout at 2:40 of Round 1
-Vinny Magalhaes defeats Igor Pokrajac via submission at 1:14 of Round 2
-T.J. Grant defeats Evan Dunham via unanimous decision (29-28, 30-27, 29-28)
-Sean Pierson defeats Lance Benoist via unanimous decision (29-28 x 3)
-Marcus Brimage defeats Jim Hettes via unanimous decision (29-28 x 3)
-Seth Baczynski defeats Simeon Thoresen via knockout at 4:10 of Round 1
-Mitch Gagnon defeats Walel Watson via submission at 1:09 of Round 1
-Kyle Noke defeats Charlie Brenneman via TKO at 0:45 of Round 1
Now that UFC 152 is behind us, we can start to look forward to a fairly busy stretch for the UFC. The promotion will present three fight cards over the next three weeks, starting with UFC on FUEL TV: Struve vs. Miocic.
What follows are questions we have heading into that event.
Begin Slideshow

»
The last afternoon event the UFC broadcast was UFC on FUEL TV 2, a fight card that was headlined by a light heavyweight scrap between Alexander Gustafsson and Thiago Silva. The event, which took place at Stockholm's Ericsson Globe Arena, kicked off on FUEL at 3 p.m. ET on Saturday, April 14.
According to MMA Junkie, the event peaked at 298,000 viewers during the main event and averaged 197,000 viewers.

Also taking place across the Atlantic in Nottingham, England, UFC on FUEL TV 5 will return to the Saturday afternoon time slot. The Facebook preliminary card will kick off 1 p.m. ET, with the main card beginning at 4 p.m. ET. The card will originate from the Capital FM Arena and will feature a heavyweight contest as a main event as Stefan Struve and Stipe Miocic face off.

So, what type of ratings can the UFC expect from this card? It's hard to tell. The main card will appeal to the hardcore fan, but as far as the casual fan, it's hard to tell if this card will have the strength to draw the casual fan in on a Saturday afternoon.

Another thing to look at is that Sept. 29 will be full of MMA action. In addition to the UFC on FUEL card, Strikeforce will present a card that evening headlined by Gilbert Melendez defending his lightweight crown against Pat Healy.

It will be interesting to see if this helps or hurts the ratings for the afternoon event.

As for the other FUEL TV cards, (all ratings numbers via MMAJunkie.com) an average 217,000 viewers tuned into UFC on FUEL TV 1, a Wednesday evening card headlined by Jake Shields vs. Jake Ellenberger.
UFC on FUEL TV 3, a Tuesday evening fight card, with a main event of Dustin Poirier vs. Chan Sung Jung brought in an average of 173,000 viewers.
UFC on FUEL TV 4, was another midweek card, coming on a Wednesday night and averaging 211,000 viewers based around a main-event scrap between Mark Munoz and Chris Weidman.
Englishman Tom "Kong" Watson will have the fortune of making his UFC debut in Nottingham next week. The 30-year-old Watson is 15-4 in his career and has gone 11-1 in his last 12 fights, including three consecutive defenses of his BAMMA middleweight crown.

Unlike some fighters that come to the UFC boasting an impressive record, Watson has faced some recognizable competition, most notably sporting wins over John Maguire, Matt Horwich and Murilo Rua. But we all know that things change once you step into the Octagon.
One thing that may help Watson transition to the UFC is his training, as Watson has spent time with Tristar and Jackson's MMA.
Watson will face Brad Tavares in his UFC debut.
Remember Akira Corassani? Of course you do, he was the fighter from Season 14 of The Ultimate Fighter that the rest of the house and many viewers just loved to hate.

Corassani was originally set to make his UFC debut on the The Ultimate Fighter 14 Finale card, but an injury forced him from that fight. He was then booked for UFC on FUEL TV 2, but again was forced from the card with an injury.
Maybe the third time will be a charm for Corassani, as he is set to face Andy Ogle on the UFC on FUEL TV 5 fight card.

Since the end of TUF 14, Corassani has been pretty quiet, but I would expect the old Akira to come out at some point as the fight nears.
In case you have forgotten Corassani, check out the video for a reminder.
Well, first of all, he sports an unbeaten record of 11-0, with 10 of those victories coming by way of knockout and one via submission. Of those 11 fights, only two have made it into the second round, and neither of those lasted into the third.

Second, he won the Ultimate Challenge MMA light heavyweight crown and defended it five times.

Third, he turned down a previous offer from the UFC, citing injuries and not enough time to properly prepare for what would have been a fight at UFC 138.

Finally, he has an interesting back story, including time spent in prison.

Manuwa will make his UFC debut when he faces Kyle Kingsbury at UFC on FUEL TV 5 and we will get to see if he allowed himself enough time to prepare to make the jump to the big leagues.
Che Mills was heralded as a tough test for Rory MacDonald at UFC 145, but it turned out that he wasn't. Sure, Mills landed some strong strikes, but all that did was show that MacDonald could take the fight to the ground at will.
Once the fight hit the ground, MacDonald positively abused Mills. The second round was more of the same, as MacDonald took Mills to the ground and finished him via TKO at 2:20 of the second round.

As for Duane Ludwig, he's coming off two consecutive first-round losses. Ludwig was submitted by Josh Neer in January of this year and then knocked out by Dan Hardy in May.

Odds are that this one is going to stay standing, as between them, the two fighters have finished almost half their fights via knockout or TKO. With both fighters looking to get back in the win column, this could be a sleeper pick for "Fight of the Night" or "Knockout of the Night."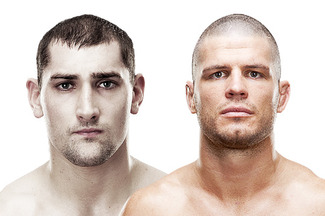 Odds are good that someone will have a streak end when Paul Sass and Matt Wiman meet in Nottingham.

Sass is a submission machine, ending 12 of his 13 professional MMA bouts by submission. Wiman, on the other hand, has never tasted defeat by submission in 20 (14-6) pro fights.

So, will Sass' streak of four straight submission wins come to an end, or will Wiman taste his first submission defeat?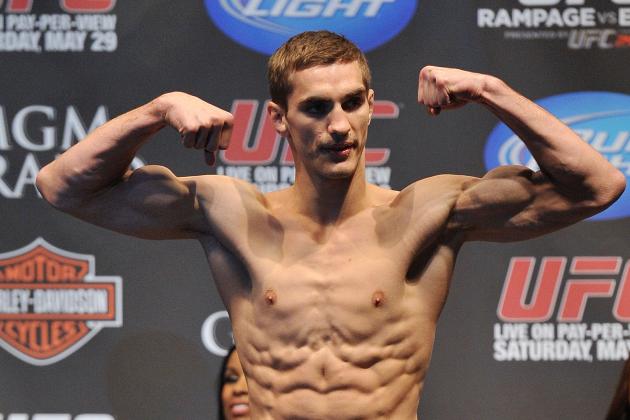 Jon Kopaloff/Getty Images

There are nine English-born fighters competing on the card, but only one fight will see two Englishmen facing off. That fight will see John Hathaway (16-1) matched up against John Maguire (18-3).

The only blemish on Hathaway's record came at UFC 120, when he dropped a unanimous decision to Mike Pyle. As far as Maguire is concerned, the practitioner of Gypsie jiu-jitsu is in the midst of a seven-fight winning streak.

Who will win this battle of the Brits?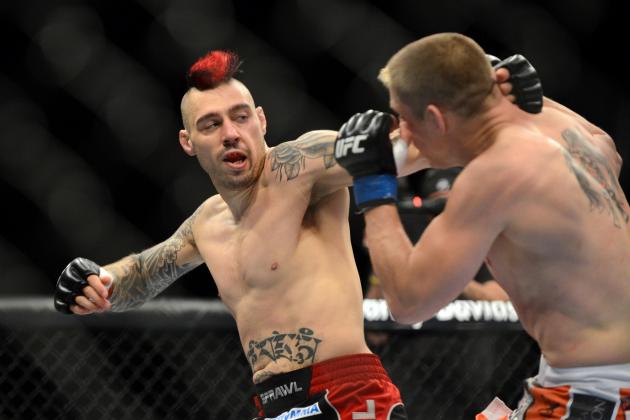 Ron Chenoy-US PRESSWIRE

Dan Hardy saved his UFC career at UFC 146, ending a four-fight losing streak by knocking out Duane Ludwig in the first round. The victory was sweet for Hardy; in his mind, the win justified the the faith that UFC CEO Lorenzo Fertitta had in the fan-friendly fighter.

Perhaps as a bit of a reward for that performance and his ability to deliver the type of fights that many fans want to see, Hardy was added to the UFC on FUEL TV 5 fight card, fighting Amir Sadollah in the evening's co-main event.

Now that the UFC has rewarded Hardy with his first fight in his hometown of Nottingham since 2008, will the "The Outlaw" be able to return the favor and make it two wins in a row?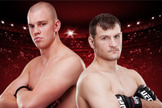 Some may say that the main event on this card is lacking. For the casual fan, that assessment may ring true, but for the hardcore fan, this is an exciting test fight for two up-and-coming heavyweight fighters.

In one corner, you will have the 24-5 Stefan Struve, a 24-year-old that seems to have found his groove and comfort level in the UFC, putting together three consecutive stoppage victories since his last defeat.
In the other corner, you have Stipe Miocic, a 9-0 fighter that has only gone the distance once in his career, which was in his UFC debut against the very difficult to drop Joey Beltran.

I'm not going to say that this is a must-see fight, but it's a fight that you want to see, as the winner may very well find themselves fighting against a top-ten level opponent in their next UFC bout.
Like I said, it's a test fight, a test to see which of these competitors has what it takes to get to the next level.