Brooklyn Nets: 5 Obstacles That Could Potentially Ruin the Team's Season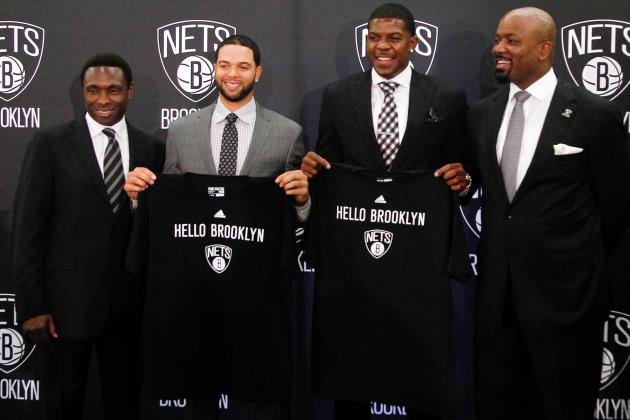 Debby Wong-US PRESSWIRE

The Brooklyn Nets will go into the season as a completely new team, and not just because of the new logo, location or stadium, but also because they revamped their roster.
The Nets were plagued with injuries last season and had another awful year, finishing just 22-44. This year, the team was extremely busy over the summer, making moves to re-sign Deron Williams, Brook Lopez, Gerald Wallace and Kris Humphries, and acquiring Joe Johnson, Mirza Teletovic, C.J Watson, Andray Blatche and others.
With all these new players and a fresh new image, a lot of people have already said the Nets could potentially be a top 4 seed in the East and possibly even contend for a title. While that idea may be conceivable, a lot would have to go right for this team to go anywhere this year. They made a lot of risks, and if things don't go exactly as planned, the team could end up suffering a first-round playoff exit or not even making the playoffs at all.
I'm not sure how many Nets fans follow baseball, but take the 2012 Miami Marlins as an example. They had a new stadium, a new logo and went on a spending spree to get some new nice free agents. How did that turn out? They're now finishing the season last in their division, and the same exact thing could happen to the Nets.
Now, here are just five of the obstacles the team will have to face in order to succeed this season.
Begin Slideshow

»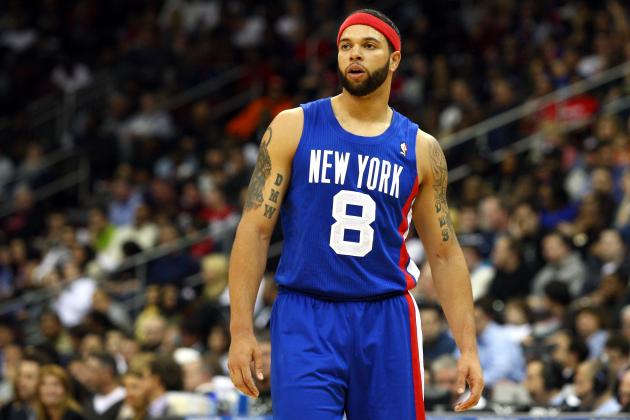 Chris Chambers/Getty Images

This one may seem obvious, but developing chemistry is always key to having a good team. The Nets are going into the season with such a different roster than they had last year. Joe Johnson is entering the starting lineup, but take a look at the team's bench.
Other than MarShon Brooks, the team has a lot of new players coming off the bench. Teletovic, Blatche, Childress, Evans, Watson, Jerry Stackhouse and Tyshawn Taylor are all new players coming off the bench this year. When you have that many guys who have never played together before, you can bet that it will be a while before they can start being an effective second unit. And as for the arrival of Joe Johnson, Deron Williams is going to have to help Johnson adapt to playing off-ball more and finding open looks without the ball in his hands.
Naturally, when you have so many new players, it will take a little while for the team to mesh. The 2010-11 Miami Heat only went 10-8 in their first two months but then went on to the NBA finals later that year. The Nets will be faced with the same challenge.
Though their early season schedule is not extremely difficult, they do play New York, Miami and Boston each twice in their first 20 games, as well as also having games against the Los Lakers, Los Angeles Clippers and other playoff teams. If the Nets are unable to develop chemistry and can only win a handful of those first 20 games together, then their season could be over as early as December.
Kevin C. Cox/Getty Images

Joe Johnson is going to have to adapt to a new style of play in Brooklyn. Back in Atlanta, he was the clear main scoring option. There was no elite point guard, and Johnson was given the green light to go one-on-one with defenses and use lots of isolation plays. None of that is going to happen now.
Johnson has to realize that he's coming into Brooklyn as the team's third scoring option. Not first or second, but third. Deron Williams is the only real star on the team, and he is going to have the ball in his hands, which means it's up to Williams to find Johnson open looks.
This can't be too new for Johnson. After all, he played with Steve Nash in Phoenix many years ago. But he'll have to adjust, and his game now will be setting screens and making sure that the defense focuses on Deron Williams so that he has plenty of opportunities from behind the arc.
If Johnson does start trying to be the hero of the team and starts forcing shots, it could ruin the whole team's chemistry and have consequences on the team's record. Because if running isolation plays and taking bad shots actually translated into winning games, Carmelo Anthony could have made the New York Knicks an elite team last season.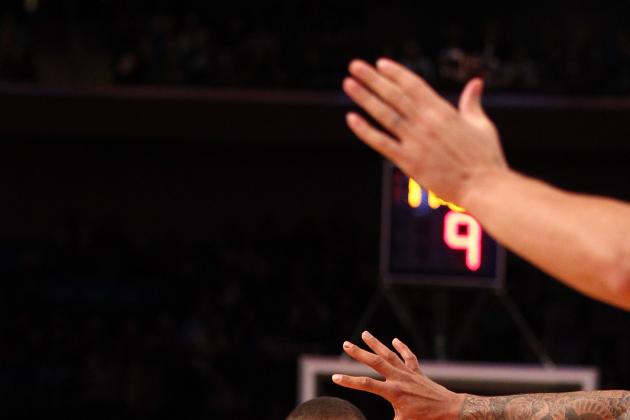 Al Bello/Getty Images

Brook Lopez never had any injury problems in his first three seasons. He played all 82 games in each of those seasons. But, last year, Lopez had both a foot injury and an ankle injury, causing him to play just five games all season.
Lopez missed pretty much the entire 2011-12 season. The injuries may or may not affect his play on the court, but what you should really worry about is whether he'll be able to survive a full 82-game season after missing almost all of last year.
It's safe to say that he'll at least miss a few games here and there, maybe missing up to 15 or 20 games of the season. And if that happens, who's playing center for the Nets? Evans and Blatche can play some center, but the team doesn't have a true backup, which is why they really need Lopez healthy.
As for Wallace, he's missed 56 games over the past five seasons. He's never had any injuries that have kept him out for very long periods of time, but he's also never stayed healthy for an entire season. And now that he's officially 30 years old and clearly past his prime, I would expect him to continue to have issues with his durability. If he follows the same pattern as he has in the past, he'll likely miss at least 10 or 15 games.
Lopez and Wallace are two extremely important players to this team. Neither are stars, but when it's likely that two of the players in your starting five can be expected to miss 10 or 15 games during the season because of nagging injuries, your team may struggle.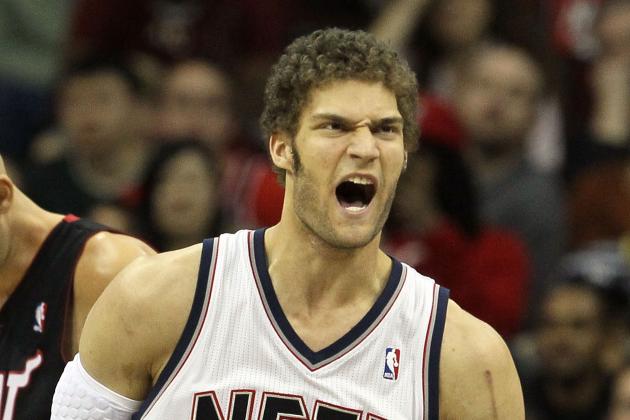 Jim McIsaac/Getty Images

This team has struggled with defense for the past few seasons, and they need to make an improvement this year. Last year, the Nets finished 28th in defensive rating, 24th in opponent PPG, 19th in steals, 30th in blocks and 28th in opponent FG percentage.
It's easy to tell why the Nets struggle defensively—they have absolutely no post defenders. Brook Lopez is an offensive weapon but no enforcer down low. Humphries grabs a lot of boards, but he also isn't an elite defender.And as I stated before, the team has no true backup center.
Andray Blatche is not a good defensive player, and although Reggie Evans can play dirty and hit players, he won't usually block their shots, which means that the Nets would have no defensive strategy against someone like Dwight Howard or Andrew Bynum.
On the other hand, their other players aren't looking bad at all defensively. Williams and Johnson are both solid defenders, and Gerald Wallace is a great defensive player. But the Nets are in dire need of a true, defensive-minded Center. Otherwise, the obvious game plan to beat the Nets would be to take the ball inside again and again, with nothing the defense can do to stop it.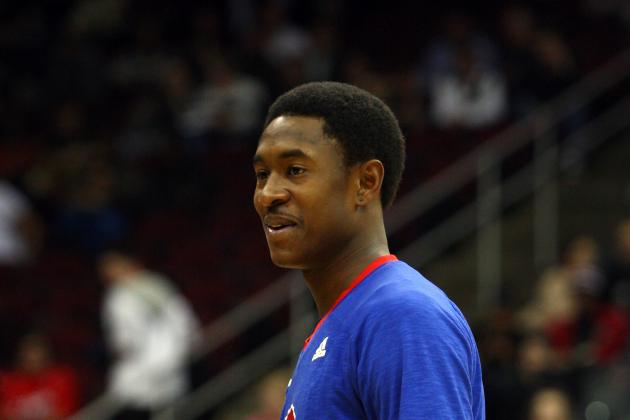 Chris Chambers/Getty Images

As I said before, the Nets have almost a completely different bench now. But not only might the Nets struggle due to lack of chemistry on the bench, they could also struggle because all of the risky signings might not work out.
The biggest name the team brought in for the second unit over the summer was international forward Mirza Teletovic. Although he has so far been praised, more often than not, international players end up being busts, as most of them are unable to adjust to the NBA. After that, the team has C.J Watson, who is a decent second-string PG but also had problems shooting last year, as he shot just 37 percent from the field.
Andray Blatche is just a couple seasons removed from averaging 16 points a game but that was on a bad team, and he has also always struggled from the field. It took him 15 shots a game just to score those 16 points.
Reggie Evans is considered one of the dirtiest players in the league, and although he can rebound, he won't be able to provide any sort of scoring spark off the bench. Keith Bogans shoots an awful 40 percent from the field for his career and has not averaged over five points a game for the past three seasons.
Josh Childress was a successful player on the Atlanta Hawks but since returning from Greece, he never had much of a role with the Phoenix Suns and was cut via the amnesty clause after spending two years as a bench warmer. Jerry Stackhouse hasn't been relevant for a very long time and didn't even get 10 minutes of play a game last year.
Even sixth man MarShon Brooks is only a sophomore, so it's impossible to tell whether he'll be a consistent player or if he will suffer a sophomore slump.
I am not trying to "hate" on the Nets, but this bench could end up being a big failure. And this team has a lot of issues. Too many issues to be a title contender, and in the worst case scenario, too many to even make the playoffs.