Baylor vs. Louisiana-Monroe: Live Scores, Analysis and Results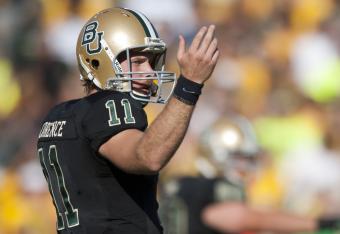 Cooper Neill/Getty Images
Baylor 47, ULM 42—FINAL SCORE
The final whistle has blown in Monroe, Louisiana. Check out the blog for a follow-up analysis with stats and analysis.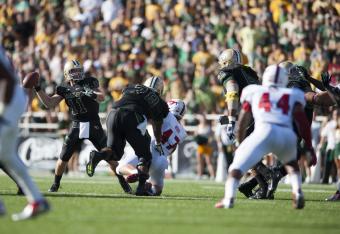 At the beginning of this game, it was imperative that ULM win the turnover battle. Giving the Bears the football with any consistency was a sure loss for the Warhawks.
Here are the battles that the Warhawks won tonight:
Total yardage—560 to 544
Time of possession—31:53 to 28:07
Third-down conversions—12/17 to 7/14
Rushing yardage—262 to 164
Baylor walked away with everything else. Passing yardage, turnover margin, fewer penalties and more points scored.
ULM's three turnovers turned into 17 points for Baylor in the form of two touchdowns and a field goal.
Baylor came into the Warhawks' house, got the fight they expected and pulled off a great win.
Look for Baylor in the lists Sunday, they'll be somewhere between 20 and 25. Especially if the upset bug has something to say about tomorrow.
Hope you had as much fun reading tonight as I had writing. Have a great weekend, folks!
ULM put up a huge fight, as usual, against a worthy opponent. Baylor walks away, not unscathed, but victorious after one of the more entertaining games of 2012 so far.
Down 12 points with 2:25 left in the game, and ULM's fans are already exiting the stadium. That's messed up. Seriously, it's possible for ULM to score and recover an on-side kick.
Not likely, but possible. If Baylor screws this lead up, those fans are going to kick themselves.
Woohoo! Replay booth got another one right!
Baylor is 100 percent on forth-down conversions tonight.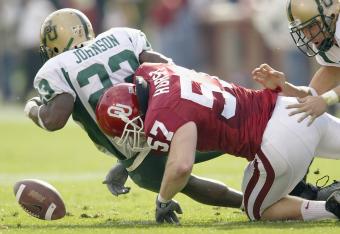 ULM: three turnovers
Baylor: two turnovers
The turnover battle that should have decided the game is, so far, deciding the game. If ULM is going to win, Baylor cannot come away with points at the end of this drive.
The Warhawks must bring pressure to the Bears' quarterback and force him into an errant throw like they did in the first half.
If not, Baylor marches and kills the clock...or ices the game with points.
ULM comes up with a gigantic forced fumble on Baylor's two-point conversion. If the defender were faster, he would have run it all the way back for two points of his own.
Of course, if the defender were faster, he'd just be on offense...
The replay booth has now made national television for sucking at its job. Just a heads-up for those of you keeping score.
CFB Replay Booth Officials: 2 sucks
NFL Replacement Refs: 172 sucks and 11 complete fails
* Suck and fail statistics not verified by official source, yet...
Jyruss Edwards has returned to the game. So far, he has carried for over 120 yards in this game. If he can stay healthy, the Warhawks can continue to attack the Bears with balance on offense.
If the Warhawks become one-dimensional, they would be in serious trouble.
DaCorris Ford was grabbing at his pectoral muscle on the sideline. That's a huge hit to him and to the Warhawks.
If he doesn't come back in, ULM could have some serious issues shutting down Baylor. Pressure seems to be the only thing slowing Baylor down, and Ford is a big part of ULM's pressure.
Baylor extend the lead to six points off a 21-yard field goal.
Baylor 34, ULM 28 with 1:48 left in the 3rd
Cameron Blakes will not return for the Warhawks.
DaCorris Ford and Jyruss Edwards will be updated as soon as possible.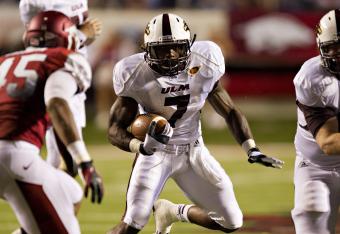 Jyruss Edwards (RB, ULM) heading to sideline after a big hit in the backfield, which he turned into a first down. Updates coming when available.
Baylor regains the lead with a 46-yard strike to Reese. The crowd is completely disinterested. I'm not sure the fans know there's a football game going on.
Baylor 31, ULM 28 with 8:10 left in the 3rd.
Punts exchanged, proving that the defenses certainly listened in the locker rooms. The home crowd is still shockingly quiet, especially for a game of this magnitude.
Again, Baylor will not mind that one bit. In other news: ULM may be looking for cheerleaders after this week's game.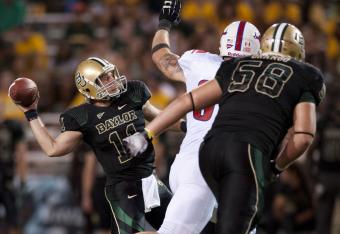 The home crowd is seriously lacking in the noise department. They'll get used to winning if this program continues to rise, but the Warhawks could certainly use some noise to get into Baylor's heads right now.
Of course, Baylor doesn't mind being able to clearly communicate on offense, I'm sure. :)
Warhawks lead after a huge 58-yard touchdown run by the Warhawks. The celebration may be short-lived, but we will find out when Baylor's offense takes the field in about 30 seconds.
ULM 28, Baylor 24 with 13:10 left in the 3rd.
The second half is underway, and the Warhawks received the opening kickoff. Baylor still leads 24-21 as ULM attempts to regain the lead after a pretty shabby second quarter.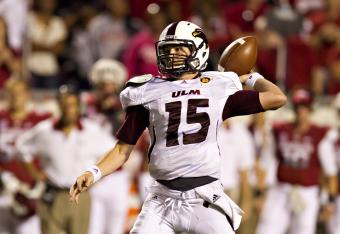 ULM is still very much in this game. The Warhawks need to get back to what they were doing early on, and that is forcing turnovers at the end of sustained Baylor drives.
The turnover battle absolutely has to be won by the Warhawks to come out with a win here. They have the rushing game to control the clock late if they can just manage to retake the lead.
Baylor is faster at wide receiver than ULM is in its secondary. If the Bears want to win this outright, the Bears simply need to connect better with the deep ball.
The Baylor defense needs to come up with some big stops as well. If they keep letting ULM get three or four yards per carry, the Warhawks are simply going to convert fourth down after fourth down.
In the meantime, I will be kicking off against that bag o' donuts as soon as the game comes back on. Thank goodness for my calorie-blasting bicycle, or the donuts would be winning.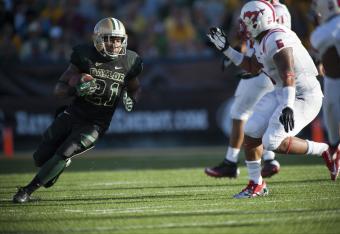 You can't fail a coach that's leading at halftime, but I'm betting he had his four-minute and two-minute offense cheat sheets mixed up.
Baylor leads ULM 24-21 at halftime.
That will do just fine. The Bears found an answer for ULM's Tavarese Maye in Joe Williams. That seems to be a better matchup for the Bears tonight.
Let's see if the Bears keep him in.
Coaches need to talk to Goodson on the Bears' bench. He's going to get targeted all night now. Either he needs to clean up the pass interference, or he needs to get some help from somewhere else on the field.
Pass interference calls would kill the Baylor defense if they continue at a rate of one per quarter.
Baylor answers with a 48-yard strike that erases all scoring up to now.
Baylor 21, ULM 21 with 3:55 left in the 2nd.
Baylor forces and recovers a fumble. Possible game-tying drive will be underway after the commercial break.
...I wonder if they are reading my blog? :)
ULM is moving methodically down the field again. Baylor's answers on offense have been good so far, ending drives in the end zone.
Baylor's defense needs to step it up now and stop ULM from extending the lead again.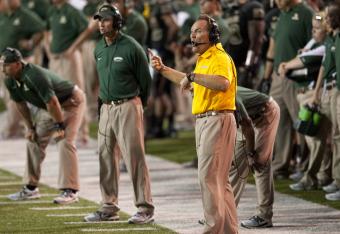 Touchdown Bears. All coaches' butts are saved from ridicule for the moment.
ULM 21, Baylor 14 with 7:51 left in the 2nd qtr.
This article is
What is the duplicate article?
Why is this article offensive?
Where is this article plagiarized from?
Why is this article poorly edited?