New York Knicks Rotation and Roster Spots Up for Grabs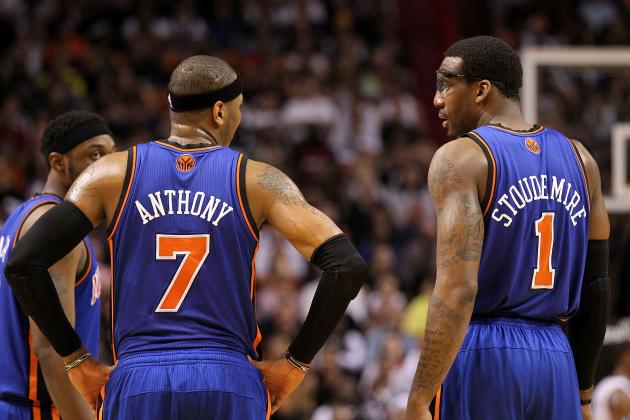 Mike Ehrmann/Getty Images
'I don't get it. Why won't they just let us play 2-on-2?'
The New York Knicks overhauled their roster in the offseason. They let starting-caliber players like Jeremy Lin and Landry Fields walk, and they eviscerated their bench. Gone are Toney Douglas and Jared Jeffries, Mike Bibby and Josh Harrellson.
So what are the position battles on the 2012-13 Knicks?
GM Glen Grunwald brought point guards Raymond Felton and Jason Kidd back to the New York area. He re-signed sixth man J.R. Smith and lured Ronnie Brewer from the No. 1-seeded Bulls for pennies on the dollar.
Steve Novak won his early Bird rights in arbitration and brings his long-range assassin aim back to the roster. A couple of sage veterans will also return to Madison Square Garden in Marcus Camby and Kurt Thomas.
And after that...well, it's a host of rookies on non-guaranteed contracts and Euroleaguers.
The Knicks' Big Three—Carmelo Anthony, Amar'e Stoudemire and Tyson Chandler—are written into the lineup in pen, and it's probably the same pen used to sign the $53 million in payroll checks they'll be receiving for next season.
Everyone else's name is penciled into the lineup.
So let's take a look at how the position battles will go.
Begin Slideshow

»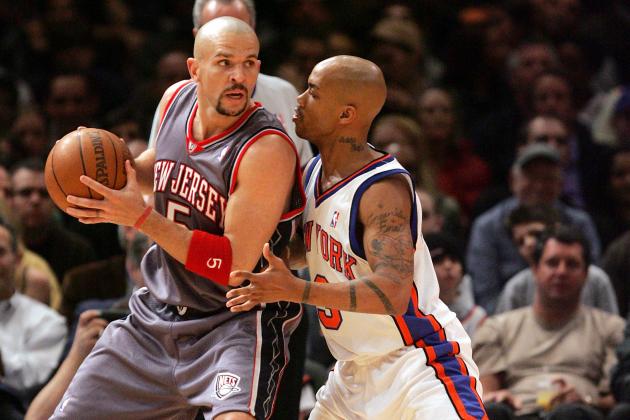 Jim McIsaac/Getty Images
Back in the dark days of Starbury, Jason Kidd was a rival.
There's not much to be decided in terms of roster spots here.
Pablo Prigioni, the 35-year-old rookie, will be third on the depth chart. He's got a decent perimeter shot, but he's a pass-first point guard, so he's unlikely to see much time at the 2. He'll be backing up the NBA veterans and will be lucky to average double-digit minutes.
But the actual starting spot is completely up for grabs.
When Jason Kidd was signed, it was ostensibly to be the mentor to Jeremy Lin, New York's golden boy. Then, owner James Dolan was presented with a "poison pill," which he refused to swallow.
Suddenly, Lin was in Houston, and Raymond Felton was back at the Garden.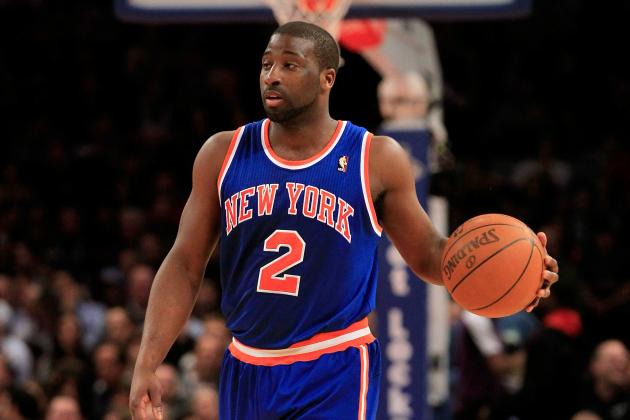 Chris Trotman/Getty Images
"Should I use my old uniform, or do we get new ones?"
The highlight of Raymond Felton's career to this point was the two-thirds of a season he spent in New York. He looked like an All-Star, and he made Amar'e Stoudemire look like an MVP.
He'll attempt to regain that form, and he can surely learn a thing or two from Kidd, an 18-year veteran. But precisely because of Kidd's wealth of experience, it would seem elementary to make Felton the starter and then plug in Kidd as needed in critical junctures.
Felton has seven years as a pro, and having shed some extra pounds this offseason, he should have the fresh legs that he flashed as a Knick in 2010.
Kidd is sure to see important minutes late in each half, but Felton should play the lion's share of the minutes, to the tune of 28-20.
Kidd could see some time at the 2 as well, as he is third in NBA history with 1,874 three-pointers made.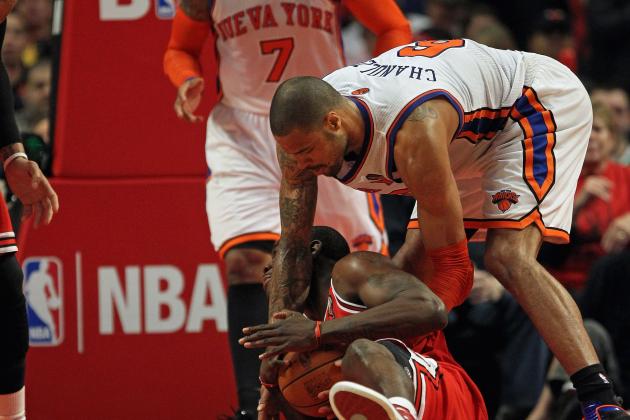 Jonathan Daniel/Getty Images
Last year, Chandler was mugging Brewer. This year, they'll start together.
When Iman Shumpert went down with an ACL injury in the first game of the playoffs against the Miami Heat, the season was effectively over. The sensational rookie was, and is, the best 2-guard on the Knicks roster.
He is expected to return sometime around January, and until then, the Knicks have a decision to make about their starting shooting guard.
Offense or defense? Or, to put it another way, J.R. Smith or Ronnie Brewer?
The decision is simple for Mike Woodson: the defense of Ronnie Brewer.
Brewer has been a starter consistently throughout his career, both for most of last season in Chicago and in his four seasons with Utah.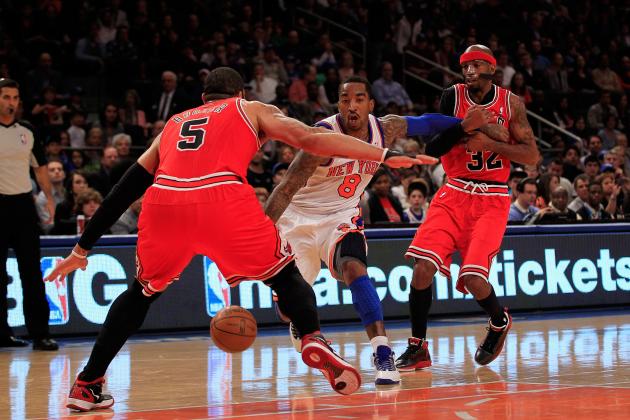 Chris Trotman/Getty Images
The streaky J.R. Smith, streaking to the hoop.
J.R. Smith is a classic sixth man, an offensive spark off the bench who can knock down shots in bunches but doesn't have the complete package to be on the court at tipoff.
He makes mental errors, commits unwise fouls, takes bad shots and is streakier than dollar-store Windex.
The mitigating factor here is Ronnie Brewer's knee injury. He is slated to return in mid to late October, which is shortly before the regular season begins. If he is unable to get up to speed quickly, Smith may begin the season as the starter.
But look for Brewer to take over as the starter within the first dozen games.
And once Iman Shumpert comes back, he will be the starting 2-guard by Valentine's Day.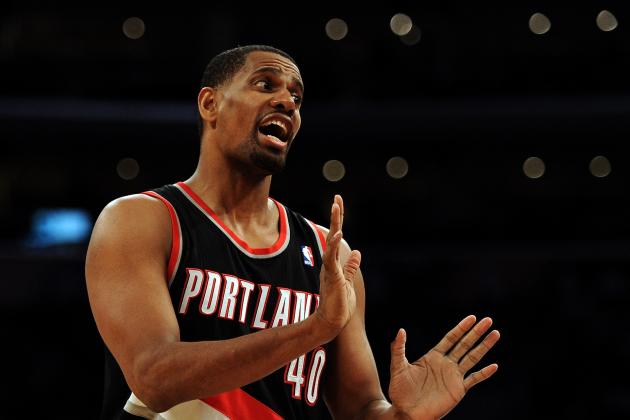 Harry How/Getty Images
"Whoa, you want me to play 15 minutes a game? I'm telling AARP!"
The Knicks have only one proven power forward in their rotation, and that is Kurt Thomas. He was a valuable Knick from 1998 through 2005, the most productive years of his career.
On October 4th, he will celebrate his 40th birthday.
Happy birthday, Kurt.
Unfortunately, Thomas could only muster averages of 3.0 points and 3.5 rebounds in 15.2 minutes per game with Portland last season.
While that's not too bad for a 39-year-old, seeing as Amar'e Stoudemire isn't exactly an iron man as the starting power forward, that leaves a lot of question marks for the frontcourt rotation aside from center.
The Knicks are kicking the tires on a couple of rookies, 6'10" F/C Henry Sims out of Georgetown and 6'9" John Shurna out of Northwestern. The latter has been heralded for his ability to hit three-pointers (he shot 44 percent from beyond the arc as a senior).
They will hope to catch lightning in a bottle with one or both of these players, but only time will tell, as each agreed to non-guaranteed contracts.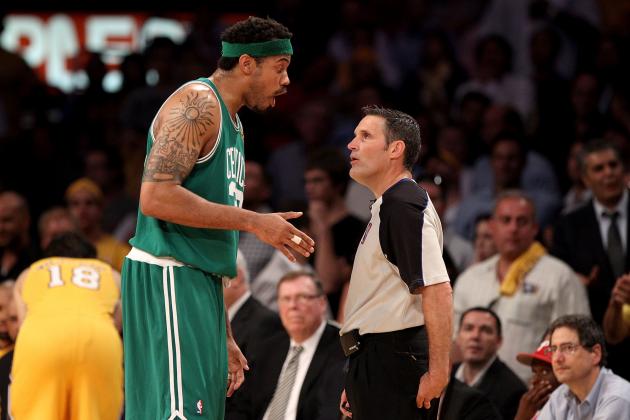 Christian Petersen/Getty Images
"I'm telling you, Gouda is the superior cheese to Edam!"
There's also the option of 6'8" Chris Copeland, who likewise enters camp on a non-guaranteed contract. He's 28 years old but has never played in an NBA game. He spent last year in Belgium.
And, finally, there is Rasheed Wallace.
Marc Berman of the New York Post reports that the Knicks are working out the single-season and career record holder for most technical fouls (41 in 2000-01, 304 in his career). Though he's been retired for two seasons, Wallace was a cornerstone of the Pistons' championship in 2004 and is known for his stout defense.
Under current rules, accumulating 41 technicals in a season would result in a total suspension of 13 games (one game after 16 techs, another game for each two techs that follow).
Lastly, while he is 6'10", no one in their right mind would consider Steve Novak a power forward. He can catch and shoot but he can't ground and pound.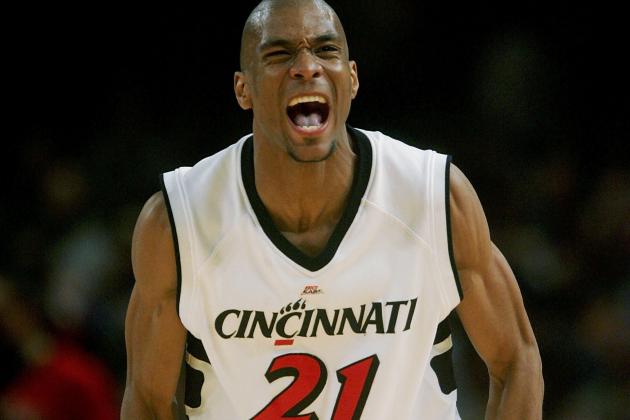 Jim McIsaac/Getty Images
"I can't wait to play professional basketball in Turkey!"
This spot is likely to be a swingman by committee.
The most likely candidate is James "Flight" White, who offers athleticism (see, for example, his 2011 high school dunk contest, highlights at 1:21) but only 11 games of NBA experience.
He does, however, have an NBA championship ring, which is more than Carmelo Anthony or Amar'e Stoudemire can say. He is signed to a minimum contract for next season and is expected to make the roster.
Mychel Thompson was signed to a non-guaranteed contract and will be fighting for a roster spot in training camp. He saw five games with Cleveland as a rookie, even starting three of them, but he shot only 29.2 percent from the field.
These things happen to a team that finishes last in its division and loses 45 out of 66 games. The Knicks, on the other hand, are setting their sights much higher.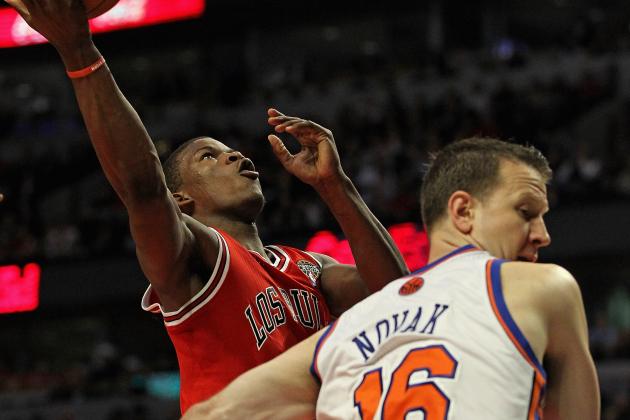 Jonathan Daniel/Getty Images
If he could play any defense, he'd easily back up at the 3.
This spot in the rotation could also be taken by a player like Ronnie Brewer, but that would only be a good fit once Iman Shumpert returns in the latter part of the season.
Until then, having Brewer as the backup 3 would either force J.R. Smith to start at the 2 or make Jason Kidd play big minutes away from his natural position.
Essentially, this is Steve Novak's spot, but only if he follows up on his boasts about strengthening his defensive game and diversifying his offensive repertoire in the offseason (via Jared Zwerling of ESPN New York).
Even in the course of leading the NBA in three-point percentage last season, Novak averaged only 18.9 minutes per game in a more limited Knicks rotation than he'll be competing against this year.
And the Miami Heat wrote a dissertation about how to stop him in the playoffs. It remains to be seen if the defensively limited Novak can find a consistent spot in Mike Woodson's rotation beyond just a long-range specialist.
Second unit: Kidd, Smith, James White, Kurt Thomas, Marcus Camby
Supersubs: Novak, Pablo Prigioni, John Shurna
Follow me. Just like Steve Novak, I am boycotting the NFL this week.