Building a Football Roster Using NBA Players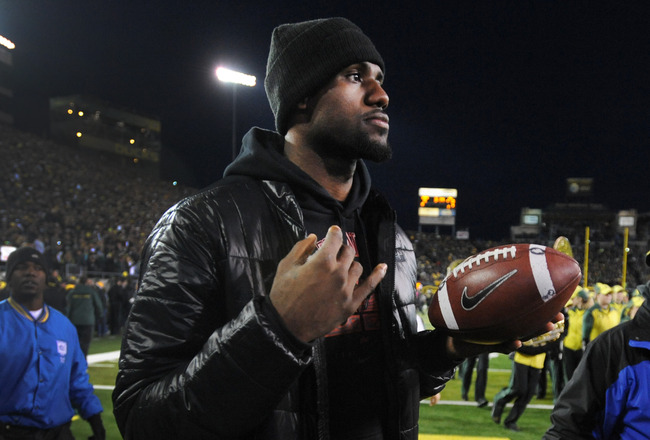 How scary would LeBron be on the football field?
Steve Dykes/Getty Images
The NBA is laden with some of the most spectacular athletes in the world, and some of them are so gifted that they could step onto the gridiron and find success.
In fact, a handful of them could very likely not just play in the National Football League, but also experience eye-popping success.
With the NFL underway and the NBA waiting to begin, it's the appropriate time to discern who the best football players are in the NBA. Therefore, this slideshow compiles an entire football roster, featuring NBA players starting at each football position.
You have likely always wondered how certain NBA stars would fare in a helmet and shoulder pads. Now is the time to debate this. Who should rise to the top of the NBA's football depth chart?
Cornerbacks: Chris Paul & John Wall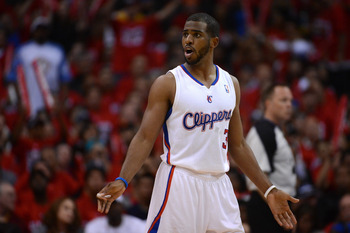 Harry How/Getty Images
Chris Paul and John Wall are lightning quick and undoubtedly deserve to be somewhere on this depth chart. Both are a blur to watch when they're dashing through the lane and finding open teammates.
While they would certainly be effective wide receivers, they would be every bit as effective on the defensive end as shutdown corners.
Teach these two the fundamentals of playing cornerback and they have the potential to transition to the football turf very easily. It would take a remarkably quick wide receiver to burn one of these NBA point guards.
Both have ideal statures for football, as well. Paul, at 6'0'' and 175 pounds, fits the bill of a typical NFL corner, and Wall, at 6'4'' and 195 pounds, won't find any receivers outjumping him in the end zone on fade routes.
The undeniable speed of Paul and Wall would certainly create trouble for opposing teams. The bottom line is this: opposing quarterbacks would quickly begin to fear the Paul-Wall duo in the secondary.
Safeties: Dwyane Wade & Derek Fisher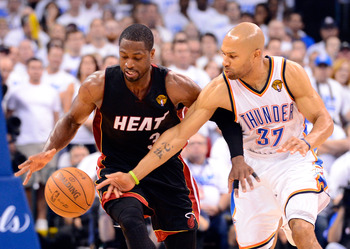 Ronald Martinez/Getty Images
Dwyane Wade is too good of an athlete to be left off this roster, and with his physique (6'4'', 220 pounds) and agility, he would align very nicely as a hard-hitting safety.
Wade's toughness is the pinnacle reason he earns a starting safety bid. He takes a beating each year from falling on the floor and often finds ways to play through nagging injuries.
These experiences would help him as a "ball hawk" in the secondary who would provide timely interceptions and "hit sticks" on receivers going deep down the middle.
Derek Fisher, while perhaps on the slow side, receives the reins at the other safety position.
He snags this position for two main reasons: 1) he's always been a leader and enforcer, something that is invaluable on the football field; and 2) he has bulging biceps that are much more indicative of an NFL player than an NBA point guard.
Wade and Fisher hold down the two safety positions and solidify a stellar secondary overall. These two along with Paul and Wall give the NBA defense a steady combination of strength and speed.
Outside Linebackers: LeBron James & Corey Maggette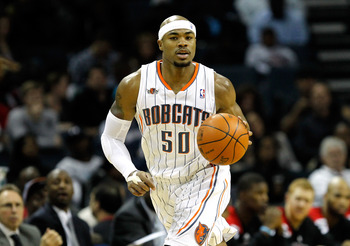 Streeter Lecka/Getty Images
The NBA features plenty of "wiry" strong players. There aren't many who have the body type of a linebacker. However, there are some who are built like freight trains, and the NBA MVP himself is one of them.
LeBron James could play virtually every position on the football field, just like he can play virtually every position on the basketball floor. He is arguably the most incredible athlete living right now, and he is thus lining up on both the offense and defense for the NBA's football squad (see Wide Receiver on offense).
Defensively, James fits the mold of a linebacker with his size, strength and speed. He could cover plenty of ground and wouldn't allow extra yards due to his imposing muscle. He's simply the total package.
Corey Maggette is another player who is built like a freight train. His body, particularly his massive arms, appear more reminiscent of a football player, namely a linebacker.
Plus, he possesses adept speed and could handle the rigor of playing linebacker.
James and Maggette would form a fierce combo at outside linebacker. While they may be a bit tall for pigskin, their strength and speed would enable them to make plays from sideline to sideline.
Middle Linebacker: Metta World Peace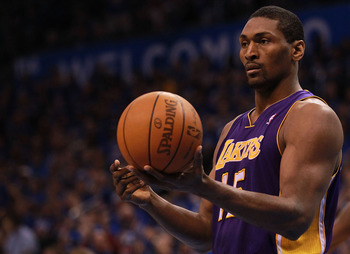 Ronald Martinez/Getty Images
Metta World Peace's antics seem to be more suitable for football, and he is therefore the starting middle linebacker on the NBA's team.
World Peace is known for physical play that often crosses the line. Unfortunately, it would still likely cross a line playing football, but at least it wouldn't happen as readily as it does on the hardwood.
His defensive tenacity makes him a prime candidate to excel as a linebacker, and his overall grit is fitting at the middle linebacker spot.
He may be lacking in speed, but his size (6'7'', 260 pounds) and overall feisty nature give him the tools to anchor the NBA's defense.
Personally, I see a bit of Ray Lewis' rage in Metta World Peace, so it's only appropriate to list the man formerly known as Ron Artest right in the heart of the defense.
Defensive Ends: Blake Griffin & Kenneth Faried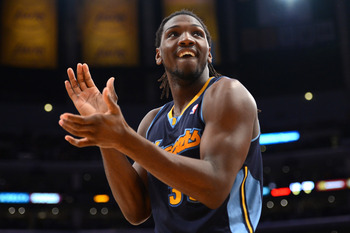 Harry How/Getty Images
Blake Griffin would be a nightmare for an offensive tackle. Griffin's explosiveness and size would allow him to barrel through tackles and smash the quarterback with regularity.
He's such an impressive athlete that he, like James, is worthy of playing on both sides of the ball. Therefore, he'll need to be in shape, because much of the defense and offense (see later slide) are centered upon this 23-year-old monster.
Kenneth Faried lands the other defensive end position due to his relentlessness on the boards. If he can attack the quarterback like he attacks the offensive glass, he will find much triumph in a helmet and pads. This type of tenacity would help him become a ferocious pass-rushing end.
Griffin and Faried would steadily haunt opposing quarterbacks and help cement a defense with a wide range of athleticism.
Defensive Tackles: Dwight Howard & Glen "Big Baby" Davis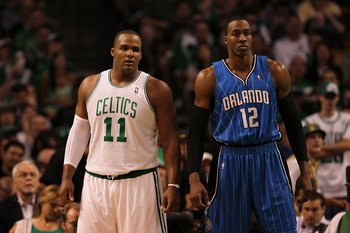 Jim Rogash/Getty Images
Dwight Howard is a bit too towering for football, but his athleticism begs to be inserted somewhere on the roster. Tight end is a possibility, but the defensive line is an even greater option due to his beastly strength and long arms.
Imagine how many balls thrown over the middle "Superman" would bat down. Howard would be a swatting machine, as well as the greatest field goal blocking specialist in history.
Howard's height may create problems in the trenches, as it would be difficult for him to get low enough to be a stellar run-stopper, but this is where Glen "Big Baby" Davis would complement D12 perfectly.
Davis should honestly consider a career in the NFL right now. His stature (6'9'', 289 pounds) would be more efficient on the gridiron than it is on the hardwood.
"Big Baby" could truthfully play a handful of positions on this roster (e.g. tight end, offensive line), but he is most needed as a defensive tackle.
Davis is still quite tall for the defensive tackle position, but he does have the hefty size (and gut) of a true defensive lineman. Plus, he would play with a motor that would constantly wreak havoc up the middle.
Quite frankly, "Big Baby" would become one of the best players on the NBA's football team, and perhaps he should even be used on both sides of the ball.
Offensive Tackles: Kendrick Perkins & Jason Maxiell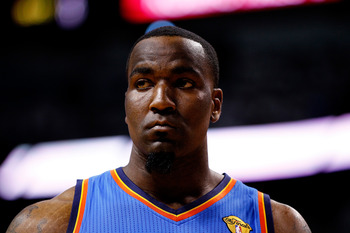 Mike Ehrmann/Getty Images
Finding offensive linemen is where things get very tricky. The NBA doesn't feature the typical 6'4, 300-pound linemen that the NFL possesses, so we must get creative in filling the gaps on the O-Line.
Kendrick Perkins is a prudent choice as a left tackle. His size (6'10'', 270 pounds), vigor and game face should all enable him to protect the quarterback consistently.
He'd surely be irate whenever flagged for a holding penalty, but his willingness to do the grunt work would help him immensely. On the hardwood, he is content to do the little things and score sparingly, playing a background role. The O-Line beckons one to accept a role that doesn't feature much glory, but this wouldn't be a problem for "Perk." He's used to it.
Jason Maxiell gets the nod at the other tackle spot, mainly because of his size (6'7'', 260 pounds) and reputation as a "bruiser." Basketball bruisers typically make solid football players, and Maxiell seemingly fits this stereotype wondrously.
He's another player would could potentially play on either side of the ball, but the offensive line is in pressing need of big bodies, so he's plugged in at right tackle.
Offensive Guards: Chuck Hayes & DeJuan Blair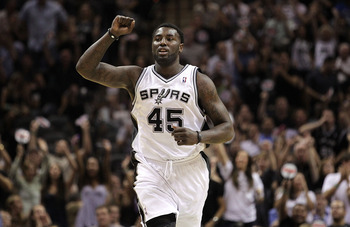 Ronald Martinez/Getty Images
The offensive guard spot might be the most difficult position to fill, because NFL guards are usually beyond merely plump. The size of their bellies simply can't be found anywhere in the NBA.
Therefore, we are forced to implement short, stocky rebounders at these offensive line spots. Chuck Hayes (6'6'', 250 pounds) and DeJuan Blair (6'7'', 270 pounds) are as good choices as anybody. Their big bodies would be hard to slip past.
However, they would have difficultly containing ultra-quick defensive tackles who play low to the ground.
This position could be the biggest question mark on the NBA's depth chart. There are definitely playmakers on the roster, but the line must be adequate enough for these players to get the ball in their hands.
Thus, Hayes and Blair would carry a weight of pressure to perform up to par.
Center: Tyler Hansbrough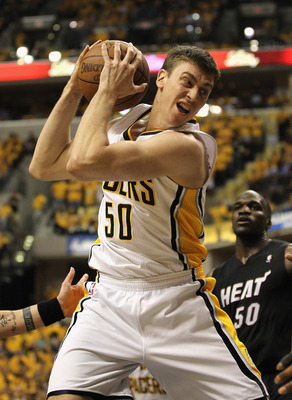 Jonathan Daniel/Getty Images
They call him "Psycho T" for a reason. His physical play has always raised eyebrows, and the offensive line gives him the opportunity to play ugly.
He is quite lanky (6'9'', 250 pounds) for an important position in the trenches, but the options are limited here. What is undoubtedly needed at the center spot is a competitor who is aggressive on every play.
Hansbrough epitomizes this player.
Psycho T would certainly get pushed around by colossal defensive tackles, but he would get right back up and keep trying.
In a position that's lacking suitable NBA candidates, that's about all you can ask for.
Tight End: Blake Griffin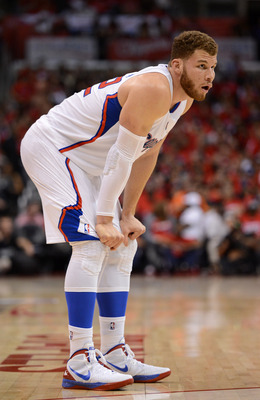 Harry How/Getty Images
TIght end, unlike offensive guard, is a position that could be filled by a large amount of basketball studs. We have even witnessed an array of former college hoopers find success as NFL tight ends (e.g. Antonio Gates, Jimmy Graham, Tony Gonzalez).
As a result, it's very difficult to narrow down who should represent the NBA at tight end. The nod, however, goes to Griffin, due to his unparalleled strength and athleticism.
He may be a bit tall for football (a common theme throughout this slideshow), but can you imagine him jumping up and snagging balls amidst three defenders?
I can.
At Griffin's age, he possesses top-notch muscle and decent enough speed to generate production on the football field. Plus, with the playmakers he has around him (see following slides), he should receive plenty of one-on-one coverage.
In such situations, he would be unstoppable.
Wide Receivers: LeBron James & Russell Westbrook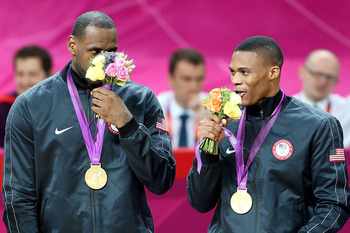 Streeter Lecka/Getty Images
The excessive amount of high leapers and speedsters in the NBA make it difficult to narrow down who the top receivers would be.
The two players who rise to the top at this position are LeBron James and Russell Westbrook. The overall speed, size and jumping ability of these two players vault them above the rest of the competition.
James starred in high school as a wide receiver and even received a scholarship offer from Urban Meyer.
His height and play-making ability would be dynamic. It's easy to wonder how good James would have been if he would've dedicated himself to football. Could he be in the same mold of Calvin Johnson or Randy Moss in his prime?
There's reason to believe LeBron could've been a Pro Bowl receiver. He's that ridiculous of an athlete, and it's downright scary to think of how cornerbacks would attempt to stop him.
James is the obvious choice at wideout. Russell Westbrook is the wild card. He's selected here because he possesses the perfect body type (6'3'', 187 pounds) and explosiveness.
His breakaway speed and "bunny" hops give him the potential to be a dominant wide receiver. If he could quickly learn the fundamentals of running quality routes, he could be as formidable as LeBron.
Slot Wide Receiver: Nate Robinson
Nate Robinson once played college football at the University of Washington, and if you're not convinced of what he can do on the football field, watch the above video.
With James and Westbrook situated as the other two receivers, what the team now needs is a quick little speedster in the slot.
Nate-Rob is exactly this kind of player.
With so much attention on the bigger targets of James, Westbrook and Griffin, Robinson will benefit from short drags over the middle, screen plays and even reverses.
He has play-making ability, and he's yet another player who makes you wonder what his ceiling was in the game of football.
No matter what, he meshes with this potent offense in exceptional fashion and has big play ability written all over him.
Running Back: Ty Lawson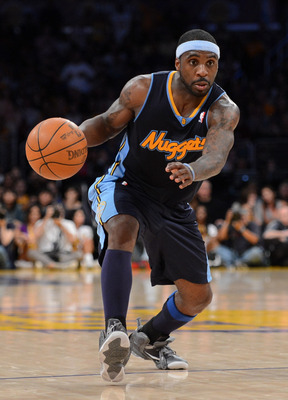 Harry How/Getty Images
Ty Lawson emerges as the starting running back, namely because of his speed and bulky upper body. At 5'11'' and 195 pounds, he has the makeup of a typical halfback.
He's small enough to squeeze through tight holes yet also possesses the strength to absorb contact and fight for extra yards.
In this offense, he would likely not be designated as a "workhorse" back. With the playmakers at receiver, Lawson would not average loads of carries each game. However, he would be utilized to keep the defense honest with sweeps, draws and screen plays.
With his speed and strength, he would be more than an adequate running back. He would be a handful for opposing defenses and gives this offense yet another option to implement into the game plan.
Quarterback: Rajon Rondo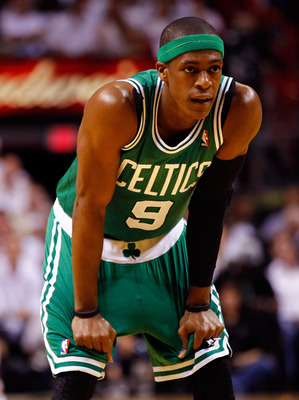 Mike Ehrmann/Getty Images
After much debate, Rajon Rondo steps to the forefront and snags the starting quarterback position for the NBA squad.
Rondo gets the nod for numerous reasons.
For one, he's arguably the best floor general in the NBA, making him a chief candidate to be a quality point guard on the football field.
He gets his teammates involved as well as anybody, often dazzling fans with passes that very few can make. Now just envision him lofting tight spirals to James, Westbrook and Griffin.
This would be fun to watch.
Secondly, while he may be a bit short and skinny (6'1'', 186 pounds), his stature isn't going to cause major hindrances on the gridiron. Plus, with his speed, many of his throws would be outside of the pocket on the run, where he wouldn't have to worry about seeing over tall linemen.
Thirdly, he could make plays through the air and on the ground. He would possess the field vision to make keen decisions under pressure, while also having the presence and running ability to tuck it and run.
Lastly, and most importantly, he's a fierce competitor and this is what is needed at the quarterback position. Rondo would demand much from his teammates and would leave everything on the field. This is the characteristic that ultimately raises him to the top of the depth chart.
Kicker/Punter: Steve Nash
Steve Nash is a wizard with the ball in his hands as well as with his feet (watch the video to see some of his soccer tricks).
As a result, Nash earns the starting position as the kicker and punter.
His overall coordination is incredible, and he would seemingly learn the ropes of kicking at the snap of a finger.
Further, he could also serve as the backup quarterback. While he may not have the elusiveness of Rondo, he could fill in if necessary and accurately distribute the ball to all the aforementioned studs.
Keep Reading