25 Pictures of Athletes Paying off Bets or Getting Hazed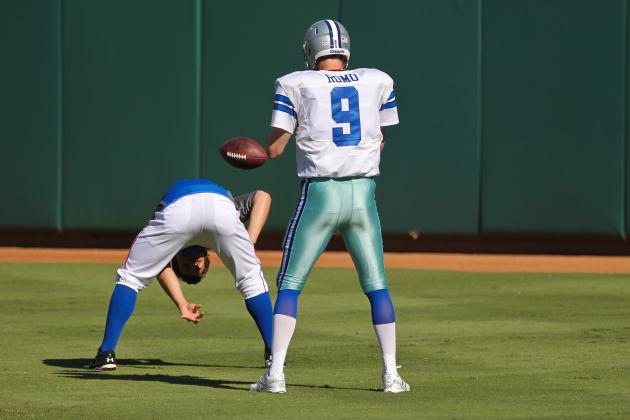 Image via texaswasyu.tumblr.com
The rough world of sports has always had a wacky underbelly. Buried beneath the performance-enhancing controversy and money-grubbing personalities is a realm of hilarity. Bets and humorous banter have flooded an otherwise staid atmosphere.
With Rangers reliever Joe Nathan recently being forced to dress like Tony Romo after his Giants lost to teammate Mike Adams' 'Boys, we're presented with the ideal segue to similar wreckage.
Prepare yourself for a whirling dervish of randomness full of costly wagers and belligerent hazing rituals that have epically coated professional athletics since the first caveman was seen carrying a pink "Hello Kitty" backpack during initiation.
Like preparing for a frigid pool, let's simply jump in to the 25 funniest pics of athletes paying off bets or getting ritually hazed.
In the words of Joe Pesci, "Funny how, funny like I'm a clown, I amuse you?"
Begin Slideshow

»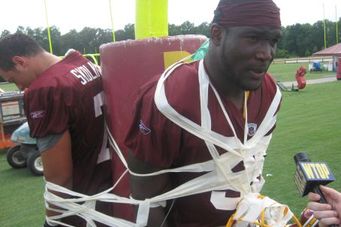 Image via voices.washingtonpost.com
Featuring "ice water baths, Gatorade showers and wet towel treatments," according to The Washington Post, Brian Orakpo's Washington hazing built a bond between teammates that couldn't be broken.
In just over three seasons, Orakpo's racked up 29.5 sacks. It worked.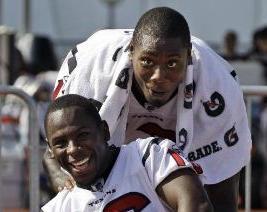 Image via egotvonline.com
After firing off a 4.22 40-yard dash at the 2010 Combine, Trindon Holliday proved he didn't need a vehicle for transportation.
His new Texans teammates weren't sure, so they bought him a pink tricycle.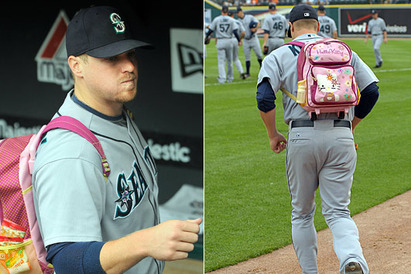 Image via abcnews.go.com
The epic pink backpack, it never fails.
Seattle reliever Shawn Kelley gets it done with an added wad of chewing tobacco for effect.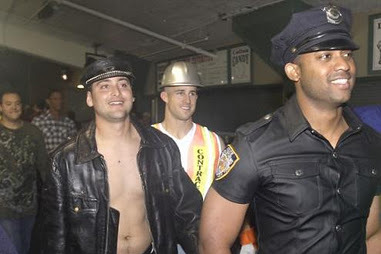 Image via bleedingyankeeblue.blogspot.com
Brett Gardner, Juan Miranda and Francisco Cervelli paint a brilliant Village People masterpiece.
Start dancing the "YMCA" and we've got a winner.
Image via nopepperplaying.com
The Tampa Bay Rays know how to rock their rookies.
But not having another rookie dress up as Dino, the Flintstones' pet dinosaur, was a major miss.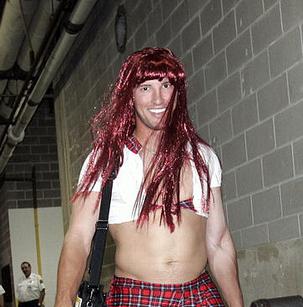 Image via flickr.com/photos/17662958@N04/4615219405/
In preparing to join Wesley Snipes, Patrick Swayze and John Leguizamo in To Wong Foo, Thanks for Everything, Julie Newmar, Padres closer Huston Street fully mastered the art of drag.
Imagine.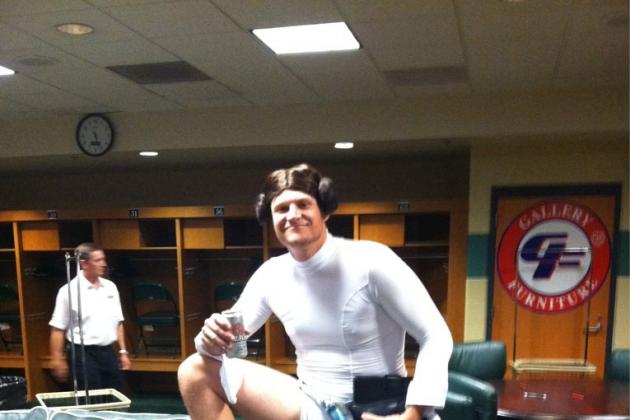 Image via aeryssports.com
Rockies reliever Matt Reynolds seems happy showing off his Princess Leia prowess.
The goofus smile is a good start.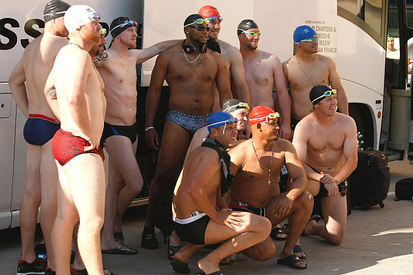 Image via desertlivingtoday.com
Or maybe the Bikini Backs, we like the sound of that.
According to the D'backs, any long bus ride requires a Speedo and goggles.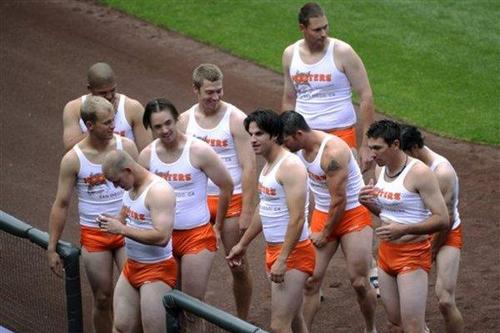 Image via gaslampball.com
We were once under the impression that Hooters girls were of the All-American cheerleader or girl-next-door type.
That was a long time ago.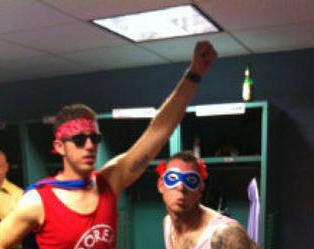 Image via unsportsmanlike.ca
While J.P Arencibia went with the Captain Underpants-inspired suit, fellow Blue Jays rookie Brett Lawrie redid Black Swan.
Toronto does it right, eh.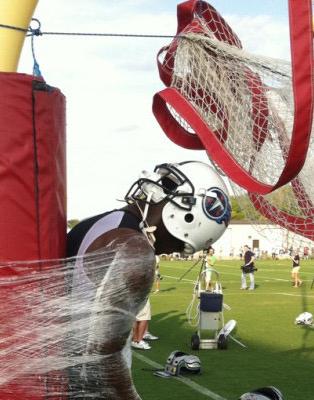 Image via bustedcoverage.com
Last August, then-Titans fullback Patrick Hill took his rookie hazing like a man.
It was his shining hour.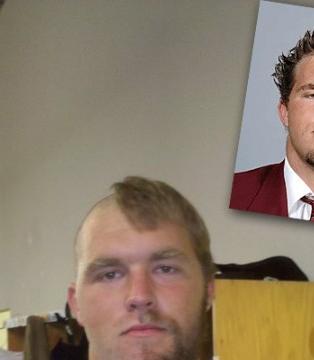 Image via bustedcoverage.com
Former USC lineman Alex Parsons was forced to take the Harvey Dent route when half his face and most of his ego were trimmed.
It seemed like a thrilling, yet underwhelming experience for him.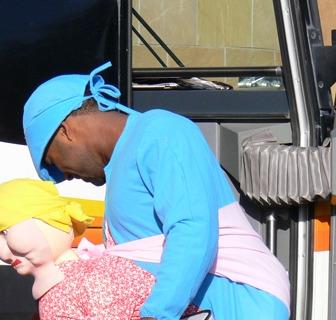 Image via sittingstill.net
Former Padres second baseman Josh Barfield, now with the Orioles, made an immediate impact on the league when he was seen parading around as a toddler.
If only the .264 hitter was as brilliant with the stick.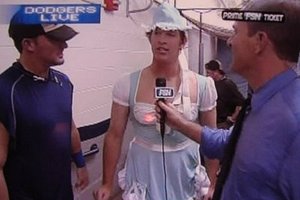 Image via sonsofstevegarvey.com
Mark Sweeney dressed up as actor Patrick O'Neal, while star southpaw Clayton Kershaw took the Little Bo Peep route.
Kershaw continues to intimidate hitters.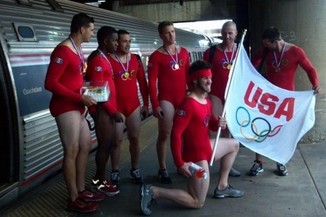 Image via yardbarker.com
First there was the Magnificent Seven, honoring the '96 gymnastics team that won the gold. Then, there was the Fierce Five of 2012.
But who are these not-at-all-magnificent seven? That's a clown question, bro.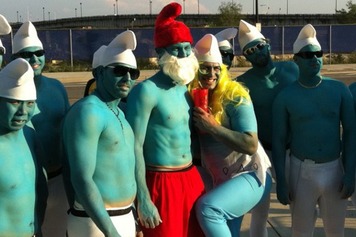 Image via sportressofblogitude.com
Led by Stephen "Papa Smurf" Strasburg, the blue-man Nationals are smurfing past the competition.
Hazing at its finest.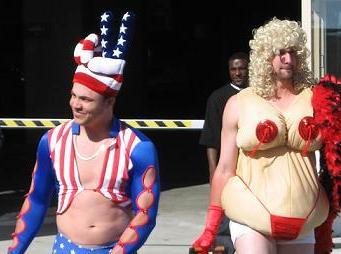 Image via gaslampball.com
Back in 2007, Pirates rookies got perhaps the worst of an insane tradition.
Although, with only 68 wins on the season, they probably deserved it.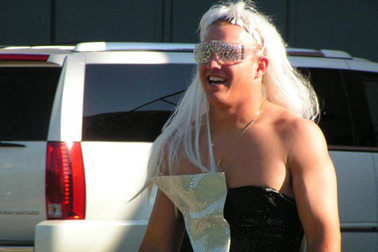 Image via fangraphs.com
It's certainly noteworthy that the Angels have now had two players with a type of fish surname. Tim Salmon being the first.
The younger one might be the most rebellious.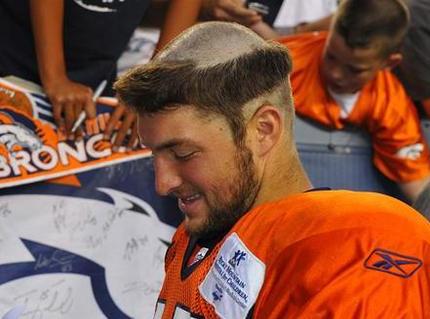 Image via monomachines.com
Introducing everyone's beloved All-American Timothy Friar Tuck.
Tebro's epic shape-up set the standard for all rookie hazings.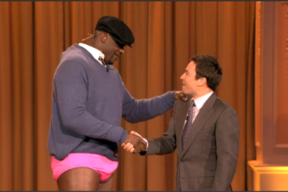 Image via basketball-n-ent.com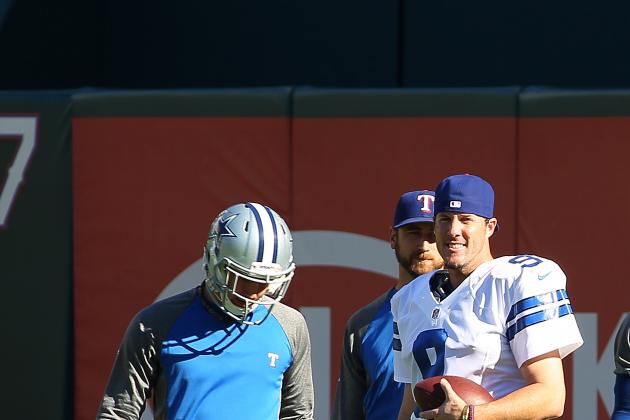 Rick Yeatts/Getty Images

The Cowboys-Giants rivalry is one of the fiercest in sports, but it got even juicier when Texas relievers Joe Nathan and Mike Adams placed a friendly wager on the outcome of their NFL opener.
"It feels just like I thought it would...absolutely terrible," Nathan said about having to dress up like his team's rival quarterback, Tony Schlomo (err...Romo), after his G-Men lost.
For Adams, however, pleasure was immediate. "This is probably the best bet I've ever won in my entire life," he said. The kicker to the bet was a five-minute signing period with fans so that everyone could appreciate the moment.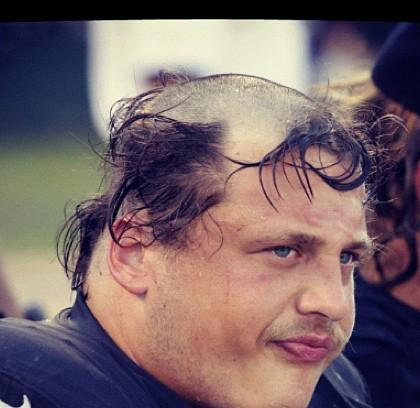 Image via thekevinburkeproject.com
Music to the eyes.
Pitt product Lucas Nix knew he'd made it when the Raiders painted this masterpiece on his head.
Image via sportscasm.com
FSU product Darnell Dockett was feeling good about his Seminoles last September, when he bet notorious arguer Skip Bayless that his college team would defeat OU.
But after Oklahoma won 23-13, Dockett had to show this memorable headline. On the other hand, if Bayless had lost, he would've had to wear a LeBron James jersey on ESPN First Take. Oh, what could have been.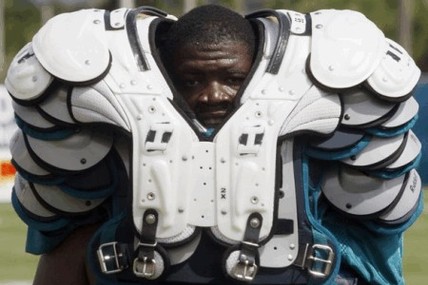 Image via info.rogersathletic.com
As a rookie with the Dolphins in 2010, 340-pound defensive tackle Travis Ivey embraced his heavy hazing.
Ouch town, population this guy.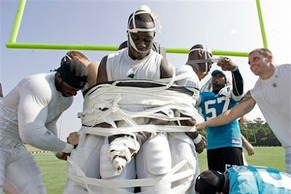 Image via awfulannouncing.blogspot.com
Carolina linebacker Jon Beason should've taken the blue pill instead.
These Panthers know how to form true bone-crushing friendships.
Follow me for more humanity insanity. Follow @z_pumerantz