The Pittsburgh Steelers travel to Oakland to face the Raiders this week, their final game before their early-season bye week. Though it seems like an easy contest, there's literally no such thing in the NFL—underestimating an opponent is a surefire way to a handy defeat.
However, this is absolutely a winnable game for the Steelers. Let's take a look at three ways Pittsburgh should approach the Raiders this week in its quest for their second victory of the season.
Find a Way to Run the Ball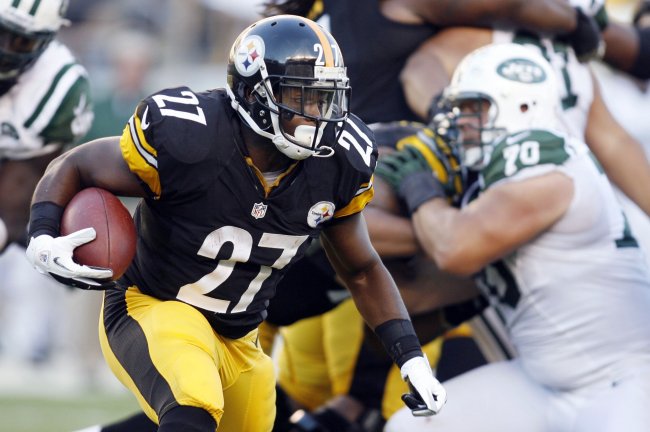 Charles LeClaire-US PRESSWIRE
The Oakland Raiders are struggling mightily against the run so far this season, giving up an average of 147.5 rushing yards per game. In an ideal world, this would be the main tactic for the Steelers to employ against Oakland this week, but it's hard to tell if their running game is up to the task.
Presently, the Steelers are averaging just 70.5 rushing yards per game, with Isaac Redman and Jonathan Dwyer their primary backs. Dwyer and Redman's struggles are primarily no fault of their own, however. Both men have had a similar number of carries (21 for Dwyer, 23 for Redman) and only 71 and 45 yards to show for it, respectively.
Kirby Lee-US PRESSWIRE
The issue is the offensive line, as I detailed earlier this week. The blocking has been poor thus far, and as such, the run game cannot produce. However, the fact that the Raiders are performing poorly when defending the run does open up some opportunities for Pittsburgh this week.
Poor tackling and bad technique are the two most likely culprits for why the Raiders cannot defend the run, and the Steelers' backs (and offensive line) can use this to their advantage.
And considering that the Raiders are likely well aware of Pittsburgh's struggles when running the ball, as well as the fact that they possess one of the best receiving trios in the game, the Steelers can effectively use the element of surprise to get better returns from the run this week.
Justin K. Aller/Getty Images
If Redman and Dwyer can stay away from linebacker Rolando McClain and defensive tackle Richard Seymour and reach the second level, they'll be in good shape to have a dominant run outing.
Those are big ifs—McClain and Seymour are the standouts on the Raiders' front seven, and the second level is a place few Steelers backs have trod thus far—but Oakland's performance against the run thus far proves that it's actually quite possible.
Pittsburgh could be well-served to give Chris Rainey more than the nine to 10 snaps per game he's had thus far. His shifty quickness may just be the thing to break the Raiders' defense.
Stop the Raiders' Passing Game: Get to Carson Palmer, Get Physical with Receivers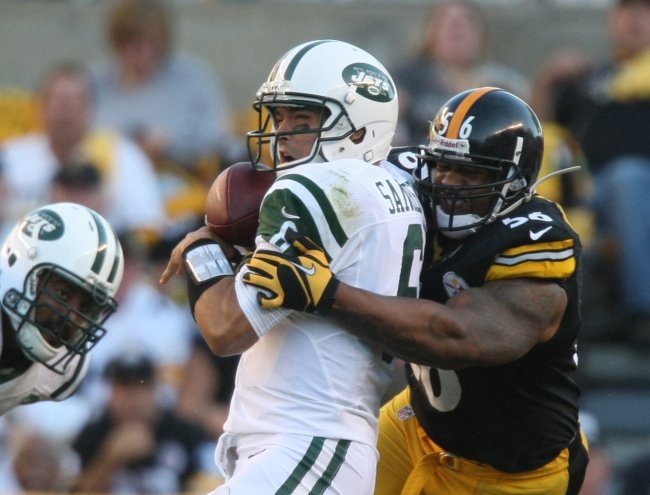 Jason Bridge-US PRESSWIRE
The Steelers had the top passing defense in the league last year, and though teams are aware of this fact, they've still tried to throw on them, testing out both their pass rush and secondary. Opponents are averaging 26.5 pass attempts per game—the fifth-highest number in the league—but aren't having much success, completing an average of 14.5 of them.
Regardless of those numbers, the fact that the Raiders haven't managed to get much going in their run game (averaging a mere 34 rushing yards per game, despite having one of the league's better running backs in Darren McFadden) means that they'll be throwing regularly against Pittsburgh on Sunday.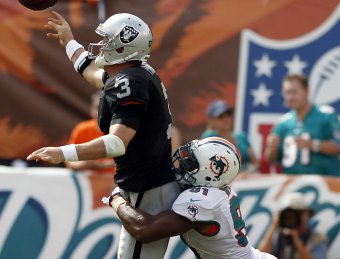 Robert Mayer-US PRESSWIRE
Only one team—the New Orleans Saints—throws the ball more times per game than the Raiders. Clearly, playing from behind, as they did last week against the Miami Dolphins, influences this decision, but their lack of a run game forces them to throw even when they otherwise wouldn't have to. As such, the Raiders have been averaging 324.5 passing yards per game, the third-highest average in the league.
All that passing means two things: The Steelers will be presented with ample opportunities to put pressure on Raiders quarterback Carson Palmer, and the secondary will need to get physical with the Raiders receivers.
Pittsburgh's pass rush has been fairly weak thus far, with just four sacks, five quarterback hits and 11 hurries on the year. According to Pro Football Focus (subscription required), only linebacker LaMarr Woodley has a significantly positive pass-rushing grade, with a sack, two hits and five hurries to his name.
The lack of James Harrison in the linebacking corps appears to be hurting the Steelers' pass rush more than it did last year, especially considering that fellow backers Lawrence Timmons and Larry Foote are being used more heavily as run-stoppers and in coverage rather than in the pass rush. Harrison is out again this week and may not return to the lineup until after next week's bye.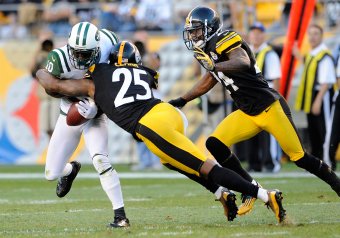 Joe Sargent/Getty Images
Palmer has a not-so-good per-game sack average of 1.5, but considering that it happens on just over three percent of his dropbacks, the Steelers will have to rely on more than pressure to stop the Raiders' pass game.
If the Steelers secondary can shut down the Raiders receivers by playing press coverage, then there will be no one for Palmer to throw to. This, as we all know, doesn't just result in incompletions. It can cause a sack while Palmer tries to hang around in the pocket waiting for someone to get open, or it can cause interceptions, with Palmer making ill-advised throws in hopes the pass isn't caught by the wrong man.
Going younger in the secondary, combined with switching from a zone coverage approach to man coverage, has been working wonders for Pittsburgh this season, particularly last week against the New York Jets.
New York quarterback Mark Sanchez targeted his receivers 26 times and connected with them just 10 times for a mere 138 yards and one touchdown with cornerbacks Ike Taylor, Keenan Lewis and Cortez Allen and safeties Ryan Mundy and Ryan Clark prowling the defensive backfield.
The combination of pressure on Palmer and man coverage on the Raiders' triage unit of receivers should effectively cut off their passing game. If the Raiders continue to fail when it comes to the run, there's thus no yards to be had for Oakland this week.
Get Back to Some No-Huddle Passing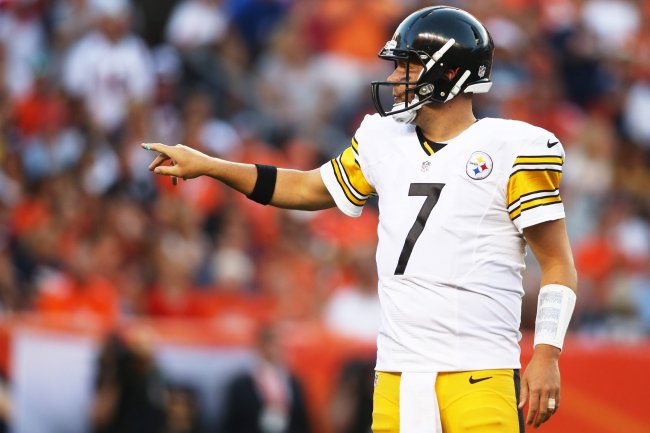 Chris Humphreys-US PRESSWIRE
Though the no-huddle, hurry-up passing game looked fairly sharp against the Denver Broncos in Week 1, despite losing the game, the Steelers chose to move away from it last week against the Jets, with offensive coordinator Todd Haley saying that it simply didn't work.
However, this week's contest against the Raiders presents a great opportunity for the Steelers to return to the no-huddle.
The Raiders cornerback crew is one of the least impressive in the league. According to Pro Football Focus, their best is Shawntae Spencer, who ranks 75th out of 139 corners who have seen at least one snap this year; their other three, Ronald Bartell, Joselio Hanson and Patrick Lee, all grade out in the 100s.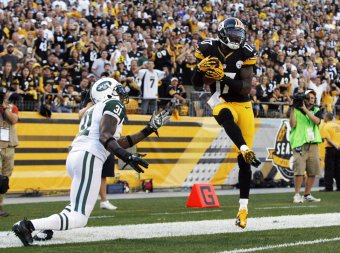 Charles LeClaire-US PRESSWIRE
They've allowed completions on 18 of the 24 passes thrown their way, haven't notched an interception and have just 14 tackles between them on the year.
Quick throws will not just allow Ben Roethlisberger to stay upright in the pocket, it will also catch this thrown-together group of cornerbacks off guard. Throw in the Steelers' three speedy receivers—Mike Wallace, Antonio Brown and Emmanuel Sanders—and it seems like a given they'll have big gains from the passing game this week.
Even the Dolphins' less-than-inspiring receiving corps was able to shred the Raiders' secondary last week, with Brian Hartline (nine receptions, 111 yards) having a particularly good day. Hanson, Spencer, Bartell and Lee don't have a chance against the far-better Steelers crew this week, and no-huddle will only make the passing attack that much more deadly.