Redrafting the 2012 NFL Draft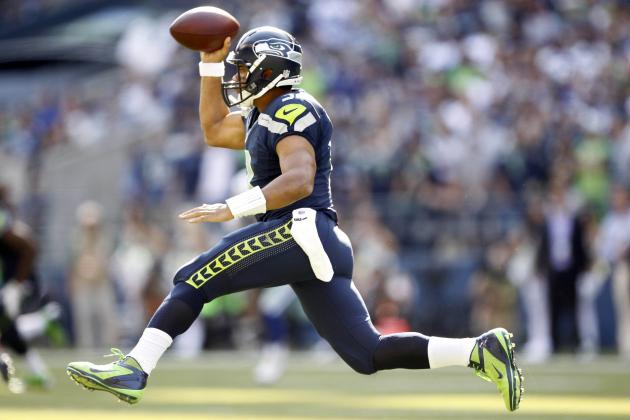 Joe Nicholson-US PRESSWIRE

Despite spending thousands of hours grading every prospect entering the draft each year, no one truly knows how each player will pan out until he puts the pads on and starts playing against NFL veterans.
With hindsight being 20/20, there are GMs around the league that are kicking themselves for the mistakes they made in the draft.
In this two-round redraft, the players are not evaluated just on their production in the NFL alone. While their performance over the last few weeks will have significant weight, someone like Michael Brockers is not going to go undrafted just because he's been dealing with a nagging ankle injury.
In other words, both NFL production and potential will be weighed equally.
For the sake of simplicity, draft positions are based on the final order after the draft was completed. Here is a two-round redraft of the 2012 draft.
Begin Slideshow

»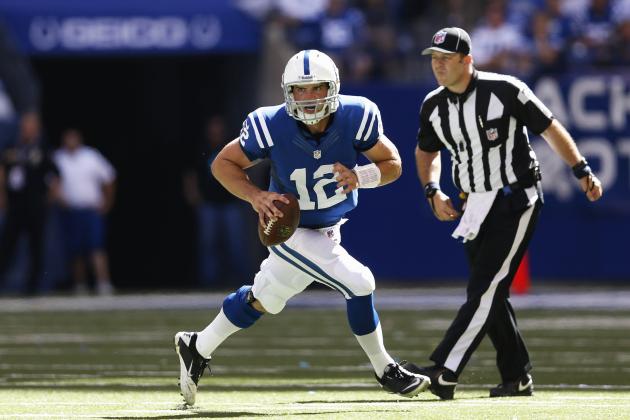 Joe Robbins/Getty Images

Actual Pick: Andrew Luck
While RGIII has had the better start to his career on the stat sheet, Andrew Luck is still the top pick for the Colts.
For one, Luck is a better fit for the Colts offense. The Colts want to be a balanced team that can run with power and throw with efficiency. Whoever drafts RGIII will ultimately use some college spread concepts in their offense, which is not what offensive coordinator Bruce Arians wants to do in Indy.
Plus, before anointing RGIII the better player after three weeks, consider the defenses the two quarterbacks have faced. While Luck has gone against a solid Minnesota defense and an elite Bears unit, Griffin has cut up arguably the worst defense in the league in New Orleans and a younger unit in St. Louis.
He may not be the flashier pick, but Luck is the right man for what the Colts want to do.
Dilip Vishwanat/Getty Images

Actual Pick: Robert Griffin III
After three weeks of regular-season football, it is clear as day that RGIII is the right man for the job in Washington.
After dropping 40 points on the Saints in his debut, he was nearly able to bring his team back against the Rams.
Griffin is perfect for what Mike Shanahan wants out of his quarterback. There is no question that RGIII has the arm talent to play in the NFL, but he also has enough mobility to take advantage of the moving pockets and other concepts that the Shanahans like to use with their mobile quarterbacks.
Of course, they would have been fine with taking Andrew Luck here, as both players seem perfect for what each organization wants from the position.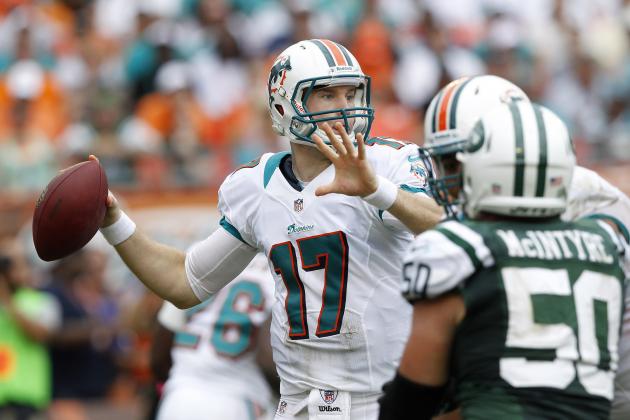 Joel Auerbach/Getty Images

Actual Pick: Trent Richardson
While the Dolphins may not be lighting up the scoreboard through the air, it is evident that Ryan Tannehill has everything it takes to be an NFL quarterback.
He has the arm, the accuracy, and the poise to be a starter. Given the Dolphins' lack of talent at the receiver position, the fact that he is not totally embarrassing himself is impressive enough.
Tannehill is a perfect fit in the Browns' West Coast offense. He has a quick release and enough mobility to pick up yards when things break down.
He does need to work on his anticipation a bit and cut down on his turnovers, but with time Tannehill will become one of the better quarterbacks in the league, which is something Browns fans will sign up for in a heartbeat.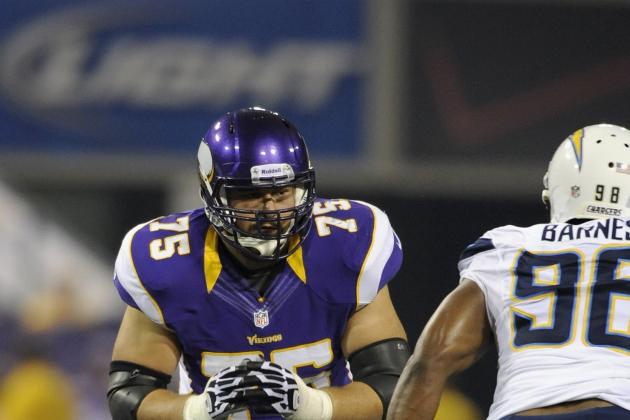 Hannah Foslien/Getty Images

Actual Pick: Matt Kalil
No need to change the pick here. Quarterback Christian Ponder has enjoyed a successful sophomore campaign, and the improved play of his offensive line is a big reason for it.
So far, Kalil has been solid both in protection and in the run game. He struggled with the speed rushes of Robert Mathis and Dwight Freeney, but so do most rookie tackles in their second game.
So far, it appears as if the Vikings have found their franchise left tackle.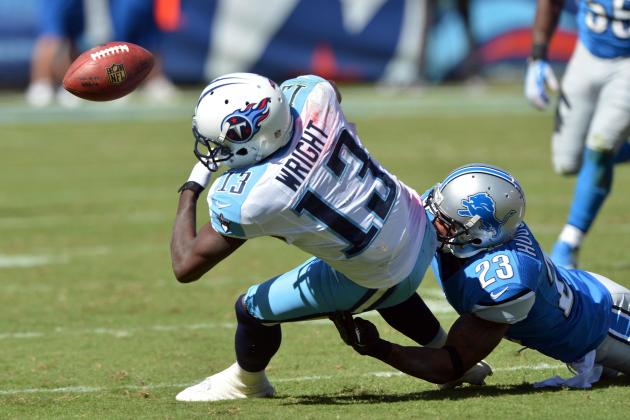 Don McPeak-US PRESSWIRE

Actual Pick: Justin Blackmon
Much of Blackmon's non-production can be attributed to Blaine Gabbert being Blaine Gabbert, but Blackmon has not proven to be worth the off-field baggage that should not come along with a top-five selection.
So far, Blackmon only has four catches in three games.
Kendall Wright, on the other hand, is a better deep threat than Blackmon, despite playing with a first-year quarterback in Jake Locker.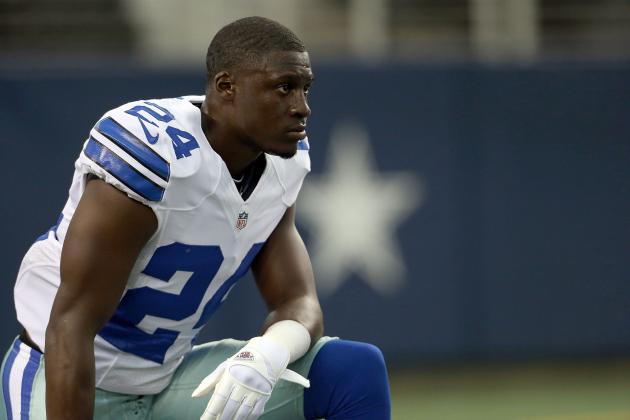 Ronald Martinez/Getty Images

Actual Pick: Morris Claiborne
After seeing a massive improvement in the Cowboys secondary over the first few weeks of the season, it appears as if the Cowboys were right in their move up to draft Claiborne.
He was exceptional in his regular-season debut against the Giants, as the Cowboys were able to bottle up the Giants' passing attack to get the upset.
Coming out of the draft, Claiborne was viewed as one of the most "pro-ready" prospects in years because of his great technical ability and fluid movement. So far, he is living up to the billing for the Cowboys.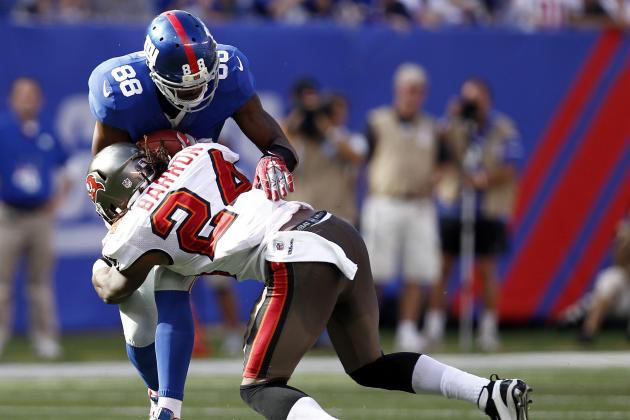 Jeff Zelevansky/Getty Images

Actual Pick: Mark Barron
Safeties, especially those of the "strong" mold, are rarely worth a sixth-overall selection. But Mark Barron is the right selection for the Bucs.
What Barron brings to the Bucs goes beyond his physical ability. He has already shown that he can hit, cover, play the run, and even score.
Still, Barron makes his imprint on the Bucs with his physical style of play. Head coach Greg Schiano is trying to change the culture of what was once a young, undisciplined Bucs team, and Barron fits the mold perfectly.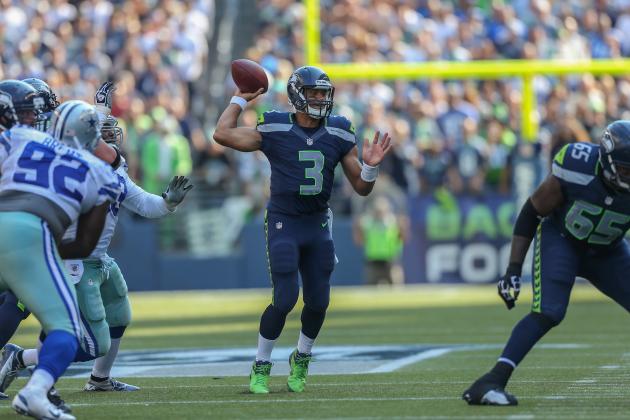 Otto Greule Jr/Getty Images

Actual Pick: Ryan Tannehill
With Tannehill no longer on the board, the Dolphins pick the next-best passer in Russell Wilson.
Coming out of the draft, the biggest knocks on Wilson were his size and whether or not his success was dependent on the glut of talented players around him.
However, Wilson has defied all odds to beat out Matt Flynn for the starting job in Seattle and get the Seahawks to 2-1.
Wilson has enough mobility to make yards out of broken plays and turn sure losses into big gains, but his accuracy and timing have been the most impressive aspects of his game. Offensive coordinator Mike Sherman's offense, which featured a mobile quarterback in Ryan Tannehill at Texas A&M, would be a great fit for Wilson's skill set.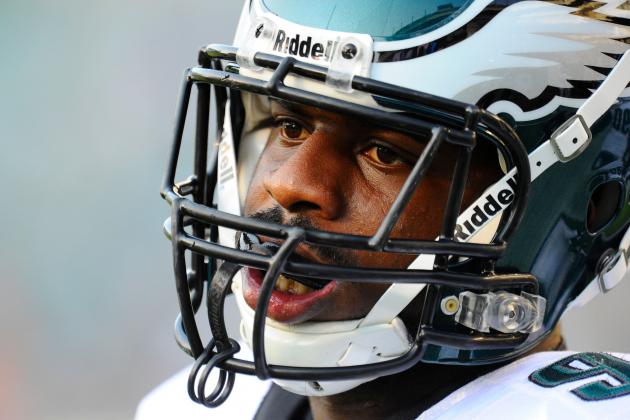 Dale Zanine-US PRESSWIRE

Actual Pick: Luke Kuechly
Just about anyone who watched the Panthers last year knew they had a massive need at defensive tackle, yet they elected to completely avoid making any upgrades to the position in both the draft and free agency.
They are paying for their mistake now, as their run defense is as bad as any in the league. They allowed Andre Brown to gash them for 113 yards with ease last Thursday night.
Meanwhile, Cox is the most complete defensive tackle in this year's class. Not only would he be a huge upgrade in the run game, but he would provide an interior pass rush that they are sorely lacking.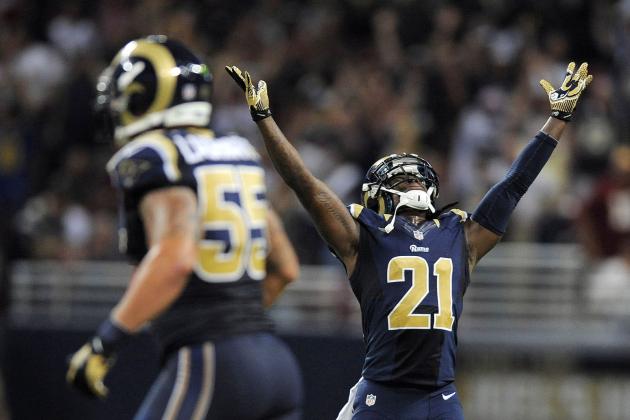 Jeff Curry-US PRESSWIRE

Actual Pick: Stephon Gilmore
Gilmore, despite some early struggles against the Jets, seems to be on track, but Janoris Jenkins' talent is too good to pass up here.
If the draft was based on pure talent alone, Jenkins would have been in the mix to be the first cornerback off the board, but character concerns caused him to drop to the Rams in the second round.
So far, he's managed to stay out of trouble, making him more than worthy of the 10th overall selection. He has blanketed veteran receivers and got the best of Bears receiver Alshon Jeffery on Sunday.
He still has plenty of time to get in trouble, but so far, there are a lot of NFL teams kicking themselves for not taking this player earlier.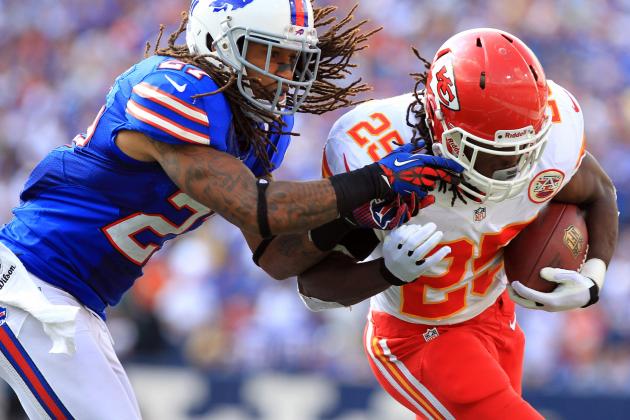 Kevin Hoffman-US PRESSWIRE

Actual Pick: Dontari Poe
For a team that has looked as bad as the Chiefs have at times, they don't have a ton of holes on their team.
However, they have given up a ton of big plays and they clearly are feeling the loss of Brandon Carr.
Gilmore had a bit of a rough start against the Jets, but he has enough ability to eventually become a high-end corner. He excels in press coverage and is a great run defender. He would make more of a difference in the Chiefs' disappointing defense than Dontari Poe has so far.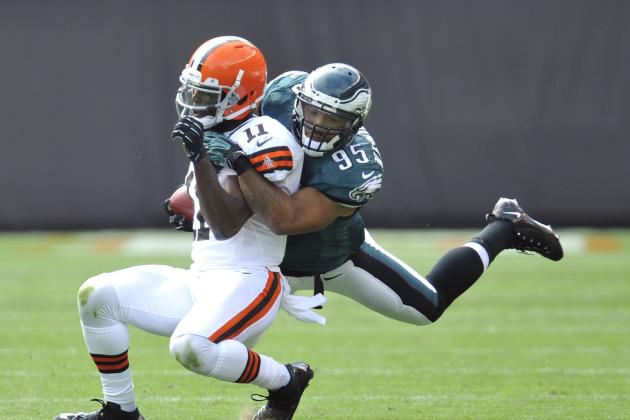 David Richard-US PRESSWIRE

Actual Pick: Fletcher Cox
Fletcher Cox may have been the first player taken by the Eagles, but Mychal Kendricks, their second-round pick, has been the more impressive.
Unlike just about every other Eagles linebacker, Kendricks can play in space and has terrific range. His presence gives the Eagles an element of speed at the linebacker position they have been sorely lacking.
Next to Luke Kuechly, Kendricks has been the best linebacker of this year's draft class so far.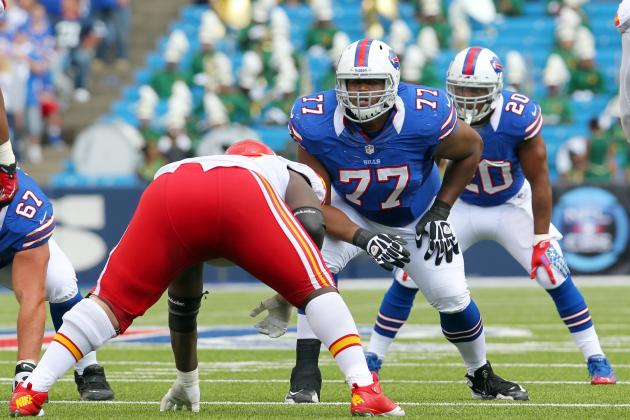 Timothy T. Ludwig-US PRESSWIRE

Actual Pick: Michael Floyd
Now 3-0 and finding ways to win with their great defense and Kevin Kolb, the Cardinals are just a decent offensive line away from becoming a true force to be reckoned with in the NFC West.
Many thought Cordy Glenn did not have quick enough feet for a left tackle, yet he was able to win the job over Chris Hairston during training camp for Buffalo.
With Bobbie Massie playing well at right tackle, the Cardinals would be able to kick Glenn inside to guard when Levi Brown returns next season. Either way, the Cardinals are getting a quality, versatile player at a huge position of need.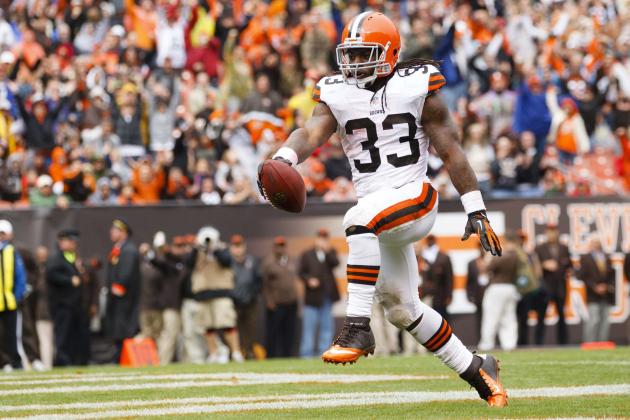 Rick Osentoski-US PRESSWIRE

Actual Pick: Michael Brockers
This is a huge drop for Trent Richardson, who wound up going third overall to the Browns in the real draft.
However, while Richardson has flashed his great talent in his first three games, he has not been quite as physically dominant as the Browns had hoped. Throw in the fact that he may have chronic knee issues throughout his career, and perhaps third overall was a bit high for the runner.
From the perspective of the Rams, they must prepare for Steven Jackson's inevitable decline. By easing Richardson into the starting role as they phase out Jackson, they would prolong Richardson's career without wearing him down.
Of course, this would mean that they hold off on pulling the trigger for Isaiah Pead later in the draft.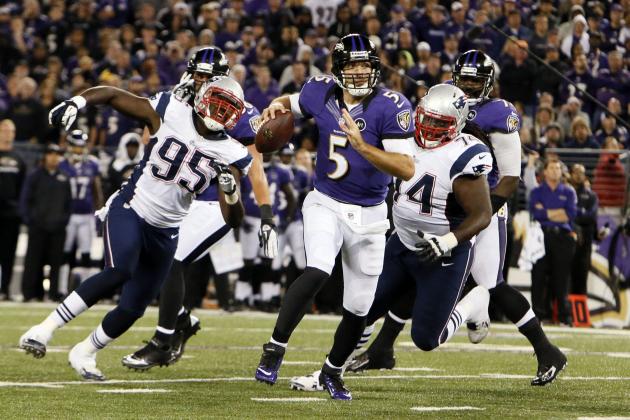 Mitch Stringer-US PRESSWIRE

Actual Pick: Bruce Irvin
Bruce Irvin has flashed the quickness and burst that caused the Seahawks to draft him this early, but Chandler Jones has arguably been the most complete rookie defensive end so far.
Injuries prevented Jones from putting up monster sack numbers at Syracuse, but his length and athleticism give him all of the tools needed to succeed in the NFL.
He may not be as quick and explosive as Irvin, but he is just as effective, if not more so, as a rusher and can play on all three downs.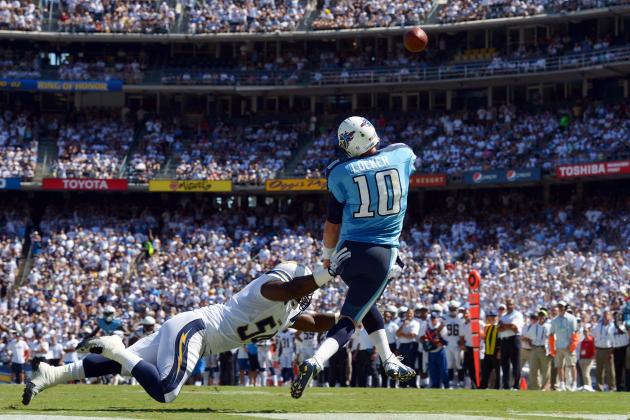 Jake Roth-US PRESSWIRE

Actual Pick: Quinton Coples
Coples jumped out during the preseason in his dominance of second-string offensive linemen, but he has yet to make the same impact against starters.
Part of the reason for his quiet start is that he simply cannot get on the field:
Jets first-round pick Quinton Coples only played in 15 of 83 defensive snaps (18 percent) vs Dolphins yesterday. #nyj

— Manish Mehta(@MMehtaNYDN) September 24, 2012
Ingram, on the other hand, provides the Jets with an element of speed that they do not have at the linebacker position.
With Darrelle Revis lost for the season, the Jets need to find a way to get to the quarterback faster, and Melvin Ingram could have been that answer.
http://online.wsj.com/article/SB10000872396390444358804578016550047819108.html?mod=WSJ_NY_Sports_LEFT_LEADNewsCollection
Jeremy Brevard-US PRESSWIRE

Actual Pick: Dre Kirkpatrick
Kuechly takes a bit of a drop in the redraft, but it's not because he has not played well. Kuechly has been everything the Panthers could have asked for in a weak-side linebacker. He has already recorded 21 tackles (nine solo) in three games.
Meanwhile, the Bengals have not been getting anything for their investment in Dre Kirkpatrick, who has spent most of his time battling injuries this season.
Undrafted free agent Vontaze Burfict has been serviceable as the team's weak-side 'backer, but Kuechly would turn what is almost an area of need into a strength for Cincy.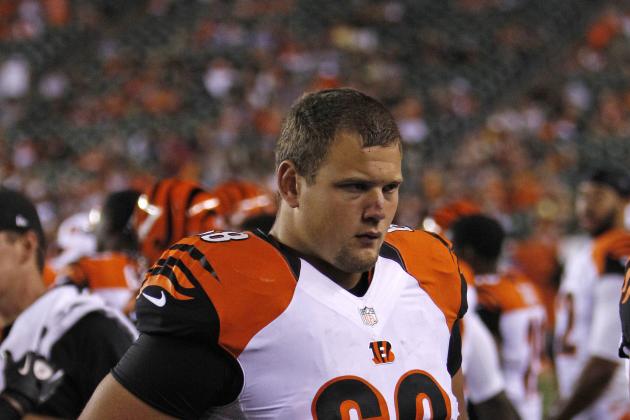 Frank Victores-US PRESSWIRE

Actual Pick: Melvin Ingram
In April, the Chargers took Melvin Ingram simply because the value was too good to pass up.
With Ingram in New York in this virtual draft, the Chargers can focus more on an area of need in the interior of their offensive line.
Kevin Zeitler is a powerful masher at guard who would fill in perfectly for the recently-"retired" Kris Dielman. A healthy Ryan Mathews running behind a bulldozer in Zeitler would give the Chargers the power running game they have lacked since the Tomlinson era.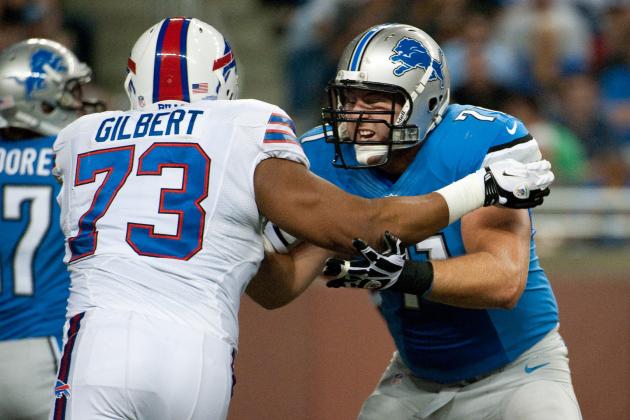 Tim Fuller-US PRESSWIRE

Actual Pick: Shea McClellin
For some unknown reason, the Bears are dead set in believing that J'Marcus Webb, a former seventh-round pick, can magically turn into a serviceable left tackle.
While Reiff is not yet starting for the Lions, he had a terrific summer and will probably be starting by next season, if not sooner. The Lions are just not ready to trust a young rookie to protect Matthew Stafford yet.
However, if Reiff was drafted by Chicago, he would start immediately at LT and give Jay Cutler fewer reasons to throw a hissy-fit on national TV.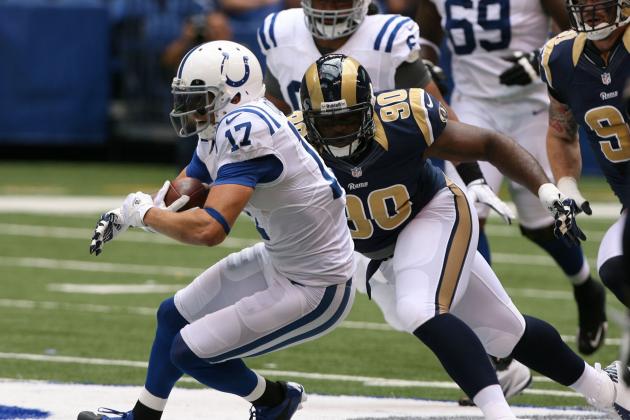 Brian Spurlock-US PRESSWIRE

Actual Pick: Kendall Wright
The Titans defense is sorely missing Jason Jones, who was their best interior pass-rusher last year.
Michael Brockers can defend the run as well as any DT in this year's draft class, but his production as a pass-rusher at LSU was lacking. Still, his unique blend of size, quickness and strength suggest that he can develop into a complete player with some proper coaching.
He has missed time due to an ankle injury, but a healthy Brockers would make a huge difference for the Titans' lackluster defense immediately.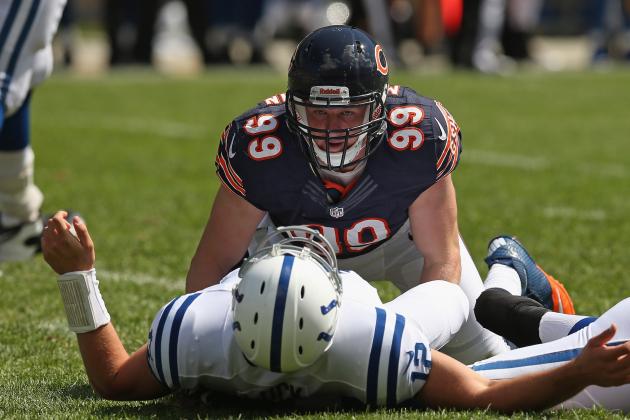 Jonathan Daniel/Getty Images

Actual Pick: Chandler Jones
As one of the most versatile defensive ends/outside linebackers to come out of the draft, McClellin would be a perfect fit in Belichick's multi-front defense.
The rookie has already cracked the starting lineup for the Bears and recorded 1.5 sacks through three games.
He's not quite the pass-rusher that Chandler Jones is and does not have the same kind of length, but he is very cerebral and more athletic than he's given credit for. He could fill Rob Ninkovich's role as both a linebacker and a defensive end.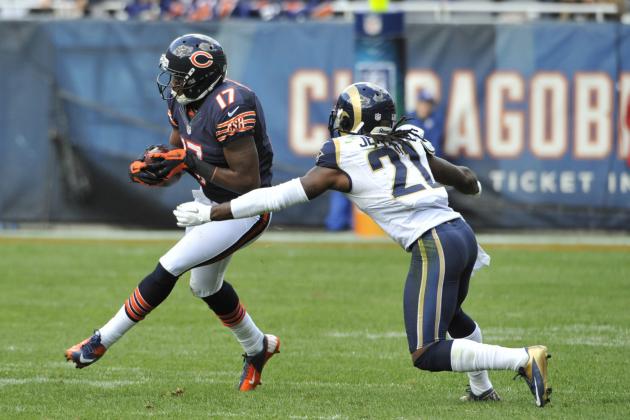 David Banks/Getty Images

Actual Pick: Brandon Weeden
Now that they have a much younger quarterback of the future in Ryan Tannehill, they need to surround him with as many weapons as possible.
Alshon Jeffery is blessed with great size and leaping ability, making him an ideal red-zone target. There is no better way to break in a rookie quarterback than to give him a receiver with a massive catch radius.
Plus, by taking a receiver here, they would not have had to spend such a high pick (second) in the supplemental draft on Josh Gordon.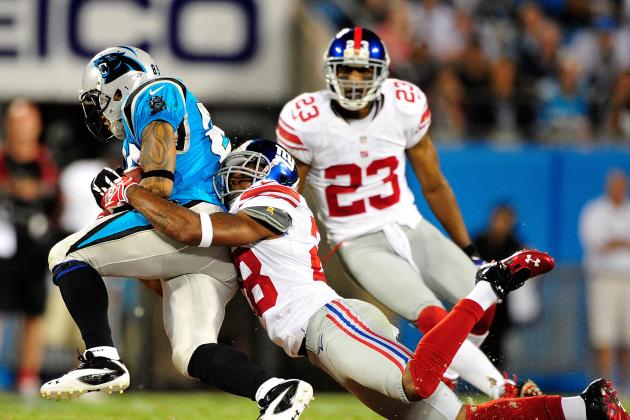 Grant Halverson/Getty Images

Actual Pick: Riley Reiff
This may seem a bit high for a nickel cornerback, but if there is anyone who needs to reach on defensive back talent, it's the Lions.
Meanwhile, Hosley has been a pleasant surprise for the Giants. He has been rock-solid as a slot cornerback, which, in today's NFL, is becoming a more important position than ever as offenses continue to spread the ball out.
Spending a first-round pick on a nickel corner is not a common strategy, but when you look at how many big plays the Lions have given up this season, they need all of the talent they can get on the back end of their defense.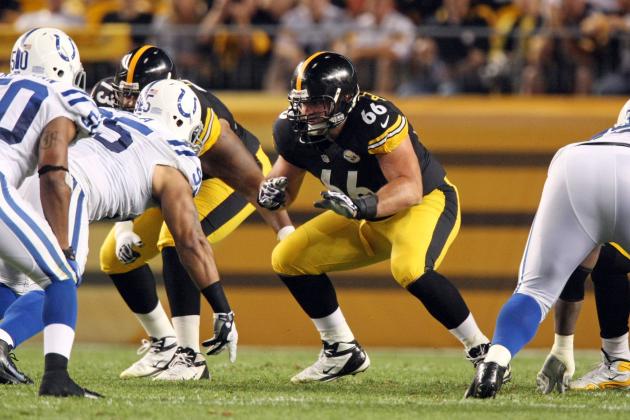 Jason Bridge-US PRESSWIRE

Actual Pick: David DeCastro
David DeCastro may be out for quite a while with a torn MCL, but this was still the correct selection for the Steelers.
Without DeCastro, Pittsburgh has struggled mightily to protect Ben Roethlisberger. In fact, if it weren't for Big Ben's incredible ability to shake off defenders and make terrific throws, the Steelers would probably still be looking for their first win.
As a prospect, DeCastro is as solid as they come with virtually no weaknesses in his game. If he can stay healthy, he should develop into one of the top guards in football sooner rather than later.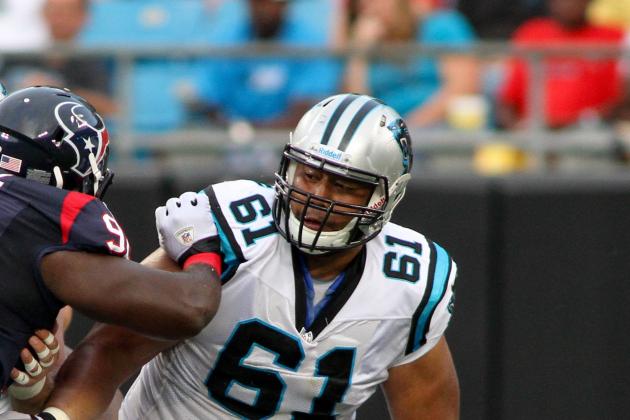 Jeremy Brevard-US PRESSWIRE

Actual Pick: Dont'a Hightower
The Patriots offense has not looked quite right this season, with the offensive line being the primary culprit of their problems.
Most of their struggles could be pinned on second-year tackle Nate Solder, but as a former first-round pick, they are stuck with him for the time being.
Meanwhile, Silatolu has been a monster at the guard position for the Panthers, especially in the run game. The Patriots are clearly trying to become more of a balanced offense, and Silatolu's presence would make life even easier for running back Stevan Ridley.
A balanced Patriots attack that features a power run game will make them extremely difficult to stop, and the Patriots offense will rise back to the top of the league.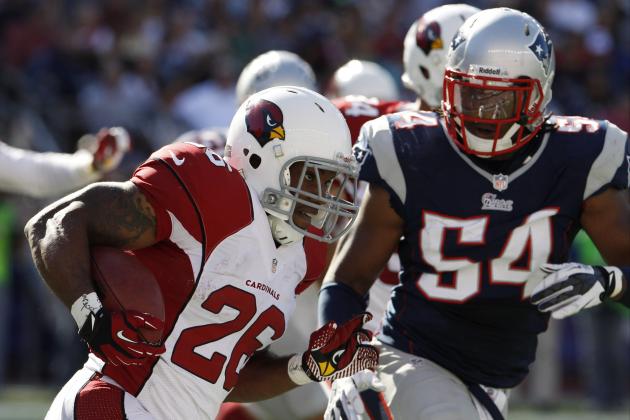 David Butler II-US PRESSWIRE

Actual Pick: Whitney Mercilus
The Texans are probably the most complete team in football, but they could use some added depth at inside linebacker.
With Darryl Sharpton on the PUP list, the Texans are relying on the older Bradie James to be the solution next to Brian Cushing at inside linebacker.
Hightower would not only give them added insurance at the position, but as a part-time defensive end at Alabama, he would provide them with an added pass-rush element. When the team does eventually move on from Bradie James, the Texans will have a young, versatile group of inside 'backers that would be unmatched by any other team in the league.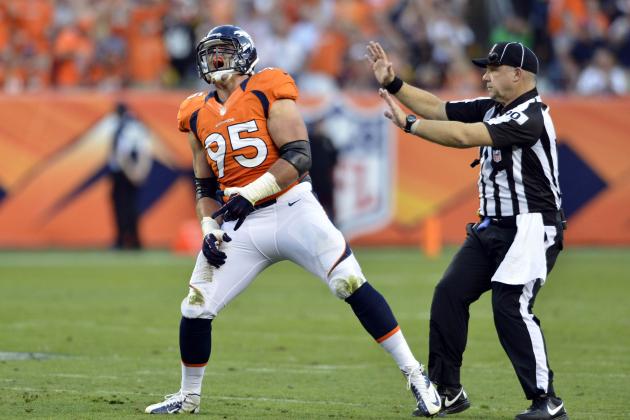 Ron Chenoy-US PRESSWIRE

Actual Pick: Kevin Zeitler
So far, defensive tackle Devon Still has been pretty awful for the Bengals in limited action. Here, they get it right by nabbing the explosive Derek Wolfe, who has impressed so far for the Broncos.
Wolfe has been a bit up and down, as he struggled against a weaker Falcons line but has all of the tools to develop into a quality interior pass-rusher. He is the only rookie Bronco to crack the starting lineup.
Defensive tackle isn't the biggest need for the Bengals, but their defense has been alarmingly bad through three games. They need to find a way to put more pressure on the quarterback to make up for their lackluster secondary.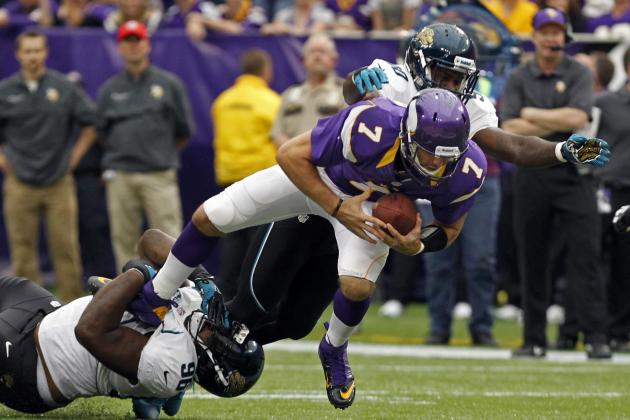 Bruce Kluckhohn-US PRESSWIRE

Actual Pick: Nick Perry
So far, Nick Perry has been pretty disappointing for the Packers. He has been able to crack the starting lineup, but he's been almost invisible as a pass-rusher.
Andre Branch, on the other hand, had an excellent summer with the Jaguars and looked explosive in the preseason.
To me, Branch is a better candidate to make the transition to outside linebacker, as Perry looks a bit unnatural without his hand in the dirt.
With a more explosive player opposite Clay Matthews, opponents will not be able to double-team Matthews as often as they would like without paying for it on the other side.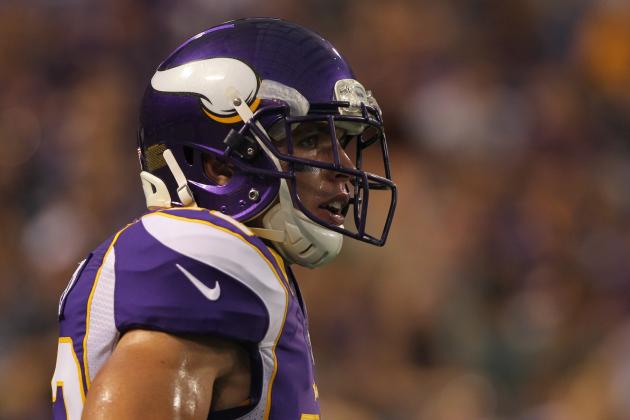 Brace Hemmelgarn-US PRESSWIRE

Actual Pick: Harrison Smith
Even in a re-draft, this is probably a bit of a reach, but the Vikings needed a new safety in the worst way headed into this season.

Smith has not made many "wow" plays, but the Vikings have done a better job limiting big plays with Smith on the back end of the defense. He is being used in both coverage and run support roles.
With time, Smith can develop into one of the better complete safeties in the NFL.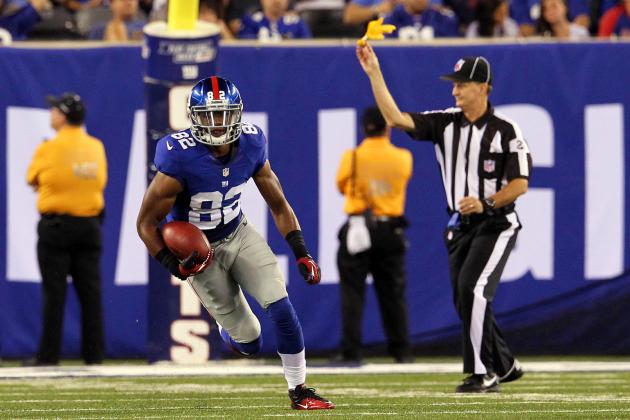 Brad Penner-US PRESSWIRE

Actual Pick: A.J. Jenkins
Despite being one of the best teams in football, it is starting to look like the 49ers had the worst draft of any team in the league this year.
They shocked the draft world by nabbing A.J. Jenkins in the bottom of the first round. Not only has Jenkins been unable to crack the starting lineup, he has not even been active for the 49ers.
Meanwhile, Rueben Randle showed a ton of promise in the preseason. He has not seen a lot of playing time because of the resurgence of Ramses Barden, but he clearly is more talented and will make for a better pro than Jenkins.
He was only picked by the Giants at the end of the second round because the value was too great for the Giants to pass up. If he went to another receiver-needy team, he would certainly be getting more playing time.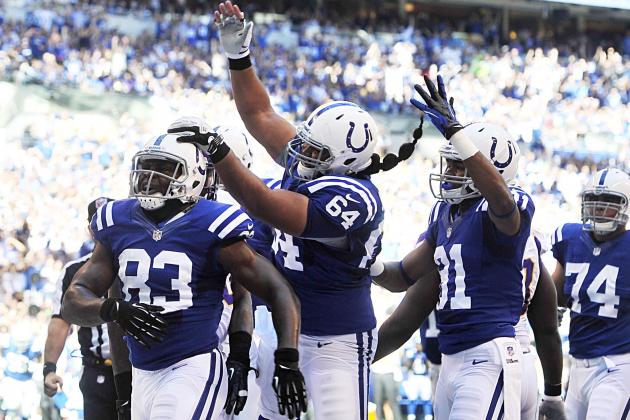 Thomas J. Russo-US PRESSWIRE

Actual Pick: Doug Martin
Doug Martin may be the starting back for the Bucs, but he is averaging under 4.0 yards per carry and not really doing anything that veteran D.J. Ware cannot do on his own.
Meanwhile, despite being taken a few rounds later than teammate Coby Fleener, Allen has been the most impressive tight end in this year's class. Unlike Fleener, he has some ability as a blocker in the run game as well.
Dallas Clark may still have a little bit of juice left, but he provides nothing as a blocker. Allen and Josh Freeman will be able to develop a chemistry as Allen eases his way into the starting lineup.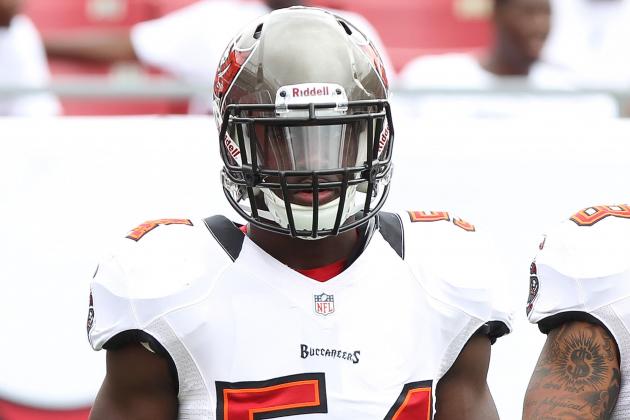 Kim Klement-US PRESSWIRE

Actual Pick: David Wilson
The Giants are known for taking the best player available almost regardless of position, which is exactly why going with Lavonte David is the best choice here.
David is an extremely physical player who has been terrific for the Bucs so far. He may not run the best 40 time or provide much as a pass-rusher, but David will set the tone with his physicality.
Outside of maybe Michael Boley, the Giants linebackers are slow and lack athleticism. David will provide the unit with a much-needed injection of youth.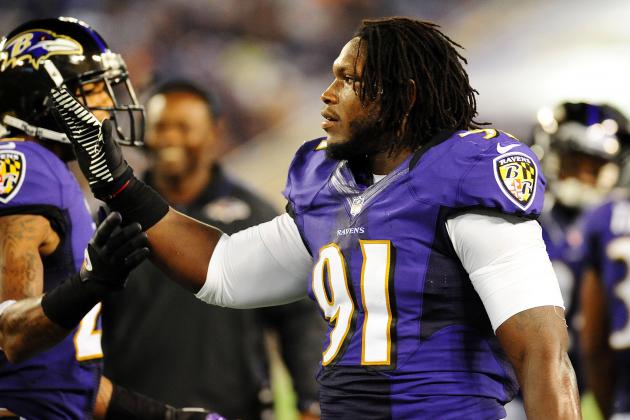 Evan Habeeb-US PRESSWIRE

* Original picks in parentheses
33. St. Louis Rams: Justin Blackmon, WR, Oklahoma State (Brian Quick)
Blackmon has not lived up to his billing so far as the fifth-overall pick, but he still has a ton of talent and would be a big upgrade over anyone else on the Rams.
34. Indianapolis Colts: Coby Fleener, TE, Stanford (Coby Fleener)
With Dwayne Allen already off the board, the Colts need to start surrounding Andrew Luck with more weapons.
35. Baltimore Ravens: Courtney Upshaw, OLB, Alabama (Courtney Upshaw)
The Ravens were lucky to draft Upshaw before Suggs' injury, and they are lucky he's available again after a nice few starts to his career.
36. Denver Broncos: Dontari Poe, DT, Memphis (Derek Wolfe)
Poe has been up and down so far, but his physical tools give him enormous potential to fix the Broncos' run defense.
37. Cleveland Browns: David Wilson, RB, Virginia Tech (Mitchell Schwartz)
After deciding to take Tannehill over Trent Richardson, the Browns are devoid of talent at running back.
38. Jacksonville Jaguars: Bobby Massie, OT, Ole Miss (Andre Branch)
Guy Whimper is going to get Blaine Gabbert killed. Massie has quietly done a nice job on the right side of the Cardinals line.
39. St. Louis Rams: Ryan Broyles, WR, Oklahoma (Janoris Jenkins)
There are too many veterans in the way for Broyles to make a big impact on the Lions, but he can see the field for the Rams.
40. Carolina Panthers: Jerel Worthy, DT, Michigan State (Amini Silatolu)
The Panthers still need as much help as they can get in the middle of their defense.
41. Buffalo Bills: Brian Quick, WR, Appalachian State (Cordy Glenn)
Quick has yet to make an impact for the Rams, but this is hardly unexpected. He was a very raw prospect coming out of Appalachian State.
42. Miami Dolphins: Whitney Mercilus, DE, Illinois (Jonathan Martin)
Outside of Cameron Wake, the Dolphins have no one that can get to the quarterback.
43. New York Jets: Doug Martin, RB, Boise State (Stephen Hill)
Shonn Greene is not getting the job done for the Jets. Martin is a much more complete back that can also help in the passing game.
44. Kansas City Chiefs: Nick Foles, QB, Arizona (Jeff Allen)
Foles was impressive enough in the preseason for the Eagles to dump Mike Kafka. The Chiefs could use some depth behind the average and injury-prone Matt Cassel.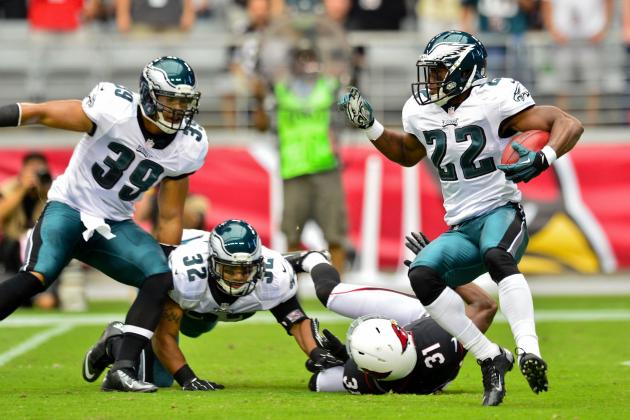 Matt Kartozian-US PRESSWIRE

45. Chicago Bears: Nick Perry, DE, USC (Alshon Jeffery)
Perry has gotten off to a slow start in Green Bay, but he could be productive in a more natural position in the 4-3.
46. Philadelphia Eagles: Tavon Wilson, FS, Illinois (Mychal Kendricks)
Wilson has done a nice job shoring up the Patriots secondary, and the Eagles could use some depth at their weakest position on defense.
47. Seattle Seahawks: Bruce Irvin, OLB, West Virginia (Bobby Wagner)
The Seahawks still get their explosive pass-rusher over a full round later than he was actually drafted.
48. New England Patriots: Mitchell Schwartz, OT, Cal (Tavon Wilson)
Schwartz has not been dominant, but he has at least solidified the right side of the Browns line and could help out the Patriots' protection issues.
49. San Diego Chargers: Isaiah Pead, RB, Cincinnati (Kendall Reyes)
Ryan Mathews cannot be relied upon to be available for 16 games. Adding young depth is a must.
50. St. Louis Rams: Kelechi Osemele, OT, Iowa State (Isaiah Pead)
The Rams still have serious offensive line issues, and Osemele is versatile enough to play just about any position on the line.
51. Green Bay Packers: Brandon Boykin, CB, Georgia (Jerel Worthy)
Boykin would immediately start in the slot for a Packer defense that needs to improve against the pass.
52. Tennessee Titans: Dre Kirkpatrick, CB, Alabama (Zach Brown)
This is a huge drop for Kirkpatrick. Not only has he been injured, but he was unable to beat out the likes of Terence Newman.
53. Cincinnati Bengals: Chris Rainey, RB, Florida (Devon Still)
Rainey gives the Bengals one more toy to play with on offense.
54. Detroit Lions: Tahir Whitehead, OLB, Temple
The Lions took Whitehead in the fifth round, but he has been good enough in the preseason to warrant a higher selection.
55. Atlanta Falcons: Ronnie Hillman, RB, San Diego State (Peter Konz)
The Michael Turner era in Atlanta is all but over.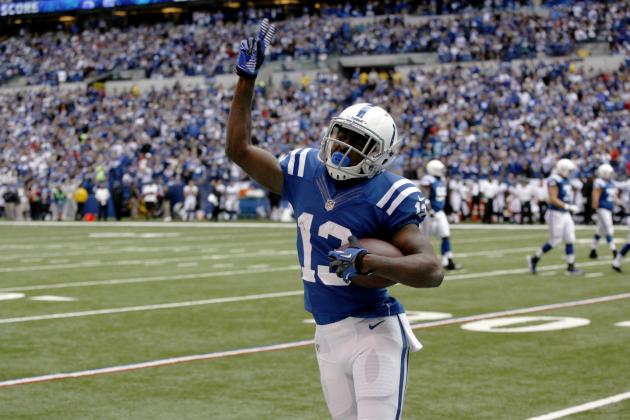 Brian Spurlock-US PRESSWIRE

56. Pittsburgh Steelers: Josh Norman, CB, Coastal Carolina (Mike Adams)
Norman is getting a ton of playing time for the Panthers and would be a huge help to the hurting secondary of the Steelers.
57. Denver Broncos: T.Y. Hilton, WR, Florida International (Brock Osweiler)
Hilton has been one of the bright spots for the Colts offense. Brandon Stokley only has so much left in the tank.
58. Tampa Bay Buccaneers: Demario Davis, ILB, Arkansas State (Lavonte David)
Davis had a terrific summer for the Jets and would make a terrific nickel 'backer for a team that struggles against the pass.
59. Philadelphia Eagles: Mike Adams, OT, Ohio State (Vinny Curry)
Adams has underwhelmed for the Steelers, but the Eagles have struggled to protect Michael Vick.
60. Baltimore Ravens: LaMichael James, RB, Oregon (Kelechi Osemele)
James has not been able to do much as a 49er, but he would be an excellent change-of-pace back behind Ray Rice.
61. San Francisco 49ers: Stephen Hill, WR, Georgia Tech (LaMichael James)
Hill has been up and down for the Jets, but he has at least been been able to get on the field, which is more than you could say for A.J. Jenkins.
62. Green Bay Packers: Peter Konz, C, Wisconsin (Casey Hayward)
Konz has been unable to crack the starting lineup in Atlanta, but Jeff Saturday is not going to last forever.
63. New York Giants: Vinny Curry, DE, Marshall (Rueben Randle)
The Giants love to collect defensive ends, and Curry's talent is too good to pass up.
Ryan is a National and NY Jets FC at Bleacher Report. He is also the Editor for NYJetsDraft.com, a member of the USA Today Sports Media Group.