Cleveland Cavaliers: 3 Reasons the Cavs Will Make a Playoff Run in 2012-13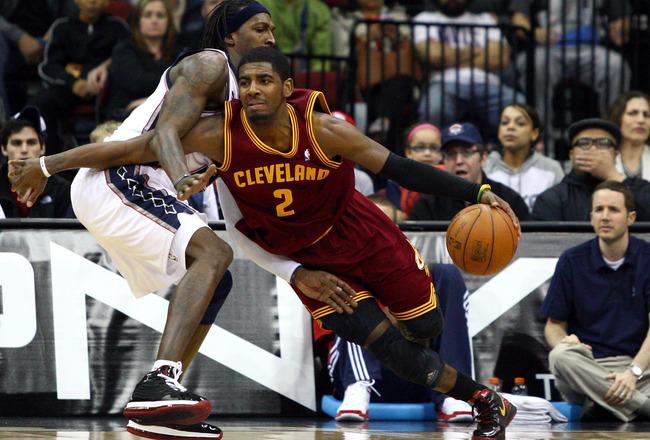 Kyrie Irving is the present and future for the Cavs.
Chris Chambers/Getty Images
The last time the Cleveland Cavaliers made the playoffs, a certain he-who-shall-not-be-named led the team single-handedly.
Three seasons later, another young man looks to advance his team in a singular fashion.
That man would be point guard Kyrie Irving. The second No. 1 overall pick in the last 26 years for the Cavaliers was sensational in his rookie campaign last year, leading his team in points scored.
Notable players joining Irving in 2012 are C Anderson Varejao, fellow 2011 draft pick Tristan Thompson, SF Alonzo Gee and rookie Dion Waiters. It's an extremely young team—no doubt—but one that has a legitimate shot of making the postseason.
Many would doubt the Cavs chances of making the playoffs after finishing 15th last year in the East at 21-45.
On the contrary, this team is poised for April basketball after a successful first-round draft pick and key pieces already in place.
Let's document the three reasons why the Cavs will indeed make a worthwhile playoff run in 2012-13.
The Brazilian Masher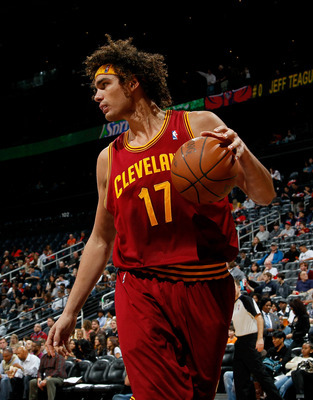 Mr. Varejao himself.
Kevin C. Cox/Getty Images
Following in the footsteps of Zydrunas Ilgauskas is no easy task.
Anderson Varejao, for his part, is doing a pretty fine job by all accounts.
Varejao is by no means the same player as the 7'0'', sweet-shooting Ilgauskas. He is, however, an absolute masher in the paint.
The Brazilian national set a career pace in limited action last season before succumbing to an injury. He suffered a fractured wrist and missed the final two-and-a-half months.
Before that unfortunate setback, Varejao averaged 10.8 points, 11.5 rebounds and 1.4 steals a game.
He'll perform a similar role with a revamped Cavs squad in 2012—grabbing rebounds, occupying the paint and otherwise playing dominant one-man defense.
Teaming up with other talented bigs, including rising sophomore-talent Tristan Thompson at power forward and seven-footer Tyler Zeller,, will only boost Varejao's effectiveness.
Varejao is the first of many pieces that will help lead the Cavs into the postseason.
New Era with Kyrie Irving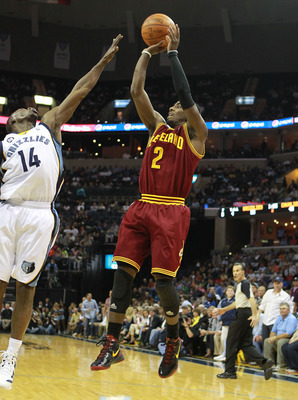 Irving has one sweet jumper.
Andy Lyons/Getty Images
The prodigious Duke talent brought his NCAA productivity into the NBA ranks from Day 1.
Well, let's call it Day 2.
Irving scored 14, dished out seven dimes, grabbed four rebounds and tallied two steals in his second day on the job. It was all the more remarkable considering it came in just 20 minutes of work.
He continued that impressive stat line throughout the season. It culminated in averages of 18.5 points, 5.4 assists, 3.8 rebounds and a .469 shooting percentage.
But that was then. The now brings even more, with new weapons inserted at shooting guard in Dion Waiters and C.J. Miles, as well as existing talent in Thompson, Varejao and Alonzo Gee.
Irving and Waiters will create a formidable duo in the backcourt with the former dishing and scoring, and the latter knocking down shots, too. The point guard will also facilitate consistent scoring opportunities with the big men, setting up alley-oops and hitting a crashing Varejao in stride.
He's the consummate facilitator that can also drop in 20 points on any given night. And according to NBA.com, he's wholly above average in the clutch as well.
The Cavs are lucky to have him; he's made the post-Lebron era that much more palatable for viewers throughout the country.
Ripe for No. 8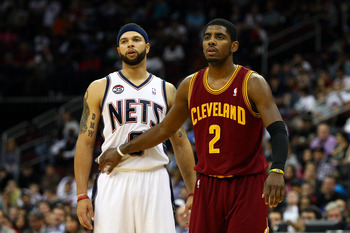 Move over Deron: Kyrie's leading his team into the playoffs.
Chris Chambers/Getty Images
The Eastern Conference in the NBA is a different entity this season.
Miami is still the consensus No. 1, with Chicago (Derek Rose injury or not), Boston and Indiana rounding out the top four in no particular order.
Spots five through eight, however, are where things get interesting.
In order, Atlanta, Orlando, New York and Philadelphia comprised the bottom half of the playoff qualifiers. But in 2012, the Hawks and Magic will surely fall off the map due to consequential trades involving Joe Johnson and Dwight Howard, respectively.
Both the Knicks (Marcus Camby) and Sixers (Andrew Bynum) bolstered their lineups in the big-man department. And even teams like Washington and Detroit improved their respective clubs with their first-round draft picks.
The new-look Brooklyn Nets deserve mention too with the signing of Johnson and Gerald Wallace, and re-signing of Deron Williams and Brook Lopez.
What's pertinent, though, is that Cleveland is also in the mix for the ostensible two remaining playoff openings.
A starting five of Irving, Miles, Gee, Thompson and Varejao is more than respectable. Waiters, Daniel Gibson and Omri Casspi are also young quality players coming off the bench.
They are still developing, but developing into worthy playoff contenders. All will post career highs in 2012 and the team as a whole will fare much better against Eastern Conference opponents.
The NBA is a point guard/big man-driven league. The Cavs absolutely have both in Irving and Varejao.
It will all amount to an entrance into the postseason via the eighth and final playoff spot.
Follow on Twitter @jlevitt16
Keep Reading

Cleveland Cavaliers: Like this team?