UFC 152 Weigh-in Results for Jon Jones vs Vitor Belfort Fight Card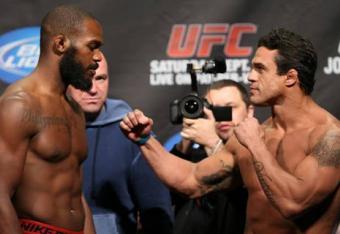 Photo courtesy UFC press release

It's been a while since fans of MMA have had the opportunity to see a UFC fight card with the last event taking place back on Aug. 11.
However, the waiting will come to an end on Saturday when the promotion returns to the Air Canada Center for UFC 152. The fight card will feature two title bouts as well as what may be—if you listen to one of the participants—a middleweight title elimination bout.
In the evening's main event, UFC light heavyweight kingpin Jon Jones will put his title on the line against Vitor Belfort. Before that fight can take place, we will see who will be crowned the UFC's first flyweight champion when Joseph Benavidez and Demetrious Johnson square off to decide who will walk away as, Benavidez has termed it, the "George Washington" of the 125-pound division.
Leading into that fight will be a middleweight matchup between Michael Bisping and Brian Stann.
Bisping has made it clear that, with a win, he feels he should be next in line to face middleweight champion Anderson Silva. Stann, on the other hand told MMAFighting that he was going to take a "don't tell me, show me" stance on a fight with Silva, allowing the UFC to make the call if he would deserve a shot at Silva with a win over Bisping.
UFC 152 Full Weigh-in Results:
Jon Jones (204.6) vs. Vitor Belfort (204.2)
Joseph Benavidez (124.4) vs. Demetrious Johnson (125)
Michael Bisping (185.6) vs. Brian Stann (185.4)
Matt Hamill (205.6) vs. Roger Hollett (203.6)
Charles Oliveira (146.4) vs. Cub Swanson (145.8)
Vinny Magalhaes (204.8) vs. Igor Pokrajac (205)
Evan Dunham (155) vs. T.J. Grant (154.6)
Lance Benoist (170.4) vs. Sean Pierson (169.4)
Marcus Brimage (145.4) vs. Jim Hettes (145.8)
Seth Baczynski (171) vs. Simeon Thoresen (170.4)
Mitch Gagnon (135) vs. Walel Watson (135.2)
Charlie Brenneman (170.8) vs. Kyle Noke (170.4)
We are ready for the main event competitors, UFC light heavyweight champion Jon Jones and former champion Vitor Belfort.
Belfort takes the scale first and hits weight at 204.2, while the champion, who gets a mixed reaction from the crowd comes in at 204.6, probably under 204 if he removed the beard.
A smiling Jones backs away from Dana White before shaking hands with the UFC president before moving in to the staredown.
Jones smiles at the mixed reaction he gets from the crowd, giving the thumbs up and thumbs down sign before speaking to Joe Rogan.
The first UFC flyweight title fight competitors are next in line. First to the stage is Demetrious Johnson and he comes in at 125, while Joseph Benavidez weighs in at 124.4, including the nipple rings.
Johnson looks for a hand shake to get things started, but is denied, however the two do shake hands following the staredown.
Next up is Michael Bisping vs. Brian Stann. Stann hits the scale first and weighs in at 185.4. Bisping gets a mixed reception from the crowd and he is in at 185.6.
These two look ready to go as they jaw back and forth while going forehead to forehead during the staredown.
Next up is Matt Hamill vs. Roger Hollett. Hollett, making his UFC debut, comes in at 203.6. Hamill coming back from a brief retirement, is greeted with a nice hand before he steps on the scale at 205.6.
On to the pay per view card. First to the scale is Charles Oliveira and his weight is 146.8 in first try and out comes the towel and he still does not make it, coming in at 146.4. There is some discussion as to what is going to happen here. Rogan says "he's good." No idea what that means.
Cub Swanson comes in at 145.8.
Will try and get more detail on this one.
Time for the big(ger) boys as we move up to light heavyweight for a bout between Vinny Magalhaes and Igor Pokrajac. Magalhaes tips the scale at 204.8, while Pokrajac comes in at 205.
The two get head to head during the staredown.
The third FX fight will be in the lightweight division. First to the stage is Evan Dunham and he comes in at an even 155. TJ Grant hits the scale at 154.6.
On to the welterweight division for the next contest. Lance Benoist checks in at 170.4, while his opponent, Sean Pierson comes in at 169.4.
The first fight on FX will be a featherweight contest between Marcus Brimage and Jim Hettes. Brimage is first to the scale and he weighs 135.4. Hettes gets a nice hand from the Toronto crowd and he weighs in at 145.8.
Next up is a welterweight contest between Seth Baczynski and Simeon Thoresen. Thoresen hits the scale first and comes in at 170.4. Baczynski comes to the scale carrying a towel and wearing his plastics and he doesn't even attempt to weigh in without stripping down, he makes it at 171.
On to the bantamweights. First up is Walel Watson and he is in at 135.2. Mitch Gagnon hits the scale at an even 135. Big height advantage for Watson in this one.
The first fight will take place in the welterweight division. First to the scale is Charlie Brenneman and he checks in at 170.8, his opponent, Kyle Noke weighs in at 170.4.
Pretty intense staredown between these two.
We are getting ready for the fighters to take the stage here in Toronto at Maple Leaf Gardens. Joe Rogan has taken the stage for his customary weigh-in welcome.
This article is
What is the duplicate article?
Why is this article offensive?
Where is this article plagiarized from?
Why is this article poorly edited?