5 Reasons the Giants Have Pulled Away from the Dodgers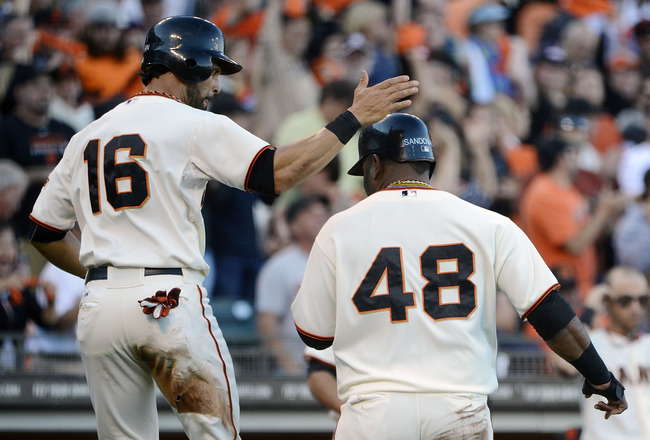 Thearon W. Henderson/Getty Images
When San Francisco Giants fans looked at the standings this morning and saw that their team had a 10-game lead over the Los Angeles Dodgers, it undoubtedly shocked them.
Some might've had to do a double-take and rub their eyes to make sure it was true.
It was only a month ago that the Giants and Dodgers were separated by a half game in the standings, so how were the Giants able to separate themselves by 9.5 games during that span?
Here's the five main reasons why the Giants pulled away from the Dodgers en route to reclaiming the NL West crown.
Giants Had Much Easier Schedule
Tony Medina/Getty Images
On August 20, when the San Francisco Giants owned a half-game lead over the Los Angeles Dodgers, there was something that gave the Giants an overwhelming advantage down the stretch: strength of schedule.
The Dodgers would have 20 games against opponents with a record above .500, including a 10-game road trip to Washington, Cincinnati and San Diego.
The Giants, however, only had 13 games against teams that were floating above .500, and that included nine against the Dodgers themselves.
In fact, the Giants' last 28 games are against divisional opponents, and they currently own a 38-22 record against the NL West.
Giants Learn to Hit with RISP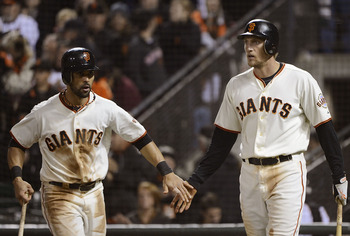 Thearon W. Henderson/Getty Images
If there's one stat that jumps off the page at you from this year, it's been the San Francisco Giants' ability to hit with runners in scoring position (RISP).
It was the Achilles' heel of the Giants last year, as they ranked dead last in that category with a .219 batting average. Even worse, their .173 batting average with two outs and RISP was also dead last in the majors.
This year, however, has been a different story. The Giants are batting .260 with RISP, which ranks them 12th in the majors.
This drastic change in batting average during crucial situations more than makes up for the team's inability to hit home runs.
The Giants' offense relies on going from station to station and creating rallies stringing together base hits. In order for this to be successful, hitting with RISP is critical, and that's exactly what the Giants have thrived at this season.
Giants Have Chemistry; Dodgers Do Not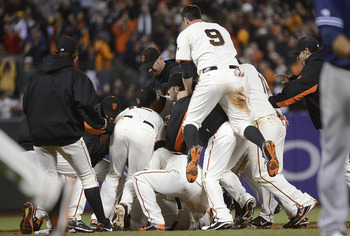 Thearon W. Henderson/Getty Images
The main difference between the San Francisco Giants and Los Angeles Dodgers is that the former has team chemistry and the latter does not.
Chemistry isn't something that you buy or force to happen. It can be slowly built up over time, but nothing beats genuine team chemistry on any sports team, and that's exactly what the Giants have.
With personalities like Pablo Sandoval, Tim Lincecum, Madison Bumgarner, Sergio Romo, Aubrey Huff, Ryan Theriot and Hunter Pence, it's easy for a team to mesh and have fun at the ballpark. The list goes on and on, I'm sure, because the Giants' roster is full of lively personalities.
When a team is able to stay loose and have fun with one another in the clubhouse, the daily grind and immense pressure of playing baseball everyday is softened. That has undoubtedly helped the Giants stay focused and just take the season one game at a time.
The Dodgers, on the other hand, took another approach to the season. They brought in eight different players within the span of a couple months (Hanley Ramirez, Shane Victorino, Joe Blanton, Brandon League, Josh Beckett, Adrian Gonzalez, Carl Crawford and Nick Punto) and expected them to gel with one another in the middle of a pennant race.
It wasn't impossible to accomplish, but unlikely. A team can't just throw a bunch of stars together midseason and hope that they'll instantly just start playing well with one another.
Next season? Look out, because the Dodgers offense will be a force to be reckoned with. But this year, the Giants have team chemistry and the Dodgers do not, and that's what separates the two teams at the moment.
Buster Posey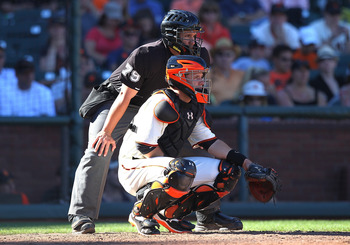 Tony Medina/Getty Images
You couldn't find anyone who knew something about baseball that wasn't cautiously optimistic about Buster Posey in 2012.
There was no doubting his limitless potential to become a perennial All-Star down the road, but no one was expecting Posey to pick up where he left off in 2010 due to the gruesome leg and ankle injury he endured in 2011.
Most people were expecting something like Grant Brisbee's prediction—a fair and respectable .300 average with an even more respectable 13 home runs.
Not only did Posey scoff at those predictions, but he surpassed the 13-home-run mark on August 1 and was batting a cool .318 as well.
Now?
Posey's slash of .335/.410/.547 has put him in line to take home not only the Comeback Player of the Year Award, but also the MVP honors at the end of the season.
He stepped up when Melky Cabrera was suspended and carried the load on offense, all while still having to concentrate on catching one of the league's best pitching staffs.
Giants Rally Around Loss of Melky Cabrera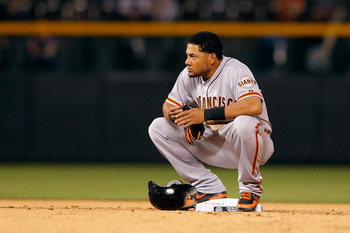 Doug Pensinger/Getty Images
When word spread of Melky Cabrera's suspension for the rest of the regular season, it was no doubt a sucker punch to not only the fans of the San Francisco Giants, but everyone who associated themselves with the organization.
Some players like Angel Pagan and Buster Posey, to name a few, were visibly upset after they had some time to let the news sink in, and rightly so. It's tough for any team to overcome the loss of their best hitter right in the middle of the playoff hunt.
But after Cabrera's departure, the team had a choice to make. They could either shrivel up and die like they did last year, or they could rally around this disaster and use it as motivation for the rest of the year.
The Giants elected to go with the latter, and have been on an absolute tear since Cabrera left the team.
After the loss to the Washington Nationals on August 15—the exact day that Cabrera was suspended—the Giants have posted a record of 23-9, and have gone from one game down in the NL West to a 10-game lead over the Los Angeles Dodgers.
It's hard to point at one thing and say this is the reason why the Giants were able to pull away from the Dodgers, because it has taken contributions from almost every player on this roster.
However, it's no coincidence that the Giants started playing their best baseball of the year after they learned of losing Cabrera.
Keep Reading

San Francisco Giants: Like this team?