Eagles vs. Cardinals: Final Report Card, Player Grades for Philadelphia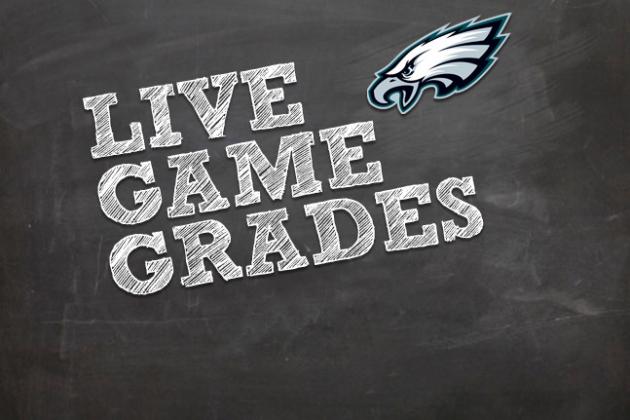 It certainly wasn't the finest performance for the Philadelphia Eagles, as the team got manhandled by the Arizona Cardinals, falling by a 27-6 score. It was the first time the Eagles have lost a game by at least 21 points since the final game of the 2009 regular season, when the team lost to the Dallas Cowboys, 24-0.
The Eagles are 2-1 but they have serious problems that need to be addressed should they expect to beat the defending Super Bowl champion New York Giants next Sunday night.
Read here to see the final player grades for the Eagles' loss to the Cardinals.
Begin Slideshow

»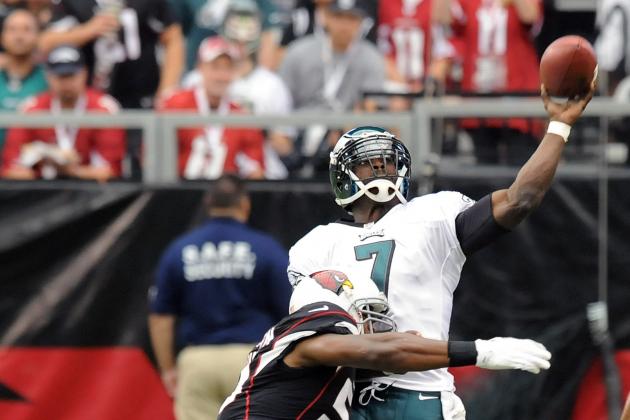 Norm Hall/Getty Images

Michael Vick: D+
Michael Vick turned in a shaky performance. He held the ball too long, he struggles to read opposing defense, and he didn't lead the Philadelphia Eagles to a single touchdown drive in 60 minutes of football while turning the ball over twice. Then again, it's tough expecting Vick to have had a prayer with the lack of protection he received all game.
Vick finished with stats that looked subpar, as he was 17 of 37 for 217 yards, no touchdowns, and no interceptions, but he did fumble the ball twice, losing both. One was picked up right before halftime and returned 93 yards for a score, putting the Eagles in a devastating 24-point hole at the break.
I thought Vick did a less-than-spectacular job of reading the Arizona Cardinals' defense, but then again, it's almost impossible to grade him because of just how dismal the offensive line was for 60 straight minutes.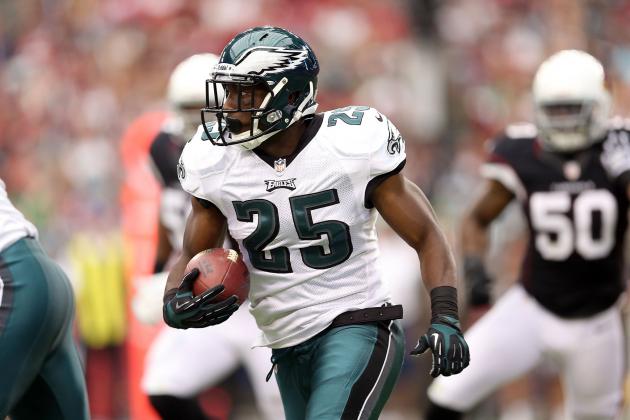 Christian Petersen/Getty Images

LeSean McCoy: B+
LeSean McCoy ran the ball 13 times for 70 yards, averaging 5.4 yards per carry behind an offensive line that nearly killed his quarterback, Michael Vick. That's a very good performance from an All-Pro runner who ranks among the top three to four players in the league at his position. It's really not McCoy's fault that his coach just refused to give him the ball.
Bryce Brown: B
Bryce Brown spelled McCoy well enough in today's action, running the ball four times for a career-best 28 yards, including a nice 17-yard run. He did drop a very catchable pass in a route across the middle of the field, but all in all, that's a good performance from a backup back who went in the seventh round of this past year's draft.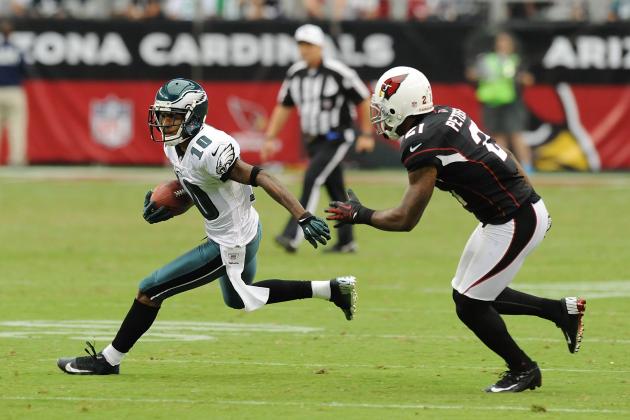 Norm Hall/Getty Images

DeSean Jackson: D+
I was not the slightest bit impressed by DeSean Jackson's performance today. With Jeremy Maclin out with a hip pointer, the Philadelphia Eagles really needed Jackson to step it up, especially going against a top-notch corner in Patrick Peterson.
Jackson finished with just three catches for 43 yards and no touchdowns. He openly threw up his hands in the air on a deep route, trying to call for pass interference, but the ball was still in the air. And he seemed to duck up short of the end zone on one catch so as to avoid contact.
Jason Avant: B
Jason Avant was his usual solid, reliable self in today's contest against the Arizona Cardinals. The problem is that Avant is a slot receiver, and his performance is not enough to make up for the lackluster performance from Jackson or the absence of Maclin. Avant finished with three catches for 38 yards though, which is good for a third receiver.
Damaris Johnson: A
Damaris Johnson entered training camp as a long shot to make the official 53-man roster, and he found himself starting today in the place of Jeremy Maclin against an undefeated Arizona Cardinals team. Johnson made a couple of nice plays, finishing with five receptions for 84 yards. That's a terrific output for Johnson.
Mardy Gilyard: D
A fourth receiver finishing with zero catches is not the end of the world. But Mardy Gilyard really didn't do much to make the Eagles coaches want to give him more offensive snaps in the future.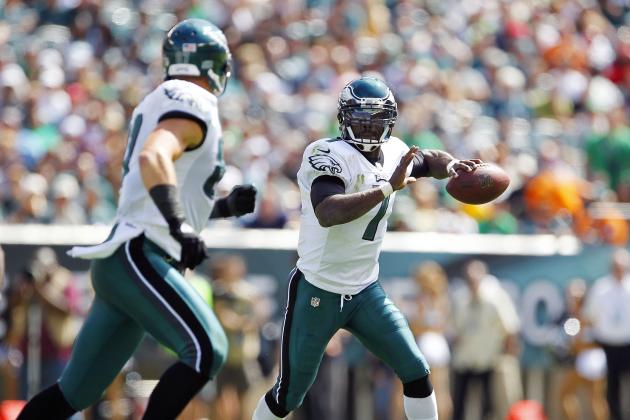 Rich Schultz/Getty Images

Brent Celek: C
Early on, it looked as if Brent Celek was primed to have a big day, as he snared a 34-yarder at the end of the first quarter. After that though, Celek finished with just one more catch for two yards, and he took a nasty hit that probably left him feeling woozy for most of the game. The Philadelphia Eagles also kept Celek back to block for most of the game, but it didn't look like he did a solid job holding off blockers.
Clay Harbor: C
When it was apparent just how awful Demetress Bell was today, it became Clay Harbor's job to stay back and help Bell block for Michael Vick. That's why the literal fact that Harbor finished with no catches makes it tough to evaluate his performance.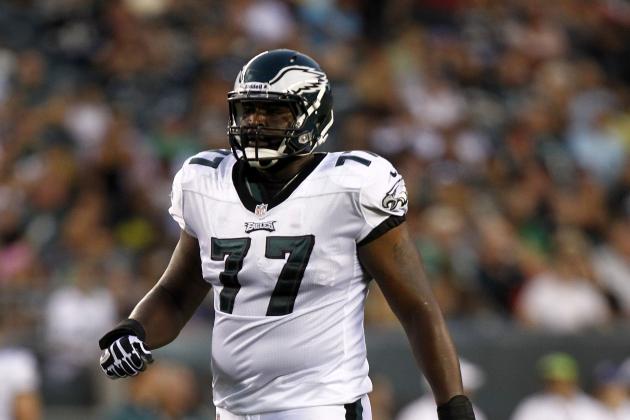 Jeff Zelevansky/Getty Images

Demetress Bell: F
Demetress Bell might want to call out sick for film study this week. His performance ranks up there with Winston Justice's in 2007 among the worst by a single Philadelphia Eagles offensive lineman under Andy Reid. Bell was directly responsible for two penalties and he was beat on the final play of the first half when Michael Vick was sack-fumbled for a 93-yard fumble return touchdown.
Evan Mathis: D+
It's becoming more and more apparent how much Evan Mathis coasted off the success of Jason Peters in 2011. Mathis is nothing more than a league-average offensive lineman who had a below-average performance trying to keep Michael Vick off the ground in Sunday's contest.
Dallas Reynolds: D-
So much for the good feeling many of us had about Dallas Reynolds after his solid job filling in for Jason Kelce last week against the Baltimore Ravens. Besides having an incredibly fortunate first name, Reynolds had the task of directing the snap count in a loud opposing stadium against a ferocious pass rush—and he didn't look like a player that had any experience doing so.
Danny Watkins: F
Danny Watkins still hasn't even started a full season's worth of games, so it's too soon to say the Eagles screwed up by drafting him in the first round of the 2011 NFL draft. So I'll put it bluntly: the Eagles look like they made a reach by selecting Watkins in the first round. Watkins was part of an offensive line that allowed five sacks and 20-something quarterback hits while helping the offense register just a pair of field goals.
Todd Herremans: C-
Todd Herremans is way too inconsistent for a player of his skill and NFL experience. He played much better than his offensive line counterparts today, but then again, that's certainly nothing to hold over their heads.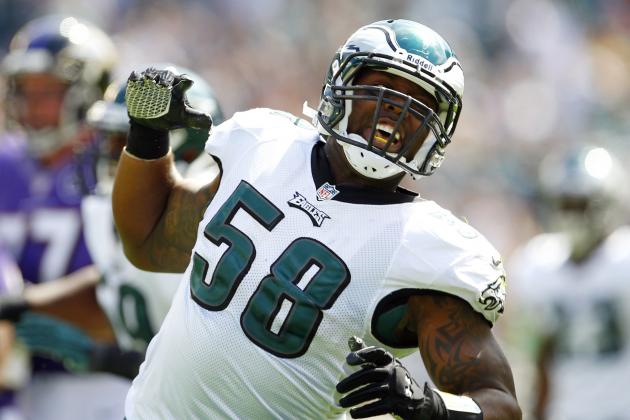 Rich Schultz/Getty Images

Trent Cole: B+
Trent Cole is a good enough player that you can always count on him to have a good performance, and today had to have him excited at the thought of facing a pair of backup offensive tackles with Levi Brown and former Philadelphia Eagles lineman Jeremy Bridges both on injured reserve. Cole finished with a sack, three tackles, and a tackle for loss in the contest.
Cullen Jenkins: C
I'll need to check out game film to get a further breakdown of Cullen Jenkins' performance, but I didn't hear his name much today and the box score doesn't reflect that he even played: He had zero tackles and zero sacks. But he was part of an Eagles unit that helped hold the Arizona Cardinals to fewer than three yards per carry on 34 rushes.
Fletcher Cox: C
Like Cullen Jenkins, Fletcher Cox didn't do much in the stat sheet, and it's not as if Adam Snyder and Daryn Colledge are a tough pair of offensive guards to line up against. Cox finished with just one tackle and he also briefly left the game to tend to a migraine headache.
Jason Babin: A
Jason Babin was all over the Cardinals' offensive line today, finishing with two sacks, five tackles, and two tackles for a loss. He was going against a rookie offensive tackle but still, his performance was Pro Bowl caliber. The only negative on Babin was a flagrant horsecollar tackle that will probably cause him to be fined sometime this week.
Derek Landri: B+
Derek Landri is a very underrated defensive tackle, as he can get to the quarterback and also stop the run. In today's contest, he finished with two tackles and a big tackle for a loss, helping hold third running back LaRod Stephens-Howling to a ridiculous minus 14 yards on eight rushes.
Brandon Graham: A+
Brandon Graham is buried in the Philadelphia Eagles' depth chart, with Cole and Babin starting and Phillip Hunt also vying for many of the snaps. But he made the most of his limited snaps, coming up with four tackles, three tackles for a loss, and a shared sack.
Phillip Hunt: B-
I thought we might see more of a performance from Phillip Hunt today, as he finished with just one tackle, but he did play limited snaps as well and helped hold the Cardinals' run game to just 99 yards.
Darryl Tapp: A-
I didn't expect Darryl Tapp to make the team at the start of training camp, but he's managed to hold off second round pick Vinny Curry for reps. Today, Tapp had six tackles and a sack.
Cedric Thornton: B
Cedric Thornton won't make or break the Eagles' defensive performance, but he is a solid run stopper and finished with one tackle in the game.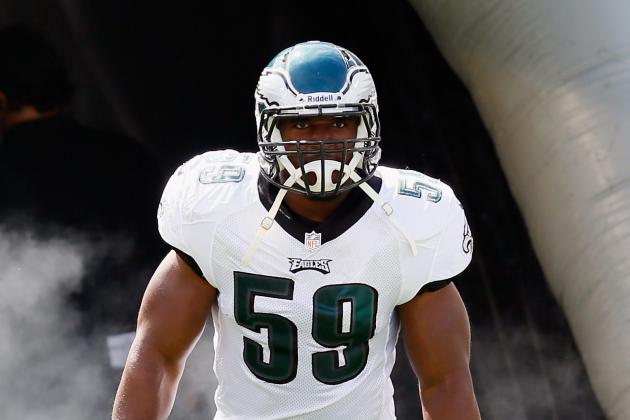 Rob Carr/Getty Images

DeMeco Ryans: A-
I continue to have nothing but positive things to say about DeMeco Ryans since he joined Philadelphia. For the third week in a row, he was very, very good. Ryans finished with six tackles, including one for a loss, and he was instrumental in holding the Arizona Cardinals to such a meager rushing output, although he probably should have caught the tipped ball Michael Floyd hauled in for a touchdown.
Mychal Kendricks: B+
Mychal Kendricks (six tackles today) is another terrific linebacker who can play sideline-to-sideline, keep up with tight ends and running backs, and stop the run. There's no way the Cardinals would have finished with less than 100 yards if last year's players like Casey Matthews and Brian Rolle played regularly.
Akeem Jordan: D
Akeem Jordan left the contest early due to a hamstring strain but he played sparingly anyway because of the nature of three-cornerback sets in this NFL. That's good because Jordan finished with zero tackles.
Brian Rolle/Jamar Chaney/Casey Matthews: Incomplete
You're just not going to see these guys on the field anymore with how well Ryans and Kendricks are playing. That's a blessing because none of the three offers much.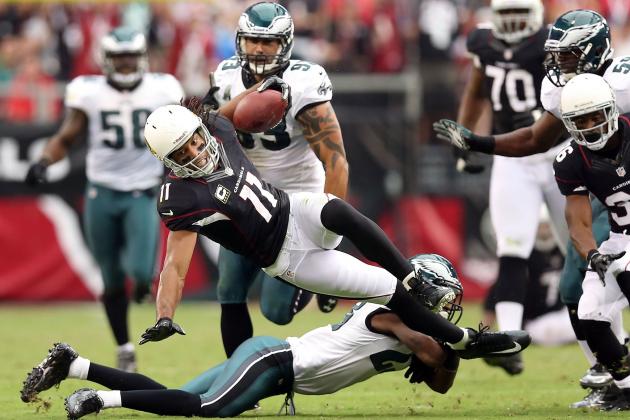 Christian Petersen/Getty Images

Nnamdi Asomugha: D-
You don't pay a guy $60 million cornerback not to cover Larry Fitzgerald, so of course Asomugha was assigned with the task of covering arguably the game's best receiver. Asomugha was torched on numerous occasions and he looked lost in run defense.
Dominique Rodgers-Cromartie: D
DRC didn't cover Fitzgerald like Asomugha, so his day was meant to be much easier. DRC finished with three tackles, including one for a loss, although he then turned in one of the worst plays by a Philadelphia Eagles defender this season late in the game: DRC was knocked on his can by Arizona Cardinals receiver Michael Floyd, then retaliated with an unnecessary roughness penalty that really should have gotten him benched.
Brandon Boykin: B
Brandon Boykin did well enough when matched up against Floyd, Early Doucet, and Andre Roberts, and he has the speed to cover nearly any receiver in the league.
Brandon Hughes: C
Brandon Hughes didn't have much of a notable game today, as he finished with just one tackle. The Eagles like him though, and extended his contract before the game to the tune of one more year.
Nate Allen: C
Nate Allen looked to be partially responsible for the 37-yard play-action touchdown catch Fitzgerald had early on, although Allen did finish with three tackles on defense.
Kurt Coleman: B
Kurt Coleman is a solid enough run stopper, and he led the entire team with seven tackles today while playing a big role in holding the Cardinals' running backs to just 99 ground yards.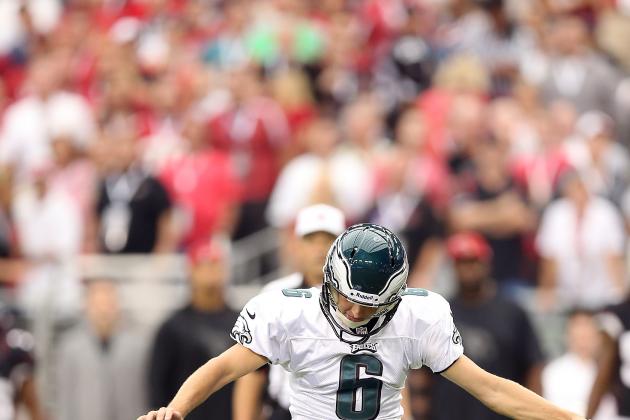 Christian Petersen/Getty Images

Alex Henery: A
Alex Henery made both of his field goals today, and that's really all you can ask for from him.
Chas Henry: B+
Chas Henry followed a dismal punting performance with a very strong outing, booming five punts for nearly 50 yards per punt.
Brandon Boykin: C
Brandon Boykin had just a mediocre game as a kick returner, taking back three kicks for an average of 22 yards.
Damaris Johnson: F
If you're a rookie punt returner and you fumble the football, you might be out of a job by the following week. We'll have to see if the Philadelphia Eagles stick with Damaris Johnson.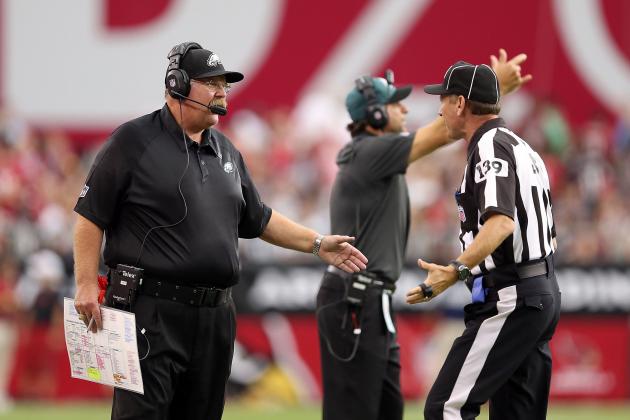 Christian Petersen/Getty Images

Andy Reid: F
It's games like today that I have nothing but hate for the way Andy Reid does his job as a coach. For the second straight year, he lost to an Arizona Cardinals team he should have beat. The Philadelphia Eagles appeared underprepared, and Reid looked like no match for Ken Whisenhunt. Reid's run-pass ratio was ridiculously unbalanced and he called a meaningless timeout at the end of the game to run the ball one more time. It was just a frustrating all-around performance from Reid.
Juan Castillo: C
Juan Castillo's front seven on defense really helped minimize the productivity of the Arizona running backs but Kevin Kolb and Larry Fitzgerald both had very strong days through the air, and it was the second straight year that Castillo seemed to have no solution for Fitzgerald.