Titans vs. Lions: 5 Keys to the Game for Tennessee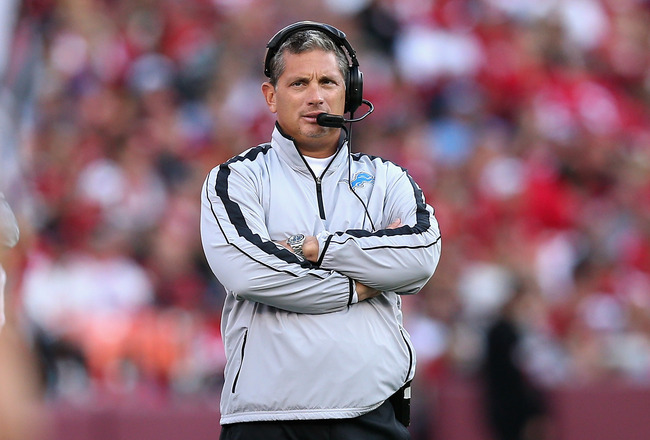 Ezra Shaw/Getty Images
Detroit is off to a little bit of a disappointing start by its standards. The Lions edged out a close win in St. Louis in Week 1, then were pummeled by the 49ers last week.
Of course, 1-1 is great compared to how the Titans have started their season. In the first two weeks, Tennessee has been outscored 72-23 and is 0-2.
Like they will be in most of the games these first few weeks, the Titans come into Week 3 as big underdogs, but the Lions are far from invincible and bigger upsets have already happened this season.
Here are five things the Titans need to do if they're going to welcome Jim Schwartz back to Tennessee by handing him a loss.
1. Pressure the Quarterback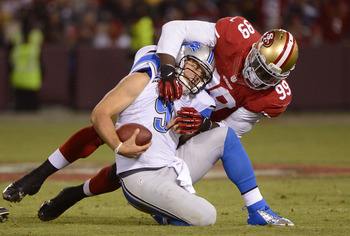 Thearon W. Henderson/Getty Images
This is the first game the Titans have had against a young quarterback this season. This is important because it might help Tennessee establish itself as a team that wins in the trenches.
The Lions don't have the best offensive line in the league right now but neither did the Patriots or the Chargers, and the Titans have still only come away with five total sacks between the two. The difference here is that the Lions have a pretty inexperienced quarterback in Matt Stafford.
If you watched the first drive by the Chargers last week, Derrick Morgan nearly had two sacks in his first two plays. However, Philip Rivers managed to get rid of the ball before Morgan got him down. The same thing happened with Tom Brady, whom the Titans only sacked once.
Stafford has way less experience than either Rivers or Brady, and so if the Titans defensive line keeps dialing up the pressure like it has been, then it could dominate the Lions offense at that level.
Stafford has missed a lot of playing time in his short career due to injury. If the Titans can get him rattled by getting a few sacks early on, he might start making some mistakes.
This should be the first thing they try to do on defense.
2. Give Jake Locker Time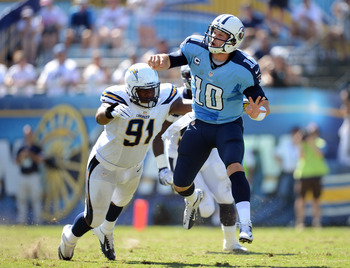 Harry How/Getty Images
As unintimidating as the Lions offensive line is, their defensive line is a real force. Former Titan Kyle Vanden Bosch is past his prime but still a tough player. Cliff Avril was franchised for a reason. Nick Fairley is talented and could be a matchup nightmare on the interior. Finally there's the monster also known as Ndamukong Suh.
All of these guys are capable of getting to the quarterback quickly and often. The Titans offensive line, which hasn't looked great in pass protection this season, is going to have to step up its game if they want to beat the Lions.
Jake Locker was running for his life most of the time he had the ball last week. The offensive line gave him no time to get the ball in the hands of his receivers.
Last season, the Titans offensive line was one of the best pass-blocking units in the NFL, and it need to start looking more like it did last year if the passing game is going to flourish.
The Lions are strong up front, but they have a weak defensive secondary, so if the line will give Locker time, then Kenny Britt, Kendall Wright and Nate Washington ought to give the Lions secondary more than it can handle.
3. Cover Calvin Johnson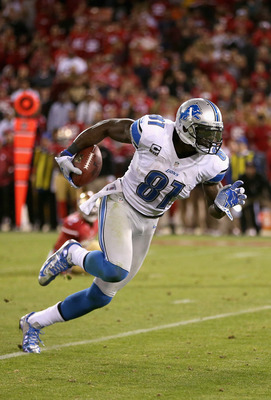 Ezra Shaw/Getty Images
This is probably No. 1 on every defensive coordinator's list when they draw up their game plan against the Lions, but it's much easier said than done, since Calvin is probably the best receiver in the NFL.
After Calvin Johnson, the Lions are pretty weak at receiver. Nate Burleson is the next best they have, and after that, the dropoff is a big one.
Even if they have to triple-cover him, the Titans have to do what they can to limit Calvin Johnson. If Calvin isn't an option, than Stafford will have to get the ball to Burleson and the other Lions receivers, and that will take time that he may not have.
Add to that the fact that the Lions haven't been running the ball very well, and you see how limited their offense can be if you eliminate Calvin.
Of course, like I said, that will still be difficult to do, but the Titans have to keep trying to get him as few catches as they possibly can (and if they're consistently pressuring Stafford, it ought to be a lot easier).
4. Get Better Play on Special Teams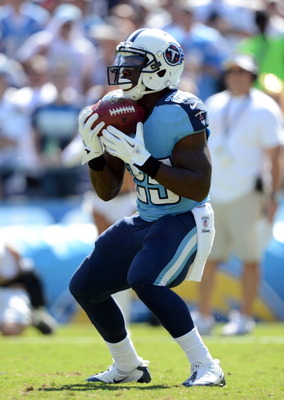 Harry How/Getty Images
Darius Reynaud had a great preseason as a kick returner, but so far this season, almost every time he has returned a kick, he would have done better to just take the touchback.
Essentially, I'm saying that Reynaud needs to take more touchbacks. Of course, he may have lost the main returning job to Lavelle Hawkins since Hawkins had some pretty nice punt returns against the Chargers last week.
Either way, the Titans offense is having enough trouble without having to deal with a longer field, so whoever the kick returner is, he needs to accept that there's going to be some touchbacks.
Of course, the kicking units could be doing better as well. The Chargers averaged 37 yards per kick return, which is way more than the Titans should be allowing.
The Patriots didn't fare so well, but they were having issues with that unit and still averaged 23.5 yards per return. It seemed to me like poor tackling played a large part in the struggles here, so the Titans are going to have to improve if they don't want to keep putting other offenses at an advantage.
5. Run the Ball Effectively, Even If It Means Benching Johnson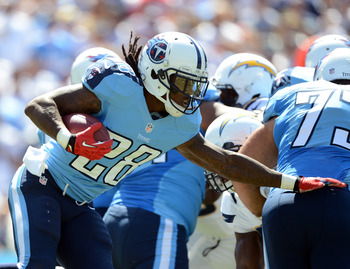 Harry How/Getty Images
Say what you will about the blocking and play-calling, but Chris Johnson's play this season has been unacceptable, as is his calling out his offensive line for not blocking.
When you're the highest-paid player on the team, you're supposed to play like it, and right now, Johnson might be the worst starting running back in the NFL. And as you can see, the blocking isn't as bad as he makes it out to be.
The Titans coaching staff is going to stick with Johnson this week, but I hope they just mean as a starter. If he struggles early against a Lions squad that's given up over 80 yards rushing per game, then it will have to start giving carries to Javon Ringer, Jamie Harper and Darius Reynaud.
I know that the staff wants to give Johnson as many chances as it can; after all, he's been an elite playmaker as recently as the end of last year, and it has sunk millions of dollars into him, so it wants to see if there's any chance he'll live up to his paycheck.
However, they also need to recognize when a player isn't good enough to start anymore. If that's the case with Johnson, then it would help the Titans to know what they have at running back.
Besides, even if the passing game does improve, you won't win many games averaging 1.1 yards per carry.
Keep Reading

Tennessee Titans: Like this team?