BYU vs. Boise State: Live Scores, Analysis and Results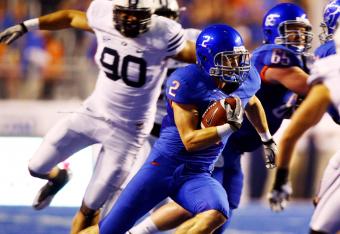 Boise State 7, BYU 6 FINAL
It was a sloppy, brutal, defensive game.... But it was entertaining at times.
Two weeks in a row, the Cougars of BYU lose a heart breaker. Boise State goes to 2-1 on the season while BYU is now 2-2.
Look for follow up articles about this game here on Bleacher Report.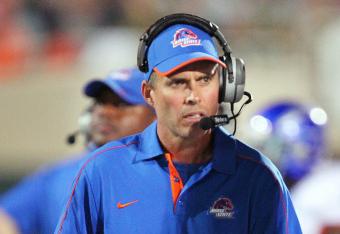 Coach Petersen just said in a radio interview that Bronco Nation deserves a game ball.
He said his ears were still rining from the noise in the stadium.
THE CROWD MIGHT HAVE BEEN THE DIFFERENCE
He also said that the game was "pure torture."
Imagine how BYU feels coach...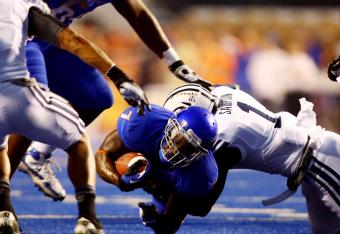 Final Thoughts......
This was a game dominated by D.
Both offenses need work, but at times Boise State looked like they could move the ball well. However, in the red zone they were dismal... again. It was Michigan State all over again.
For BYU this loss had to sting. They went for two only to miss the try. They could have forced overtime and who knows what would have happened?
You have to feel for the Cougars who have lost back-to-back heart breakers in less than five days.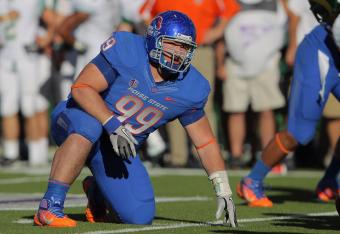 PLAYER(S) of the GAME:
The Boise State Defense.... ALL of them!
But.. Especially Bacon... Michael Atkinson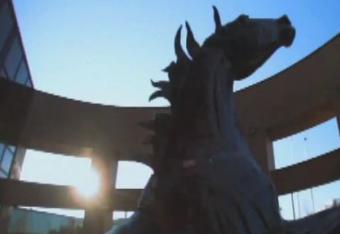 FINAL STATISTICS:
First Downs: BYU 13, Boise State 13
Passing Yards: BYU 61, Boise State 145
Rushing Yards: BYU 139, Boise State 116
Penalties: BYU 8-64, Boise State 7-60
Turnovers: BYU 5, Boise State 0
TOP: BYU 28:00, Boise State 32:00
Key Stat: BYU 5 Turnovers... yet they almost won the game.
Boise State WINS.....
Final Score Boise State 7, BYU 6
BOISE STATE 7, BYU 6
1:19 left in the 4th
Boise State has good field position....
However, they will need to convert some first downs to close this game out.
WHAT FELT LIKE A ROOT CANAL....
now feels like....
A HEART ATTACK
NOW.....
Will We See.....
On ONSIDE KICK..... MOST LIKELY
BRONCOS STOP THEM!
BSU 7, BYU 6
BYU TOUCHDOWN!
Will they go for 2?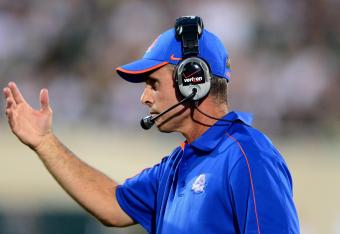 NOW....
Broncos call timeout....
FIRST DOWN at the BRONCO 12
BYU 4th and 3
Can the Broncos stop them?
Will the Cougars get the yardage?
Tense moment in Bronco Stadium
BIG no GIANT 4th DOWN
Cougars going for it
Play of the game....
COUGARS call timeout
COUGARS
1st and 10 at the 25
17 yard gain on that last run
WOW....
Broncos defense looking tired
BYU offense looking energized
This game feels like......
A ROOT CANAL
What does it feel like to you?
Another great punt by Trevor Harman....
Both Punters have my vote for MVP
Sheesh...
You have to wonder....
Did a short week cause this sloppiness? For both offenses?
Or...
Just great defense....
Or...
Just not very good offenses?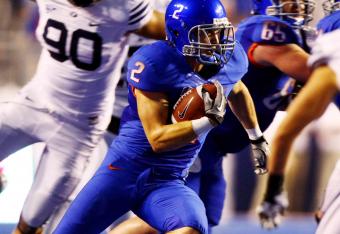 HUGE GAIN!
Play action pass to Matt Miller from Joe Southwick....
1st and 10 at the 42 for the Broncos!
Special teams for BYU is keeping them in this....
Excellent punt once again
Broncos 1st and 10 at their own 19
No matter who wins this game it is clear....
BOTH TEAMS
need help on offense....
TWO low THROWS inarow
BYU will have to punt..
Bubba Dubbya wrote:
"I am gald the defenses showed up becuase the offenses sure did not."
Seriously....
This article is
What is the duplicate article?
Why is this article offensive?
Where is this article plagiarized from?
Why is this article poorly edited?