Predicting TNA Bound for Glory: Aries vs. Hardy, Roode vs. Storm and More!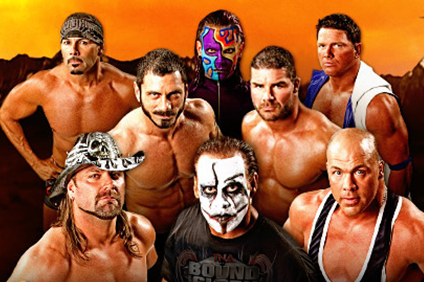 Credit: TNA Wrestling
Bound For Glory is TNA's WrestleMania. The company has four more weeks of television to build and promote their signature event, which will be in my beloved city of Phoenix, Arizona on October 14.
After the conclusion of both TNA's No Surrender pay-per-view and the first edition of Impact Wrestling on the road to Bound For Glory, the company is making the main matches for their biggest event of the year quite obvious. I, for one, think that is the best route to take. Before tonight's Impact Wrestling eliminates more of the guess work, let's take a look at the obvious—and not-so-obvious—matches for the 2012 edition of Bound For Glory.
Begin Slideshow

»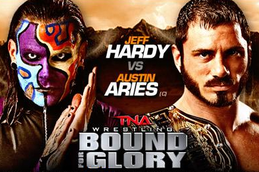 Credit: TNA Wrestling
World Championship: Austin Aries (champion) vs. Jeff Hardy
Headed into the Bound For Glory Series, everyone expected James Storm to win the series and challenge for Bobby Roode's world championship in a rematch from their Lockdown main event. Even after Roode lost the championship to Austin Aries at Destination X, we generally assumed it'd boil down to Roode and Storm at Bound For Glory.
But with each passing week, it seemed more and more like Aries would walk into Phoenix as the champion. After Sacrifice's main event stipulation dictating that neither man would get a rematch, Aries' victory sealed the deal.
That made the final rounds of the Bound For Glory Series far less predictable. Joining Storm in the final four were Samoa Joe, Bully Ray and Jeff Hardy. Most expected the finals to include Joe and either Storm or Ray. However, it was Hardy who downed Joe at No Surrender and eventually beat Bully Ray as well.
Hardy was goaded into defending his title shot on Thursday's Impact Wrestling, and still won. Now, our main event is obvious, with several weeks to build to the biggest match of TNA World Champion Austin Aries' career.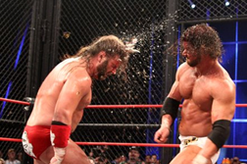 Credit: TNA Wrestling
Grudge Match (Stipulation ???): James Storm vs. Bobby Roode
It was the retuning Bobby Roode who cost James Storm a spot in the Bound For Glory Series finals, and judging by Thursday's Impact Wrestling, these two are going to meet at the biggest event in company history. Not for the title, but for revenge and personal pride. And I am 100 percent fine with that.
No TNA rivalry can match the intensity and depth of Roode vs. Storm. The fire shown by both men on Thursday was insane. I know this will be a great match with a great build. But what kind of match should it be? A Steel Cage match.
I don't know if TNA can pull it off in Phoenix, but they need to try. Taking Storm-Roode full circle and this time, you can't win by escaping the cage—only by pinfall or submission. Better yet, make it an I Quit Steel Cage match. Then, with Bobby Roode carefully nestled against the locked cage door, James Storm can land superkick after superkick after superkick until Roode has to choice but to surrender the match.
It won't end the feud—it can't. These two will ultimately take a few turns as champion and challenger. But at Bound For Glory, it's nothing but a fight between two former best friends and tag team partners who simply hate each other.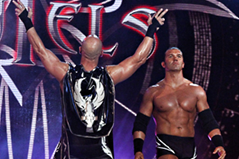 Credit: TNA Wrestling
World Tag Team Championship: Christopher Daniels and Kazarian (champions) vs. Kurt Angle and AJ Styles vs. Chavo Guerrero, Jr. and Hernandez
This match was set up on Thursday's Impact Wrestling, with Daniels and Kazarian losing singles matches to a member of each opposing team. I expect this match to take place at Bound For Glory, and I believe it will be a great one. Due to the length of the card, it's likely to be a one-fall affair. If I were holding the book, this one would be two out of three falls.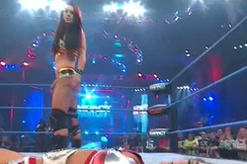 Credit: TNA Wrestling
Knockouts Championship: Miss Tessmacher (champion) vs. Tara
Last Thursday's Impact Wrestling saw the birth of this feud. Tara presented the Knockouts Championship to her partner and best friend, stepping aside to give Brooke the spotlight. That was short lived, as Tar attacked Tessmacher, connecting with a clothesline and a Widow's Peak. Brooke was left lying, and we were left with our Knockouts title match for Bound For Glory!
These two ladies put on a great match at No Surrender and will do the same at Bound For Glory. With Tara as the heel and Brooke as the face, the fans will easily buy into this match, and it will likely be Tessmacher's best to date.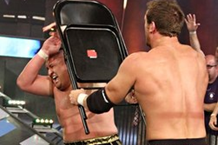 Credit: TNA Wrestling
Samoa Joe vs. Magnus
Their feud has been well built over the past few weeks, and I expect that to continue over the next few weeks. Bound For Glory is a likely place to really get it going. Magnus, coming off of an odd loss to Rob Van Dam at No Surrender, needs the win here. I expect it to be his first signature win as he continues his rise to the top of the card.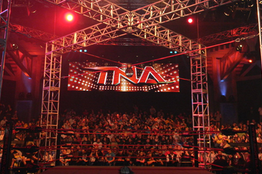 Credit: DeviantArt
Ultimate X Match for the X-Division Championship: Zema Ion (champion) vs. Kenny King vs. Sonjay Dutt vs. ???
Ultimate X is the match for TNA. It sets the company a part from every organization in the world, and stars like Low Ki, AJ Styles, Chris Sabin and Christopher Daniels rose to national prominence through Ultimate X. Ion, King and Dutt represent a new crop of X-Division talent, with only Dutt in his second run. The company does have a Triple Threat match on the card already, so I've added a mystery competitor for the build.
This could go to TJ Perkins, who recently had a tryout. They could also tap any of the other Destination X competitors, such as Rashad Cameron or Rubix. Former X-Division champions Robbie E or Kid Kash are also options.
What better way to reestablish the division then by showcasing its talent in a signature match on the company's grandest stage? All three men listed by name did compete in Ultimate X at Destination X, but that match was built in one night. This match allows TNA to build the challengers over the next few weeks, while Ion continues his heel antics. And being in the mid-card at Bound For Glory, any result the creative team desires will work.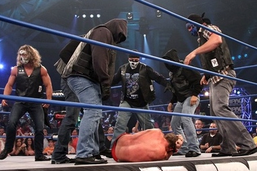 Credit: CageSideSeats.com
8-Man Tag Team Match: Sting, Bully Ray, Rob Van Dam and Mr. Anderson vs. Aces and Eights
Bound For Glory is the company's premiere event of the year, and the year's biggest angle must be a part of the show. We might get a big reveal for the group during the Bound For Glory build, but it won't be the leader. I believe that comes during this match.
TNA strangely has some of its top faces available, which makes sense when you look at this match. Bully Ray isn't a face by any measure, but he has been a "company guy" up to this point. Plus, it opens the door for a turn if Bully is indeed the leader.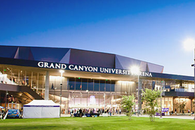 Credit: GCUArena.com
TNA is positioned to storm the desert with an amazing show. They have some of the best talent in the world under contract and a creative process that is hitting on all cylinders. The next four weeks will undoubtedly see twists and turns that will change the card listed above—but that's half the fun.
What do you think will be on the card? Share your thoughts in the comments area, and check back next week for more speculation on TNA's biggest card of the year!
Greg DeMarco is a wrestling fan of over 28 years and has also worked on the independent circuit as a promoter, announcer, character and booker. More of his work can be found at www.411Mania.com. Greg also hosts a weekly radio show found at www.blogtalkradio.com/gregdemarco and streaming worldwide each weekend at www.vocnation.com.
Twitter: www.twitter.com/gregdemarcoshow
Facebook: www.facebook.com/gregdemarco411
Email: gregdemarcolives@gmail.com