Cincinnati Reds NLDS Preview: Power Ranking the Possible Opponents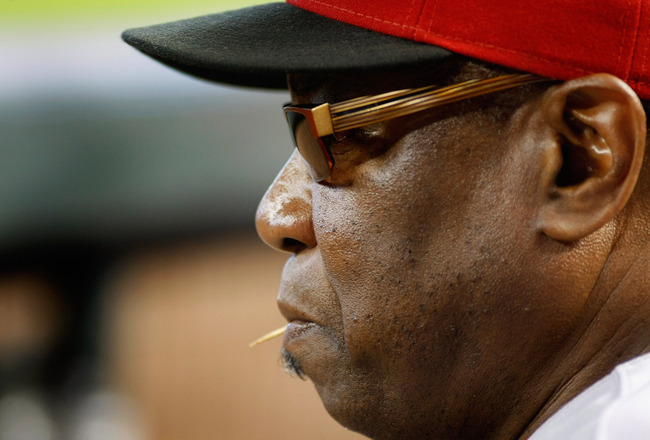 Ralph Freso/Getty Images
The dawn of a new football season has a way of making me forget about everything else.

Productivity at work plummets. Relationships become strained. The butt-print on my couch gets conspicuously larger.

However, the real travesty with September football is that baseball becomes secondary. We spend five months with the Boys of Summer, gutting out victories, our eyes glued to the standings, only to completely disengage once the boys in stretchy pants start banging into each other again.

And trust me, I get it. Like every other red-blooded American male, I salivate just thinking about NFL kickoff. In fact, this season I bought TWO Bengals jerseys (one home, one away). It's part of who we are. But as we sit here on the doorstep of Week 3, I think it's important to recognize that baseball isn't over. In fact, for a select few of us, it's just about to get good.

For most teams, there are 13 games left in the season. And for fans of the really good teams, fans like me, it's time to start paying attention, because the playoff landscape is taking shape before our eyes.

As Reds fans, there are basically two outcomes to root for, and most of us are pretty torn. On one hand, after so many years of futility, it'd be nice to see our boys finish the season with the best record in baseball. A very attainable goal, seeing as we currently sit a half game back from the universe-leading Nationals. On the other hand, garnering the number-one seed in the National League means facing the winner of the Wild Card play-in game, a team that's sure to be riding some serious momentum.

Before we're all lost completely in the fall football furor, here are my rankings of the seven teams the Reds have a decent chance of facing in round one of the playoffs. Call it a playoffs pre-preview. I've ranked them on a scale of "bring 'em on" to "please, just kill us now."
7. Los Angeles Dodgers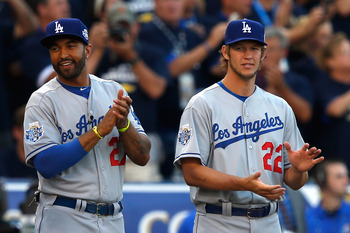 Jamie Squire/Getty Images
I tossed this word out about two seconds ago, but it bears mentioning again: MOMENTUM. That is, the thing the Dodgers have none of.
Since August 15th, Magic Johnson's monstrosity of an investment has gone 12-19, which has come as a surprise to absolutely no one who's lucky to have both Hanley Ramirez AND Adrian Gonzalez on their fantasy team (over heeeeere).
Of course, a lot can change between now and October 3rd. The Dodgers could reel off eight wins in a row, pass St. Louis in the standings and cruise confidently into the play-in game.
More likely, however, is that they continue to play uninspired baseball, something they've grown quite accustomed to in September (7-9). As far as I'm concerned, the Dodgers are Clayton Kershaw, Matt Kemp and bunch of dudes.
Current Status: Two games back in the Wild Card
6. Pittsburgh Pirates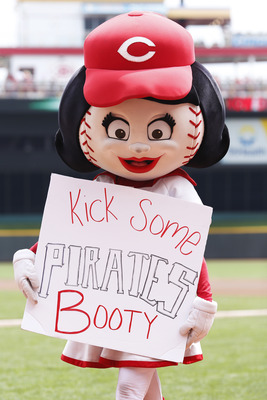 Joe Robbins/Getty Images
I've been on record at least a dozen times saying the Pirates would collapse. Since Day One, that scenario has been as inevitable to me as the sun setting in the West and the Ochocinco/Lozada marriage ending in violence.
The only thing is, to everyone else's minor annoyance, the Bucco's seemed to just keep hanging around.
Well, we can all get back to our morning coffee, because the world has recently righted itself. Pittsburgh's lost 10 of their last 12 games, and now seems to just be intent on getting that elusive 81st win and finishing at or above .500 (something the franchise hasn't done since the Spanish-American War, approximately).
If it weren't for the fact that the Pirates are our NL Central rivals (that always makes me semi-nervous), I'd have them eighth on this list of seven. That's how dead they look.
Current Status: Four and a half games back in the Wild Card
5. San Francisco Giants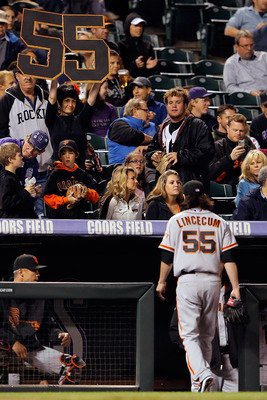 Doug Pensinger/Getty Images
Pitching, pitching, pitching.
It's the only thing that's kept San Fran from a fourth-place finish in each of the last five years. Between twin aces Tim Lincecum and Matt Cain and newcomers Madison Bumgarner and Ryan Vogelsong, the Giants have had a rotation to rival any in baseball.
Normally this would scare me, because pitching is king in the playoffs. Yet this year things have been different, especially lately.
In their last five starts, Bumgarner and Vogelsong have posted 6.00 and 8.63 ERAs, respectively. And, while Lincecum has been slowly getting back to respectability, his season has been marred by bouts of flagrant powder-keggery (allowing five or more runs in nine starts, as compared to just five such starts in the two previous seasons).
Apart from Matt Cain (who's actually 0-2 with a 5.54 ERA vs the Reds this season), the Giants look downright pedestrian.
Current Status: Leading the NL Central by 9 games
4. Atlanta Braves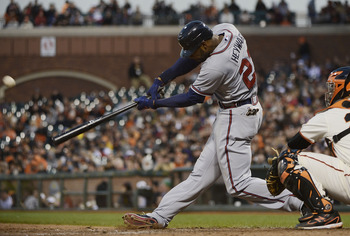 Thearon W. Henderson/Getty Images
I'm looking at the Braves roster right now and seeing a serious playoff sleeper.
In a short series like the NLDS, staff ace Tim Hudson (15-6, 3.77 ERA) and upstart Kris Medlen (eight wins and an ERA under 1.00 since entering the rotation in late July) look like they'll match up well against any team's top guys. Pair that with a bullpen which rivals the Reds', and runs will be hard to come by.
The difference, then, in a series with the Braves (where offensive opportunities could be scarce) could be the longball, where Cincinnati ranks third in the league and Atlanta ranks ninth.
I'm taking Votto/Bruce/Ludwick over Heyward/Freeman/Uggla every time.
Current Status: Leading for the first Wild Card slot
3. Milwaukee Brewers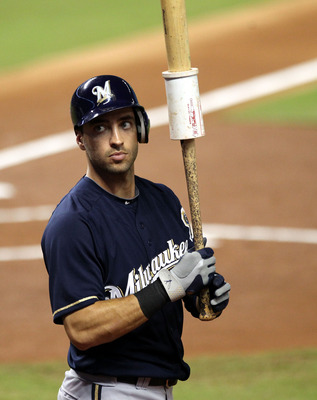 Marc Serota/Getty Images
Quick question: where the #$%& did the Brewers come from?
Having won 22 of their last 29, the Crew is currently breathing down the necks of the Cardinals (2.5 back in the wild-card race) and looking good doing it.
As much as Atlanta's core hitters can't stand up to Cincinnati's, I think the Brewers' can, and would. Braun/Hart/Ramirez all have an OPS exceeding .850, and the Brewers as a team have scored more runs than anyone in the NL.
That, combined with the fact that this would be another "anything can go wrong in divisional games" matchup makes me really hope these guys fizzle down the stretch.
Current Status: Two and a half games back in the Wild Card
2. St. Louis Cardinals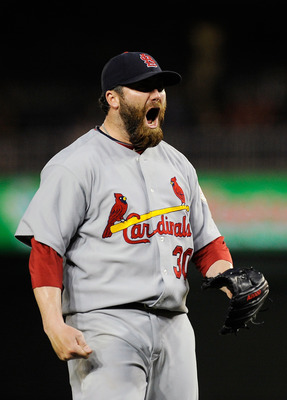 Patrick McDermott/Getty Images
Here's where things start to get dicey.
As much as I'd love to swell up with false bravado and unleash a profanity-laced tirade about how much better the Reds are than the Cardinals and how I'd relish a chance to pound them into the grass, I'm smarter than that. The Cardinals are dangerous, and it's that simple.
If you don't agree, you haven't checked out their run differential (+91, good for second in the league) or you clearly didn't watch any October baseball last year.
I hate the Cardinals as much as you do, and that's exactly why I don't want them anywhere near this postseason.
Current Status: Leading for the second Wild Card slot
1. Philadelphia Phillies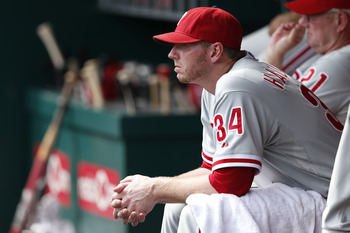 Joe Robbins/Getty Images
Most Reds fans would put the Cardinals in this spot. Then again, most Reds fans haven't lived in Philly for the past five years.
I'll bring you up to speed: it's been brutal.
There isn't anything much worse than going to an opposing team's ballpark and watching your team get undressed. It happened two seasons ago (in Game 2 of the NLDS) when Bronson Arroyo came apart.
It happened during that 19-inning game last season where Wilson-freaking-Valdez got the win (yup, I stayed). And it's happened pretty much every other time I've put on my masochist hat and strolled through the gates of Citizen's Bank Ballpark too. (I just thank God I wasn't there for Roy Halladay's no-hitter, or I probably would have spontaneously combusted.)
The fact is, since moving to Philadelphia in 2008, the Reds record versus Evil Empire South is an embarrassing 11-26, good for a .297 winning percentage and about eight million slaps to my ego.
The Phillies have accumulated a lot of losses this season and admittedly, I've cherished every one. Partly because of my "situation." But also because I knew the Reds were headed for the postseason, and there's no way in hell I wanted to see these chumps there.
Current Status: Four games back in the Wild Card
Keep Reading

Cincinnati Reds: Like this team?