15 Elite but Undersized Recruits You Should Not Worry About in 2013 Recruiting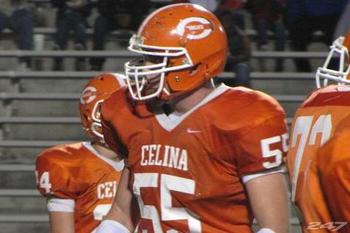 247Sports.com
One of the reasons way the game of football is so beloved by many people is because it doesn't matter what type of body type or size you have, you can still play. In volleyball and basketball, the primary body type is the tall and lanky athlete. In baseball, many players have a linear body type and are average in height.
Football allows players of all types and that is a neat thing. What other sport out there will have a small and fast player like a cornerback on the field at the same time against a strong wide-bodied player like an offensive lineman?
Size is a good thing always in football, but if you're undersized you still can easily excel in this sport. This piece will give you 15 recruits who are among the best in the country but are undersized.
Here are 15 recruits who may not be the biggest but you need not worry about them.
15. Dorian O'Daniel, OLB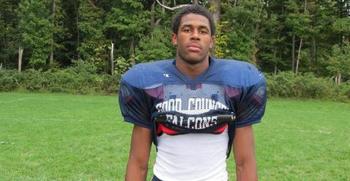 247Sports.com
Height: 6'1"
Weight: 201 pounds
Position: OLB
O'Daniel is very light in the pants for a linebacker but that isn't a cause for concern. From Maryland and committed to Clemson, he has excellent speed and range. O'Daniel will add some bulk at Clemson, but his lack of size will be overcame thanks to speed and athleticism.
14. Dontre Wilson,RB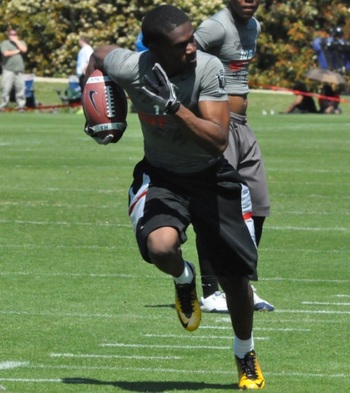 247Sports.com
Height: 5'10"
Weight: 174 pounds
Position: RB
From Texas, Wilson won't be pushing any piles anytime soon. The Oregon commit gets the job done with speed, quickness and elusiveness. His lack of bulk won't hinder him in Chip Kelly's offense because De'Anthony Thomas has shown what undersized running backs can do at Oregon.
13. Evan Lisle, OT
247Sports.com
Height: 6'5"
Weight: 265 pounds
Position: OT
Lisle has the height that many coaches like in their offensive tackles but he lacks the bulk. That's not a problem as one he gets in the strength and conditioning program at Ohio State he should get bigger.
He already has good strength, quickness and toughness. Lisle is one of the best pure run blockers in the country.
12. Deoundrei Davis, OLB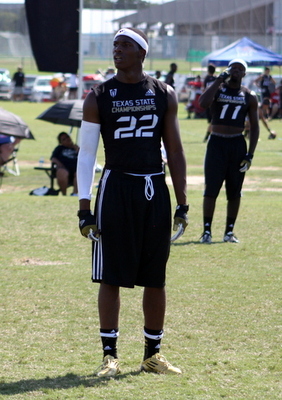 247Sports.com
Height: 6'2"
Weight: 210 pounds
Position: OLB
Davis looks like a wide receiver when you first glance at him. He's lanky, skinny and light. Yet he flies around the field and beats big offensive linemen to points on the field.
Davis knows he is too light to go toe to toe with a massive blocker, so he uses quickness to slip around them and makes thumping hits. He'll add the necessary weight at Texas.
11. Steven Mitchell, WR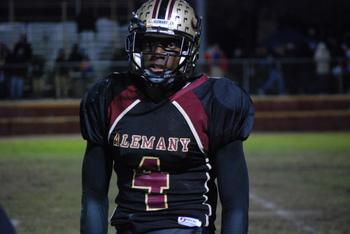 247Sports.com
Height: 5'10"
Weight: 176 pounds
Position: WR
Mitchell is from the Los Angeles area and is headed to USC. He doesn't look like much at first site but the trick is to watch him play. That is when you see an electric player with speed, quickness and great RAC skills.
Mitchell should be a great slot receiver at USC, which will make you forget about his size.
10. Torrodney Prevot, DE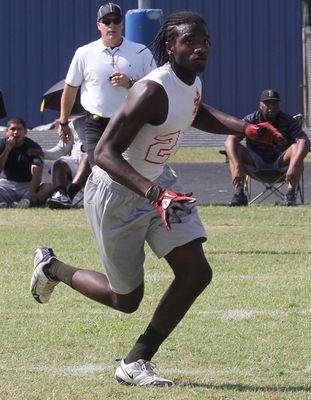 247Sports.com
Height: 6'3"
Weight: 201 pounds
Position: DE
Prevot had the body of a receiver or linebacker but plays defensive end. The Texas native needs to add more bulk but it is believe that his body is ripe for that once he gets to college at USC.
Prevot is a great athlete and can shoot off the line upfield. His speed and quickness make him a great pass rushing prospect.
9. Nico Falah, OT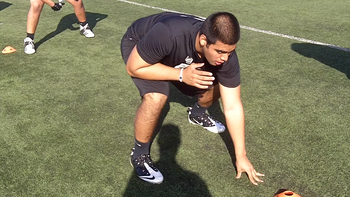 247Sports.com
Height: 6'4"
Weight: 267 pounds
Position: OT
Falah has not played football for that long but is already a top level prospect. The Southern California is just under 270 pounds but has great toughness and athleticism.
Falah has the potential to add another 30 pounds to his frame without compromising his quickness, natural pass blocking skills and easy movement on the second level. He's committed to USC.
8. Holland Fisher, OLB/S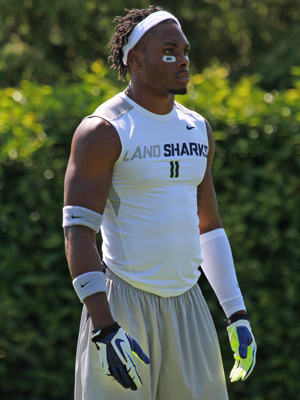 247Sports.com
Height: 6'2"
Weight: 203 pounds
Position: S/OLB
From Virginia and committed to Virginia Tech, Fisher is an athletic defender. He only weighs 203 pounds but will still squeeze down into the box to defend the run.
Fisher also has the speed to cover tight ends and running backs. He could either add weight to become a great outside linebacker or stick to his natural growth path to remain at safety.
7. Patrick Kugler, OG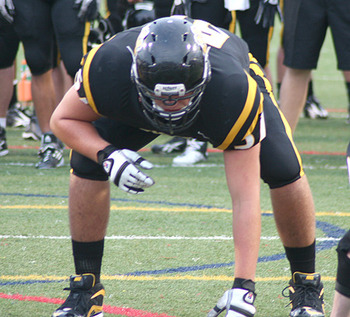 247Sports.com
Height: 6'4"
Weight: 275 pounds
Position: OG
Kugler isn't the most massive offensive lineman you'll see but he's still one of the best. The son of an offensive line coach, Kugler plays with excellent technique.
He's also very strong and tough. Kugler will put on some weight at Michigan so the only people who should be worried are Big Ten defensive linemen.
6. Michael Hutchings, LB
247Sports.com
Height: 6'1"
Weight: 213 pounds
Position: OLB
Hutchings is just over 210 pounds, which is pretty light for a linebacker, but that doesn't matter. First of all, Hutchings is a great player with good overall tools.
Second, he likely will play the SLB position that Dion Bailey currently plays at USC and Bailey is essentially the same size as Hutchings. With his instincts and range, Hutch will be just fine.
5. Shaq Wiggins, DB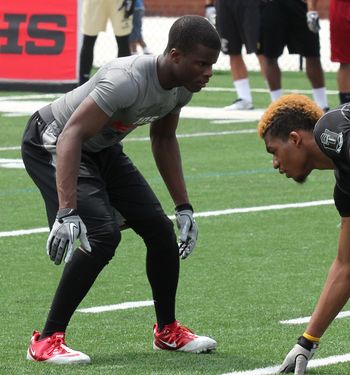 247Sports.com
Height: 5'10"
Weight: 165 pounds
Position: DB
Wiggins was thought to be shorter than 5'10" but measured out there at a couple camps and combines. He's not very thick and you would think that would make him shy away from big receivers.
That couldn't be farther from the truth because Wiggins is highly competitive and great in man coverage. He also has excellent speed and instincts and is committed to Georgia.
4. Vernon Hargreaves III, CB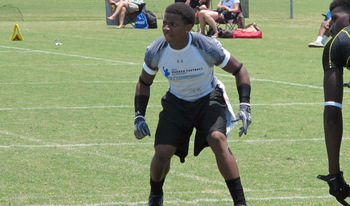 247Sports.com
Height: 5'10"
Weight: 181 pounds
Position: CB
Hargreaves is the top cornerback prospect on many people's board. He has average size and will lose in jump ball situations at times against big receivers.
That's pretty much about it as far as knocks go against Hargreaves because he's an excellent cornerback. Hargreaves has outstanding instincts, play smarts and technique.
He has great speed, quick feet and loose hips which could ascend him to being a No. 1 corner at Florida.
3. Matthew Thomas, OLB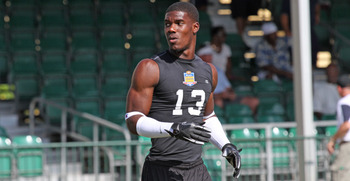 247Sports.com
Height: 6'3"
Weight: 205 pounds
Position: OLB
Thomas is from Florida and the nation's best outside linebacker prospect only weighs around 210 pounds. Yet he has terrific athletic ability, speed, range, instincts and even is a good pass rusher.
Thomas can fit in both a 4-3 and a 3-4 defense. His frame can easily add on another 25 pounds to help hold up in college, where he will be a defensive standout.
2. Jake Raulerson, OT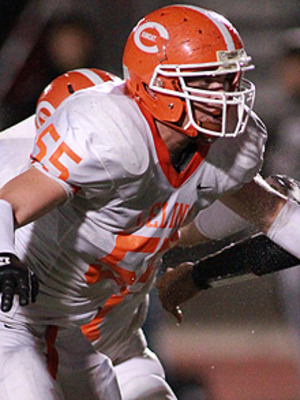 Scout.com
Height: 6'5"
Weight: 262 pounds
Position: OT
Raulerson weighed 250 pounds last year and even though he's up to 262 he's still undersized for an offensive tackle. He doesn't care and I doubt Texas cares either because Raulerson is a baller.
He's very tough and athletic. Raulerson has great quickness, strength and can perform an array of blocks. Texas will put the needed weight on him to play with the big boys in college, so don't worry.
1. LaQuvionte Gonzalez, WR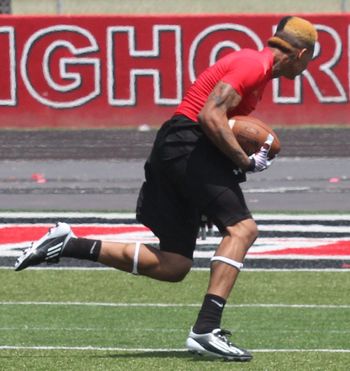 247Sports.com
Height: 5'10"
Weight: 148 pounds
Position: WR
Now, ESPNU lists Gonzalez at 148 pounds but I've seen him listed 160 on other lists. Either way it goes Gonzalez is an undersized player.
However Texas A&M fans shouldn't worry about him because he's among the very fastest players in America. Gonzalez can blaze past bigger players trying to put a big hit on him. He also knows when to run out of bounds and when to simply get down to preserve his light body.
Edwin Weathersby has worked in scouting/player personnel departments for three professional football teams, including the New York Giants, Cleveland Browns and the Las Vegas Gladiators of the Arena League. He spent a year evaluating prep prospects and writing specific recruiting and scouting content articles for Student Sports Football (now ESPN Rise-HS). A syndicated scout and writer, he's also contributed to WeAreSC.com, GatorBait.net and Diamonds in the Rough Inc., a College Football and NFL Draft magazine.

Keep Reading