WVU vs Maryland: Why the Offensive Line Can Win or Lose This Game
Justin K. Aller/Getty Images
The WVU offensive line could cause the Mountaineers to lose against Maryland. The same players could also facilitate another blowout. It depends on which guys show up.
This is an experienced unit with at least seven formidable players:
Quinton Spain 6'5" 335 lbs sophomore LT
Josh Jenkins 6'4" 304 lbs senior LG
Joe Madsen 6'4" 318 lbs senior C
Jeff Braun 6'4" 321 lbs senior RG
Pat Eger 6'6" 305 lbs junior RT
Nick Kindler 6'6" 300 lbs junior LT backup

Curtis Feigt 6'7" 316 lbs junior RT backup

Compare the performance of the first two games:
Game One: Marshall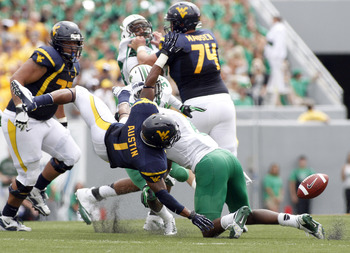 Justin K. Aller/Getty Images
The offensive line played against Marshall and totally dominated. Braun was almost named offensive player of the game by coach Holgorsen.
Spain had 10.5 knockdowns; Braun had eight. Coach Bedenbaugh told Mike Casazza of the Daily Mail, "The guy that I was impressed with the most was Kindler".
Bedenbaugh also told Casazza that he wanted to get the backups more playing time, but the starters were playing so well, he didn't want to mess with the continuity.
The offensive line was so good against Marshall that the Mountaineers had 655 yards with half coming on the ground.
They were part of the reason Shawne Alston gained 123 yards on 16 carries with two touchdowns. Andrew Buie added 80 yards on only six attempts and had a touchdown.
The Marshall defense only hit Geno Smith once and had no sacks. Smith was also able to run through a wide hole for a 28 yard touchdown.
When Smith dropped back to pass, he had time to go through his reads twice—usually without getting touched. The offensive line owned the line of scrimmage in the first game.
Game Two: James Madison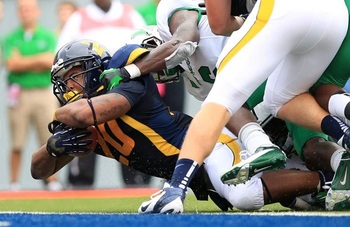 Photo credit:Triblive.com
Fast forward two weeks to the game against the JMU Dukes, a team with a defensive line that weighs 290, 280, 280, and 270 lbs.
Defensive ends ranged from 240 to 220 lbs. It should have been an offensive show for the WVU running game again.
But it wasn't.
Geno Smith put on his Heisman show for three quarters, completing 34-of-39 passes for 411 yards and five touchdowns, giving the Mountaineers the 42-12 win.
The Mountaineers could only manage 121 yards rushing, as the smaller JMU defense kept the running game mostly in check. Shawne Alston did manage one rushing touchdown. Otherwise the 'Bull' was held to 62 yards on 14 attempts.
Alston's longest run was 19 yards. The JMU defense continuously stunted and blitzed and kept the WVU offensive line out of synch all day.
WVU had a 3rd-and-2 and a 4th-and-1 with the power formation at midfield and got stuffed twice. Alston tried to power his way out of the end zone from the WVU 1-yard line, and was tackled in the backfield for a safety.
The smaller JMU Dukes pushed the 321-pound Braun backwards into the endzone to disrupt the play and enable the safety.
These were the same offensive linemen that went over and through Marshall, giving Alston a chance to run through linebackers.
What About Maryland?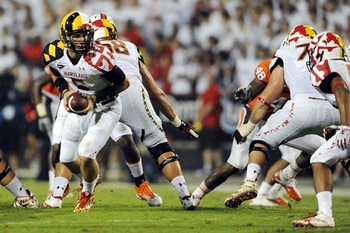 Photo credit: Lacrossplyground.com
Now, here comes Maryland. The Terps' inept offense is led by freshman quarterback Perry Hills.
In three games, Hills has completed 37 of 69 passes for 444 yards, with three touchdowns and four interceptions. Maryland is averaging 148 passing yards per game.
Hills has also rushed for 44 yards and two touchdowns on 38 carries. He has been sacked 10 times.
No less than four running backs have been competing for playing time. The Terps have averaged 110 rushing yards per game between them, with none being listed as the starter for Saturday's game.
The Mountaineer defense should feast on the Terps offense, hopefully scoring on their own with a turnover.
The one strength Maryland has is its defense. They are better than either D that WVU has faced so far. Maryland's defense is ranked eighth nationally, allowing just 227 yards per game.
The Terps are ranked sixth against the pass, allowing only 124 yards per game.
Maryland's defense is led by linebacker Demetrius Hartsfield, a 6'2'', 240-pound senior. Hartsfield has 26 tackles, one sack and one interception in three games.
In the three games they've played, Maryland hasn't faced anything remotely close to the WVU passing machine. This game should not be close, and WVU is almost a four touchdown favorite.
But if the WVU offensive line doesn't show up again this week, it could be interesting. I don't like interesting. I like WVU blowouts. I want to see Geno signing autographs during the fourth quarter!
Comments welcome and appreciated!
Keep Reading

WVU Football: Like this team?