Seattle Seahawks Fans' Hope Will Be Rewarded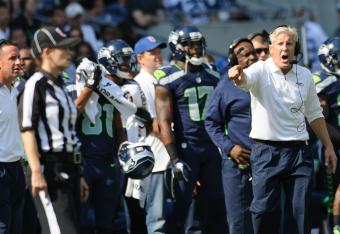 It's go time Seahawks!
Steven Bisig-US PRESSWIRE
For diehard fans of historically successful teams, the well-deserved pride that comes with esteemed heritage sustains them through the lean times. How often did you hear San Francisco 49ers fans fall back on the Montana-Young-Rice Super Bowl years when they were one of the least successful teams in the NFC West?
This is natural. In fact, this defense mechanism is built into almost everyone.
But for Seahawks fans it is different. The Seahawks do not own Super Bowl rings, nor have a storied history going back to the leather helmet days.
What Seahawks fans do have is incredible loyalty and everlasting hope.
Hope that when the Seahawks are mentioned on national sports broadcasts it's not with ignorance and a dismissive tone, but with immense respect.
Hope that the years and years of loyal followership will be rewarded.
Hope that all of the money spent on team jerseys, hats, t-shirts and various memorabilia will be worth it.
And, ultimately, the hope that one day the Seahawks will hoist the Lombardi trophy and a new NFL dynasty will emerge.
This type of devotion makes the 12th Man the best fanbase in the NFL. Hands down.
The Seahawks' 2012 offseason enhanced that hope. The NFL draft was full of surprise picks and even included an on-air heated argument between draft guru Mel Kiper, Jr. and former NFL coach Jon Gruden over Russell Wilson's worth as a NFL quarterback.
Former big name pass-catchers like Terrell Owens, Kellen Winslow, Braylon Edwards and Antonio Bryant were added to the roster, and who could forget the unconventional three-way quarterback competition during training camp? Crazy-fun times.
The highlight of it all was the stellar play of the Seahawks in their four preseason games. Meaningless or not, it gave fans just a glimpse what this team could be: lethal.
The 12th Man could feel something 2005-ish again: hope renewed.
Then—as the clock ticked down to zero in the brutal Week 1 loss to the Arizona Cardinals—the hope that had been building was dealt its first blow, and a severe form of negativity erupted in a way I have never seen after the first game of a season.
This uncharacteristic "sky is falling" rhetoric was frankly bizarre, but it exposed one very important fact: The 12th Man can see what is on the field and knows that this team should be great.
In other words, the expectations have officially been raised in year three of Pete Carroll's tenure.
A huge weight was lifted off the fans when the Seahawks thumped the Dallas Cowboys with the kind of physicality and execution that inspires awe. Even better was the fact that the previous weeks' negativity and despair gave way to that original preseason feeling of hope.
Heading into this pivotal Monday night game with the Green Bay Packers, the Seahawks will enjoy a stadium pumping with so much positive energy and noise that the earth may shake. Again. This is hope. This is loyalty.
It's what Seahawks fans do.
Can the Seahawks become a serious Super Bowl contender in 2012?
Whether they win or lose on Monday, the Seahawks have a team that could be a serious contender at the end of the year.
Based on several factors, like being at home on Monday night (17-8 record lifetime), an elite defense, incredible special teams, a potent running game and a certain rookie quarterback who is progressing nicely, I think the winning streak continues against Green Bay.
In 2012, Seahawks fans should have hope based not on blind support, but on the impressive, physical and talented team that Pete Carroll and John Schneider built and owner Paul Allen facilitated with his approach to franchise ownership.
The legendary teams have their diehards. The Seahawks franchise has diehards waiting for their legendary team.
Seahawks fans, you've waited long enough. The journey begins on Monday and the entire nation will be watching.
Follow @12thManScribe on Twitter
This article is
What is the duplicate article?
Why is this article offensive?
Where is this article plagiarized from?
Why is this article poorly edited?

Seattle Seahawks: Like this team?