Syracuse Basketball: Power Ranking the Games by Difficulty on Orange Schedule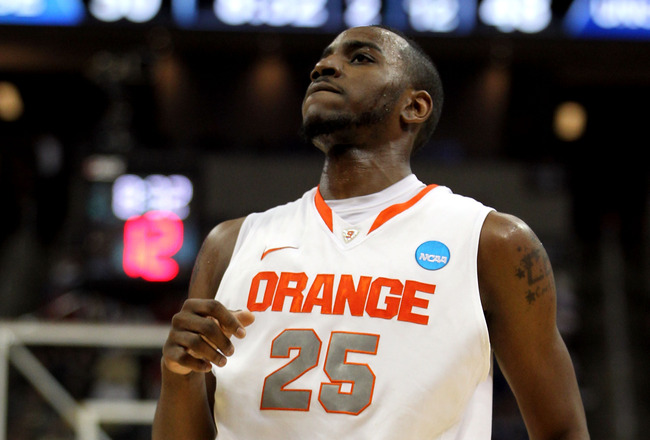 Gregory Shamus/Getty Images
The Syracuse Orange 2012-13 basketball schedule includes games of widely varying degrees of difficulty.
Even though the season starts out with some easy contests, the last three months are chock-full of Big East skirmishes.
Jim Boeheim's bunch travels to rivals Georgetown, Connecticut, Pittsburgh and Villanova. Oh, and they also make a trip to the defending conference champion Louisville.
This is the 'Cuse's farewell tour in one of the best conferences in all of sports, but their opponents aren't going to roll out the red carpet for them.
24. Early Tests
Nate Shron/Getty Images
At the bottom of the difficulty rankings is this collection of games against vastly outmatched opponents. An upset is possible, but highly unlikely:
Home vs. Princeton, November 21
Home vs. Colgate, November 25
Home vs. Eastern Michigan, December 3
Home vs. Monmouth, December 8
Home vs. Canisius, December 15
Home vs. Detroit, December 17
Home vs. Alcorn State, December 29
Home vs. Central Connecticut, December 31
23. Home vs. Wagner, November 18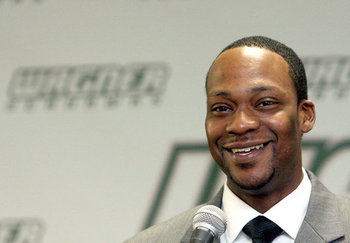 Photo Courtesy of SILive.com
With an upset over Pittsburgh last season, the Wagner Seahawks proved that they can take down a Big East opponent.
A coaching change (Dan Hurley is gone, Bashir Mason is in) brings uncertainty to the beginning of their season, and a trip to the Carrier Dome is a tall task for the Northeast Conference contenders.
Compared to most of the other non-conference November games, Wagner is a trickier test. But if Syracuse can execute its game plan, its depth will wear Wagner down.
22. Home vs. Long Beach State, December 6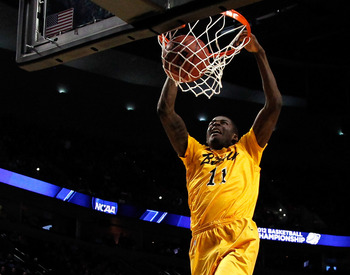 Jonathan Ferrey/Getty Images
Another dangerous underdog makes a trip to Syracuse early in the winter, as the defending Big West champions will challenge the Orange.
Long Beach State enjoyed a terrific 2011-12 campaign, but the likelihood of them repeating such success is slim. They lost four of five starters, including dynamo guard Casper Ware.
Dan Monson's crew will compete with the 'Cuse, but they'll have to play a perfect brand of basketball to pull off an upset.
21. At Seton Hall, February 16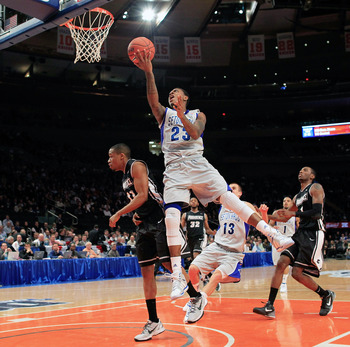 Chris Trotman/Getty Images
Seton Hall will be the easiest Big East opponent Syracuse faces all season.
They're the only team that's clearly in recovery mode, as they lost productive forward Herb Pope and playmaking guard Jordan Theodore. The Pirates weren't able to replace them.
Thus, this game has the lowest degree of difficulty for Triche and company.
20. Home vs. St. John's, February 10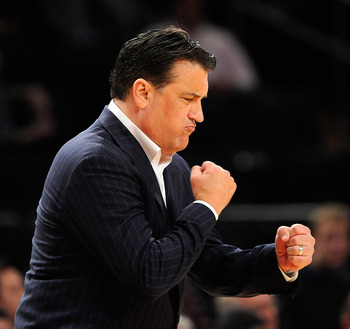 Patrick McDermott/Getty Images
Although NBA-bound Moe Harkless is gone, St. John's returns with most of its young talent.
With head coach Steve Lavin back, hopefully for the entire year, the Red Storm have a chance for more stability from a training and preparation standpoint.
The Johnnies will still be a middling Big East squad, which won't cut it against a 'Cuse outfit that will be well-rested heading into the February 10th showdown.
DeAngelo Harrison can't break the 2-3 zone all on his own, so the Orange are strong favorites in this game.
19. Home vs. Villanova, January 12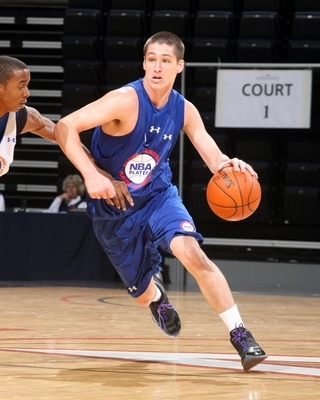 Photo Courtesy of VUHoops.com
The Villanova Wildcats travel to Syracuse relatively early in the Big East schedule, so it will be a litmus test for both clubs, and an especially challenging one for Villanova.
ESPN's Eamon Brennan thinks that a fresh start in the backcourt might end up being a good thing for Jay Wright's club:
The phrase addition-by-subtraction is a pejorative, and it is never very nice to use, but one can't help but think Villanova could experience that very sensation in 2011-12, now that guard Maalik Wayns has left the school to chase the NBA dream. Replacing him will be Ryan Arcidiacono, the No. 6-ranked point guard in the class of 2012. Some fresh blood handling the ball may be just what the doctor ordered.
Freshman guard Ryan Arcidiacono will get a trial by fire against Brandon Triche and Michael Carter-Williams.
18. Home vs. DePaul, March 6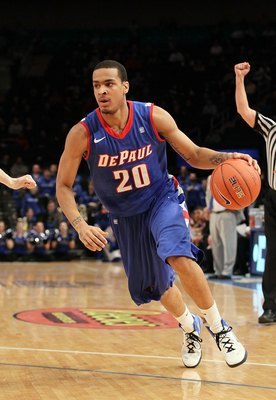 Jim McIsaac/Getty Images
There's no doubt that DePaul is going to be better than it was last year. Oliver Purnell's crew returns its top four scorers, its top rebounder and top passer.
The Demon Deacons can put points on the board, as they were third in the conference last season in scoring.
If the Orange are too busy licking their battle wounds from the Louisville game, or too busy looking forward to the Georgetown game, DePaul could out-gun them on their own turf.
17. Home vs. Temple, December 22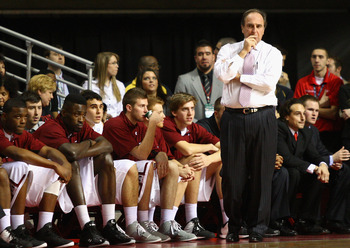 Chris Chambers/Getty Images
Featured on the Gotham City Classic schedule is a showdown between the Orange and the Temple Owls.
Fran Dunphy's strong Atlantic-10 club moves the ball well, and they all share the responsibility of facilitating the offense and finding the best shot on each possession.
Madison Square Garden will likely host a pro-Orange crowd, but Temple has played in some hostile environments before.
This offense could do some damage against Syracuse, and the Orange will have to buckle up and toughen up in order to win this contest.
16. Home vs. Rutgers, January 2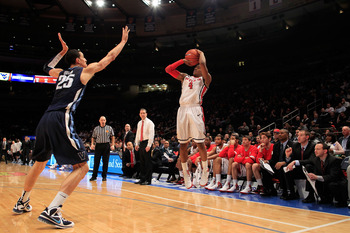 Chris Trotman/Getty Images
If Eli Carter and Myles Mack can make notable improvement from last season to this season, Rutgers could be a tough out for any Big East squad, including Syracuse.
The Scarlet Knights visit the 'Cuse in the first Big East matchup of the year, and even if they're a much-improved team, that's a tough way to start your conference schedule.
Rutgers can't afford to get into a shootout, because they're not a particularly good outside shooting team.
If they're patient and look for high-percentage shots, then it will be a much closer tilt.
15. Home vs. Providence, February 20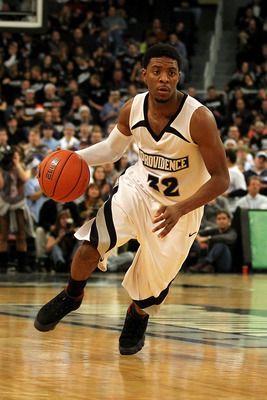 Chris Chambers/Getty Images
Providence has a slew of talent returning, along with some promising recruits. Vincent Council, Bryce Cotton and LaDontae Henton have a chance to bring this program back to contention.
If there was ever a time for them to actually break into the upper tier of the Big East, it's now.
The Friars haven't been competitive in the Carrier Dome since the Ryan Gomes era, and a win on the road over Syracuse would officially mark their return to relevance in the conference.
14. At Villanova, January 26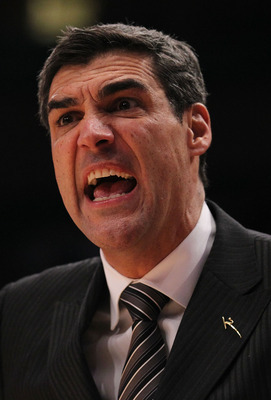 Nick Laham/Getty Images
Exactly two weeks after Villanova visits Syracuse, the Orange will go down to Philadelphia to challenge Jay Wright's club.
The Wildcats play some of their home games at the Wells Fargo Center, home of the Philadelphia 76ers, and some of them on campus at the Pavilion.
If Villanova played at the Pavilion, which Syracuse probably won't, the intense atmosphere and closed-in feel of the arena would give them a better chance of pulling off the upset.
If the Orange play the game at the spacious Wells Fargo Center, which is more likely (because of the large Syracuse following), Syracuse has more of an edge.
13. At Arkansas, November 30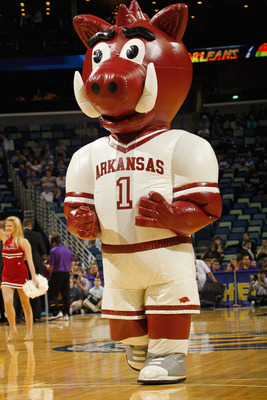 Chris Graythen/Getty Images
In its draw for the SEC/Big East Challenge, Syracuse faces the Arkansas Razorbacks, who were statistically the worst defensive team in the Southeastern Conference in 2011-12.
Think that the Orange are just going to walk all over the Hogs? Not so fast.
Arkansas' saving grace is the fact that they are at home and happen to be good at filling up the hoop. B.J. Young and Marshawn Powell are a dynamic duo that's only going to get better.
12. At San Diego State, November 9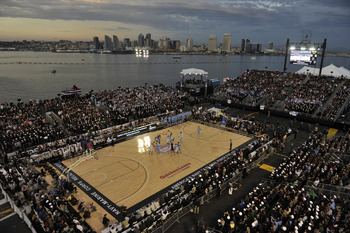 U.S. Navy/Getty Images
Syracuse kicks off the regular season by winging its way across the country to face San Diego State in the Battle on the Midway.
The game will be played on the USS Midway Aircraft Carrier, and the setup will probably be similar to the North Carolina-Michigan State matchup pictured here.
The atmosphere will be fantastic, and the game should be too.
Syracuse might have more blue-chip talent on its roster, but Steve Fisher's Aztecs are bringing back almost all of their firepower from last season and have the home-deck advantage.
11. At Providence, January 9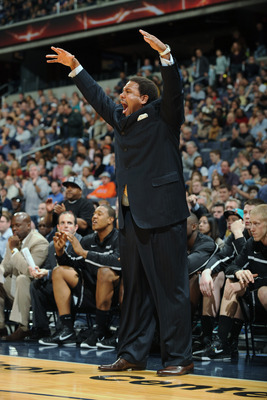 Mitchell Layton/Getty Images
After squaring off against South Florida on January 6th, Syracuse will hightail it back up to the northeast to visit Providence, Rhode Island on January 9th.
This is the first of a home-and-home series against the Friars, and the first game is the best chance for Ed Cooley's club to surprise the Orange and pull off the upset.
Providence's defense will be markedly worse than Syracuse's next year, but at home, they have a better chance of using the positive energy to slow down the Orange attack.
10. At Marquette, February 25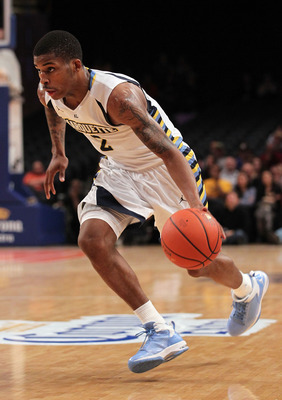 Nick Laham/Getty Images
Jae Crowder and Darius Johnson-Odom are gone, but Marquette isn't without a core group of competitors who know how to win.
Buzz Williams still has Junior Cadougan, Davante Gardner, Vander Blue and Todd Mayo, all of whom logged substantial playing time over the last couple years.
The Golden Eagles are the type of team that can run and keep up with Syracuse in a track meet.
The DaJuan Coleman vs. Davante Gardner battle in the post will be fun to watch.
9. Home vs. Georgetown, February 23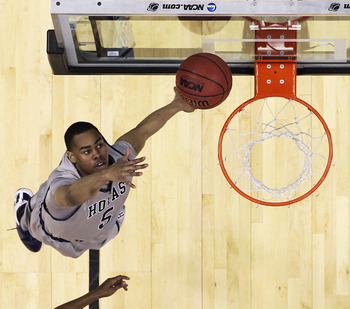 Rob Carr/Getty Images
Needless to say, this is a huge game for the Orange.
Letting Georgetown win in the Carrier Dome isn't an option for Boeheim. But the Hoyas, led by Markel Starks and Otto Porter, will do all they can to ruin Syracuse's evening.
John Thompson's bunch took the Orange to overtime in 2011-12, but that was with a more experienced squad than they have now.
There's solid young talent across the board for Georgetown, but it's probably not going to be enough to hang with Syracuse for 40 minutes.
8. Home vs. Notre Dame, February 4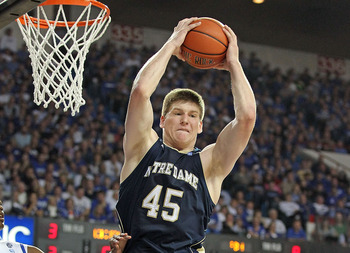 Andy Lyons/Getty Images
This early-February matchup holds a special place in Syracuse fans' hearts, because it was Notre Dame who ended the Orange's undefeated run last season.
Mike Brey's Irish manhandled the 'Cuse, and it was one of the low points of the season for Boeheim's boys.
If Syracuse can stay disciplined defensively and translate that into offense, they'll have a convincing win.
The key is to limit the damage done by Jack Cooley, who will probably be the best player on the court.
7. At Pittsburgh, February 2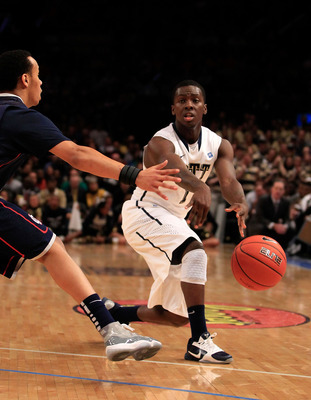 Chris Trotman/Getty Images
The Petersen Events Center isn't an easy place to play for any road team, even if it's the deep Orange squad.
Pittsburgh had an extremely disappointing 2011-12 campaign, and point guard Tray Woodall will lead their quest to regain Big East prominence.
Unlike most other schools, the Panthers have young freshmen who can match Syracuse's newcomers. It's Syracuse's DaJuan Coleman and Jerami Grant vs. Pittsburgh's Steven Adams and James Robinson.
The battle of the freshmen could be the x-factor in this matchup.
6. At Connecticut, February 13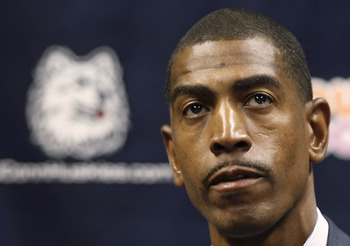 Winslow Townson/Getty Images
When Connecticut hosts Syracuse on February 13th, the circumstances of the rivalry will be much different than what we're used to seeing.
Retired legend Jim Calhoun will no longer be patrolling the sidelines, and the Huskies won't be jockeying for postseason seeding.
Therefore, this regular season matchup will hold a lot of weight for UConn, who would love to play spoiler and derail Syracuse's trajectory.
Can Shabazz Napier and Ryan Boatright dominate the backcourt enough to sway the game in the Huskies' favor?
5. At South Florida, January 6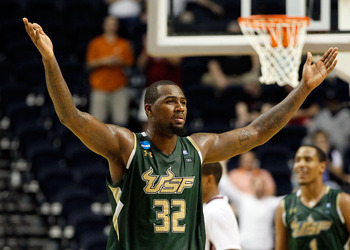 Kevin C. Cox/Getty Images
The first road game of the Big East schedule is a trek southward to face the top defensive team in the conference.
South Florida plays an ugly brand of basketball, yet one that led them to the upper half of the league in 2011-12. When they played in Syracuse, they controlled the complexion of the game, and it nearly resulted in a Bulls victory.
In Tampa, it's going to be even more important for the 'Cuse to not let that happen again. They're more athletic and more talented, and they should take advantage of it.
4. Home vs. Cincinnati, January 21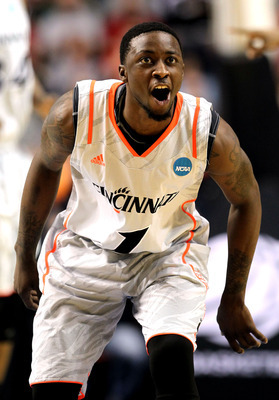 Jamie Squire/Getty Images
In 2011-12, Mick Cronin's Bearcats played exceptional basketball in both games against Syracuse (resulting in one win and one loss).
They found the gaps in the zone, shot the lights out, and knocked the heavily-favored Orange out of the Big East tournament.
Rakeem Christmas, DaJuan Coleman and C.J. Fair must take advantage of Yancy Gate's departure and own the interior. On the perimeter, Syracuse's retooled backcourt must keep Sean Kilpatrick from catching fire.
3. Home vs. Louisville, March 2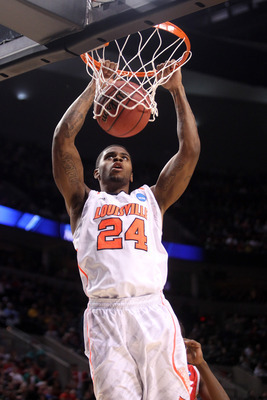 Jed Jacobsohn/Getty Images
Out of all the teams in the conference, Louisville is the only one that is definitely at (or above) Syracuse's level.
Rick Pitino has a great mix of weapons at his disposal, and most importantly, they are all players who know their roles and fill them admirably.
Containing Peyton Siva is a tall order, as the crafty guard can get anywhere he wants to on the court. If Syracuse spends too much time chasing Siva around, they'll lose track of Chane Behanan and Kyle Kuric.
Expect the Cardinals to give Syracuse a knock-down, drag-out battle in the Dome.
2. At Georgetown, March 9
Jonathan Daniel/Getty Images
Washington, D.C. will be the site of the last regular-season Big East showdown in the legendary history of the Georgetown-Syracuse rivalry.
The Verizon Center atmosphere will be electric, and the Hoyas will be hungry for a resume-bolstering victory. Focus and fundamentals are going to be critical for Triche and Carter-Williams as Georgetown throws the kitchen sink at them.
Syracuse is the superior team, but all bets are off in a game of such magnitude.
1. At Louisville, January 19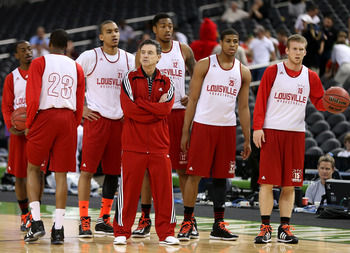 Jeff Gross/Getty Images
A mid-January tilt against Louisville will be Syracuse's toughest basketball game of the season.
Why? It's a road game against the best team in the Big East, and the majority of the Cardinals are holdovers from Pitino's 2012 Final Four group.
Just because it's the toughest opponent doesn't mean the game isn't winnable for the Orange. Remember, Syracuse beat Louisville at the KFC Yum! Center last spring.
The two programs are head and shoulders above the rest of the conference. This early-season matchup will determine who has the upper hand in the conference heading into the meat of the schedule.
Follow Daniel on Twitter: @Danielobleacher
Keep Reading

Syracuse Basketball: Like this team?