Week 4 College Football Betting Picks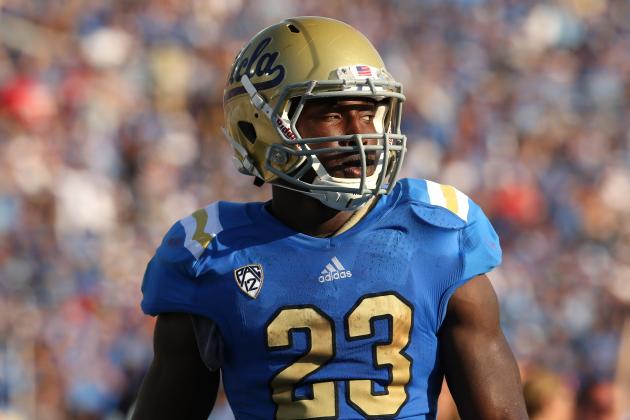 Stephen Dunn/Getty Images

Coming into Week 3 with a 6-3 record ATS, I thought I found four games that were legit winners. First off, I must admit that Virginia Tech call was horrendous. After watching Pittsburgh get romped by Youngstown State and Cincinnati, I had 100 percent confidence that the Hokies would win. In actuality, I should have listened to the recent trends that favored Pittsburgh covering.
Secondly, the NIU call should of been answered, but a crucial fumble on the five-yard line in Army territory killed the pick, as Army had an 80-plus-yard drive, which they capitalized on with a touchdown.
Northwestern and Boston College was a nerve-racking 60 minutes of play. A strong fourth quarter propelled the Wildcats to a nine-point victory and an ATS win.
Once again, my game of the week won, as the Gators (who a lot of betters didn't bother taking) destroyed the favored Vols 37-20. Week 4 was a letdown in my books. A 2-2 record is always better than a losing one. After looking at the lines, trends, weather and injury reports, I have five games that look to be solid picks for Week 4.
2012 Record ATS
8-5 (3-0 Game of the Week Pick)
Sport's Week 3 Results
NIU Huskies 41 vs. Army Black Knights 40 (+3) Loss
Boston College Eagles 13 vs. Northwestern Wildcats 22 (-3.5) Win
Virginia Tech Hokies 17 vs. Pittsburgh Panthers 35 (+11) Loss
Game of the Week Pick
Florida Gators 37 vs. Tennessee Vols 20 (-3) Win
Begin Slideshow

»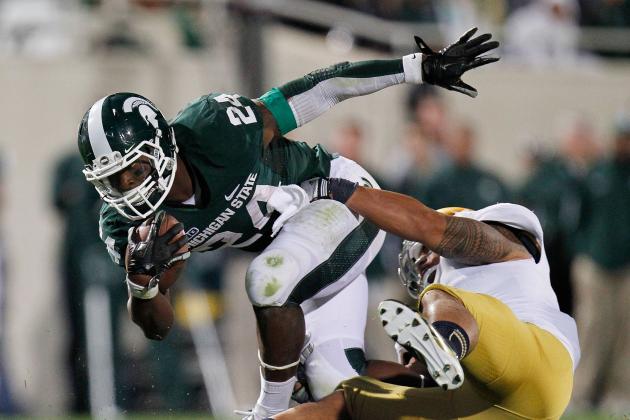 Gregory Shamus/Getty Images

Date: Saturday, September 22
Time: 3:30 p.m. EDT
Current Line: Michigan State by 31
The Story: After a disappointing showing against Notre Dame, the Spartans fell 11 spots in the top 25. The Spartans came into the game riding a 15-game home winning streak, which the Fighting Irish spoiled in a 20-3 victory.
Michigan State head coach Mark Dantonio blamed himself for not having his team ready against the Irish. Michigan State comes into this game with a 2-1 record and looking for blood to get back into gear against an 0-3 Eastern Michigan team.
Eastern Michigan enters this game badly wounded. EMU has lost to Ball State, Illinois State and got destroyed by Purdue. The Eagles give up an average 40.7 points against per game while only scoring an average of 18.7 points. EMU also gives up a ton of rushing yards, which Heisman trophy hopeful Le'veon Bell will look to exploit.
Recent Trends: Michigan State is 4-0 ATS vs. Eastern Michigan since 1992. MSU is 3-0 in the last three years against MAC opponents. Eastern Michigan is 11-32 ATS in non-conference games since 1992.
The Pick: I'm taking Michigan State this week. The Spartans have the home-field advantage against a weak EMU team. Weather may play a factor since rain is in the forecast, which should make the Spartans an even more attractive pick since Bell will rush the ball a lot.
Michigan State -31
Michigan State 42, Eastern Michigan 7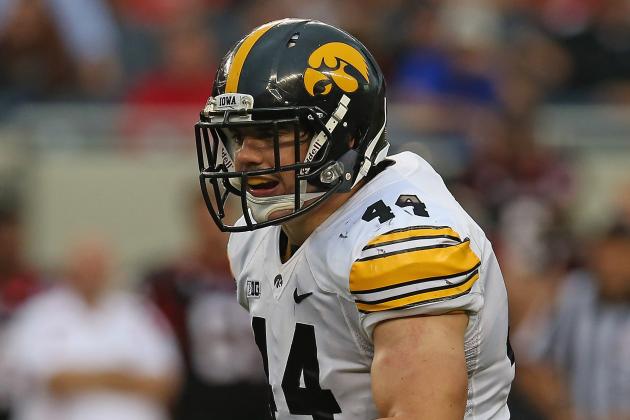 Jonathan Daniel/Getty Images

Date: Saturday, September 22
Time: 12:00 p.m. EDT
Current Line: Iowa by 14
The Story: Sticking with the Big Ten theme, Iowa comes into this game boasting a 2-1 record, with three close games in which they couldn't cover the spread. Iowa has been somewhat of an afterthought in the Big Ten. This Iowa offense has trouble scoring and their defense actually has played up to par.
Central Michigan comes into this game fresh after taking Week 3 off. In their last game, Michigan State ran up and down the field with the ball, destroying the Chippewas' defense in an 41-7 onslaught.
Recent Trends: Iowa is 0-3 ATS this season. Iowa has a losing record ATS in every subject in the trends list. Central Michigan is 0-2 ATS this season. CMU is 4-12 as an underdog in the last three years and are 4-13 when playing on Saturday.
The Pick: This game is an ugly bet to take, but Central Michigan is one of the worst teams in the FBS. If Michigan State (who is by far better than Iowa) can put up 41 points, I'm pretty confident Iowa can at least put three touchdowns on the scoreboard. Iowa has the defense; it's the offense that worries me. Take the Hawkeyes.
Hawkeyes -14.
Iowa Hawkeyes 28, Central Michigan 9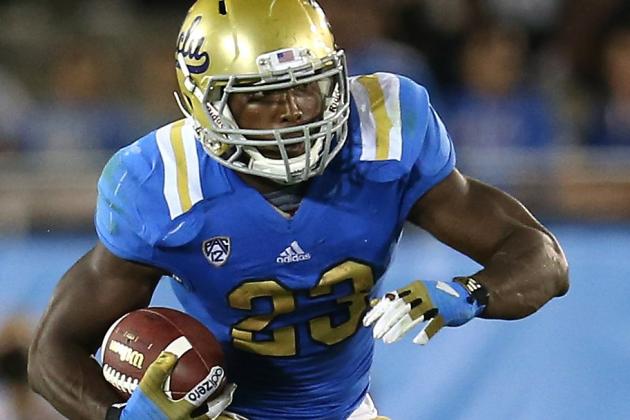 Stephen Dunn/Getty Images

Date: Saturday, September 22
Time: 3:30 p.m. EDT
Current Line: UCLA by 7.5
The Story: The Beavers are coming off a huge upset victory against Wisconsin. The Beavers are looking to continue their winning streak against UCLA on the road.
UCLA is currently 3-0 and have covered in all three matches. UCLA is averaging 36.5 points per game at home and have beaten Nebraska and Houston on their turf. UCLA has shown their strengths on offense, while there counterpart played tough defense against a terrible Wisconsin Badger team.
In 2010, Oregon State lost to UCLA 17-14 and were handed another loss in 2011, 27-19. Gamblers in Las Vegas flocked to take Oregon State when the line opened up as UCLA -10. The line has moved substantially since.
Recent Trends: UCLA is 2-0 ATS against Oregon State in the last three years and 9-6 ATS against Oregon State since 1992.
The Pick: People, don't be alarmed by this line change...In fact, use it to your favor. The Bruins are clearly the more established team. The Bruins are home and their offense has been unstoppable. The Bruins' defense has also gotten better in each game. Oregon State is too unproven to take. Take UCLA.
UCLA -7.5
UCLA 31, Oregon State 10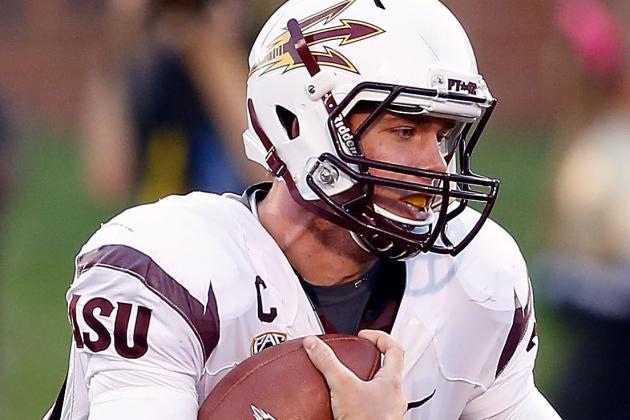 Jamie Squire/Getty Images

Date: Saturday, September 22
Time: 10:00 p.m. EDT
Current Line: Arizona State by 6
The Story: The 2012 season seemed doomed after Utah took a big loss against their in-state rival, Utah State. They not only lost the game, but they lost their veteran quarterback, Jordan Wynn, who hurt his shoulder and retired from football.
Last week, the Utes came into BYU looking for a crucial victory. After the final whistle, the +3.5 underdog Utes beat BYU 24-21, rejuvenating the football squad. Arizona State started the 2012 season with two blowout victories. First was the 63-6 romp against Northern Arizona. Their second victim was a hurting Illini team that couldn't stop the Sun Devil offense, as they cruised to an 45-14 victory.
Last week, ASU had their first major test against Missouri. Despite losing 24-20, the Sun Devils tied the spread and proved to the nation that they can compete with any team.
Recent Trends: ASU is 2-0-1 this year. Utah is 1-2 ATS. Arizona State is 2-0 ATS vs. Utah since 1992, with their last meeting being in 2011 (ASU 35, Utah 14).
The Pick: Honestly, the Sun Devils are a better team, especially when they're at home. I see Utah playing State tough the first half, but the heat of Tempe will get to them, as well as the Sun Devil fans. Take Arizona State.
Arizona State -6
Arizona State 38, Utah Utes 17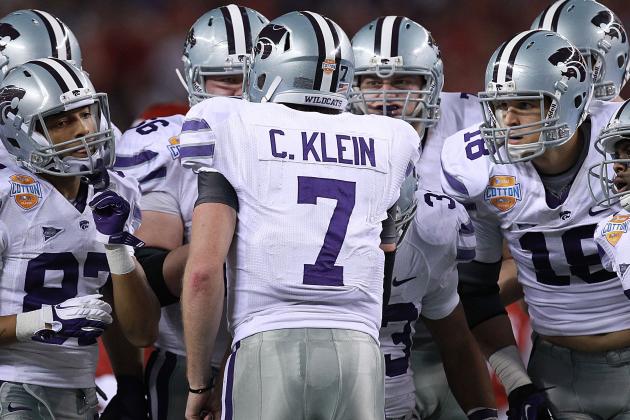 Ronald Martinez/Getty Images

Date: Saturday, September 22
Time: 7:50 p.m. EDT
Current Line: Oklahoma by 16.5
The Story: After a questionable beginning to the 2012 season, the Sooners seem to have rebounded.
The 24-7 victory against UTEP had many bettors giving up money to Vegas. Oklahoma took Week 3 off after handing Florida A&M a whooping 69-13 loss.
Last year, the Sooners wiped K-State off the Big 12 championship talks after handing the Wildcats a brutal 58-17 beatdown. K-State came into the season with the return of Heisman hopeful Collin Klein. K-State's rushing attack has been tough to defend, but their passing attack needs to improve against a tough Sooners D.
Recent Trends: K-State is 2-1 ATS this year. Oklahoma is 1-1 ATS this year. Since 1992, K-State is 9-5 ATS against Oklahoma. K-State is 8-2 in the last three years on the road, while Oklahoma is 8-5 at home ATS.
The Pick: This game will be a classic Big 12 battle in Norman, Okla. Bill Snyder's Wildcats will come into this game with revenge on their mind, as I expect this game to be close throughout the 60 minutes of play. I'm not sure if K-State can beat Oklahoma straight up, but I'm confident in a close match. A 16.5 spread is really high. Take K-State.
Kansas State +16.5
Oklahoma 45, Kansas State 38
Follow me on Twitter @SMcDermott29.
All lines are subject to change based on the line movement. All lines are from ScoresandOdds.com.