UFC 152: Interesting Facts About the Jon Jones vs. Vitor Belfort Fight Card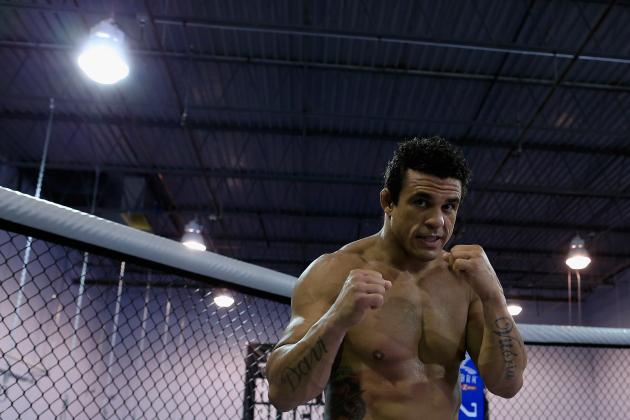 Chris Trotman/Getty Images

Tumultuous would be a good way to describe the last few weeks for the UFC. There have been injuries on top of injuries and the scrapping of an entire fight card.
Come Saturday night, we can hopefully put those bumps in the road behind us, even if it's only for a few hours and enjoy the fights that will be presented on the UFC 152 fight card.
To get you ready for Saturday night, what follows are a few interesting facts and figures leading up to UFC 152, an event that will feature Jon Jones defending his light heavyweight crown against Vitor Belfort in the main event.
Begin Slideshow

»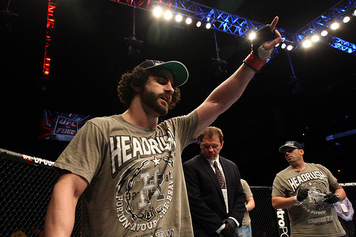 Josh Hedges/Zuffa LLC/Zuffa LLC via Getty Images
Before he became a full-time mixed martial artist, Charlie "the Spaniard" Brenneman was a junior high school and high school Spanish teacher, hence the nickname.
Brenneman is one of a handful of fighters who have made the leap from teaching to fighting.
The most famous of these fighters being former UFC middleweight champion Rich Franklin. Other fighters who have worked as teachers are: Tim Hague, Mike Ciesnolevicz, Andy Wang, James Giboo, Yoshiyuki Yoshida, Jared Hamman, Tom Lawlor and Roy Nelson.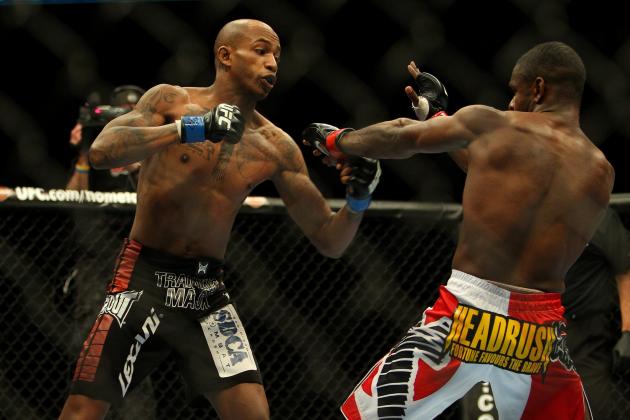 Tom Szczerbowski-US PRESSWIRE

Mitch Gagnon and Walel Watson will meet on the preliminary card of UFC 152 in a fight that, on paper, looks like it will be coming to a close sometime before the horn sounds to end the third round.
These two fighters have a combined 23 professional bouts. Of that number, only three have gone the distance. Interestingly, all three of those fights were losses, with Watson dropping two and Gagnon dropping one.
As for their wins, Gagnon has eight, all coming via submission. For his part, Watson has nine career victories with seven of those coming via submission and two via knockout.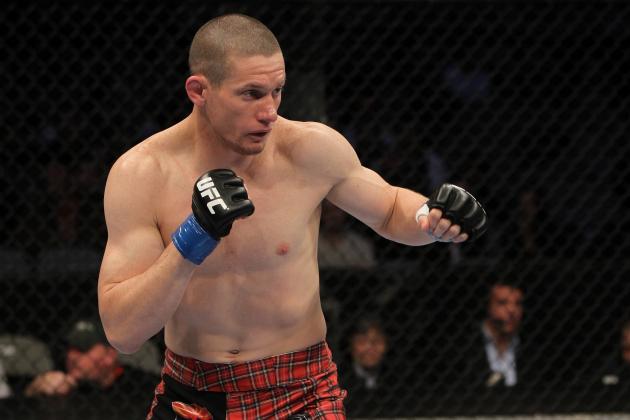 Josh Hedges/Zuffa LLC UFC via Getty Images
The fight that precedes the bout between Seth Baczynski and Simeon Thoresen will feature Mitch Gagnon and Walel Watson, two fighters who have gone the distance only three times in 23 professional bouts. As it turns out, those numbers fall short of the numbers that Baczynski and Thoresen have accumulated over their careers.
Between Baczynski and Thoresen, they have 42 professional fights, with only five of those going the distance.
With that being said, you may want not want to leave the room during the Facebook streaming prelims.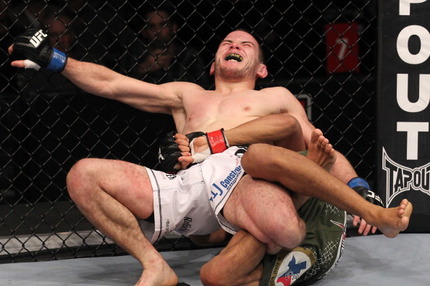 Nick Laham/Zuffa LLC UFC via Getty Images
On the UFC on FOX 2 fight card, Charles Oliveira pulled off a submission that had never been performed in the UFC before, stopping Eric Wisely via calf slicer at the 1:43 mark of the first round.
Since that time, there have been some other impressive submissions in the world of MMA, but it would be a real surprise if this one did not get some support as potential submission of the year for 2012.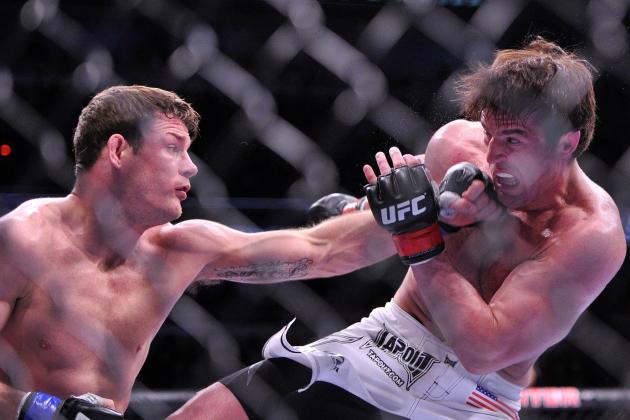 Mike Dinovo-US PRESSWIRE

The first thing that most think about when it comes to Michael Bisping is either his quick wit (some would say big mouth) or his knockout loss to Dan Henderson at UFC 100.
What many seem to overlook is his striking, but Bisping is an active and effective striker, landing 593 significant strikes during his UFC middleweight tenure. That number puts him 102 ahead of the fighter with the second-most significant strikes in the division, Chris Leben, and no, Bisping's total does not include the time he spent at light heavyweight.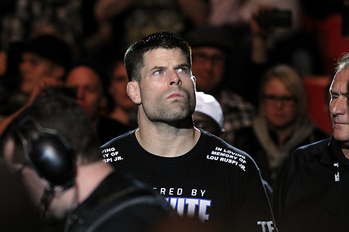 Josh Hedges/Zuffa LLC/Zuffa LLC via Getty Images
While Michael Bisping is one of the most active strikers in the UFC's middleweight division, his opponent at UFC 152, Brian Stann, is one of the most powerful.
Of the 11 UFC/WEC victories Stann has to his name, nine have come via stoppage. Eight of those stoppages have come via strikes, with one submission thrown in for good measure.
To put a nice bow around those numbers, Stann has a finishing percentage of 81.8 percent in his UFC/WEC victories.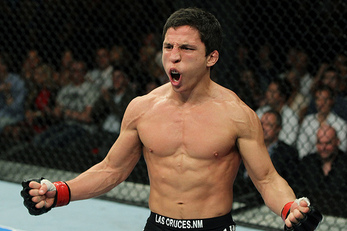 Josh Hedges/Zuffa LLC/Zuffa LLC via Getty Images
A fighter is often described as having an "iron chin" when they're able to absorb a significant amount of strikes without ever succumbing to the power of those blows. Often, this claim is based on little more than how that particular fighter is faring in a single fight, not around a fighter's complete body of work.
With a fighter like Joseph Benavidez, who has never been knocked down, let alone knocked out in his UFC/WEC career, it's hard to tell what to base that accomplishment on.
At first glance, one could say a feat such as never being knocked down would warrant Benavidez being handed the "iron chin" tag, but when you consider the fact that he only absorbs 1.92 significant strikes per minute, maybe it's his defense that keeps him off the mat.
I'll take the easy way out on this and say that it's a combination of his chin and his defense.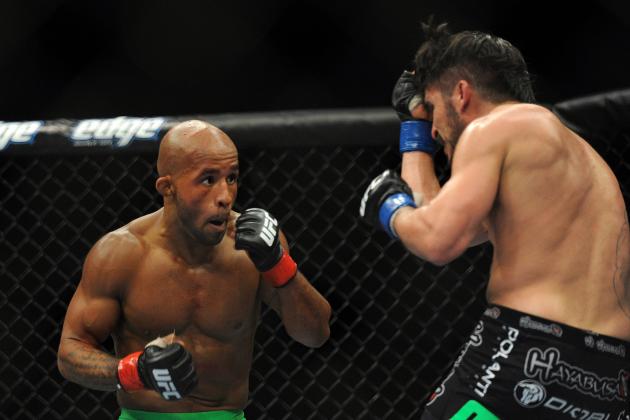 Steve Mitchell-US PRESSWIRE

In the last slide, we learned that Joseph Benavidez is pretty solid at avoiding the significant strikes of his opponents, but there are three fighters who are even better than him in UFC/WEC bantamweight history, Dominick Cruz, Miguel Torres and topping that list is the man he will face on Saturday night, Demetrious Johnson.

Johnson's speed has left him absorbing, on average, only 1.34 significant strikes per minute during his UFC/WEC tenure.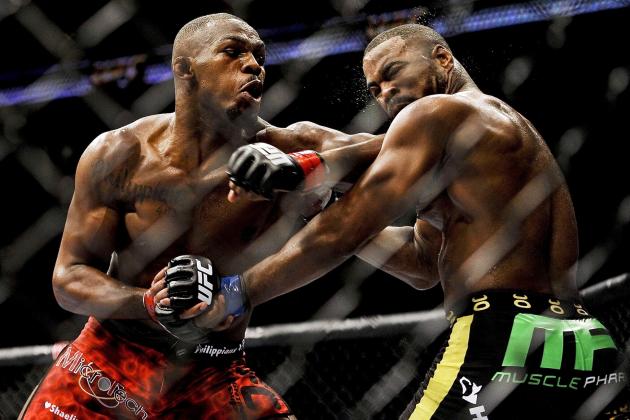 Paul Abell-US PRESSWIRE

Despite the fact that Jon Jones hasn't been in the UFC for a prolonged amount of time, he has proven to be a prodigious striker, racking up 467 significant strikes during his 11-fight tenure with the promotion.
That number ranks him fifth all time in the 205-pound weight division in the most significant strikes category.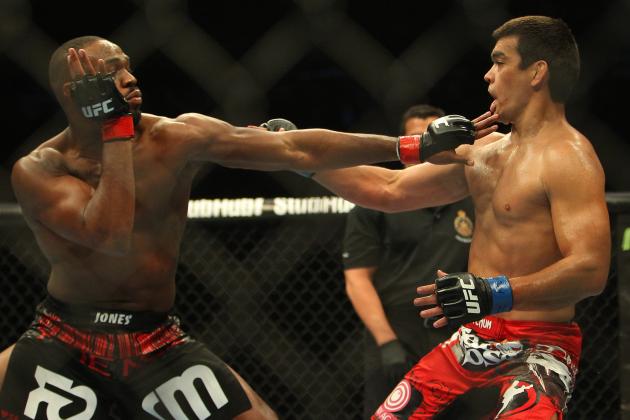 Tom Szczerbowski-US PRESSWIRE

Having a significant reach advantage over your opponent is meaningless unless you know how to use that advantage. Jon Jones has been able to use his 84.5 inch reach and combine it with some unorthodox moves to avoid a significant amount of his opponents attempted strikes. His 67.6 percent striking defense ranks him fifth all time in light heavyweight striking defense.

On Saturday, we will see if Jones is able to make the most of this stat, as it is a certainty that his opponent, Vitor Belfort, will be looking to utilize his speed and power to put Jones away.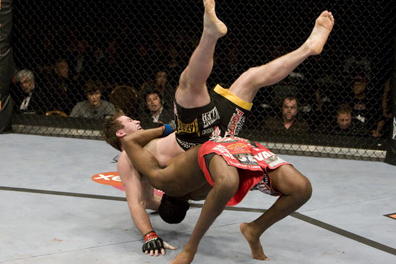 Josh Hedges/Zuffa LLC UFC via Getty Images
Jon Jones has been praised, and rightfully so, for his takedown defense, stopping all 16 shots his opponents have taken. However, one thing you don't hear much about is his takedown accuracy, which stands at 62.9 percent, a number that is tops in the history of the UFC's light heavyweight division.
By comparison, the second-highest takedown accuracy at 205 pounds belongs to Rashad Evans, who has landed 51.1 percent of his takedowns, a number that fell a bit in his last fight when he failed on four attempts to take down Jones at UFC 145.
All told, Jones has 22 takedowns to his name in the UFC, giving him the fourth-highest number of takedowns in UFC light heavyweight history.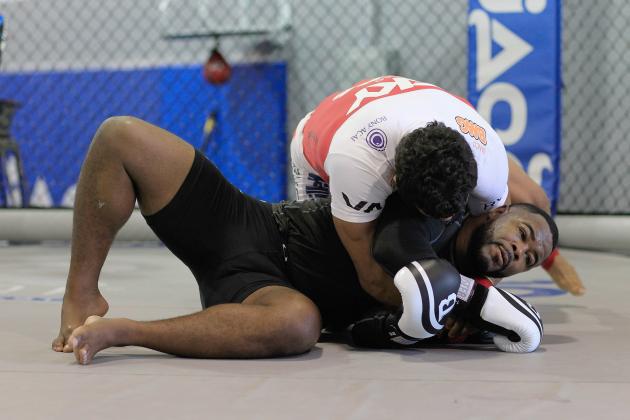 Chris Trotman/Getty Images

For all the praise I just heaped on Jon Jones, I would be remiss if I didn't show a little love to his opponent at UFC 152, Vitor Belfort. I'll start with one that goes hand-in-hand with Jones' talents, the takedown.
You see, while Belfort is best known for his hands, he can also utilize the takedown when necessary. In fact, he has taken down every UFC opponent he has every attempted to take to the mat, sinking six takedowns in 10 attempts.
This fact puts him right alongside Jones' last opponent, Rashad Evans, a fighter who had also taken down each UFC opponent he had attempted to take down, a streak that ended when he failed to put Jones to the mat.
When talking about his fight against Jon Jones, many have said Belfort's best chance at victory will come with an early stoppage, a theory that has some support since Belfort is tops in UFC history in first-round finishes with 10. Even more impressive is that, in Belfort's overall career, 15 of his 17 finishes have come in the first stanza.
The 10 UFC finishes by Belfort rank him third all time in UFC history in finishes.
As for active fighters, Frank Mir is closest to Belfort with nine first-round stoppages.