Chiefs vs. Saints: 10 Things to Expect from New Orleans in Week 3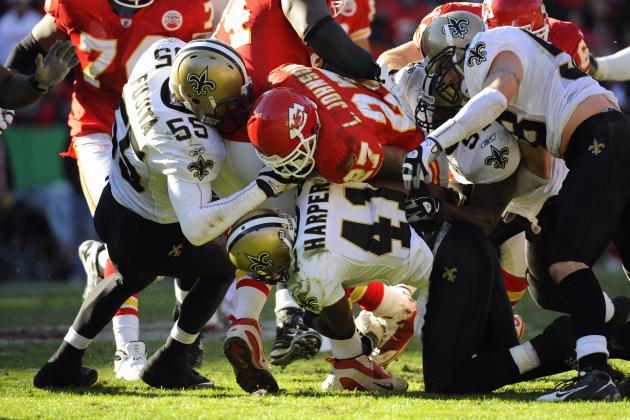 G. Newman Lowrance/Getty Images
The Saints and Chiefs will clash this weekend in New Orleans.
This week's game against the Chiefs is absolutely crucial for the 0-2 New Orleans Saints.
New Orleans has been on the losing end of two nail-biters and they can't afford a third loss. The Saints know that starting the season 0-3 will almost certainly put them out of this year's playoff picture, and they'll be fighting hard for a win this week.
But Kansas City won't just roll over for them. The Chiefs are also a winless team looking to avoid a dreadful 0-3 hole to start the season.
Regardless of the outcome, it will be quite the game.
Here are 10 things to expect from the Saints' Week 3 matchup with the Chiefs.
Begin Slideshow

»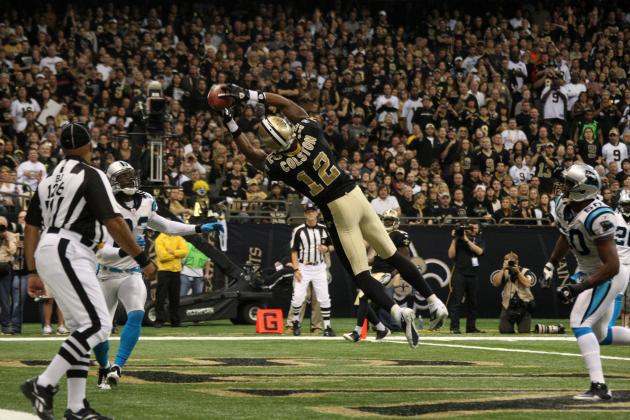 Scott Cunningham/Getty Images
Expect to see quite a few New Orleans touchdowns this week.
The Saints may not have a win, but they've had no problems scoring points so far this season. New Orleans has averaged almost 30 points per game, hanging 32 and 27 on the Redskins and Panthers respectively.
Don't expect much to change this week. If anything, the Saints should actually score more.
Kansas City hasn't been able to stop anyone to this point. The Chiefs surrendered 40 points in Week 1 against the Falcons and 35 to the Bills in Week 2.
Neither of those teams is as potent offensively as the Saints are, so New Orleans shouldn't have a problem scoring big this weekend.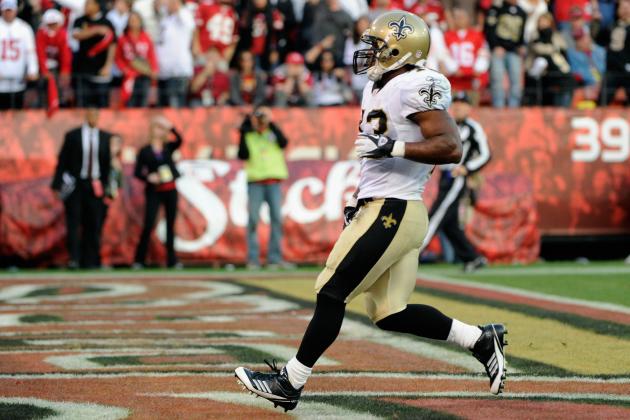 Thearon W. Henderson/Getty Images
The Saints are looking for some early touchdowns this weekend.
One of the problems for the Saints this year is that they haven't yet been able to open up a big lead against anyone.
Ever since Brees has arrived, the Saints have thrived on building early leads over opponents, but it just hasn't happened this year. That should all change this week.
Last weekend, the Buffalo Bills destroyed the Chiefs early, scoring the first 21 points of the game, and quickly racking up a 35-3 lead. The Saints are a far more talented offensive team than the Bills, and shouldn't have much trouble accomplishing something similar.
The Saints know that losing this game more than likely means missing the playoffs, and they're going to come out swinging. That should be enough to grant them their first fast start of the season.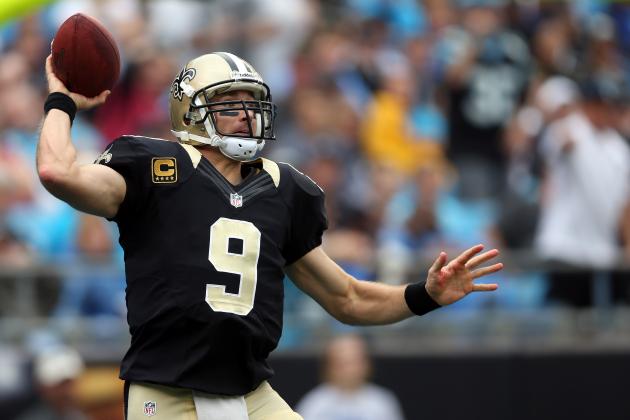 Streeter Lecka/Getty Images
Brees is set for a big game against the Chiefs.
Brees hasn't really been bad this year, but he definitely hasn't lived up to his own lofty standards.
The Saints quarterback has operated with machine-like efficiency ever since joining New Orleans in 2006. Even in his worst statistical season (2007), Brees completed 67.5 percent of his passes for 4,423 yards and 28 touchdowns compared to just 18 interceptions
This season Brees has thrown for 664 yards, but he's only completed just over 54 percent of his passes and has thrown four picks to go along with his four touchdowns.
Those struggles should end this week.
Kansas City ranks 18th in the league in passing yards allowed (235 yards per game) and has given up five passing touchdowns to Atlanta's Matt Ryan and Buffalo's Ryan Fitzpatrick.
Ryan is a very good quarterback and Fitzpatrick, though inconsistent, can play at a high level as well. But neither is the elite passer that Brees is.
Drew Brees should have no problems lighting up the Kansas City secondary and finally looking like the quarterback Saints fans know and love.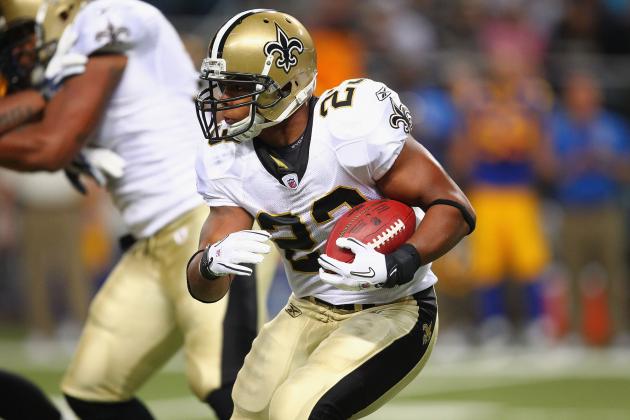 Dilip Vishwanat/Getty Images
Pierre Thomas will play a crucial role in the Saints ground game.
The Chiefs may only be below average against the pass, but they've been flat-out bad against the run. Kansas City has allowed 142.5 rushing yards per game, good for 27th in the league.
No one would consider New Orleans a running football team (not with Drew Brees at the helm) and for good reason. The Saints typically only use rushing plays to keep defenses guessing and to set up Brees' dangerous play-action passing game.
However, New Orleans is coming off of a particularly strong rushing performance against Carolina, where they gained 163 yards on 27 attempts.
Pierre Thomas had an especially good game, rushing for 110 yards on just nine carries, including a 48-yard dash in the fourth quarter.
Even if the Saints stick to their usual pass-oriented attack, look for Thomas and Mark Ingram to have a few big carries against the Chiefs' maligned rush defense.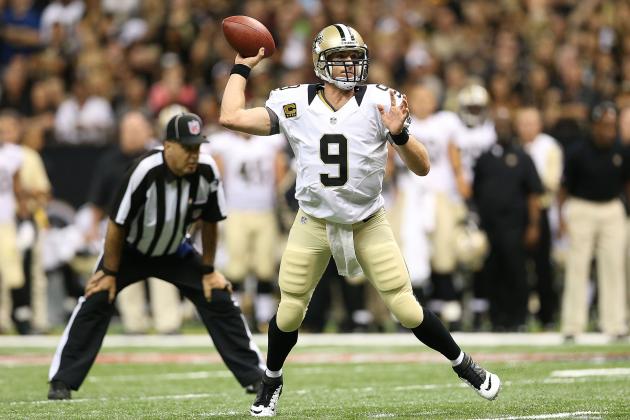 Ronald Martinez/Getty Images
Drew Brees shouldn't have a problem cutting down on the interceptions this week.
Careless turnovers have killed the Saints this season.
New Orleans has five turnovers in their two games, four of which have come from Brees. Admittedly, these stats are a bit inflated because Brees has had a desperate, last-second heave picked off. But turnovers have still been a big issue.
In two one-touchdown games, Brees has thrown a pick-six and had another interception returned to the Saints' 3 yard-line. Obviously these turnovers weren't the only reason for New Orleans' losses, but they played a big part.
Luckily for the Saints, the turnovers should stop in Week 3. Kansas City hasn't forced a single turnover yet this season, and there's no reason to believe that will change any time soon.
Brees' turnovers have been (for the most part) uncharacteristic mistakes when pressured. That won't happen this week. The Chiefs have recorded just one sack and have gotten little to no pressure on opposing quarterbacks.
Brees will have all the time in the world to pick apart the defense, which should lead to his first turnover-free game this season.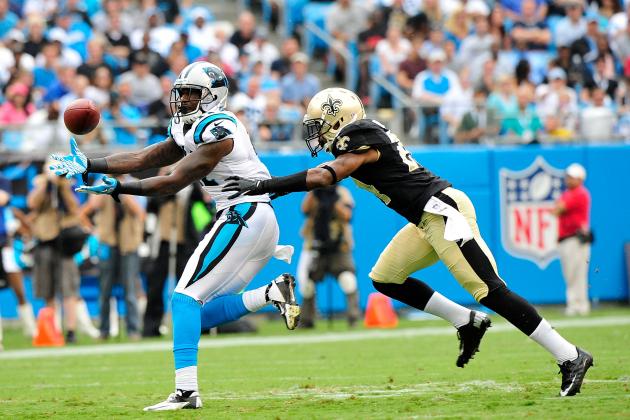 Grant Halverson/Getty Images
New Orleans has been very poor defensively this season.
The Chiefs are averaging just over 20 points per game, but that number doesn't reflect how well they've moved the ball. They rank 10th overall in passing yards per game (256.5) and fifth overall in rushing yards per game (151).
The Saints rank dead last in overall defense (No. 32 against the run and No. 26 against the pass) and things won't suddenly get better against a surprisingly strong Chiefs offense.
To be honest, New Orleans has looked abysmal defensively. They've missed tackles, blown assignments and played without any passion whatsoever. Those aren't quick fixes.
It won't get any easier when Jamaal Charles, Peyton Hillis, Shaun Draughn and Dwayne Bowe visit this week. Barring a drastic turnaround, Kansas City will have a big day offensively.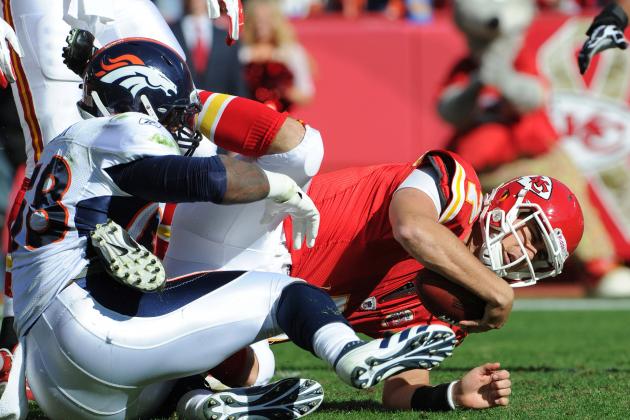 Peter Aiken/Getty Images
Matt Cassel on the ground is a familiar sight to any Chiefs fan.
The Saints have been merely average at pressuring the quarterback. They've recorded three sacks so far this season and haven't been very aggressive at going after passers. Don't expect that pattern to hold up this week.
The Chiefs have done a downright awful job in protecting Matt Cassel. Cassel's been sacked eight times so far this season. Only Chicago's Jay Cutler and Cincinnati's Andy Dalton have taken more sacks.
Saints defensive coordinator Steve Spagnuolo generally likes to bring pressure with his front four alone. He'll most likely look to mix it up this week, but even if he doesn't, the Saints should have no problem generating pressure against the Chiefs' woeful pass protection.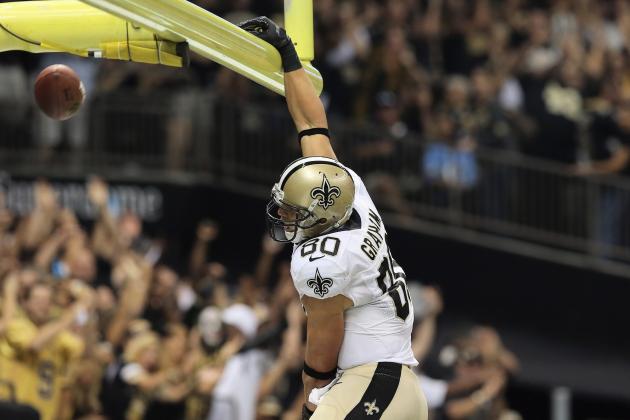 Ronald Martinez/Getty Images
Graham is set to have a huge game against Kansas City.
Graham is already enjoying a pretty strong start to the season. The Saints tight end has caught 13 passes for 156 yards and two touchdowns and remains the focal point of the passing game. He could have a field day this week against Kansas City.
The Chiefs have had real trouble containing tight ends. Buffalo's Scott Chandler and Atlanta's Tony Gonzalez (Chiefs fans may remember him) were able to get open both downfield and in the red zone against Kansas City. The two tight ends combined for seven catches for 106 yards and two touchdowns.
Unfortunately for the Chiefs, neither of those guys is anywhere near as good as Graham (at least, not anymore). Graham is a wide receiver in a tight end's body. He's fast and athletic and is one of the only tight ends in the league capable of making catches like this.
Brees is always looking for No. 80, particularly in the red zone, and this week will be no different. Kansas City simply has no way of stopping Graham. He'll have a huge game.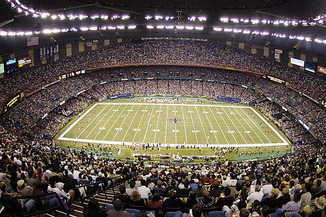 The Superdome is going to get loud this weekend. Espn.com
New Orleans fans understand how important this game is. Only 12 percent of teams that started the season 0-2 have made the playoffs since 1990. It's definitely not a good position to be in, but it's not entirely fatal to the Saints playoff hopes.
An 0-3 start pretty much would be. Only three teams have started the season 0-3 and made the playoffs since 1990, the most recent of which was the Bills back in 1998. The Saints don't want to be in that hole.
New Orleans fans are passionate to say the least, and they're going to try and help their team in any way that they can (in this case, screaming their heads off).
Only time will tell if the Saints can come away with a victory this week, but one thing's for sure—the Superdome will be rocking on Sunday.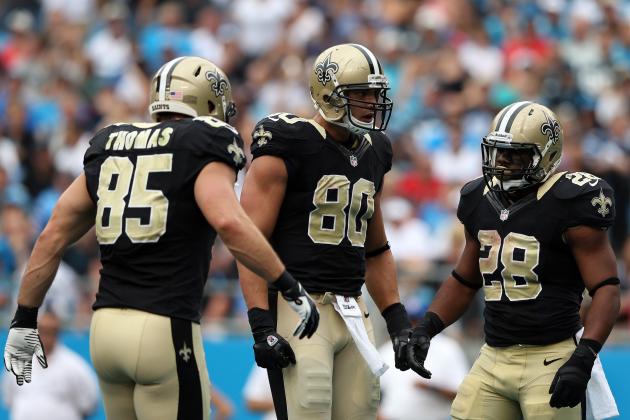 Streeter Lecka/Getty Images
With any luck, the Saints will walk away with a victory this weekend.
Saints fans have been waiting for a victory, and one should finally come this Sunday. The Chiefs will be a tougher test than their 0-2 record indicates, but their defense won't be able to stop New Orleans.
That puts pressure on Matt Cassel and crew to score evenly with the Saints' offense. They're good, but they'll fall short of matching the Saints' production.
Drew Brees will have his first monster game of the season, passing for over 350 yards and three scores, and Pierre Thomas will near 100 yards rushing and chip in a touchdown himself.
The Saints need this one badly, and they'll be backed by a raucous Superdome crowd. Expect a strong performance from New Orleans this week.
Prediction: New Orleans 35, Kansas City 23