Jon Jones and the 9 Youngest Fighters Ever to Compete for UFC Gold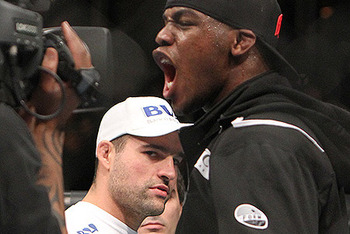 Scott Peterson/MMAWeekly.com
Jon Jones is only 25 years old, but he is already looking like one of the most experienced light heavyweights in the world. The 205-pound champion has steamrolled former UFC champions in four straight fights and will try to extend that streak against Vitor Belfort at UFC 152.
Like Jones, Belfort also had a great start to his UFC career, winning the UFC 12 tournament as a 19-year-old heavyweight. Years later, Belfort would become the UFC's light heavyweight champion, a title he hopes to reclaim in a short-notice bout with Jones on Saturday night.
With two prodigies set to square off in the UFC 152 main event, let's look back on the youngest fighters ever to compete for a UFC belt.
The following list does not include early-UFC tournament competitors.
9. Kenichi Yamamoto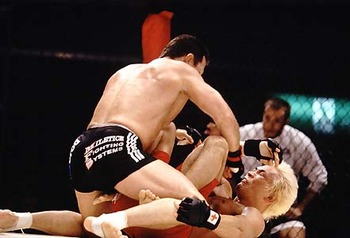 Susumug.com
Age: 24 years and 6 months
Opponent: Pat Miletich
Outcome: Loss
After winning four of his first six MMA fights, Kenichi Yamamoto became the fourth fighter to challenge Pat Miletich for what would later become known as the UFC welterweight championship.
Yamamoto was unable to avoid grappling with Miletich, as the Japanese fighter was taken down on all three of the champion's attempts to get the fight to the ground. Eventually, Miletich was able to lock up a guillotine choke that earned him a fourth consecutive title defense.
Despite his early-career success, he has only won once in his 11 fights since being offered the championship bout against Miletich.
8. Mikey Burnett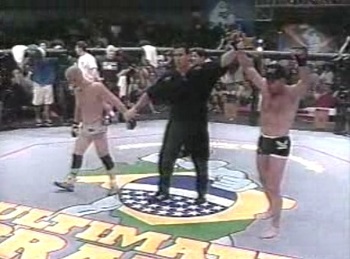 UFC.com
Age: 24 years and 6 months
Opponent: Pat Miletich
Outcome: Loss
Mikey Burnett edged out Kenichi Yamamoto for the ninth spot on this list by a single day in age. However, Burnett suffered a very similar fate as Yamamoto after earning a UFC title shot so early in his career.
Like Yamamoto, Burnett came up short against Pat Miletich in the only UFC title fight of his career, though Burnett was able to force a controversial split decision.
Miletich became the first ever UFC welterweight champion with his win over Burnett despite being out-landed by 145-95 margin in total strikes and only succeeding on one of nine takedown attempts.
Following his loss to Miletich, Burnett fought once and won before disappearing into an early retirement.
Burnett appeared on The Ultimate Fighter after a seven-year hiatus, but he was submitted by Din Thomas during the competition and suffered a neck injury that appears to have put an end to his career for good.
7. Josh Barnett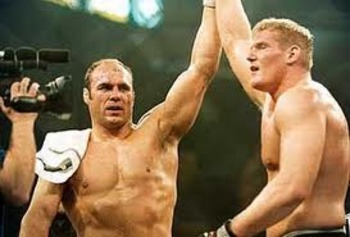 FullContactFIghter.com
Age: 24 years and 4 months
Opponent: Randy Couture
Outcome: Won
Josh Barnett may have won a UFC title as a 24-year-old heavyweight with a second-round knockout of Randy Couture. However, Barnett lost the belt almost as quickly as he won it after it was discovered he had failed a drug test following his meeting with Couture.
Despite the setback, Barnett has still had an outstanding career, winning the Pancrase openweight title and competing with some of the best heavyweights in the world under the Pride and Strikeforce banners.
However, another positive drug test during a stint with Affliction was essentially to blame for the organization's immediate collapse.
6. Pete Williams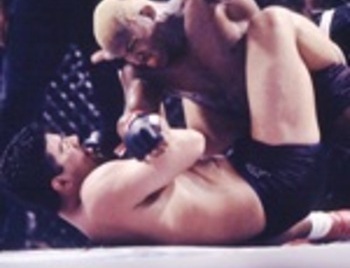 UFC.com
Age: 24 years and 4 months
Opponent: Kevin Randleman
Outcome: Loss
Just three days younger than Josh Barnett had been in his heavyweight title fight, Pete Williams earned a title shot against Kevin Randleman for the vacant UFC heavyweight title in November 1999.
The title had been vacated by Bas Rutten, who did not attempt to defend his title after defeating Randleman.
After five rounds of action, Randleman defeated Williams by unanimous decision. Following the loss, Williams won back-to-back fights before losing three in a row and retiring from MMA.
5. Wanderlei Silva
Susumug.com
Age: 23 years and 9 months
Opponent: Tito Ortiz
Outcome: Loss
After Frank Shamrock vacated the light heavyweight belt, Wanderlei Silva fought Tito Ortiz for the vacant title just a few months before his 24th birthday.
Although he was considered one of the most talented young fighters in the sport, Silva ended up losing to Ortiz by unanimous decision.
Following his loss to Ortiz, Silva would fight outside of the UFC for more than seven years and became recognized as one of the best light heavyweights in MMA history before returning to the Octagon for a fight with Chuck Liddell.
Silva has continued to have trouble gaining momentum as a UFC fighter and appears to be nearing retirement.
4. Jon Jones
Age: 23 years and 8 months
Opponent: Mauricio Rua
Outcome: Win
Jon Jones might not be the youngest fighter to compete for a UFC belt, but he is the youngest to win one, as he easily disposed of Mauricio Rua in March 2011.
Since his monumental win over Rua, Jones has already defended his championship three times against three former UFC champions. Jones has showed few signs of weakness as he continues to grow as a fighter.
With another impressive win or two, Jones will meet the lofty expectations that were placed on his shoulders by becoming the greatest light heavyweight in MMA history well before his 30th birthday.
3. Georges St-Pierre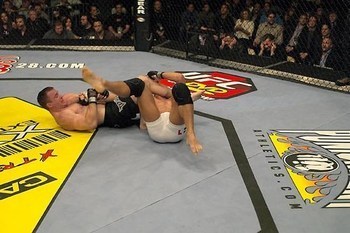 UFC.com
Age: 23 years and 5 months
Opponent: Matt Hughes
Outcome: Loss
Georges St. Pierre's first shot at a title came less than half a year after he turned 23 years old. Unfortunately for St. Pierre, that title shot came during the prime years of the legendary Matt Hughes.
Hughes submitted St. Pierre with an armbar in the first round of this meeting, but would eventually relinquish his title to the Canadian three fights later.
St. Pierre has gone on to become one of the most dominant fighters in MMA history with six consecutive title defenses during his current reign as champion.
2. B.J. Penn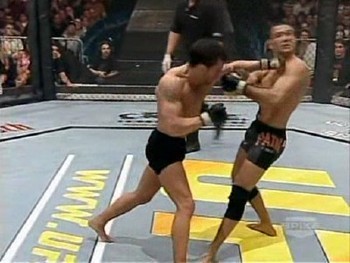 UFC.com
Age: 23 years and 1 months
Opponent: Jens Pulver
Outcome: Loss
In the first of his many UFC title fights, B.J. Penn fought for the UFC lightweight belt against Jens Pulver in January 2002. Penn fought to a close majority decision, but he ultimately lost to Pulver in what would be the only lightweight loss of his career until meeting Frankie Edgar eight years later.
Penn won his following two fights, which earned him a shot at the lightweight belt that Pulver eventually vacated. However, Penn would fight to a draw with Caol Uno in his second title shot and did not end up beginning his noted 155-pound title reign until January 2008.
1. John Alessio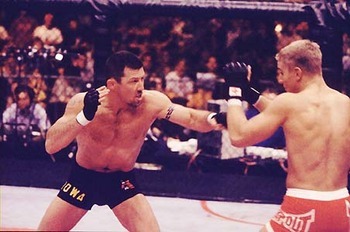 Susumug.com
Age: 20 years and 11 months
Opponent: Pat Miletich
Outcome: Loss
John Alessio was still about a month shy of being allowed to consume alcohol in the United States when he fought for the UFC welterweight title against Pat Miletich in June 2000. The fight was actually Alessio's first in the UFC, and he went on to lose to Miletich by submission in the second round.
Alessio has had four more chances to pick up a win inside the Octagon, but he's come up short every time. Recently, a 33-year-old Alessio was released from the UFC after back-to-back losses against Mark Bocek and Shane Roller.
Keep Reading