Predictions for College Football Week 4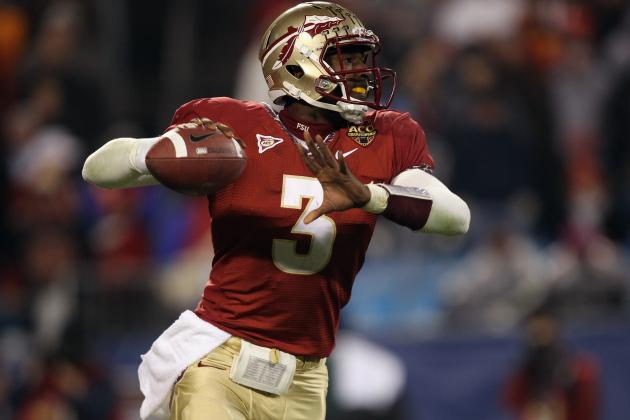 Streeter Lecka/Getty Images
Florida State QB E.J. Manuel will be looking to make a statement against Clemson on Saturday night
It's time for college football fans to celebrate, as the days of having to suffer through watching top-ranked teams obliterate FCS opponents in boring blowout games are now over.
Yes, it's time for conference play to really kick in this weekend. This may only be Week 4 of the season, but there are already some true marquee matchups with major ramifications for BCS conference races on the schedule.
The Saturday night showdown between No. 4 Florida State and No. 10 Clemson in Tallahassee is obviously the most anticipated game of the weekend, but there are also some other intriguing conference clashes to watch out for, like Kansas State vs. Oklahoma, South Carolina vs. Missouri and Oregon vs. Arizona.
This is shaping up to be the most entertaining and exciting weekend of the season thus far.
Following are a few predictions for how this Saturday's action will ultimately play out.
Begin Slideshow

»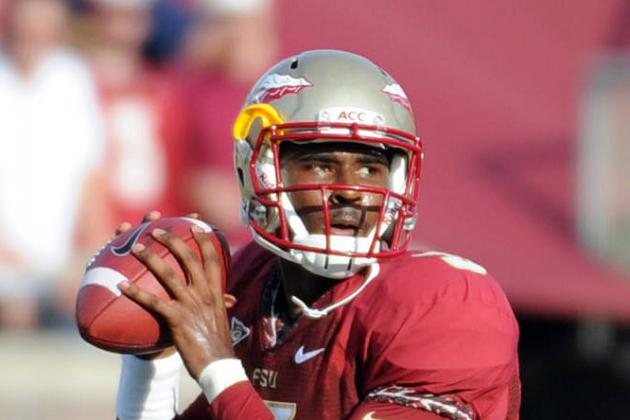 Melina Vastola-US PRESSWIRE
E.J. Manuel
Florida State currently has one of the most productive offensive attacks in the country, averaging 543 yards and 58 points per game.
Still, the leader of that unit, QB E.J. Manuel, has yet to enter the Heisman conversation as a serious contender.
That has to do with the fact that Manuel and the Seminoles have feasted on cupcake opponents in the first three weeks. But that will change on Saturday when No. 10 Clemson comes to town.
The 6'5'', 240-pound senior signal-caller didn't play in a 35-30 loss to the Tigers last year, so he'll be looking to make up for lost time with a big outing this weekend.
Manuel has completed 71 percent of his passes for 525 yards and thrown six touchdowns compared to just one interception so far this season.
The veteran offensive leader looks like he's ready to have a huge outing against Clemson's defense and finally propel himself into the thick of the Heisman race.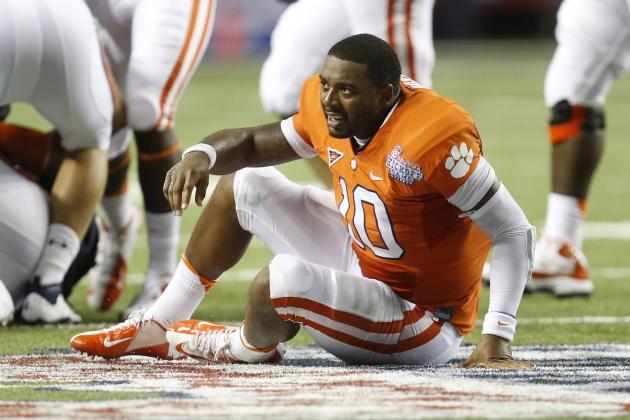 Josh D. Weiss-US PRESSWIRE
Tajh Boyd
Clemson QB Tajh Boyd is one of the most productive passers in the country. However, as we saw last year, Boyd has a tendency to stumble once the pressure gets ratcheted up.
The junior signal-caller led the Tigers to an 8-0 start last year, but he followed that up with four losses in the last six games.
Boyd has just a 2-3 career record in true road games. He'll have to deal with a rowdy and raucous environment at Doak Campbell Stadium on Saturday night.
Don't be surprised to see him struggle like he did at Georgia Tech, N.C. State and South Carolina last year.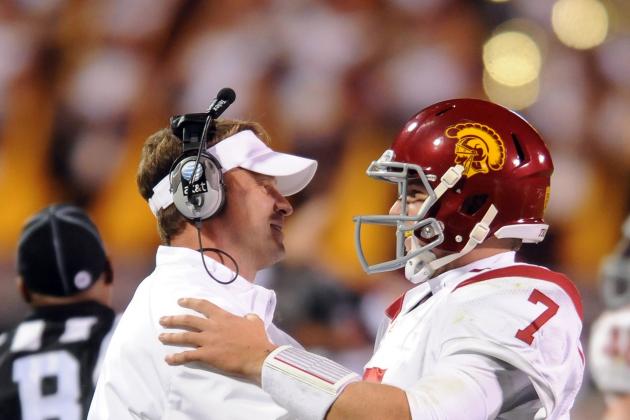 Ron Chenoy-US PRESSWIRE
Lane Kiffin and Matt Barkley
USC QB Matt Barkley started off the 2012 season as the golden boy of college football. It didn't take long for many fans to turn on him and criticize him after the Trojans fell to Stanford last weekend.
Barkley definitely didn't look like a future No. 1 overall pick and a top Heisman contender against the Cardinal. He completed just 20 of his 41 passes, tossed two interceptions and was sacked five times.
The highly touted senior signal-caller will have the chance to redeem himself when the Trojans host Cal this weekend. He should take advantage of the opportunity.
The Golden Bears have a solid secondary, including two future NFL cornerbacks Marc Anthony and Steve Williams. However, Barkley will be motivated to atone for his mistakes and play at a high level this Saturday.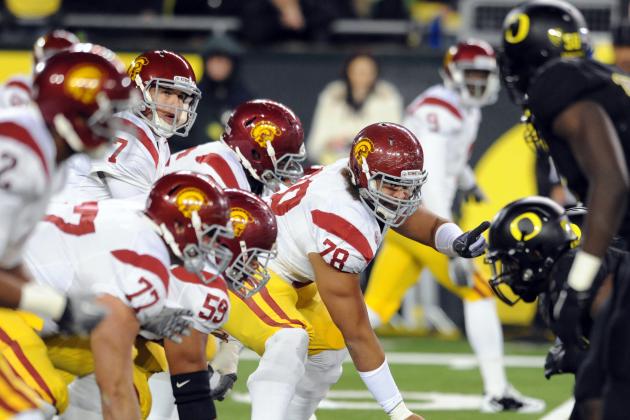 Steve Dykes/Getty Images
Khaled Holmes
One of the reasons that QB Matt Barkley struggled so much against Stanford was that the Trojans offensive line failed to give him the proper protection he needed, allowing him to be sacked five times.
The front five was without Khaled Holmes, one of the best centers in the country. His absence clearly played a role in the unit's lack of cohesion.
The line has heard the criticism all week long about how it's going to have to step up this weekend against Cal, and the group should respond positively this week.
The Golden Bears have one of the Pac-12's premier pass-rushers in DE DeAndre Coleman, but they simply don't have the same amount of talent in the defensive front seven that Stanford does.
Even if Holmes isn't ready to play on Saturday, USC's offensive line should still do a much better job keeping Barkley safe against Cal than it did against Stanford.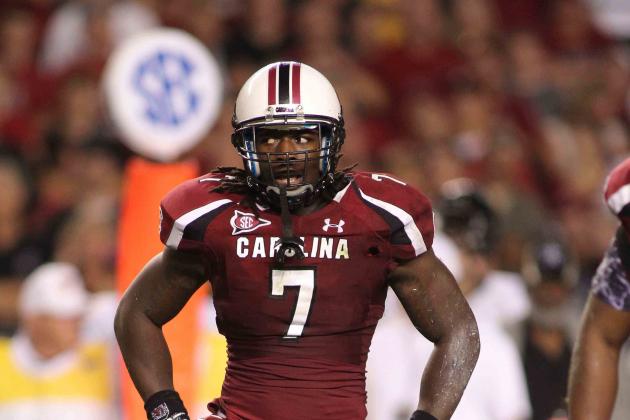 Jeremy Brevard-US PRESSWIRE
Jadeveon Clowney
If you're looking to see an offensive line struggle the way that USC's did last week, then you might want to tune into the Missouri-South Carolina game on Saturday.
The Gamecocks and the Tigers have two of the most explosive defensive lines in the country. Both units will be looking to hunt down the opposing quarterbacks when these two teams square off.
South Carolina has three players—defensive ends Jadeveon Clowney and Devin Taylor, as well as defensive tackle Kelcy Quarles—who can consistently bust into the backfield.
Missouri also has a dangerous trio upfront comprised of defensive tackle Sheldon Richardson and defensive ends Brad Madison and Kony Ealy.
Both quarterbacks better make sure they have their mouthpieces in, because they're definitely going to get popped a few times in this game.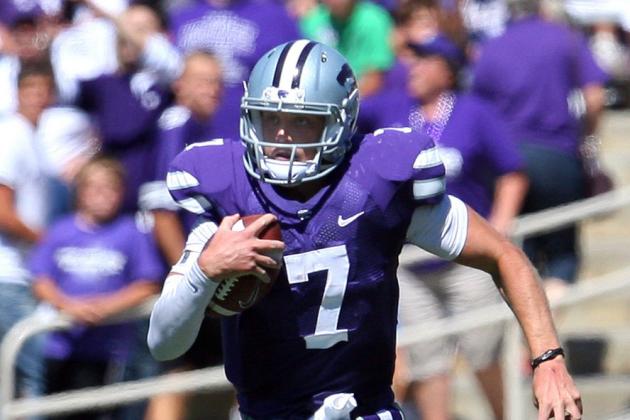 Scott Sewell-US PRESSWIRE
Collin Klein
Kansas State QB Collin Klein has been one of the most impressive performers of the first three weeks of the season.
Klein has led the Wildcats to three straight victories, and he has racked up 857 yards of total offense and accounted for 10 total touchdowns along the way.
The big, athletic dual-threat quarterback is one of the most dangerous offensive playmakers in the country, and he's going to put a ton of stress on Oklahoma's defense this Saturday.
The Sooners only allowed Klein to score twice in last year's meeting, but he'll put the ball in the end zone, using both his arm and his legs much more often in this year's game.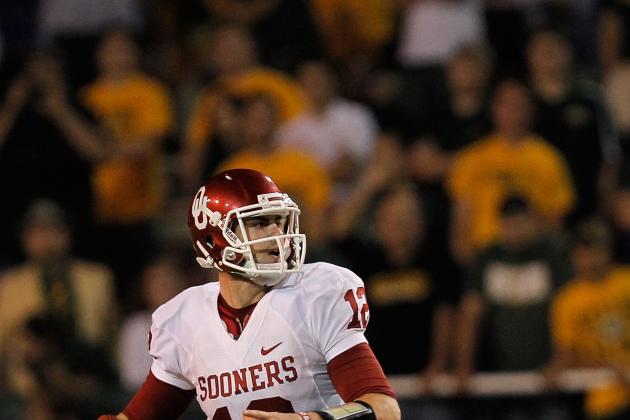 Sarah Glenn/Getty Images
Landry Jones
Oklahoma QB Landry Jones threw 15 interceptions last season, two of which came against Kansas State.
Jones has shown some sketchy decision-making during his college career, and he's also had a tendency to underperform in big games.
It wouldn't be surprising if the Wildcats secondary, which includes one of the best cornerbacks in the country (Nigel Malone), baits Jones into throwing a few costly picks in Saturday's game.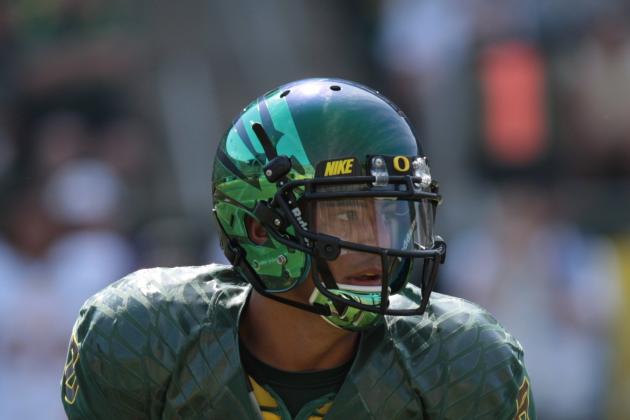 Scott Olmos-US PRESSWIRE
Marcus Mariota
Oregon's Marcus Mariota and Arizona's Matt Scott are two of the best quarterbacks in the Pac-12, and they're currently leading two of the most potent offensive attacks in the country.
Mariota and the Ducks currently rank fifth in the country in scoring offense, averaging 54 points per game. Scott and the Wildcats rank 12th, averaging 46 points per game.
That's right, these two teams combine to average a whopping 100 points per game.
Las Vegas has set the total for this game in the high 70s, but even that number may not be enough given how explosive these two offenses actually are.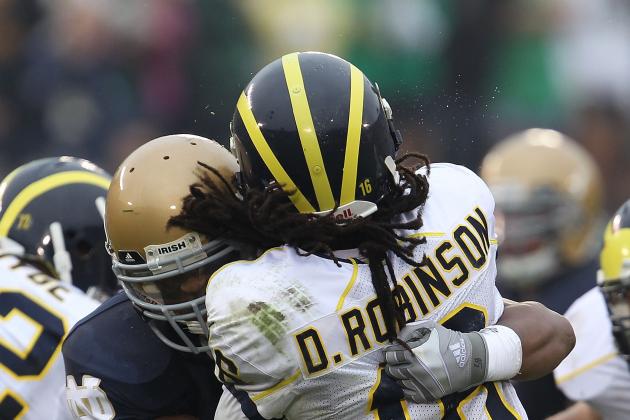 Jonathan Daniel/Getty Images
Denard Robinson
In his past two games against Notre Dame, Michigan QB Denard Robinson has totaled 948 total yards of offense, accounted for eight touchdowns and beaten the Irish two times in a row.
The Notre Dame defense is loaded with veteran players like linebackers Manti Te'o and Dan Fox, DE Kapron Lewis-Moore and DT Louis Nix, who all remember what Robinson's done to them recently.
The Irish will be looking for payback this Saturday when Robinson and the Wolverines visit South Bend.
Look for Te'o and the rest of the defense to keep the dangerous dual-threat quarterback bottled up this time.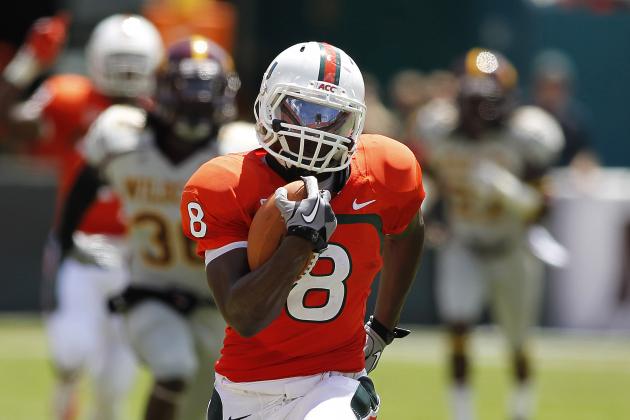 Robert Mayer-US PRESSWIRE
Duke Johnson
So far this season, there have been three true freshmen who have really stood out from the rest of the crowd.
They all happen to be running backs.
Miami's Duke Johnson, Alabama's T.J. Yeldon and Georgia's Todd Gurley have combined for 1,439 all-purpose yards and scored 13 touchdowns.
Johnson, Yeldon and Gurley seem like they're going to be three of the biggest freshman stars of the 2012 season, and they should all put together impressive performances again this Saturday.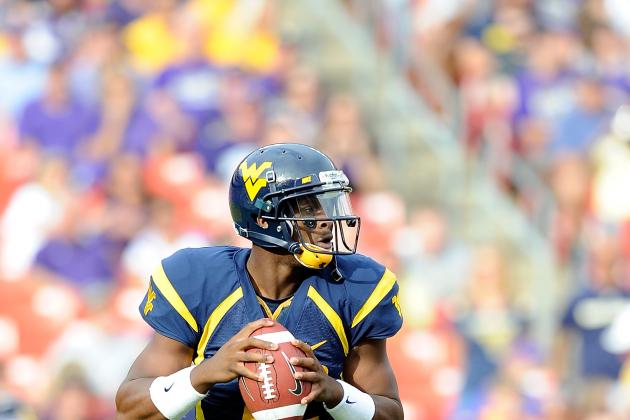 Patrick McDermott/Getty Images
Geno Smith
West Virginia QB Geno Smith has displayed unbelievable accuracy in his first two games.
Smith currently leads the nation with an 88 percent completion rate, as he's hit 66 of his 75 pass attempts so far.
The third-year starter is growing into one of the elite passers in the country. He's proven to be an absolutely perfect fit for Dana Holgorsen's Air Raid-style passing attack.
Look for Smith to pick apart the Maryland secondary this Saturday and continue to show that he's one of the most accurate and intelligent quarterbacks in college football.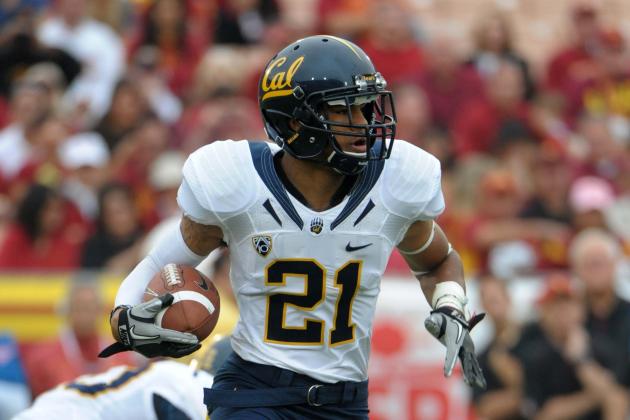 US PRESSWIRE
Keenan Allen
USC's star wide receivers, Robert Woods and Marqise Lee, receive a ton of hype and publicity. It's hard to argue that they don't deserve it, since they're clearly two of the best pass-catchers in college football.
Still, Saturday will be a rare time when neither Woods nor Lee is actually the best receiver on the field.
Instead, Cal's Keenan Allen will be the real receiver to watch.
Allen is arguably the most physically gifted wide receiver in college football, and he has the look of a future top-10 NFL draft pick.
The 6'3'', 205-pound junior has absolutely owned the USC secondary in the two times he's squared off with the Trojans during his career. In those two meetings, he's hauled in 17 passes for 221 yards and a touchdown.
He should have another big performance on Saturday at the Coliseum.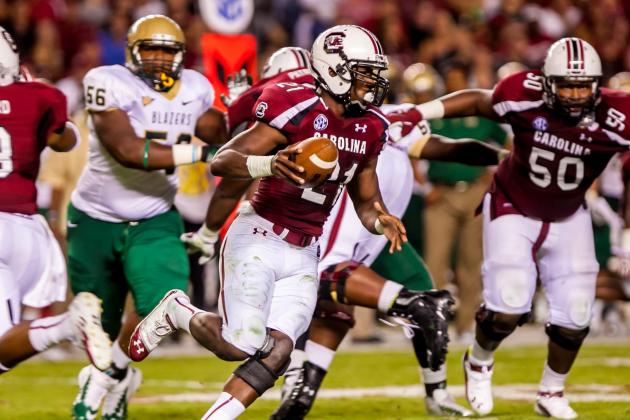 Jeff Blake-US PRESSWIRE
Marcus Lattimore
South Carolina RB Marcus Lattimore hasn't looked like his old self yet this season, which is understandable considering he's only 10 months removed from major knee surgery.
Lattimore has only topped the 100-yard rushing mark in one of the Gamecocks' first three games, and he currently ranks just 59th in the nation with 235 rushing yards.
This Saturday's game against Missouri could be the perfect opportunity for Lattimore to finally have that dominant performance we've all been waiting to see.
The Tigers have a pretty stout run defense, which has allowed just 2.6 yards per carry. However, they've yet to face a back of Lattimore's caliber this year.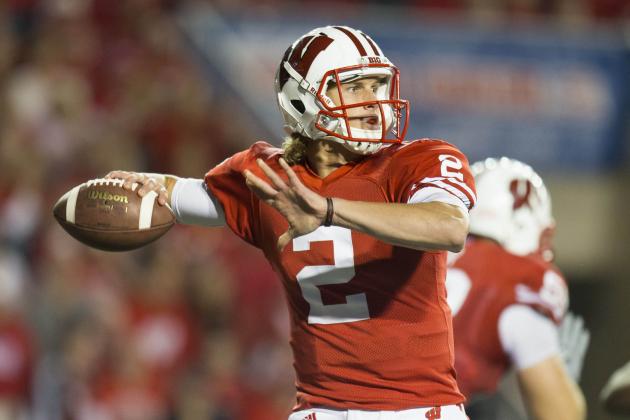 Jeff Hanisch-US PRESSWIRE
Joel Stave
Losing star quarterback Russell Wilson, offensive coordinator Paul Chryst and two NFL-caliber offensive linemen—Kevin Zeitler and Peter Konz—has really had a dramatic effect on the Wisconsin offense.
The Badgers have looked lost on offense in the past two games.
They're currently averaging just 16 points and 276 yards per game.
Obviously, the offense, which ranks dead last in the Big Ten in both scoring offense and total offense, needs some type of boost. Thankfully, the unit may just get it with a quarterback switch from starter Danny O'Brien to Joel Stave.
The offense looked like it was stuck in the mud with O'Brien under center. A fresh face in the huddle should definitely help the unit get back on track this week against UTEP.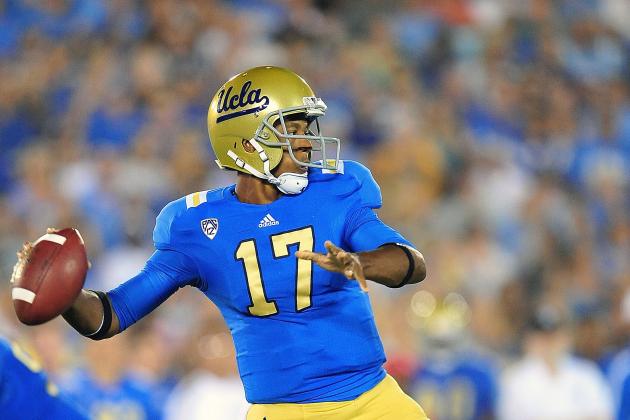 Gary A. Vasquez-US PRESSWIRE
Brett Hundley
Before the season started, no one was expecting UCLA to be a Top 25 team this year. But that's because no one was expecting QB Brett Hundley and RB Johnathan Franklin to make the type of impact they have in the first three games of the season.
Hundley and Franklin have accounted for 1,487 of the team's 1,866 total yards and 11 of the team's 15 touchdowns.
The two will now face their toughest test of the season when Oregon State visits the Rose Bowl this weekend.
The Beavers have a tough defensive front seven, but Hundley and Franklin should still be able to continue their impressive early-season tear.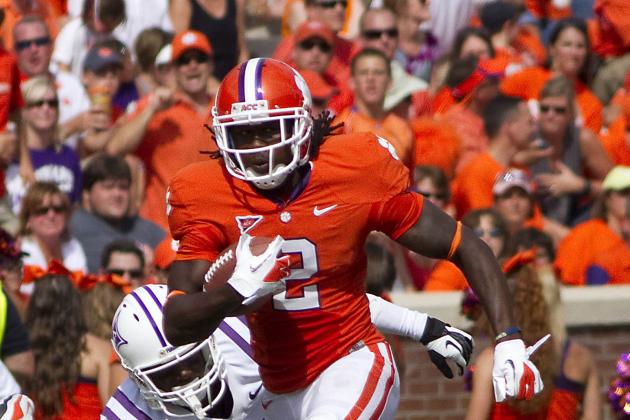 Joshua S. Kelly-US PRESSWIRE
Sammy Watkins
Clemson WR Sammy Watkins had a huge day against Florida State in last year's meeting, hauling in seven passes for 141 yards and two touchdowns.
You can bet that CB Xavier Rhodes and safety Lamarcus Joyner remember how Watkins victimized the Seminoles secondary last year.
They'll certainly make it a priority to shut him down on Saturday.
This will be Watkins' second game back from suspension, and it will be interesting to see just how effective he'll be in such a huge spotlight game.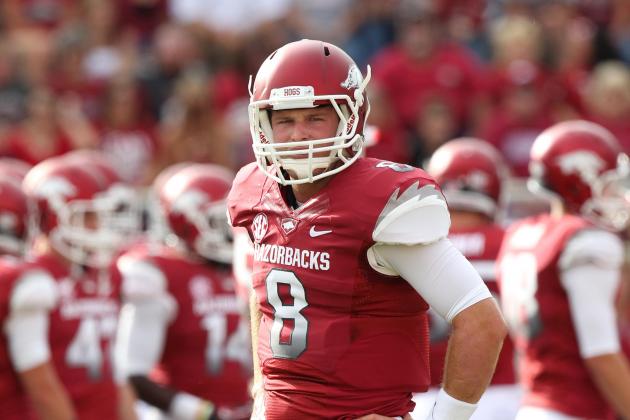 Nelson Chenault-US PRESSWIRE
Tyler Wilson
Arkansas QB Tyler Wilson didn't play in last week's embarrassing 52-0 blowout at home to No. 1 Alabama. Wilson certainly didn't like what he saw from the sideline, as he called out his teammates for a lack of effort after the destruction finally ended.
Wilson has been cleared for this week's game against Rutgers. If he gets the full amount of playing time, he should be able to rally the Razorbacks and help save the team from spiraling out of control.
Rutgers has an underrated defense led by future high NFL draft picks LB Khaseem Greene and CB Logan Ryan. But the Scarlet Knights just don't have the overall talent and depth that Arkansas has to offer.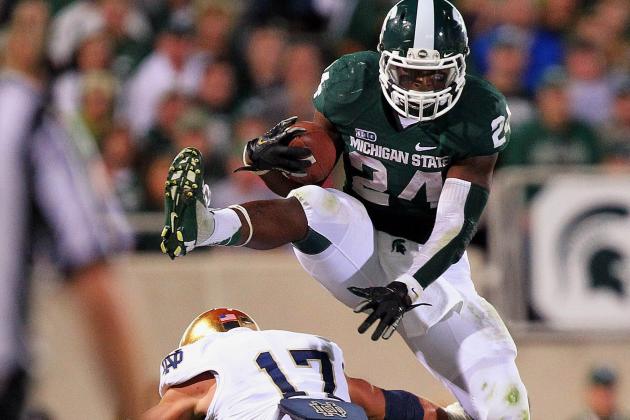 Mike Carter-US PRESSWIRE
Le'Veon Bell
Last week, Notre Dame's defense held Michigan State's star running back Le'Veon Bell to just 77 rushing yards on 19 carries in a 20-3 loss.
Bell will now be looking to take out his frustrations on an Eastern Michigan defense that just so happens to rank dead last in the country in rushing defense, allowing 312 yards on the ground per game.
The big, powerful, 6'2'', 244-pound bulldozer back should plow right through the Eagles without a problem.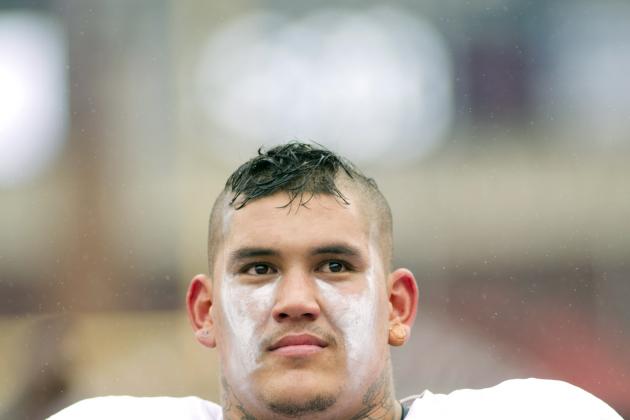 US PRESSWIRE
Jesse Williams
Last year, Alabama's defense held opposing offenses under 150 total net yards on five separate occasions. In fact, the unit just held the Arkansas offense to 137 total yards last week.
On Saturday, it wouldn't be surprising if the Tide once again accomplished that feat and completely shut down the Florida Atlantic offense.
The Owls did just total 318 yards in a 56-20 loss to Georgia last week, but they're going to be far less successful in Tuscaloosa on Saturday.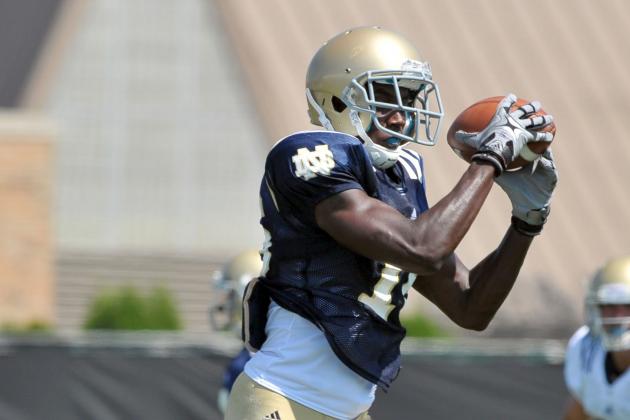 Matt Cashore-US PRESSWIRE
DaVaris Daniels
Veteran wide receivers T.J. Jones and Robbie Toma and potential All-American tight end Tyler Eifert have led Notre Dame in receiving in the first three weeks of the season, combining to catch 26 passes for 314 yards and two touchdowns.
Another receiver who could step up and become a big factor in the passing game against Michigan this weekend is DaVaris Daniels.
So far, Daniels has caught six passes for 119 yards, and he looks like he's on the verge of having a huge breakout performance soon.
Given that Michigan is missing its best defensive back in CB Blake Countess, Daniels will definitely have a shot to expose the Wolverines secondary on Saturday.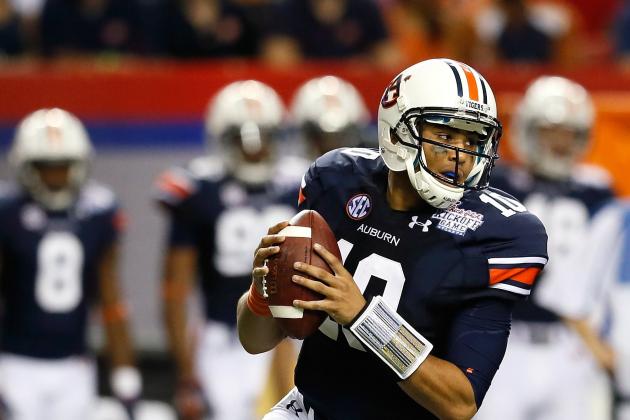 Kevin C. Cox/Getty Images
Kiehl Frazier
You won't find many other quarterbacks in college football who have performed as poorly as Auburn's Kiehl Frazier has in the first three weeks of the season.
Frazier has completed just 50 percent of his passes, thrown five interceptions, been sacked five times and currently holds a passer rating of just 102, which ranks 122nd in the nation.
Logic dictates that the sophomore signal-caller better be prepared for a long day against an LSU defense that's full of All-American-caliber playmakers such as defensive ends Barkevious Mingo and Sam Montgomery, linebacker Kevin Minter and safety Eric Reid.
Something tells me, though, that Frazier may finally rise to the occasion and play up to his potential at home for the Tiger Bowl this weekend.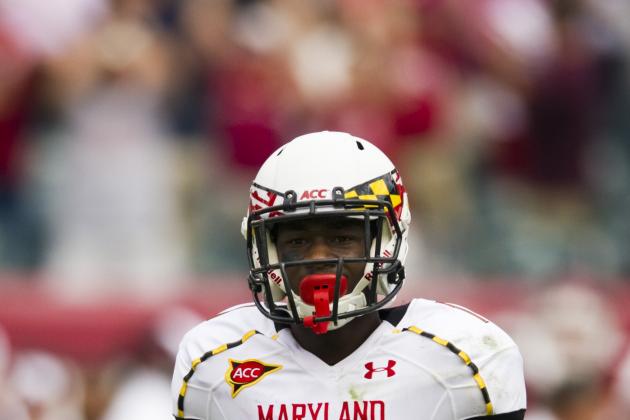 Howard Smith-US PRESSWIRE
Stefon Diggs
West Virginia's offense looks like a well-oiled machine right now, but the Mountaineers defense still has some noticeable flaws—mainly the fact that the team just isn't very good at tackling.
Maryland will be the first BCS opponent that the team has faced this season.
The Terrapins may not be loaded with elite talent, but they do have one explosive playmaker who could really cause a lot of problems for the West Virginia defense in budding star freshman receiver Stefon Diggs.
Diggs arrived in College Park as a highly touted blue-chip recruit. He's lived up to his hype so far, catching nine passes for 146 yards and a touchdown and averaging 30 yards per kick return.
If West Virginia's secondary isn't careful, the Mountaineers could see Diggs go flying right by them on more than one occasion on Saturday.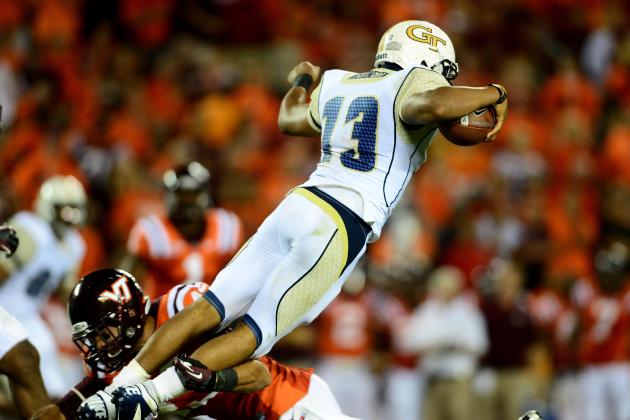 Andrew Weber-US PRESSWIRE
Tevin Washington
Georgia Tech is currently averaging 531 yards of total offense per game this season, while Miami is giving up an average of 463 yards per game.
The Yellow Jackets' powerful triple-option offense should give the Hurricanes' undisciplined defense plenty of trouble when the two teams clash in Atlanta on Saturday.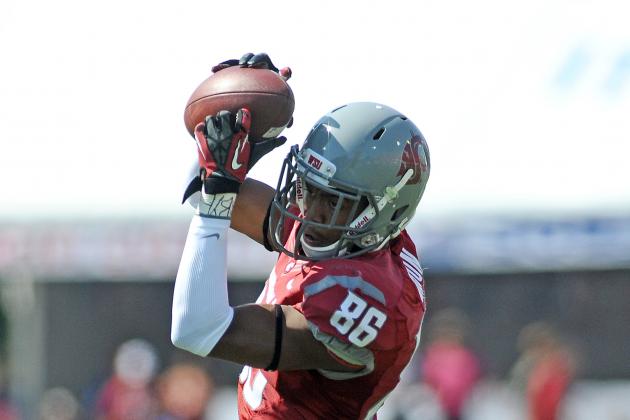 James Snook-US PRESSWIRE
Marquess Wilson
Many were expecting Mike Leach to come in and turn the Washington State offense into a high-flying passing attack like the ones we saw when Leach was coaching at Texas Tech.
The Cougars have yet to come close to living up to those expectations so far this season, though. Leach's team is currently averaging just 21 points per game.
Luckily, they get to face Colorado this weekend.
The 0-3 Buffaloes look like the worst BCS team of 2012. They just got done allowing 69 points and 665 yards of offense to Fresno State in Week 3.
WR Marquess Wilson and the rest of the Washington State offense should have no trouble taking advantage of the many flaws that plague the Colorado defense.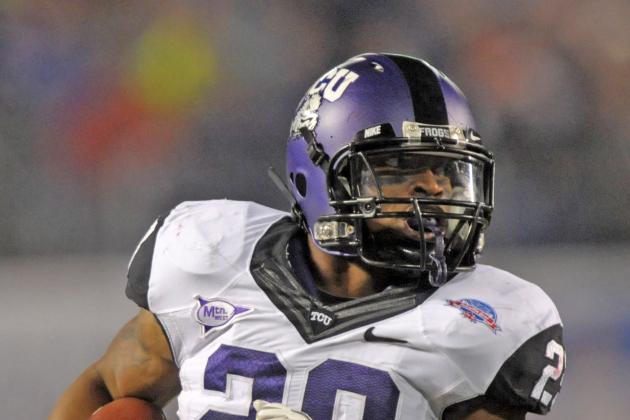 Kirby Lee-US PRESSWIRE
Matthew Tucker
Back in the spring, it appeared as if TCU's backfield was shaping up to be one of the strongest, deepest and most talented groups in the country for the 2012 season.
Since then, however, Ed Wesley has left the program, and the team's leading 2011 rusher, Waymon James, has now been lost for the season.
That means that Matthew Tucker, who ran for over 700 yards in each of the past two seasons, will now have to carry the load the rest of the way.
Tucker is a talented 6'1'', 227-pound senior who has the size, strength and speed combination to be a bell-cow back.
Even without James in the lineup, TCU's rushing attack could still cause a lot of trouble for the Virginia defense this Saturday. Tucker is definitely capable of carving up the Cavaliers.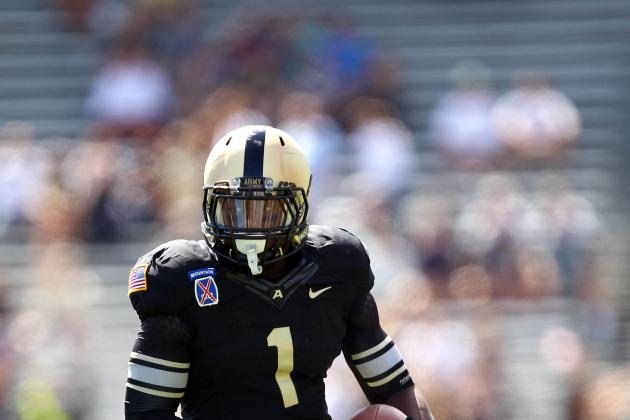 Danny Wild-US PRESSWIRE
Raymond Maples
Wake Forest just got throttled, 52-0, by Florida State last Saturday, which has left the Demon Deacons licking their wounds this week.
Army will now come to town boasting the second-ranked rushing attack in the country, led by running backs Raymond Maples and Larry Dixon.
Jim Grobe's squad clearly has more overall talent on both sides of the ball. However, if they can't figure out how to contain Maples and Dixon, the Black Knights could stun the Demon Deacons on their own home turf.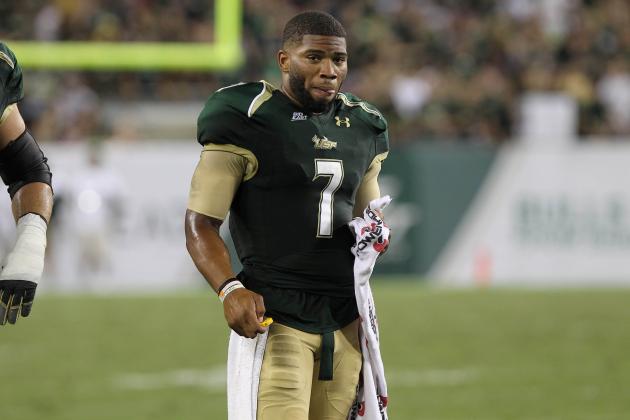 Kim Klement-US PRESSWIRE
B.J. Daniels
The second upset to watch for is Ball State taking down South Florida.
The Bulls just played a putrid game against Rutgers in their Big East opener last Thursday, and now they have to fly up to Indiana for a game they want no part of.
The Cardinals may not have the speed and athletes that South Florida does. However, they do have an intriguing backfield duo comprised of QB Keith Wenning and RB Jahwan Edwards and one of the most underrated linebackers in the country, Travis Freeman.
If QB B.J. Daniels struggles again like he did last week against the Scarlet Knights, Ball State could pull off a shocker.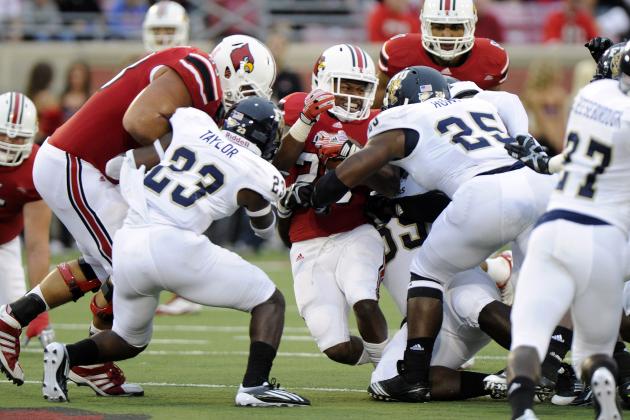 Jamie Rhodes-US PRESSWIRE
Louisville vs. FIU
Speaking of shockers, that's exactly what occurred last year when Florida International traveled to Louisville and caught the Cardinals sleeping.
That 24-17 victory was the biggest win in the history of the Golden Panthers program.
This year's team may not have dynamic receiver/returner T.Y. Hilton. However, FIU does have the type of talent and veteran leadership on defense to hang with Louisville deep into the second half.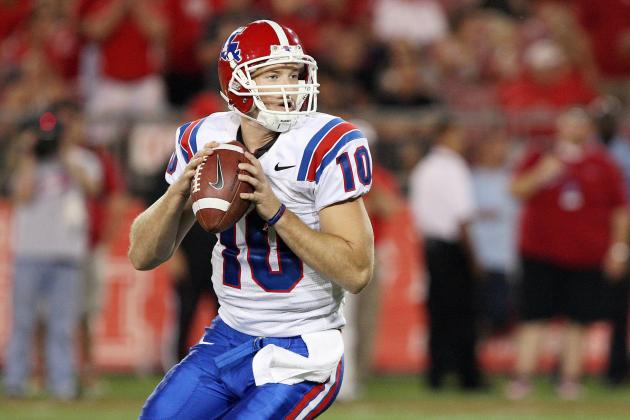 Troy Taormina-US PRESSWIRE
Colby Cameron
Louisiana Tech's offense has scored 56 points in each of its first two games, but the Bulldogs haven't yet played a defense that even remotely resembles the one Illinois has.
The Illini have four defenders—DT Akeem Spence, DE Michael Buchanan, LB Jonathan Brown and CB Terry Hawthorne—who are destined to be high NFL draft picks in the near future.
QB Colby Cameron and his dangerous receiver trio of Quinton Patton, Myles White and D.J. Banks may be tough to slow down, but Illinois certainly has the top-tier talent on defense to keep them contained.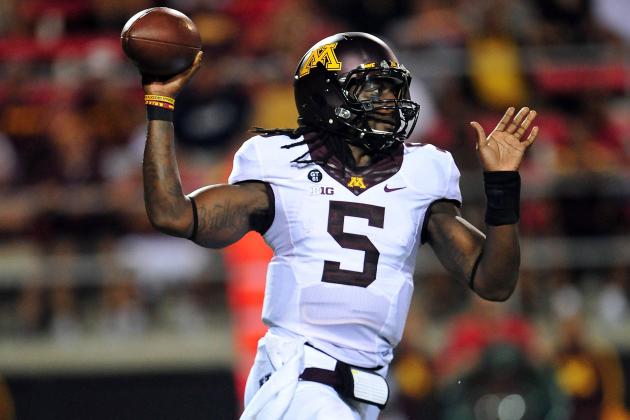 Gary A. Vasquez-US PRESSWIRE
MarQueis Gray
Minnesota has already matched its entire win total from 2011 by winning the first three games of the season. However, the Golden Gophers won't have their key offensive playmaker, QB MarQueis Gray, for the upcoming game against Syracuse.
The team should still play well enough with Max Shortell calling the shots to pick up a win against the Orange this weekend.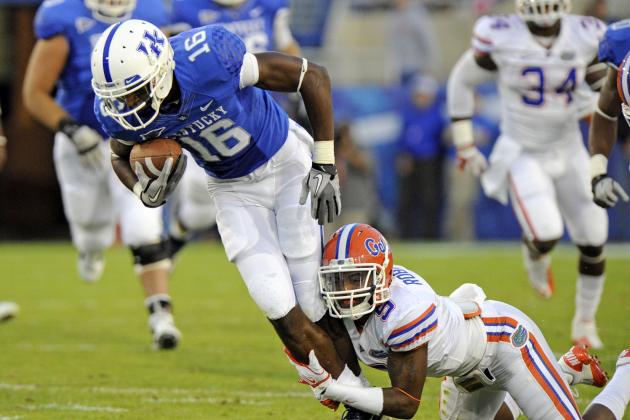 Jamie Rhodes-US PRESSWIRE
Marcus Roberson
In the last four meetings between Florida and Kentucky, the Gators have allowed the Wildcats to score an average of just nine points per game.
This year, Kentucky may not even reach that total. There's a chance that Florida's defense could completely shut down the Wildcats offense to the point where they don't even get on the scoreboard.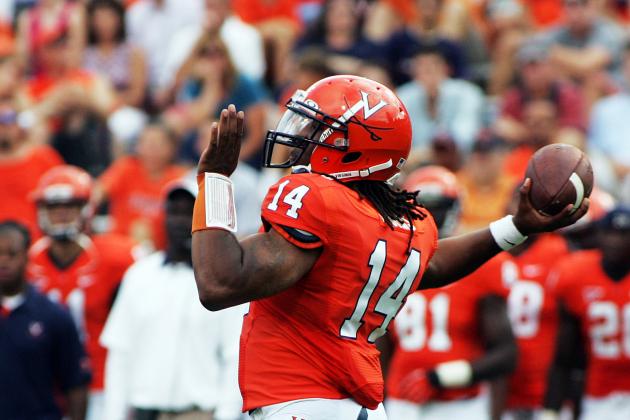 Peter Casey-US PRESSWIRE
Phillip Sims
In the past two games, Virginia coach Mike London has given playing time to both starting quarterback Michael Rocco and backup Phillip Sims.
With Rocco running the show, the Cavs offense has failed to produce at an even average level.
Sims, on the other hand, has looked relatively sharp, completing 13 of his 17 passes, throwing two touchdowns and compiling a 170 passer rating.
Rocco may start this weekend's game against TCU, but if he struggles, we could see the official dawn of the Phillip Sims era at Virginia.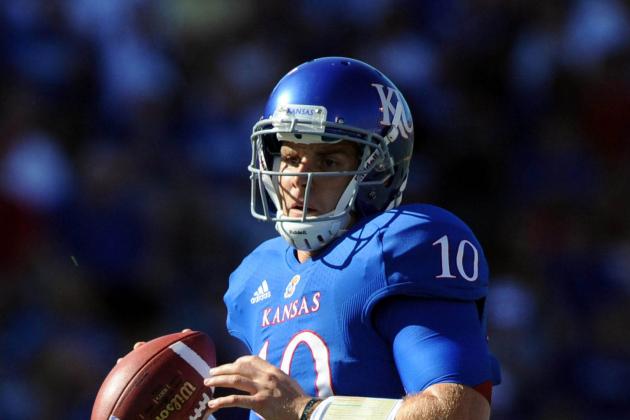 John Rieger-US PRESSWIRE
Dayne Crist
For those of you Kansas fans who were hoping that former QB Dayne Crist would be able to resurrect his career in Lawrence after flaming out at Notre Dame, well, let's just say it doesn't look like that's going to happen.
Crist is completing just 50 percent of his passes. He's thrown four interceptions and currently has just a 99 passer rating. (Yes, there's actually a BCS quarterback who has a worse passer rating than Auburn's Kiehl Frazier.)
Northern Illinois and its seventh-ranked pass defense will be waiting to expose Crist when he and the Jayhawks make the trip up to Huskie Stadium this weekend.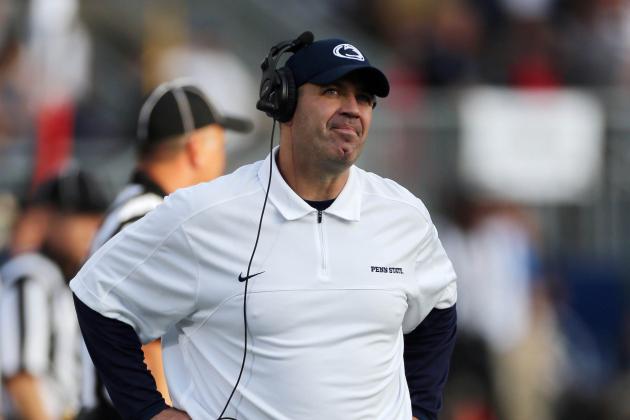 Rob Christy-US PRESSWIRE
Bill O'Brien
Penn State has won 29 straight games against Temple—a streak that dates all the way back to 1941. However, the Nittany Lions will not make that 30 in a row.
The Owls are a tough, well-coached team that has the type of talent on defense—with difference-makers such as DT John Youboty, LB Nate Smith and safety Justin Gildea—to keep the Penn State offense in check.
Plus, QB Chris Coyer and RB Matt Brown form a dynamic rushing duo that will cause a lot of problems for the Penn State defense.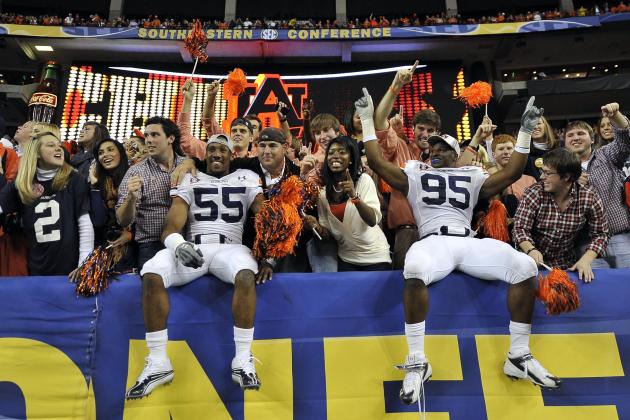 Paul Abell-US PRESSWIRE
Corey Lemonier and Dee Ford
Auburn's defense has looked very shaky in the first three games of the season. The Tigers currently rank 12th in the SEC in scoring defense and 13th in total defense, allowing an average of 27 points and 442 yards per game.
The unit has featured a few standout individual performers, though, such as defensive ends Corey Lemonier and Dee Ford.
Lemonier and Ford have combined to rack up five sacks and 5.5 tackles for loss.
The two talented junior pass-rushers should be able to take advantage of the absence of LSU's left tackle Chris Faulk and apply some consistent pressure on QB Zach Mettenberger on Saturday.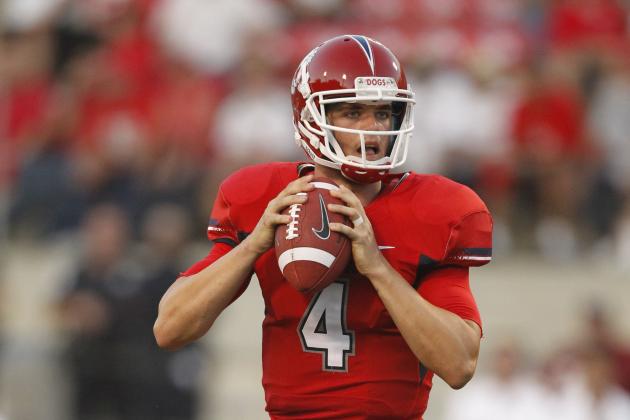 Cary Edmondson-US PRESSWIRE
Derek Carr
The Fresno State-Tulsa game won't be broadcast on national television this weekend, which is a shame because it has the chance to be one of the most entertaining contests of the weekend.
The Bulldogs and the Golden Hurricane have two of the best offensive attacks outside of the BCS conferences.
Fresno State QB Derek Carr and Tulsa QB Cody Green have combined to throw for 1,434 yards and 14 touchdowns so far this season.
The two strong-armed signal-callers should turn this game into a full-blown aerial assault.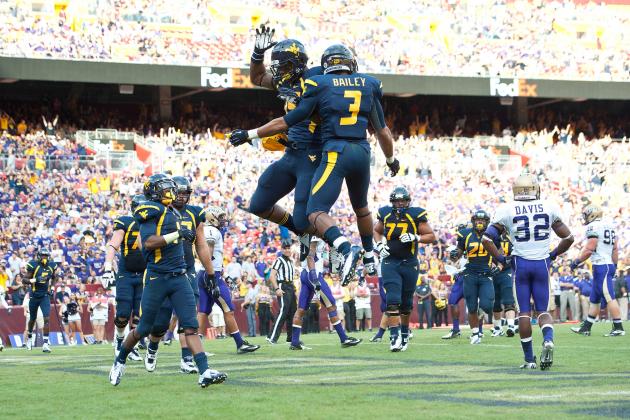 Patrick McDermott/Getty Images
Stedman Bailey
Maryland is the toughest opponent that West Virginia has faced so far this season.
Considering the Mountaineers have only played Marshall and James Madison at this point, that is not exactly saying much.
The Terrapins have enough talent on defense with DE Joe Vellano, LB Demetrius Hartsfield and safety Eric Franklin to at least slow down West Virginia's explosive offense. The problem is, they have a freshman quarterback who will be making just his second career start away from home.
Geno Smith looks like he's only just starting to heat up. In the end, the Mountaineers will just have too much offensive firepower for Maryland to deal with.
Prediction: West Virginia 38, Maryland 16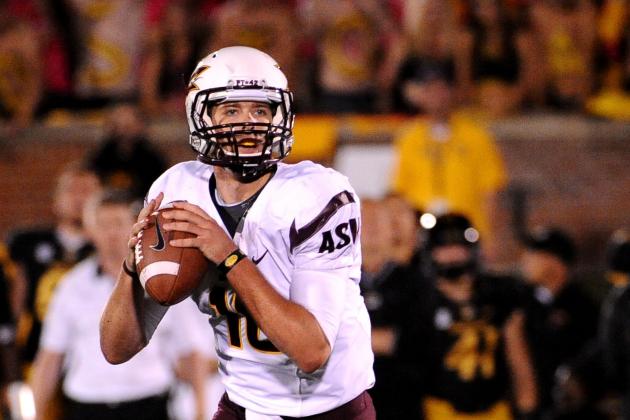 Dak Dillon-US PRESSWIRE
Taylor Kelly
Late in the final minute against Missouri, Arizona State was one play away from moving to 3-0 and potentially entering the Top 25. The Sun Devils just couldn't execute.
Now, they'll return home to begin conference play against a Utah team that's probably still in celebration mode after beating in-state rival BYU in the "Holy War" last week.
Arizona State QB Taylor Kelly has looked solid so far, completing 71 percent of his passes for 674 yards.
Kelly should be able to outduel Utah backup quarterback Jon Hays.
Prediction: Arizona State 29, Utah 20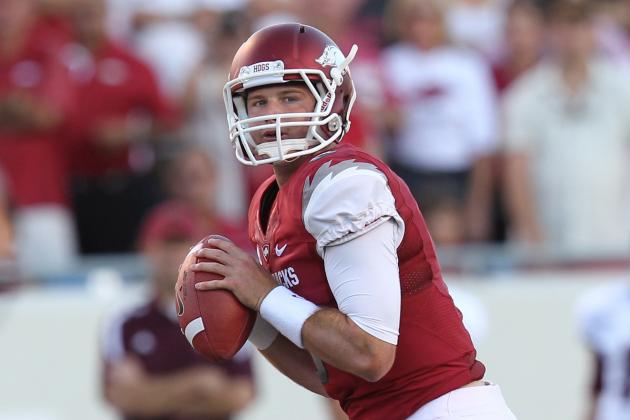 Nelson Chenault-US PRESSWIRE
Tyler Wilson
After starting just 1-2 with disastrous losses to Louisiana-Monroe and Alabama, Arkansas' season is now at a crossroads.
If I were the Razorbacks' athletic director, I would seriously consider firing John L. Smith and just letting QB Tyler Wilson assume the role of player-coach. But obviously, that will never happen.
Instead, Wilson will have to make up for the lack of leadership at the coaching position and put the team on his back and carry it the rest of the way.
The star senior signal-caller has the leadership ability and intangibles to be a savior.
If he plays against Rutgers on Saturday, the Razorbacks should be able to bounce back at home and get their season back on track.
Prediction: Arkansas 34, Rutgers 17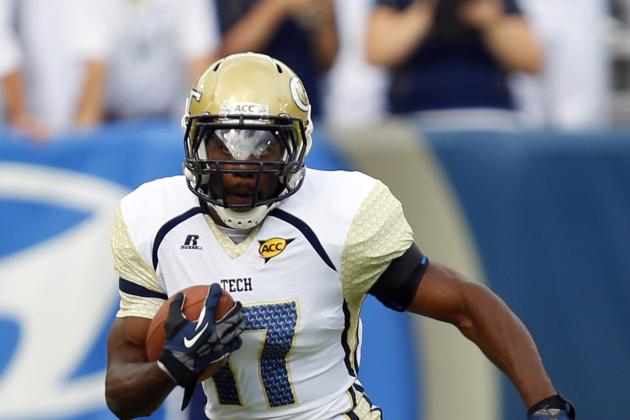 Josh D. Weiss-US PRESSWIRE
Orwin Smith
Miami's defense looked pitiful against Boston College and Kansas State.
The Hurricanes currently rank 91st in the nation in scoring defense, 103rd in total defense and 105th in rushing defense.
Obviously, that doesn't bode well for a team that will now be asked to slow down one of the strongest and trickiest rushing attacks in college football.
RB Duke Johnson may be a budding star, but he won't be able to singlehandedly keep pace with Georgia Tech's rushing juggernaut.
Prediction: Georgia Tech 42, Miami 20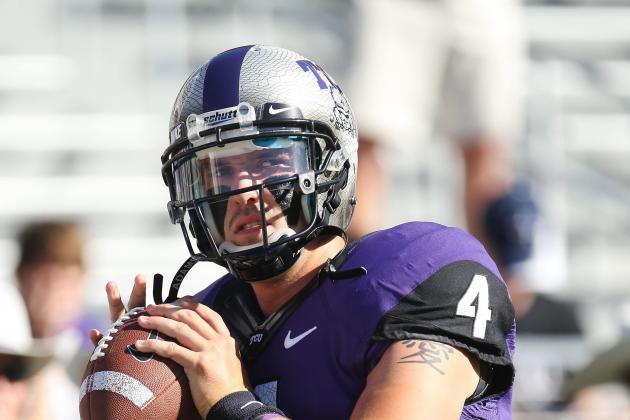 Kevin Jairaj-US PRESSWIRE
Casey Pachall
TCU may have lost RB Waymon James for the season, but the Horned Frogs still have plenty of offensive talent with QB Casey Pachall, RB Matthew Tucker and receivers Josh Boyce, Brandon Carter and Skye Dawson.
Virginia has some intriguing offensive talent of its own. For whatever reason, though, the Cavaliers just haven't been able to gel on offense and put together a consistent attack in the last two games.
Gary Patterson's crew has better athletes on both sides of the ball, and they're just the better-coached team.
Prediction: TCU 34, Virginia 23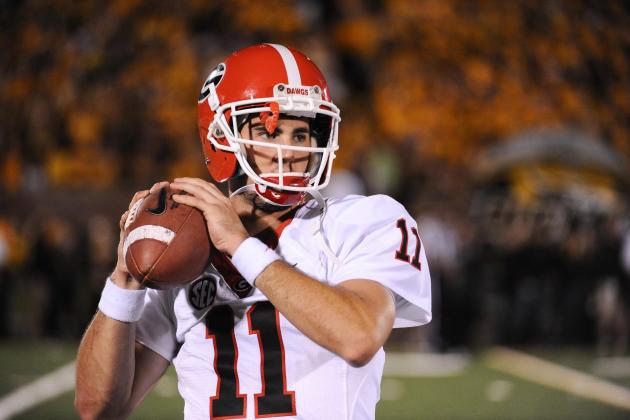 Dak Dillon-US PRESSWIRE
Aaron Murray
This game was a surprisingly close 33-28 affair last year, but it won't be that close again.
Georgia has one of the best quarterbacks in the country, Aaron Murray, leading a balanced and dangerous offensive attack. Plus, the team has arguably the best linebacker in the country, Jarvis Jones, leading an ultra-talented defense.
Vanderbilt has a dangerous offensive trio comprised of QB Jordan Rodgers, RB Zac Stacy and WR Jordan Matthews, but the Bulldogs just have too many playmakers on both sides of the ball.
Prediction: Georgia 44, Vanderbilt 23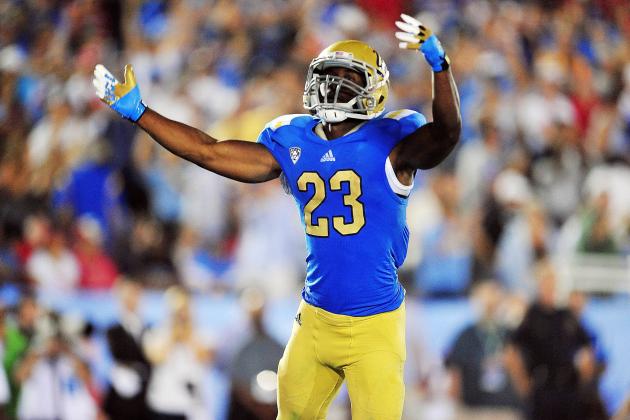 Gary A. Vasquez-US PRESSWIRE
Johnathan Franklin
Oregon State has only played one game in the first three weeks of the season because of a bye week and a weather postponement.
Because of that layoff, the Beavers haven't been able to establish a consistent in-game rhythm, even though they did look fairly sharp when they upset Wisconsin in Week 2.
UCLA, on the other hand, is playing like it's in midseason form already. QB Brett Hundley and RB Johnathan Franklin are developing into a truly dynamic duo. They should lead the No. 19 Bruins to their fourth win of the season on Saturday.
Prediction: UCLA 27, Oregon State 23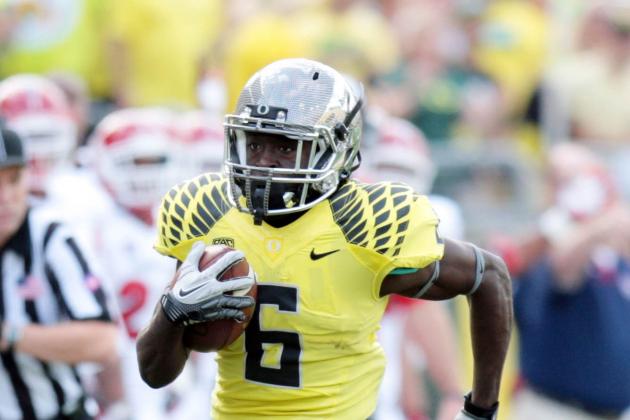 Scott Olmos-US PRESSWIRE
De'Anthony Thomas
On paper, this one has all the makings of a wild offensive shootout.
Oregon and Arizona are averaging a combined 100 points per game.
These two offenses are loaded with firepower, and both defenses have some glaring holes (Oregon's secondary, Arizona's defensive line).
Ultimately, while Arizona does have enough offensive talent to keep this one close, the Ducks' dangerous running back duo of De'Anthony Thomas and Kenjon Barner will just be too much to handle.
Prediction: Oregon 55, Arizona 38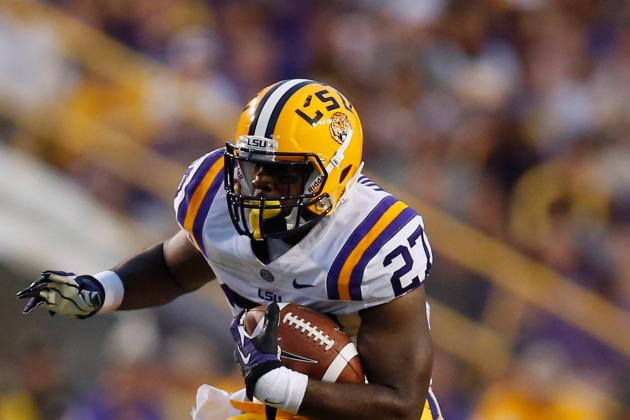 Chris Graythen/Getty Images
Kenny Hilliard
Given the way Auburn played in its first three games, this game doesn't look like it should even be close.
Auburn is a team that has pride, however, and Gene Chizik's squad won't just come out and let LSU walk all over them at home.
LSU will win, but the purple-and-gold-clad Tigers will get a fairly tough fight from the Tigers in blue and orange.
Prediction: LSU 35, Auburn 20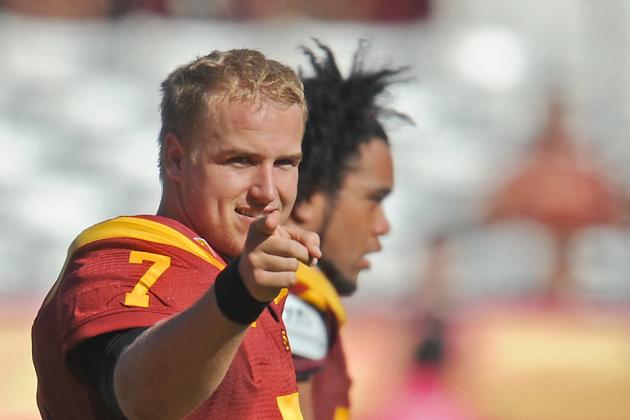 Jayne Kamin-Oncea-US PRESSWIRE
Matt Barkley
It will be fascinating to see how USC bounces back after just having its national title dreams smashed by Stanford last weekend.
The Trojans have solid veteran leadership on both sides of the ball, but it is a bit concerning that coach Lane Kiffin seems to be having a bit of a mental meltdown this week.
Still, you have to factor in that USC had just taken a 5,000-mile trip across the country and back to play Syracuse in New Jersey in Week 2. The team obviously wasn't fully energized against the Cardinal.
The Trojans should look much better at home against Cal this weekend. They should be able to pick up their first conference win to get their season moving back in the right direction.
Prediction: USC 39, Cal 27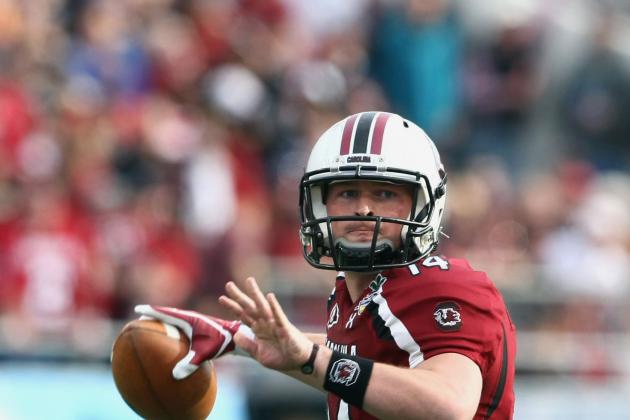 Douglas Jones-US PRESSWIRE
Connor Shaw
Missouri's James Franklin is one of the most dangerous dual-threat quarterbacks in the country, but he hasn't seen many defensive fronts that have the speed and athleticism that South Carolina does.
Super-athletic defensive ends Jadeveon Clowney and Devin Taylor won't let Franklin bounce outside the pocket easily, which means he'll have to beat the Gamecocks with his arm.
The Tigers have the talent on both sides of the ball to go to Columbia and pull off a huge win in just their second conference game.
The difference, though, is that South Carolina has something that Missouri doesn't: powerhouse running back Marcus Lattimore.
If Lattimore can return to form and play like the beastly back we saw before his knee injury, Missouri could be in for a long afternoon.
Prediction: South Carolina 33, Missouri 17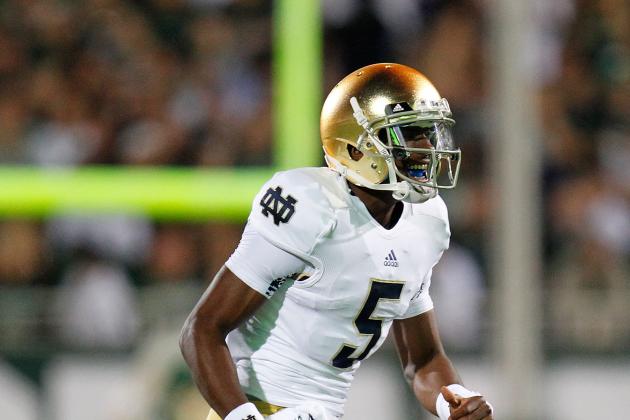 Gregory Shamus/Getty Images
Everett Golson
The last three meetings between these two teams have each been decided by exactly four points, and all of them have gone in Michigan's favor.
This year's matchup should be another tight affair, but this time around Notre Dame has the edge.
Irish QB Everett Golson will continue to display his growing maturity by leading his team to a late fourth-quarter touchdown to win the game.
Prediction: Notre Dame 24, Michigan 21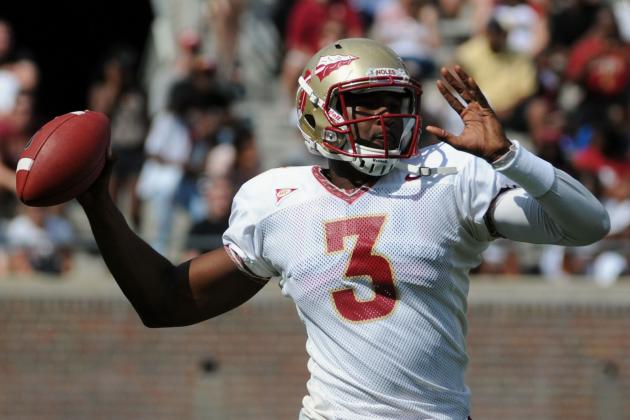 Melina Vastola-US PRESSWIRE
E.J. Manuel
Everyone wants to talk about the explosive offensive skill-position players that both of these teams have, but this game will really come down to who wins in the trenches.
Florida State has one of the strongest defensive lines in the country led by future top-10 NFL draft pick DE Bjoern Werner, as well as other future pros such as DE Tank Carradine and DTs Tim Jernigan, Everett Dawkins and Anthony McCloud.
The Seminoles' strength up front will ultimately just be too much for Clemson's inexperienced offensive line to handle.
QB E.J. Manuel should make enough plays in front of a pumped-up home crowd to knock off the Tigers in this extremely important early-season conference clash.
Prediction: Florida State 26, Clemson 20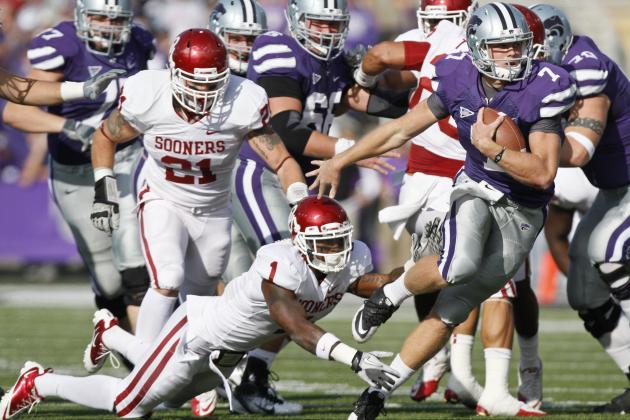 Ed Zurga/Getty Images
Collin Klein
I have to at least pick one top-ranked team to fall this week, and that team is No. 6 Oklahoma.
Bill Snyder is just 1-7 all-time against his former assistant coach, Bob Stoops.
This Sooners team has some evident weaknesses and questionable heart, though, and they could be exposed on Saturday.
Trying to prepare to stop Wildcats QB Collin Klein is unlike trying to prepare for any other player in the country.
Klein has been called a "beast" by just about every defender he's ever gone up against. When he gets in a zone, he's almost impossible to contain.
Kansas State's defense, which is led by potential All-American LB Arthur Brown and CB Nigel Malone, has enough talent at all three levels to slow down Oklahoma's powerful offensive attack.
If Klein plays at an elite level and the Wildcats defense can cause a few key turnovers, we could see another top-10 team fall on Saturday.
Prediction: Kansas State 38, Oklahoma 30