The Biggest Tailgate Fails Ever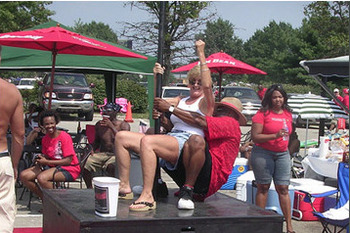 Courtesy of foolishfans.com
Tailgating is a special time for friends, family and the fools in the van near you to gather and celebrate a sporting event...from outside the event's actual venue of course.
It's a strong tradition that has spawned numerous games, including stump and dizzy bat and some very impressive moments of drunken failure.
Let's take a look at some of the biggest tailgating fails ever.
No. 20: Kansas Fan Falls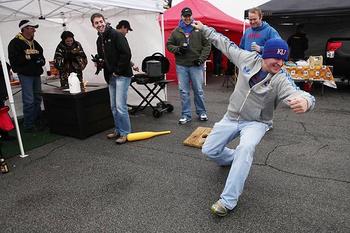 Courtesy of Columbiamissourian.com
Had he just watched another Bill Self team get upset in the NCAA tournament?
No. 19: Dizzy Bat in the Park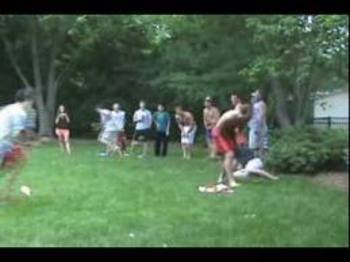 dumbwire.com
Dizzy bat is always a fun game, especially when it's played by newbies.
No. 18: Anorexia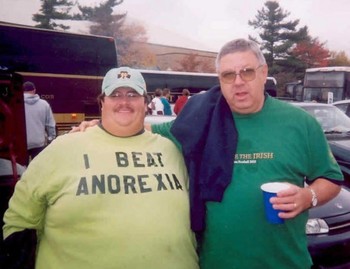 Courtesy of Guyism.com
Maybe there is such a thing as being too successful.
No. 17: Drunken Hammer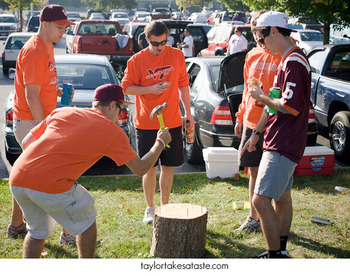 Courtesy of drunkentailgate.com
Call me cautious, but is it ever a good idea to combine drunkenness and hammers with a few sharp points for good measure?
No. 16: About to Drop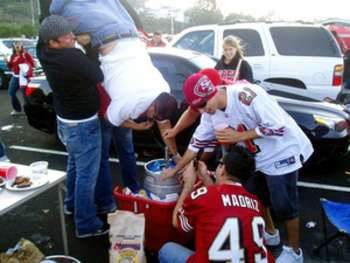 Courtesy of gawker.com
What are the odds those two drop the big guy in 5, 4, 3, 2, 1...?
No. 15: Who Will Fall First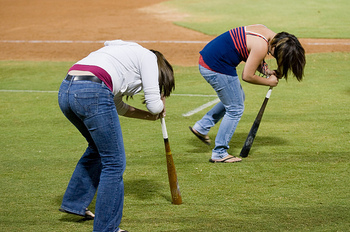 Courtesy of livingbarefoot.com
Are you ready to take bets? Looks like an even match...
No. 14: Cubs Baseball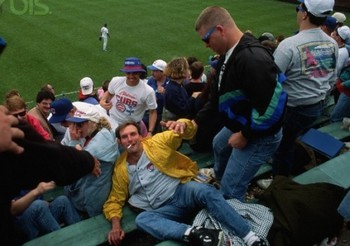 Courtesy of Unathleticmag.com
Cubs games may as well be one giant tailgating party in the bleachers.
When your team is down 10-0 every game by the sixth inning, what else is there to do but down one more?
No. 13: Dizzy-Bat Race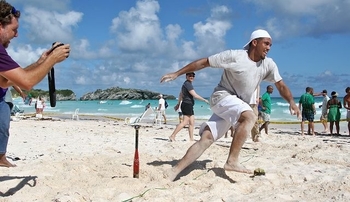 Courtesy of royalgazette.com
Not sure I buy dizzy bat as a battle of athletic endurance, yet I've seen stranger combinations work.
No. 12: Guys vs. Girls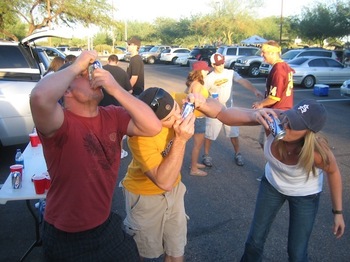 Courtesy of suburbanmen.com
I bet she finishes hers faster. Guys, it's never a good idea to go head to head against the opposite sex; one way or another they always win.
No. 11: Boob-Shaped Beer Bong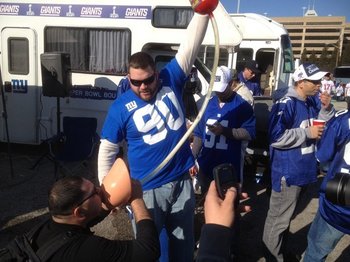 Courtesy of businessinsider.com
Sorry guys, just because it's shaped like a boob, doesn't mean it is one. Drunken desperation calls for a spot on the list.
No. 10: High Five in a Dead Zone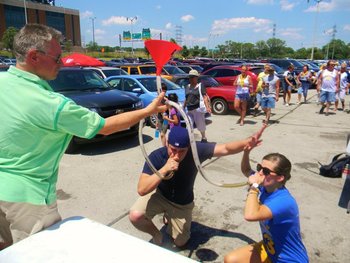 Courtesy of millerparkdrunk.com
Are those two the only people drinking outside in the entire area? Wow Miller Park, come on!
Maybe that's why they are high-fiving: It takes courage to be first.
No. 9: Stump Messages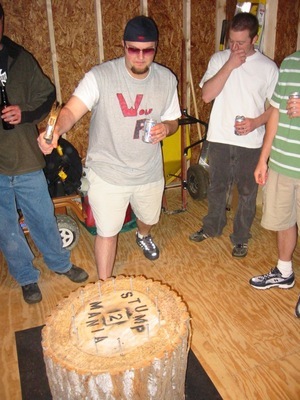 Courtesy of drunkentailgate.com
If you have to carve messages into the stump, you have gone too far.
No. 8: Public Embarrassment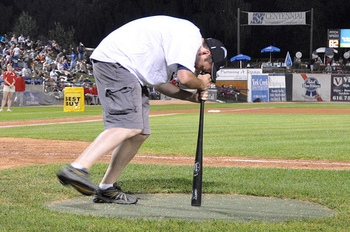 plantationgardens.myaptportal.com
Tailgating usually involves just embarrassing yourself in front of a few friends, though Facebook may change that one day.
How about opening up that embarrassment to a whole stadium?
No. 7: Japanese Stump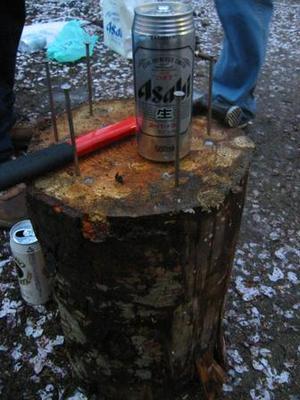 Courtesy of worldstump.com
The inclusion of Asahi is an interesting cultural curiosity, seeing as "stump" actually made its way to Japan.
But how are the nails almost as tall as the beer can? Isn't that seriously dangerous?
It definitely counts as a major fail if one of those ends up in someone's eye.
No. 6: Empty Seats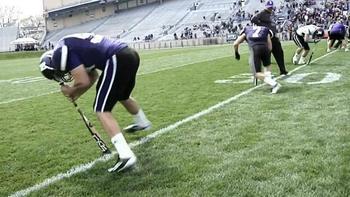 search.espn.go.com
It makes no sense: Your Division I football team goes out and makes fools of themselves in a dizzy bat competition and no one bothers to watch?
No. 5: Stump on Late Night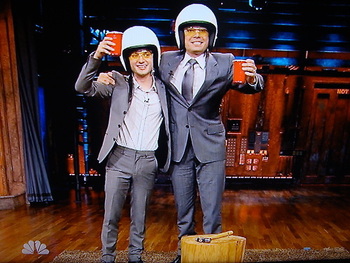 Courtesy of danceyrselfclean.tumblr.com
Can you even count how many things are wrong with this picture?
Let's just stop at the fact that stump belongs at drunken tailgating parties, not on a late show.
No. 4: Falling Euphoria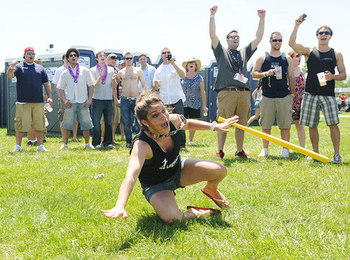 Courtesy of baltimoresun.com
That is a curiously ecstatic face to make before toppling to the ground.
No. 3: Jersey Shore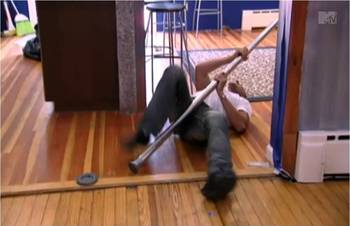 Courtesy of tvgasm.com
It doesn't matter if it's relevant. When you get a chance to include Jersey Shore, you have to do it.
Now that the show is wrapping, your dumbness will be sorely missed.
No. 2: Calling All Ages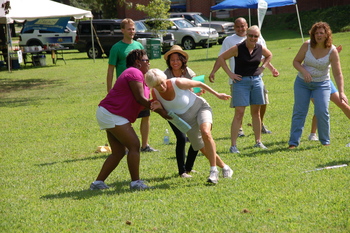 Courtesy of blog.dragas.com
Clearly, dizzy bat is not just a game for young, drunk college kids at the football game.
No. 1: Woman vs. Stripper Pole

Courtesy of Deadspin

This pole defeated this woman the way the Packers defeated the Bears last week.
Keep Reading