Baltimore Orioles: 10 Solid Candidates for Team MVP in 2012
Mitchell Layton/Getty Images

It is election season. Orioles' Vice President of Baseball Operations Dan Duquette is a front-runner for MLB Executive of the Year. And Buck Showalter is a strong candidate to garner the AL Manager of the Year.
When it comes to the O's players, however, there are several men that have stood out at different points during this magical season. Mark Reynolds, Nate McLouth, Jake Arrieta and Manny Machado come to mind.
But there are 10 players on the Orioles who have performed consistently well the entire season. These men have also shown good leadership and the intangibles that have led to this team's success, and are thus the subject of this slideshow.
Note: Player statistics courtesy of MLB.com and current through September 20.

Begin Slideshow

»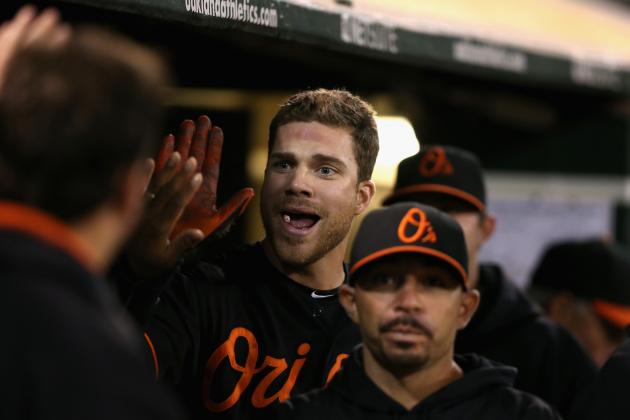 Ezra Shaw/Getty Images

Chris Davis has been a solid player for Baltimore this year.
While Davis still has a tendency to swing wildly at off-speed stuff, it is hard to argue that his impact has not been felt throughout the league.
Davis has not only crushed some memorable moonshots at Camden Yards, but he has also selflessly held the fort for the Orioles at several positions.
Offensively, Davis has batted .258 (122-for-468) with 26 homers and 72 RBI. He also has a .313 OBP/.462 SLG/.775 OPS.
Add the fact Davis is 1-0 with a 0.00 ERA as a pitcher this season, and he automatically qualifies for team MVP.
OK, maybe that's a little extreme. But I really like bringing up Davis' memorable outing at Fenway Park this spring whenever possible.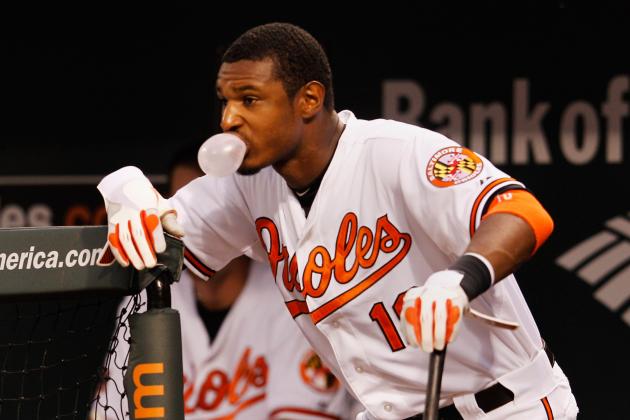 Rob Carr/Getty Images

Outfielder Adam Jones should be the spokesman for a bubble gum company. It seems there is rarely a camera shot of him not blowing a bubble.
But I guess when you are batting .286 (171-for-597) with 30 homers and 77 RBI you can blow bubbles whenever you want.
Add a .336 OBP/.506 SLG/.842 OPS to some unreal wall-climbers, shoestring catches and all-out diving plays in center field this season, and there is no doubt that Jones is a very strong candidate for team MVP.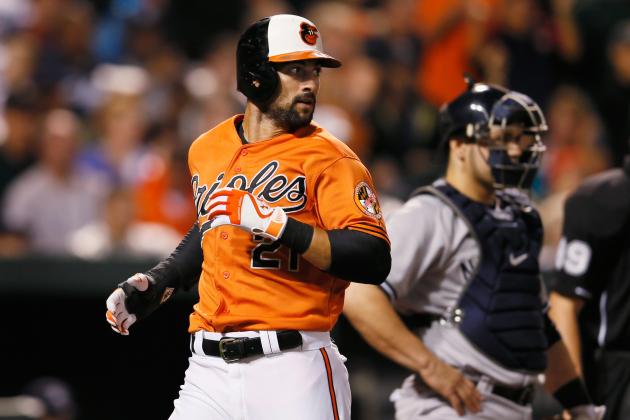 Rob Carr/Getty Images

A quiet leader and a model of consistency, Nick Markakis certainly deserves team MVP honors.
Markakis has battled through injury this year to bat .298 with 13 homers and 54 RBI.
But it is what Markakis was able to do when asked to move to the leadoff position this year that makes this guy so special.
Markakis answered Showalter's request by batting .335 (74-for-221) with five home runs and 28 RBI as the leadoff guy for the Orioles. His .390 OBP/.489 SLG/.879 OPS was impressive as well.
Defensively, Markakis was solid. While he does not appear in the upper echelons statistically amongst outfielders, Markakis has used his cannon arm to make some terrific plays for the Orioles.
Unfortunately, Markakis is out until October with a hand injury that he suffered against the New York Yankees.
Nonetheless, he should still be a strong candidate for team MVP.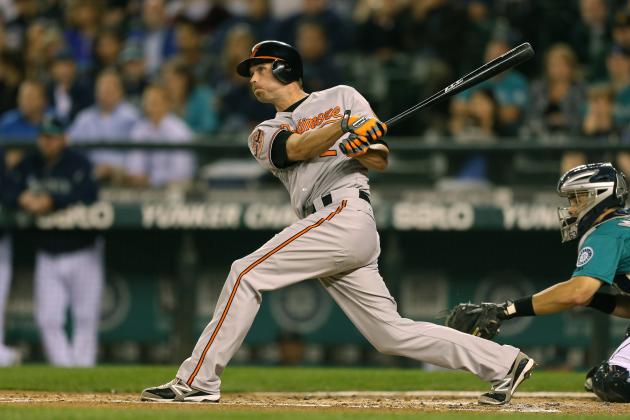 Otto Greule Jr/Getty Images

To the naked eye, J.J. Hardy's .236 batting average would raise eyebrows if used in the same sentence as team MVP.
Yet, what Hardy has lacked in average, he makes up for in power and defense.
Hardy's 21 homers are the most amongst AL shortstops and his 66 RBI are second in the AL behind Alexei Ramirez of the Chicago White Sox.
Defensively, Hardy is the best in the league at his position.
Hardy has committed just six errors in 716 total chances. His fielding percentage (.992) and range factor (4.83) are the best in baseball. Hardy's 2.6 defensive wins above replacement trails only Seattle Mariners shortstop Brendan Ryan (3.5).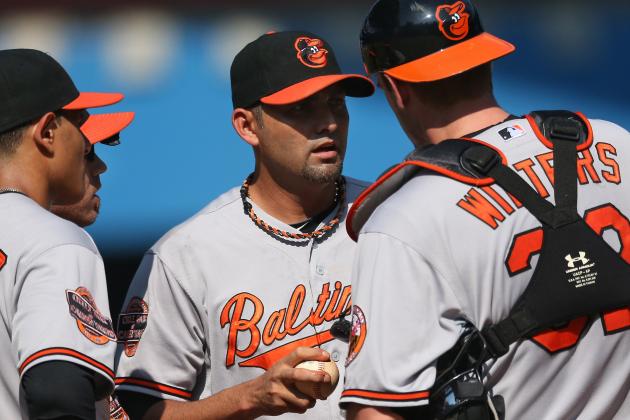 Tom Szczerbowski/Getty Images

If Markakis is the heart of the Orioles, catcher Matt Wieters is this team's soul.
It seems the story this year regarding the Orioles turnstile pitching staff is this: Duquette signs them. Showalter mentors and manages them. And Wieters guides them through games like a champ.
Point being is that Orioles pitchers have an incredible amount of trust in Wieters. This is very important, especially for younger pitchers on Baltimore's staff (and there have been plenty of them this season).
Add 22 homers and 79 RBI to a resume that includes catching an entire 18-inning ballgame, and one has more than enough credentials to qualify for team MVP.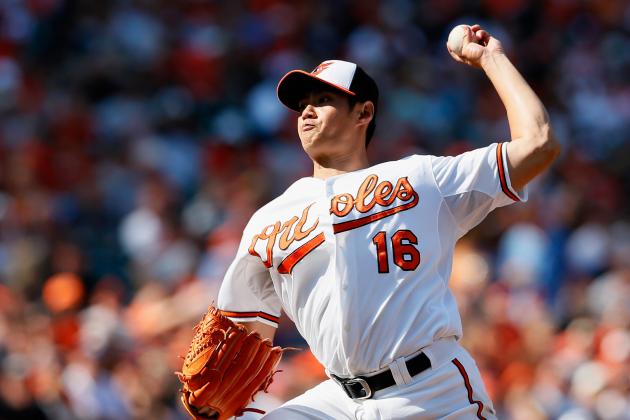 Rob Carr/Getty Images

Moving to the pitching staff, left-handed rookie Wei-Yin Chen has been a pleasant surprise for Baltimore this year.
While he has had his fair share of ups-and-downs (which is expected for a rookie), Chen has stepped up when needed most.This is especially true when team ace Jason Hammel went down to injury a few times this season.
In 30 starts, Chen is 12-9 with a 3.98 ERA and 1.25 WHIP. He leads the team in strikeouts with 147.
Opposing hitters are batting .246 against Chen.
Chris Tillman also warrants recognition as far as starting pitching is concerned. In 20 starts, Tillman is 8-2 with a 3.22 ERA and 1.13 WHIP.
Tough choice, but based on Chen holding the fort when things seemed dire for the Orioles, he gets the nod here alone for team MVP.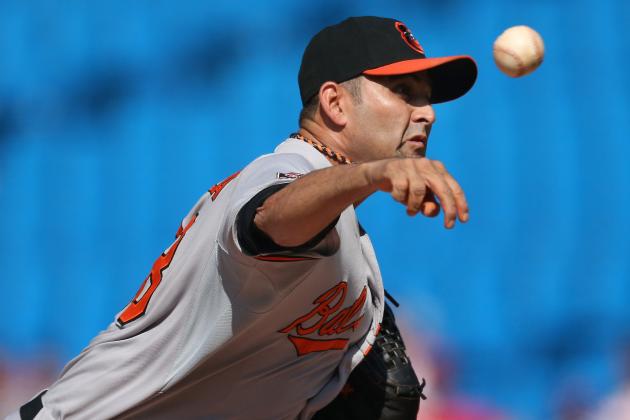 Tom Szczerbowski/Getty Images

Do not let Luis Ayala's 5-4 record fool you. This guy has been a key component of Baltimore's ironclad pen in 2012. In 61 appearances, Ayala has a 2.69 ERA. He is second on the team in holds (11).
While Ayala's statistics are not overwhelming, he has been terrific in single-batter matchups when called upon by Showalter to hold the fort.
Not a top-notch candidate for team MVP. But it is safe to say, Baltimore is nowhere nearly as successful without this guy.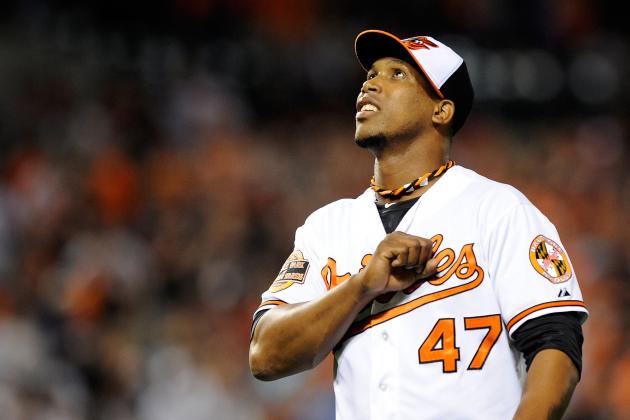 Patrick McDermott/Getty Images

Reliever Pedro Strop has struggled a bit lately. But that is the crazy thing. Despite Strop's trials, this electric pitcher's stats are still sick.
In 66 appearances, Strop is 5-2 with a 2.26 ERA in 63.2 innings pitched. Another great matchup hurler like Ayala, opposing batters are hitting just .211 against Strop.
More impressively, Strop leads the team with 24 holds.
Still a work in progress mechanically, Strop has a bright future with the Orioles.
He is also a strong candidate for team MVP.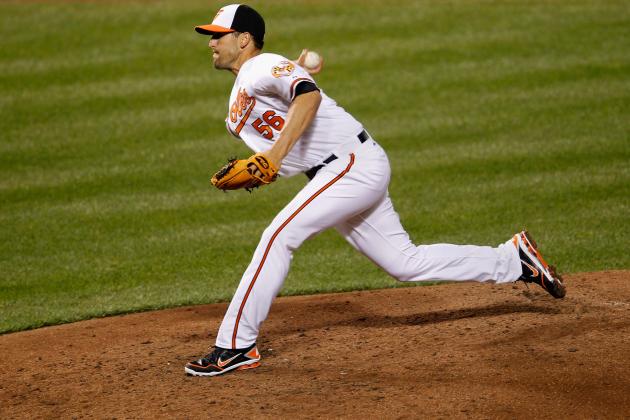 Rob Carr/Getty Images

Stud sidewinder.
This is a great way to describe Orioles' reliever Darren O'Day.
Talk about a guy with steely resolve, O'Day has entered the game in several tough spots in the midst of a tight pennant race this year.
In 63 appearances, O'Day is 7-1 with a 2.43 ERA and 0.98 WHIP in 63.0 innings pitched.
A big-time team MVP candidate, Baltimore is very lucky to have this dependable guy in its bullpen.
Patrick McDermott/Getty Images

Last on this incredible list of Birds' players is Jim Johnson.
In a league filled with eccentric closers, Johnson has been a methodical rock for the Orioles.
In 64 appearances, Johnson is 2-1 with a 1.05 WHIP and 2.73 ERA.
More importantly for Baltimore, Johnson has converted 45-of-48 save opportunities (his 45 saves are the most in baseball).
And check this out: Johnson has surrendered just one earned run since July 27.
Now that these candidates have been revealed, who is your choice for team MVP? Excited to hear your responses. And as always, appreciate your readership.