Houston Texans vs. Denver Broncos: Week 3 Live Score, Video and Analysis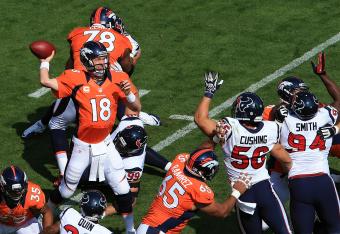 Doug Pensinger/Getty Images
Are the Denver Broncos among the elite teams in the NFL?
It doesn't look like it after the Broncos fall at home to the Houston Texans 31-25.
At least not yet.
The Denver offense struggled for most of the day to generate any points. They finally caught fire in the fourth quarter to make it close but ran out of time.
Hey, the Texans are one of the top teams in the league so losing by just six points isn't too bad is it?
But it was the way they lost.
Denver barely moved the chains until the fourth quarter. They were just 6/17 on third down. The Denver running game was virtually non-existent managing just 59 yards. Running back Willis McGahee left the game with an apparent rib injury but he hadn't been much of a factor anyways.
Peyton Manning was repeatedly forced to look downfield at receivers who could not get open. And sometimes even when they did they couldn't hang on to the ball. Demaryius Thomas dropped two balls. Eric Decker had a drop as well.
On the other side of the ball the Denver defense was extremely porous until Houston decided to change to a more conservative style. They allowed 442 total yards and gave up nearly ten yards per pass. The defense repeatedly was beaten downfield on long passing plays. Running back Arian Foster ran for 105 yards on 25 carries and quarterback Matt Schaub went 17/30 for 290 yards and four touchdowns. The defense allowed Houston to convert on fifty percent of their third down attempts.
You can choose to look at this game as another game against a very good team that just came up short.
But I'm starting to see a trend.
A defense that can't generate a pass rush. A running game that is very average. Wide receivers that are unable to create separation from their defenders. And just too many mistakes. The Broncos were flagged for seven penalties that allowed for 75 yards.
This game was not as close as the final score may indicate.
They may improve, and I know this early part of the schedule is very difficult, but if the Broncos don't start to get better they will not be a legitimate contender this season.
Final
Texans 31 Broncos 25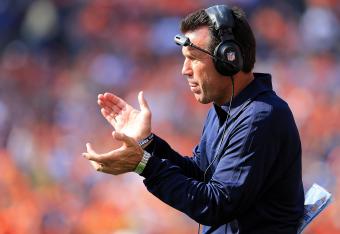 Left with very little time, the Broncos run out of time and that will end the game.
Houston 31
Denver 25
I believe I was about 10 years old when my peewee football coach told me to put my heels on the 10 yard line and do not go back for the ball on the punt return.
I wish Eric Decker had my coach.
Peyton will get the ball back but he won't have much time.
Denver will get the ball back with about :30 seconds remaining.
Andre Johnson with the first down but he did go out of bounds.
Game is not quite over.
2:54 left in this game that is suddenly very tight.
This is very similar to the third down last Monday against the Falcons.
3rd and five. Can the defense stop the Texans?
Can the defense get the stop to give the ball back to the offense?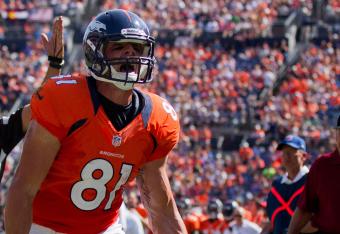 Broncos from the one yard line to cut the lead to six and the deflected pass to Decker is caught by tight end Joel Dreessen. We have a ballgame!
Demaryius Thomas has not had a good game today. Two drops and he has to get that second foot inbounds for the touchdown.
Broncos are driving. Three quick first downs and the Broncos are back in the hurry up offense.
This might get very interesting if Denver puts the ball in the endzone.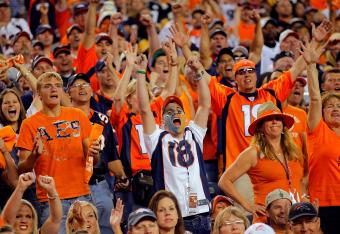 Bronco fans are getting loud now. And the Denver defense hods Houston to a three and out.
Over eight minutes remaining in this game.
Can Peyton work a miracle?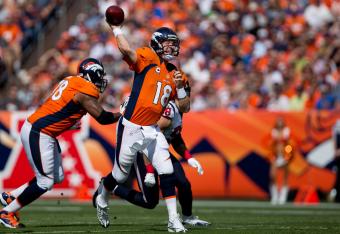 The Denver defense manages to cause a fumble by Matt Schaub and then Peyton Manning hits Brandon Stokley and that fast the Broncos cut the lead to 13.
Is there any hope for a comeback?
Keep in mind that last season the Denver defense was made out to be an elite unit. Yet, when they faced the top quarterbacks like Aaron Rodgers, Tom Brady, and Matt Stafford they really struggled.
This defense has been picked apart all day by another very good quarterback today.
Willis McGahee is out now with a reported rib injury.
Peyton Manning is looking frustrated. He has nowhere to go with the football.
This Texans defense is completely dominating the Denver offense.
You just get the feeling that it is a matter of time before the Texans score some points and put this away.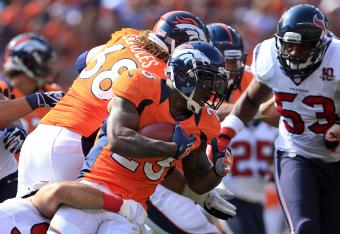 The Houston Texans have completely taken the Bronco wide receivers out of the game.
They are not getting any separation from heir defenders and as a result Peyton just has no one to throw to.
The Denver running game has been squashed all game and Denver can barely gain a first down let alone generate any points.
Mistakes, mistakes, mistakes.
Dropped passes. Blown coverages.
The Denver Broncos now have five penalties for 65 yards.
You don't beat good teams making that many mistakes.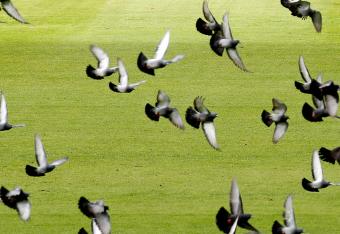 Why do I keep seeing pigeons all over the field?
Back to back roughing the passer penalties against the Denver defense have moved the Texans inside the Denver 20 yard line.
I would say that Denver defensive coordinator Jack Del Rio made a point of saying they needed to hit Schaub but you have to do it legally.
Good opening drive for the Denver defense in the second half. Three straight incomplete passes by Matt Schuab.
Denver's offense is so stagnant right now. The offensive line is struggling both in the running game and protecting the passer.
Another drop by Demaryius Thomas on the drive even though it would have been short of the first down.
Just some quick halftime stats:
Houston has 13 first downs to Denver's 11.
Houston has rushed for 92 yards compared to Denver's 44.
Matt Schaub has already thrown for 285 yards and three touchdowns with one interception.
Peyton Manning has 168 yard but the Broncos have failed to get the ball into the endzone so far.
Houston will receive the opening the second half kickoff.
Matt Prater may have the strongest leg in the league.
He made that 53 yard field goal and it may have been good from 65. He killed it.
Denver pulls back within 10 points of Houston.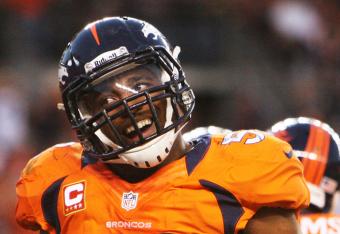 Huge interception by Wesley Woodyard to stop the Houston drive.
Woodyard pulls down the ball with one hand and Denver will get one more chance to score before the end of the half.
Three dropped passes today by Denver receivers. Demaryius Thomas has two drops and now Eric Decker has one.
Nate Irving is able to get up and walk of the field which is very good news. Glad to see that.
Houston gouges the Denver defense again. They are able to run, they are able to pass. When Denver does finally mount a pass rush Schaub throws a screen pass. The Broncos' defense is stumped.
Gary Kubiak is calling a great game today.
Poor execution by the Denver offense. On third and four they take a timeout and then run the draw to McGahee that fails to get back to the line of scrimmage.
Linebacker Nate Irving stays down after making a tackle on punt coverage. I believe that the medical staff is being precautionary but let's home Irving is ok!
Finally the Denver defense holds Houston to a three and out!
The Denver offense will start with the ball out at their own 42 yard line and this is an opportunity to get back into this game.
This article is
What is the duplicate article?
Why is this article offensive?
Where is this article plagiarized from?
Why is this article poorly edited?

Denver Broncos: Like this team?