Stock Up, Stock Down for Every Player on Boston Celtics Heading into 2012-2013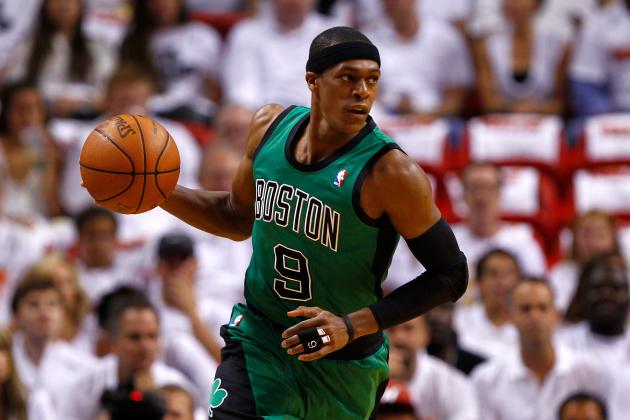 Mike Ehrmann/Getty Images
With training camp right around the corner, Rondo's stock is definitely up.
In a little less than two weeks, the Celtics will pack their bags and head across the ocean for their 2012-2013 training camp in Istanbul, Turkey.
Not having Semih Erden to show them around anymore may hurt, but this trans-atlantic trip will be our first chance to see the C's and their somewhat revamped roster as they embark on another quest to bring Banner 18 to Boston.
There will be a few extra bodies in training camps but we can probably ascertain who will make the opening night roster assuming everything goes according to plan and no one gets hurt.
So with that, let's take a look at who's stock is rising and who's isn't as we get ready for another season with the C's.
Begin Slideshow

»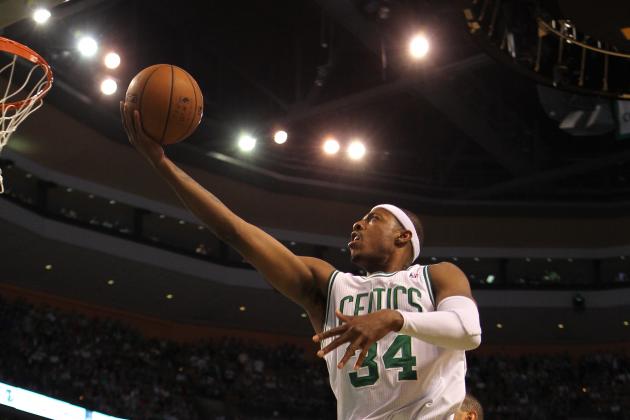 Jim Rogash/Getty Images
This could be a big year for Pierce.
Pierce was visibly slowed by an MCL sprain in last year's playoffs and is now 35 years old. But headed into this season, things look pretty good for the Truth.
In early August, he claimed to be at "about 90 percent" health, which would easily put him on track to be at full strength come training camp.
He's also about to enter the final year of his contract, which, as we often see in players in all sports, could give him some extra incentive to have a huge year in an attempt to score one last big payday before retirement. It worked for Kevin Garnett last year, why couldn't it work for Pierce in this one?
Whether or not Pierce feels he has something to prove, his pride and competitive fire will likely not allow him to go out with anything less than a bang if this is indeed to be his last year in Boston. Expect a big year from the captain.
Stock: UP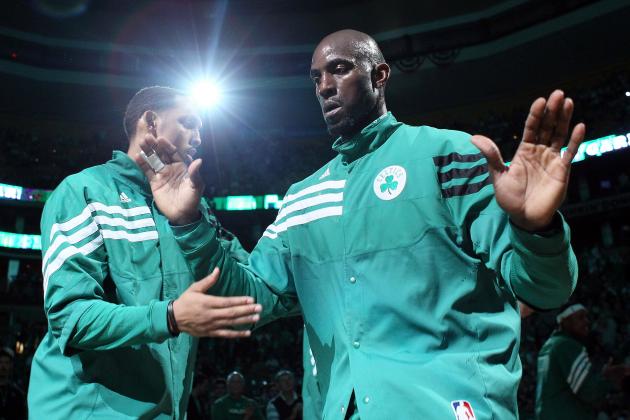 Elsa/Getty Images
Garnett is the man in the middle for the Celts.
Now in possession of his final NBA contract on the heels of an amazingly resurgent 2012, KG will head into his 18th NBA season ensconced as the Celtics' starting center.
The C's took off right around the trading deadline last season when they made the decision to keep the core of their team intact and permanently moved KG into the pivot. At the time, it was out of necessity seeing as how the only true, healthy center they had at the time was Greg Stiemsma.
But the move went so well, both defensively and offensively, that the team got all the way to being one game from the Finals while being carried for the most part on Garnett's back.
So we know he can flourish at the 5 and heading into the season, there is much more depth surrounding him up and down the roster than there was at any point last year. This means his minutes can come down a touch, which should make him stronger and healthier come the postseason.
Stock: UP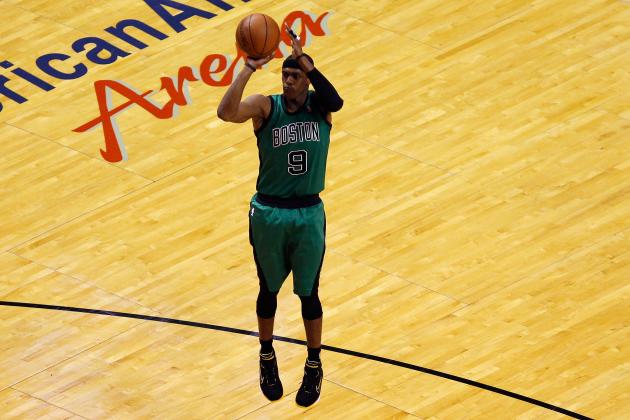 J. Meric/Getty Images
If Rondo improves this part of his game, he'll be one of the best.
Pierce is still the captain and KG is still KG.
But this is as much Rondo's team now as it's ever been. The torch is being passed.
Rondo had a tremendous postseason last year, highlighted by the Eastern Conference Finals against the Heat. And even though he is still not an elite offensive player, he does so many things beyond scoring and shooting so well, it's not too difficult to overlook his shortcomings at that end.
If Rondo had a better jump shot, got to the foul line more and was better at converting once he got there, he'd be in the discussion for the top 5 players in the league. As it stands, his eye-popping assist totals (just short of 12 per game, one every three minutes he's on the floor) and rebounding skills for a player his size make him a star and a perfect fit in what the Celtics do on both ends.
This is a big year for Rondo. He's already talked about in hushed tones as a point guard. But he's still got work to do to be discussed in the same way as an all-around player.
Rondo is a guy who has a knack for rising to occasions. There's no reason to believe he won't again this year.
Stock: UP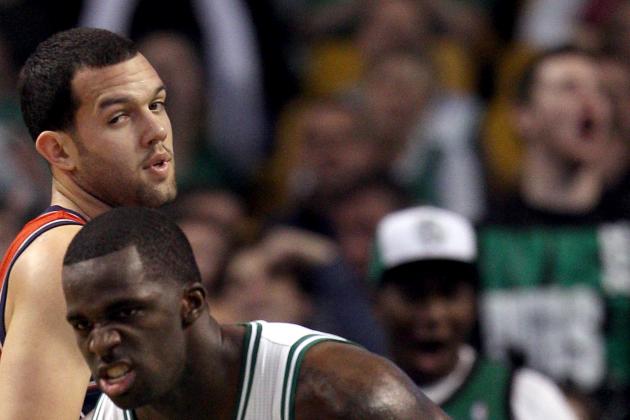 Elsa/Getty Images
Bass was a better than pleasant surprise last year.
Who could have possibly seen Bass and what he did for the Celts last year coming?
The Celts got him in a contract year for Big Baby Davis and Bass responded with career highs in scoring, rebounding and field goal percentage. All of this was parlayed into a four-year deal worth $24 million.
Job well done, Brandon.
Now he needs to follow it up. As good and important a piece as Bass was last year, it all means nothing headed into this season. Will he hit that elbow jumper as consistently this year? Will he use his strength and toughness to overcome his lack of size among most other power forwards to snare another seven rebounds per game?
Bass's game is still somewhat limited. He can't put the ball on the floor or get to the basket very well. He's an above average defender but is susceptible to mismatches in the paint. He pretty much never passes the ball.
Bass is incredibly tough, though, and that toughness led to excellent things last season. Still, it's not a stretch to wonder if he's already leveled off. No knock against him, but don't be surprised to see him take a bit of a step back this year.
Stock: DOWN
A small asterisk on this one as Bradley won't be in training camp and will likely miss at least the first month after surgery on both shoulders.
But if anyone is ascending in the Celtics' organization, it's Bradley, who's emergence last year relegated none other than Ray Allen to the bench, and then, Miami.
Bradley is a defensive demon, despite his lack of size. Once the Celts realized that he's not a point guard even though he's just 6'2", 180 pounds, and put him at the 2, their defense rose to another level.
The best perimeter defender on the roster, Bradley also proved that he can shoot threes and while he could use some work on his mid range game, he can certainly finish at the rim.
He may need a handful of games to get back into the starting lineup once he returns from his shoulder rehab. But Avery Bradley is one of the brightest spots on this team.
Stock: UP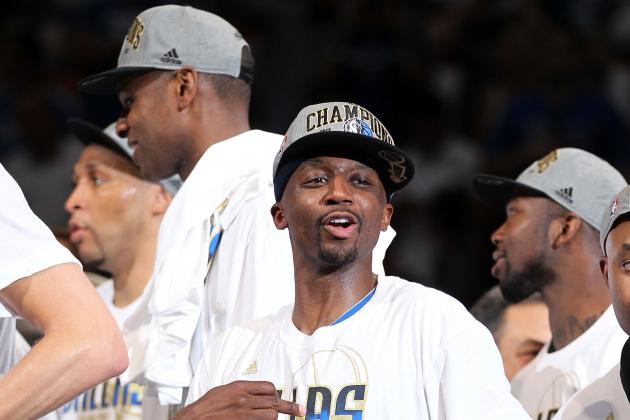 Mike Ehrmann/Getty Images
Terry's championship pedigree fits nicely with the Celts.
Ray's replacement and another venerable veteran with championship experience climbs aboard the Celts' express in Terry, a former Sixth man of the Year who loves coming off the bench, can score, is clutch and can also back up Rondo without having to put that kind of burden on Bradley.
At the ripe old age of 34, Terry still managed to put up 15 points per game last year in just under 32 minutes per game. He's an outstanding mid-range jumps shooter who can still make things happen off the dribble without having to worry about having to get to the basket.
What's slightly worrisome is that Terry has never been a particularly effective defender, which is pretty much at a right angle to what the Celtics preach. But his lack of skill/ability on that end didn't hurt him in Dallas, where the Mavs were a defensive force in 2010-2011, their championship season.
Terry is an ideal replacement for Allen, who didn't want to come off the bench (even though that's precisely what he'll be doing in Miami, but that's another story). This guy has made his career as a reserve/leader of the second unit and he should see plenty of minutes with the starters at the end of games, especially with Bradley out.
Terry can be hidden within the Celtics' defensive schemes and that will work to his advantage. A great get for the C's.
Stock: UP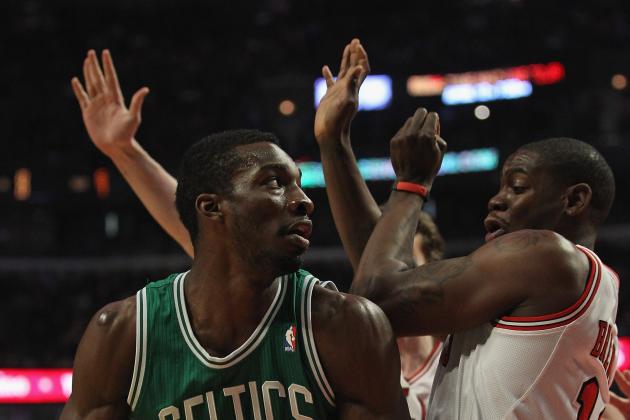 Jonathan Daniel/Getty Images
This will be our first real chance to see what kind of player Green is.
Green has played 26 games for the Celtics but he still feels like a new free agent thanks to his missing all of last season following heart surgery.
Because of the long layoff and the fact that he didn't exactly set the world on fire in his brief time in Boston, it would be easy to look at Green with a sort of glass half full perspective. He's healthy, he's getting a full training camp to bond with his teammates and learn to fit into the Celtics' system properly.
He's still very young (26) and was once the fifth overall pick in the draft so there's bound to be oodles of talent there.
But we haven't seen it. Nor have we seen him display the ability to fit into a role. Green was the third option at best when he was with the Thunder. On the Celtics, he's liable to be the fifth or sixth.
His upside is there. Green's size should make him a brutal matchup at the 3, especially on defense. But if he has to go inside, despite being 6'9", he's immediately at a disadvantage. He's not strong enough to handle being posted up and while it could be seen as an advantage that he's quick enough to take bigger, slower 4's out to the perimeter, he's not a good enough shooter from long range for it to matter all that much.
The Celtics must see something in Green they love. They are the team that drafted him No. 5 back in 2007. They traded a hugely valuable, beloved piece in Kendrick Perkins to get him back in 2011. And they gave him a four-year, $36 million deal even though he hasn't played in over a year and wasn't impressive when he last did.
It's all up to Green now.
Stock: DOWN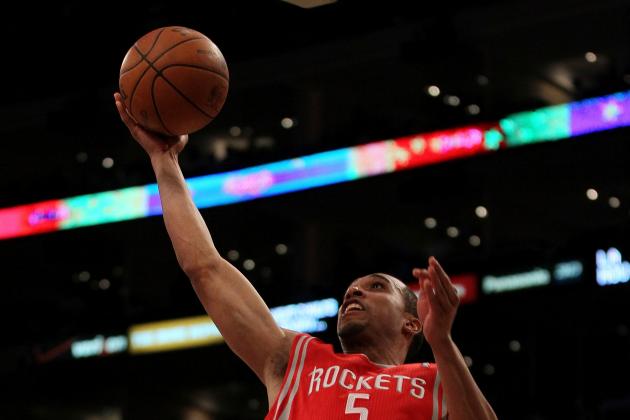 Jeff Gross/Getty Images
Lee has a great chance to be a winner again in Boston.
This was a huge get for the Celtics. With Bradley injured and Allen gone, they were very thin in the back-court, even with Terry in the fold. The fact that they could go out and get a player like Lee to solve that problem while giving up flotsam to do it was an excellent turn of events.
So, Lee will start while Bradley continues to rehab and in doing so should provide the Celts with better than 40 percent shooting from three-point range and tough defense on the wings and the perimeter.
Given that those are Lee's greatest strengths as well as exactly what the C's need from their third/fourth guard, he's the perfect addition to this team.
Also, don't underestimate the effect that playing for a very good, contending team could have on Lee. He spent his rookie year in Orlando, the season that the Magic reached the Finals before getting stomped by Kobe Bryant and the Lakers, and played in 21 playoff games, starting 16 and averaging eight points in 26.2 minutes.
But after that, he went to the 12-win Nets for 2009-2010 before spending two seasons with a Rockets team that just missed the postseason both years.
The point is, Lee has to be hungry. He went from the Finals in his rookie year to one of the worst teams in league history the next and hasn't been back to the playoffs since.
He's due.
Stock: UP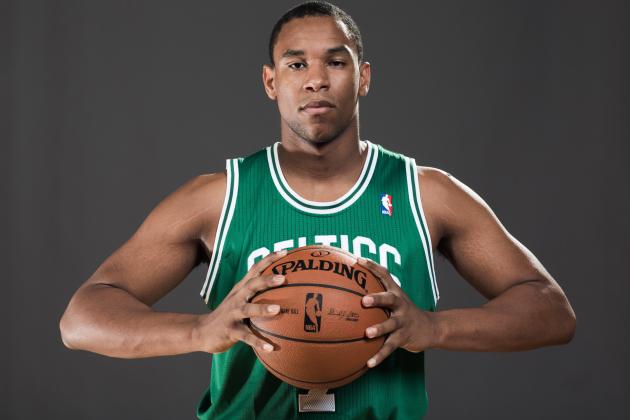 Nick Laham/Getty Images
The jury remains out regarding Sullinger's back issues.
The first of the Celts' two top draft picks, Sullinger slid to them at No. 21 thanks to his highly publicized back condition.
In his two years at Ohio State, Sullinger was a dominant post player who would have gone much higher in the draft if not for concerns about his back. He's not particularly athletic, but he can score and rebound with great efficiency in the paint and that's an area in which the Celts were sorely lacking last season.
If Sullinger can also score by shooting mid-range jumpers, opportunities he should get, he'll be even more valuable.
How long his back holds up or whether it's even an issue remains to be seen. If it does, he should get about 20 or so minutes per night and look a lot like Bass; not as effective but bigger and stronger.
Stock: DOWN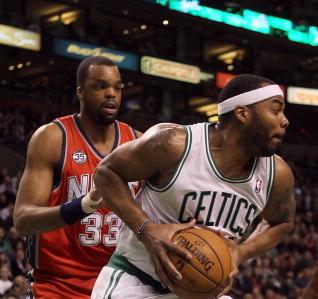 Elsa/Getty Images
Wilcox provides valuable depth up front.
Depth, depth and more depth. That's why Wilcox is back with the C's after, in a bizarre twist, his season was cut short just like Green's thanks to heart surgery.
What Wilcox will provide the Celts (in addition to depth), is an inside finisher who can rebound and occasionally block shots. Wilcox was very effective in his short time in green last year when he was running the floor with Rondo. He's athletic and fast for a big man and although he's not much of a mid-ranger shooter, he can definitely get things done when he gets the ball around the basket.
Also, Wilcox will give the Celts more chances to play big. It's not hard to imagine a lineup featuring him, Garnett, Green, Pierce and Rondo or Terry. For a team that struggled to rebound so much last season, this is a potentially important development.
Still, it's hard to imagine getting more than 10-12 minutes per night for Wilcox, if that. He does provide that depth, but after that, it's hard to know.
Stock: DOWN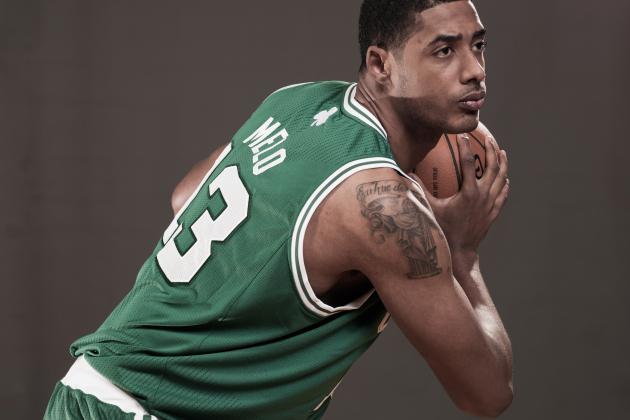 Nick Laham/Getty Images
This photo shoot was about as much run as Melo will get this season.
The second of the Celts' two first-rounders, Melo was another move made to shore up the frontcourt, which was wafer thin come the end of last year.
What Melo brings is an innate talent to block shots and pretty much ideal size for a center (7'0", 255 lbs).
After that, he's a project.
Despite the Celtics' need for more size, it's tough to imagine Melo playing much this season. He has pretty much no offensive game or feel for that end of the floor. Perhaps the best way to describe Melo is raw, which was the route taken by Chris Forsberg of ESPN Boston earlier this week.
If the Celtics can be patient with Melo, he looks like the type of player they can develop, both as a rebounder and as an offensive contributor, over the next couple of seasons. The last C's big man to be brought along like that?
Kendrick Perkins.
Stock: UP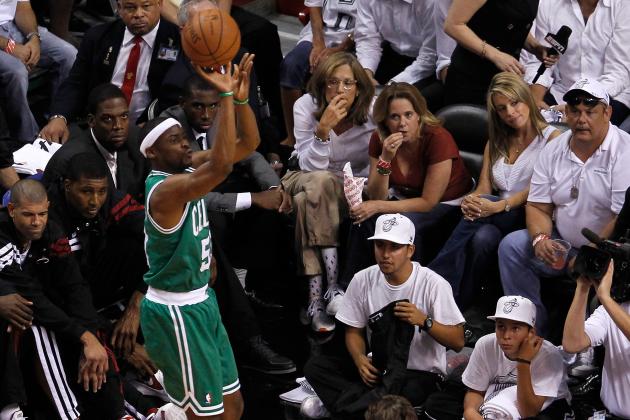 J. Meric/Getty Images
Dooling can still drill the occasional jumper.
Rondo's primary backup last season proved to be a major contributor in the locker room. Known by his teammates as the "preacher," Dooling was an inspirational force during the C's playoff run.
At this point in his career, especially when you look at the names ahead of him on the Celts' depth chart, Dooling seems more of an assistant coach in uniform than a member of the regular rotation.
Still, he'll get some run and when he does, he's a capable three point shooter who can defend either guard position relatively well and will always play with a truckload of energy.
Dooling is likely to see more minutes in the season's first month thanks to Bradley's absence. After that, we may not see much of him on the court.
But behind the scenes? He's gonna preach.
Stock: DOWN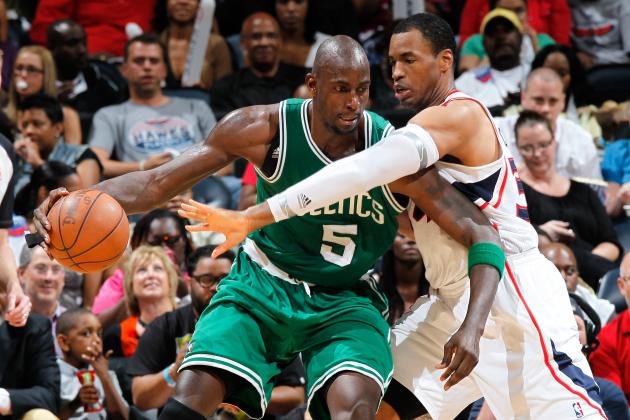 Kevin C. Cox/Getty Images
Collins has a job because he plays defense, period.
A potentially underrated signing for the C's. If Wilcox isn't cutting it as the team's second center, Collins could see a decent amount of minutes.
Collins defends very well in the post. He's big, wide, physical and can intimidate too. The Celts may even be able to use him and Garnett at the same time occasionally, although that will limit them offensively.
Why, you may ask? Because Collins is a wretched offensive player. In 675 career games, he's averaged 3.8 points per game and shot just 41 percent from the floor despite being a 7-footer. Add to that the fact that he also has managed just four rebounds per game in his career and it's proof that if you're Collins' size, you can have a job in the NBA no matter what.
Still, it's hard to ignore how well Collins defends. That, above all else, is why he's still an NBA employee and got a deal with the Celtics.
Stock: DOWN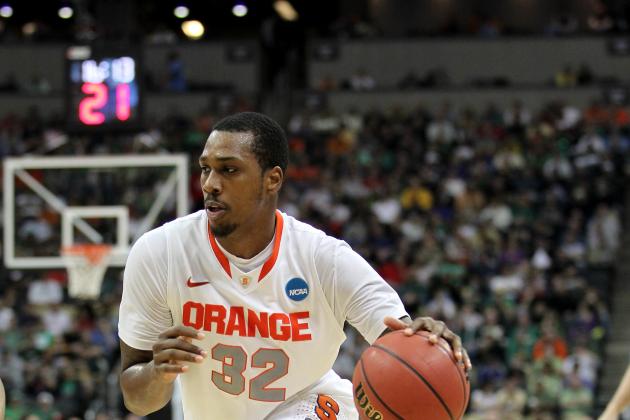 Gregory Shamus/Getty Images
Joseph may have a tough time getting into games with the Celts.
The C's got Melo's college teammate at Syracuse late in the second round of the draft and while it would be nice to see the 6'7" small forward develop into a possible replacement for Pierce, there's a better chance that he's the next Tony Allen.
Joseph is an energy guy who can jump out of the gym and it's possible that the Celts could harness that and drill him into becoming a defender on the level of Allen, who was on his way to elite status in that department when he played in Boston and achieved it with Memphis.
It's tough to see him getting much run on this roster though. Maybe he'll show the coaches something in training camp, practice and garbage time to earn a chance to get on the floor. The more likely outcome is that he'll be at the end of the bench wearing some snazzy threads.
Stock: DOWN