10 Fun MMA Prop Bets for the Rest of 2012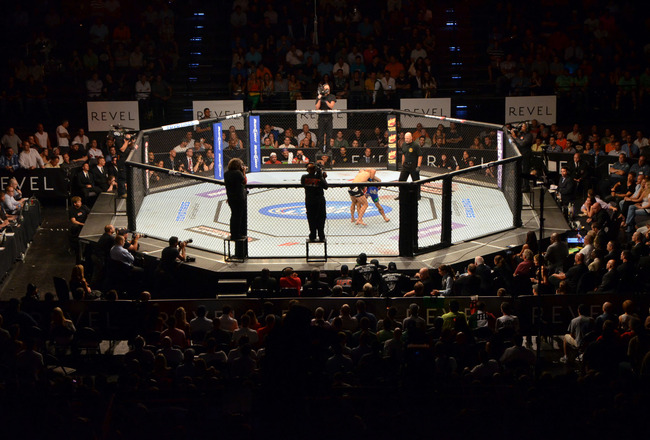 Joe Camporeale-US PRESSWIRE
Are you a betting man or woman? Perhaps the type that likes to indulge in a wager or two without having to stake anything on the off chance your forecasts prove ill conceived?
If so, I've got just the exercise for you.
The following slides contain 10 MMA proposition bets that you can take a run at without so much as laying down a red cent.
Just leave your predictions in the comments section and await the sweet sensation of validation as each outcome comes to fruition.
The only drawback of not having to stake your guesses is, of course, you won't be making a whole lot even if you score 10 out of 10.
Still, what's wealth when juxtaposed with the pride of being right?
Take a stab at it. But remember, don't hold your breath for a check in the mail.
Jon Jones vs. Vitor Belfort Fight Length: Over/Under 2 Rounds?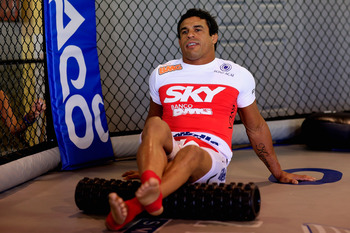 Chris Trotman/Getty Images
There aren't a lot of people giving Vitor Belfort much of a chance against Light Heavyweight Champion Jon Jones, so rather than amping up the odds on the fight's outcome, let's take a different angle: will the "Phenom" survive two rounds?
Or, if you want to look at it in a less assuming light, we can also include the the query of whether or not Jones is able to survive two rounds with Belfort.
Regardless, I'm setting the over/under at two rounds for the UFC 152 main event. On which side of the line are you standing?
After UFC 152, How Many UFC Main Events Will Survive Injury?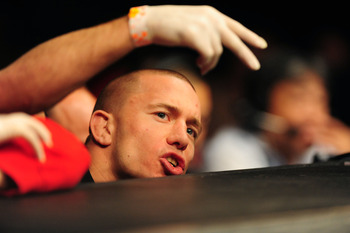 Mark J. Rebilas-US PRESSWIRE
2012 could unofficially be dubbed the year of the injury. Countless would-be main events (and non-main events) have been waylaid, causing the the promotion to put together patchwork cards.
After UFC 152, an event that saw one of it's main-event competitors drop out because of injury, there will be eight more UFC shows in 2012. Of those events, the following main events are planned:
UFC on Fuel TV 5: Stefan Struve vs. Stipe Miocic
UFC on FX 5: Travis Browne vs. Antonio Silva
UFC 153: Anderson Silva vs. Stephan Bonnar
UFC on Fuel TV 6: Cung Le vs. Rich Franklin
UFC 154: Georges St-Pierre vs. Carlos Condit
UFC on FOX 5: Ben Henderson vs. Nate Diaz
UFC on FX 6: George Sotiropoulos vs. Ross Pearson
UFC 155: Junior Dos Santos vs. Cain Velasquez
How many of these fights will actually happen? I'm setting the over/under number at 5.5.
What do you think?
How Many Grievous PR Missteps Can Jon Jones Make by the End of the Year?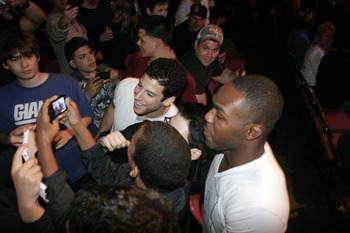 Joe Camporeale-US PRESSWIRE
The UFC 151-turned-152 fiasco was a watershed of public mishaps for Jon Jones, and came on the heels of his alcohol-induced collision with a telephone pole.
While it seems that things can't get much worse for Jones' public image, there are almost three-and-a-half months left in the year, and the pace he is on right now suggests he may fit in a handful more before 2013.
What does the fall and early winter have in store for Jones? More foot-in-mouth moments, or has he come out of the UFC 152 catastrophe and its subsequent fallout a wiser man?
His first test will be addressing what will almost certainly be a disapproving crowd on September 22 after he takes on Vitor Belfort.
The chances are pretty good the aftermath of Saturday's contest yields something, but after that we're working with a one-strike rule.
I'm setting the over/under at 1.5 debacles.
What do you think, over or under?
Will Season 16 Be the Least Watched Ultimate Fighter Ever?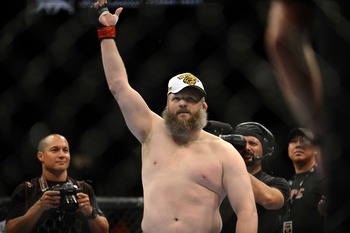 Ron Chenoy-US PRESSWIRE
The Ultimate Fighter 16 debuted to an audience 947,000 strong. Sure, that's a big number, but it represents the smallest TUF premiere audience in the history of the series.
Ratings have dwindled over the past few seasons of the UFC's reality show, leading to concerns that perhaps the format for finding talent has run its course.
Beyond the premise becoming tiresome, explanations for the show's decline range from employing coaches who lack star power, to a Friday timeslot that must compete against the allure of a night on the town, in addition to rival programming.
Regardless of why, the show is most certainly in a rut. Will it hit a new low in terms of ratings?
Will Any Strikeforce Stars Leave for the UFC in 2012?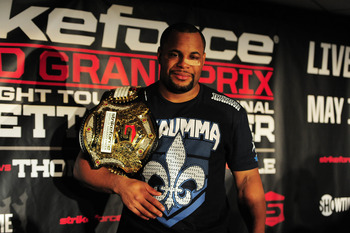 Kyle Terada-US PRESSWIRE
Though Strikeforce continues to operate independently of the UFC, the smaller promotion has a few fighters I'm sure Dana White would love to bring to the big stage.
Guys like Daniel Cormier, Luke Rockhold and Gilbert Melendez, to name a few, seem capable of finding success in the most accomplished MMA organization on the planet, and could doubtlessly infuse some life into the promotion.
Cormier, perhaps the brightest star of them all, actually pulled UFC veteran Frank Mir into a Strikeforce bout, but the former heavyweight champion had to bow out after suffering an injury while training.
So maybe Cormier could make the jump the other way? Or maybe someone else will?
Only time will tell, unless you'd like to help. So go ahead, will a Strikeforce star join the UFC ranks before New Year's Day?
Will a Clear No. 1 UFC Middleweight Contender Emerge in 2012?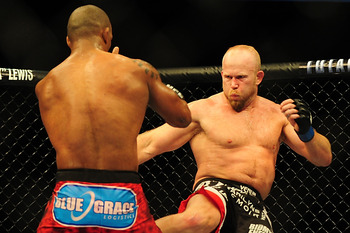 Anne-Marie Sorvin-US PRESSWIRE
Right now we've got Michael Bisping, Brian Stann, Chris Weidman, Tim Boetsch and Alan Belcher; maybe Vitor Belfort as well.
Bisping and Stann are set to square off at UFC 152, and Weidman and Boetsch will fight on December 29, at UFC 155. Will those eliminators be enough to sort out the muddle, or will more whittling away be necessary in 2013?
That Anderson Silva is now set to face Stephan Bonnar at UFC 153 makes it seem as though there may be enough time for another round of contender fights to take place before anyone gets a crack at the middleweight strap.
So how about it, will a middleweight contender earn a title shot before the end of the year, or will that ambition require more work in 2013?
Will St-Pierre vs. Silva Be Booked by New Years?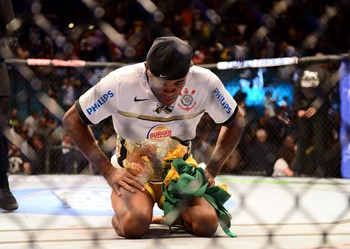 Mark J. Rebilas-US PRESSWIRE
A possible foil to all aspiring UFC middleweights is Anderson Silva's preference to fight Georges St-Pierre.
While it is outright ridiculous to assert the super-fight could go down before that giant ball drops in Time Square this year, it is less inconceivable that it could at least be scheduled in 2012.
Whether the fight ever happens could function as a stand alone prop bet, so one with a December deadline might garner few takers. Still, crazier things have happened.
What kind of odds would you need to bet on this happening?
Will Any Champion of a Major Organization Lose a Fight in 2012?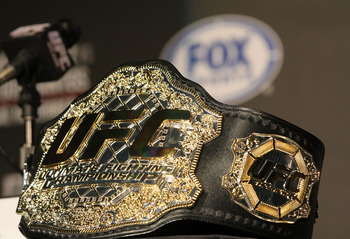 Victor Decolongon/Getty Images
Before you go thinking that you are all clever saying "yes," believing that Carlos Condit vs. Georges St-Pierre makes this inevitable, interim champs are not included.
Also note that Anderson Silva is included, as the bet regards losing a fight, not necessarily losing a title.
We've got Junior Dos Santos, Jon Jones, Silva, GSP, Ben Henderson, Luke Rockhold and Gilbert Melendez all competing before the calendar year winds down. Will there be any casualties among the group?
Yes or no? If yes, who?
Which British Fighter Will Impress the Most at UFC on Fuel TV 5?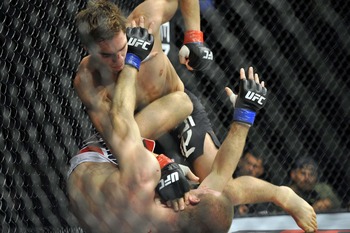 Joe Camporeale-US PRESSWIRE
Set for Nottingham, England, September 29, UFC on Fuel TV 5 is loaded with British talent. Of the 22 fighters set to compete, 10 identify as British.
The stage is set for the nation to assert itself as player on the mixed martial arts scene, and will also provide the individual opportunity for a handful of Brits to improve their professional station.
Featured on the card are some already well-known fighters like John Hathaway, Dan Hardy and Brad Pickett, but even they have room to stretch, both in terms of notoriety and proximity to a UFC title.
Here's the list of British fighters that will participate at UFC on Fuel TV 5:
Dan Hardy
Brad Pickett
Paul Sass
John Hathaway
John Maguire
Che Mills
Jimi Manuwa
Andy Ogle
Tom Watson
Jason Young
Who will put in the top performance?
Decision Robberies in 2012: Over/Under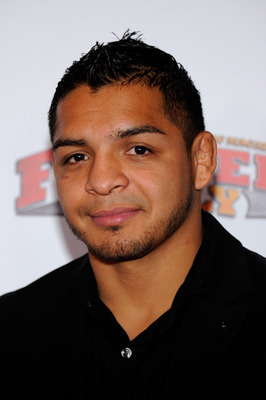 Ethan Miller/Getty Images
Close fights that go the distance invariably leave one fighter disappointed and a number of fans frustrated. But close, controversial decisions are not what I'm talking about here.
What I am talking about is one-sided fights with a clear winner and a clear loser, and a result that mixes the two up. Remember the first fight between Mauricio Rua vs. Lyoto Machida? Decisions like that.
They happen from time to time and make you want to reconsider your love for the sport, if only for five or 10 seconds. Still, they play with your emotions like a raging sea tossing about a tiny raft, and generate the same gut-wrenching sensation, even if you really don't care much for either fighter involved.
There are three-and-a-half months left in 2012 and a collection of UFC, Bellator and Strikeforce events to come.
How many robberies do you see coming before the year is out? With cautious optimism I'll set the over/under at 1.5.
And in case it impacts your decision, Leonard Garcia does not have a fight scheduled for the remainder of the year.
Keep Reading