Kent State vs. Buffalo: Live Scores, Analysis and Results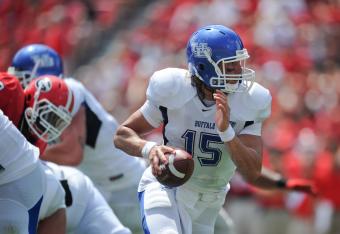 Kevin Liles-US PRESSWIRE
Well, it wasn't the prettiest nationally televised game we will see this college football season.
Nonetheless, the Kent State Golden Flashes came away with a 23-7 victory over the Buffalo Bulls in a special Wednesday night clash between MAC opponents.
The star of the game for the Golden Flashes was running back Dri Archer, who came away with 159 yards on just 16 touches and also scored a critical touchdown for his team. The 5'8" speedster seemingly put a jolt of lightning into the Kent State offense every time he touched the ball, and the Bulls' defense had almost no answer for his quickness.
This win puts Kent State at 2-1 for the season and gives the Golden Flashes a leg up in the East division of the MAC.
For the Bulls, things looked dire offensively from the outset and only got worse when star running back Branden Oliver went down with an injury. Buffalo quarterback Alex Zordich went 4-of-22 passing for 92 yards and threw one touchdown against two interceptions.
The touchdown came on a brilliant Hail Mary throw to wide receiver Alex Neutz as time expired in the first half. However, that was all the offense the Bulls could manage on Wednesday night.
With a big matchup against the Connecticut Huskies next week, it's critical that Buffalo gets its offense back in shape.
If you checked in with our live blog tonight, we hope you had fun. If not, be sure to scour the play-by-play action and analysis from the Golden Flashes' victory.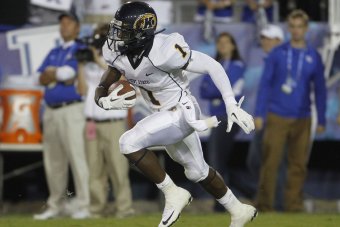 Mark Zerof-US PRESSWIRE
An incomplete pass from Buffalo quarterback Joe Licata ends a futile last-ditch drive attempt as the clock strikes zero.
Final Score: Kent State 23, Buffalo 7
TOUCHDOWN! Kent State running back Julian Durden barrels in for a two-yard score to put the Golden Flashes ahead 23-7 with 43 seconds remaining in the game.
Both sides of the ball for Buffalo have been dominated by Kent State all game long, so the Golden Flashes definitely deserve to come away victorious here. Without some staunch red zone defense from the Bulls, the score could have been a lot worse.
Well, that was quick. Instantly after entering the game, Bulls backup quarterback Joe Licata comes in and tosses an interception right back to Kent State.
For all intents and purposes that should end any chance that Buffalo has at coming back.
INTERCEPTION by Buffalo inside the end zone!
Buffalo linebacker Khalil Mack has been absolutely sensational tonight. Has 11 tackles and a sack thus far and looks like the unquestioned leader of the Bulls defense.
Holding on Kent State lineman Casey Pierce puts the ball back to the Buffalo 12-yard line.
Kent State drives instantly down to the 1-yard line and looks on the verge of punching in yet another score. If the Bulls can somehow keep the Golden Flashes out of the end zone again here, it could shift the momentum.
Anything else, however, would likely be the game-clincher for Kent State.
Perhaps I spoke too soon. Three straight Zordich incompletions give the ball to Kent State inside Buffalo territory after a failure on fourth down.
Just 8:50 remains, so this upcoming drive for the Golden Flashes could be the death knell for the Bulls.
A completion by Zordich!
Probably not worth the bolding, but it was his first of the second half. Perhaps the Bulls quarterback can get something going on this critical drive.
Announcers seem focused on how Branden Oliver's absence is hurting the Buffalo offense. Seems like they didn't watch the first half where the offense struggled with Oliver.
Wow, if Buffalo finds a way to come back and win this game, you can point out red zone defense as the biggest factor. Another Golden Flashes drive stalls deep inside Bulls territory and Cortez knocks down a 21-yard field goal to give Kent State a 16-7 lead with 9:54 left in the fourth quarter.
Pass interference penalty gives Kent State drive another life. Golden Flashes running back Trayion Durham bursts up the middle for a 24-yard gain on the next play to put his team in a position to score.
A touchdown would probably end the game at this point. Buffalo's offense has not shown enough explosiveness for me to have any confidence in the unit getting into the end zone twice from here on out.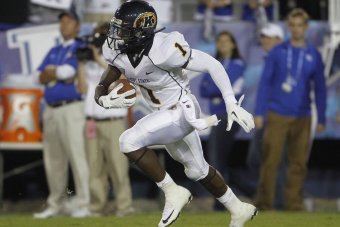 Mark Zerof-US PRESSWIRE
After having a fantastic second half, Golden Flashes running back Dri Archer has been stymied at the line of scrimmage on almost every play.
Well, we got out answer: Zordich is still in the game.
David Fisher has continued taking the snaps for Kent State. You have to wonder whether Buffalo head coach Jeff Quinn will pull a copycat move and pull Zordich considering his ineffectiveness.
The third quarter ends with Kent State facing a 3rd-and-11 at its own 44 yard line. The Golden Flashes still lead 13-7 as we head to the final quarter.
Oh, hey, another punt for Buffalo punter Tyler Grassman.
There have been 13 punts and 20 points scored so far tonight.
The Golden Flashes subsequent drive stalls, giving us our 12th punt of the night. For a conference that almost always gives high-scoring, exciting contests, Wednesday night has been the rare defensive struggle in the MAC.
Score Update: Kent State 13, Buffalo 7 (2:42 remaining in the third quarter)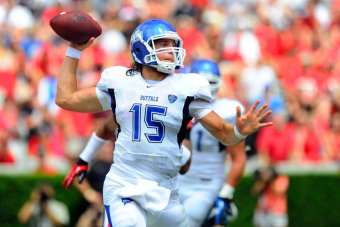 Dale Zanine-US PRESSWIRE
INTERCEPTION by the Golden Flashes! Kent State will take the ball back at its own 2-yard line.
For Buffalo quarterback Alex Zordich, this nightmare of a night just continues. His stat-line with 6:26 remaining in the third quarter: 3-of-17, 80 YDS, 1 TD, 2 INT.
Without that 46-yard Hail Mary touchdown pass, it could even look a lot uglier than that.
Fifteen-yard personal foul by Kent State linebacker J.J. Sanders puts the Bulls in Golden Flashes territory. Absolutely the definition of a bailout penalty right there.
Kent State's drive stalls and Cortez connects on a 33-yard field goal to give the Golden Flashes a 13-7 lead with 8:25 remaining in the third quarter.
And there's our big play! Kent State quarterback David Fisher connects with Trayion Durham for a scintillating 40-yard catch and run.
The Golden Flashes are now well inside Bulls territory and should at least come away with three points here. Considering Buffalo's inability to get on the board (outside of the end-of-half Hail Mary completion), a six-point lead could wind up being the difference.
More stagnation on both sides offensively to start the second half. All it's going to take is one big play to break this open for one of these teams.
Scott Cunningham/Getty Images
Buffalo running back Branden Oliver with the offense for the Bulls' first offensive possession. Brandon Murie seems to be taking his place.
Considering the offense's ineffectiveness running the ball, this could prove to be the biggest story in the second half. Oliver had 70 yards and seemed to be Buffalo's only player that could get effective gains against the Golden Flashes' defense.
Update: Oliver's day is done.
And we are underway in the second half. Let's see how these teams adjust after an up-and-down first half.
This article is
What is the duplicate article?
Why is this article offensive?
Where is this article plagiarized from?
Why is this article poorly edited?