Chelsea vs. Juventus: 6 Things We Learned in 2-2 Draw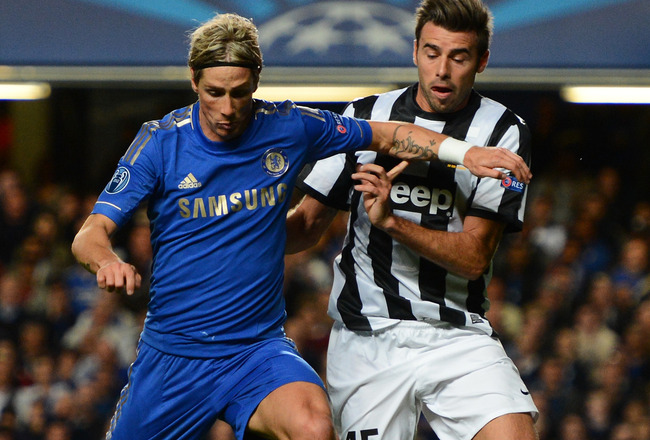 Mike Hewitt/Getty Images
Chelsea got their Champions League defence underway with a 2-2 home draw against Juventus at Stamford Bridge on Wednesday night. It was not a bad result in and of itself against the Italian champions, but perhaps Roberto di Matteo learned one or two things about his side after they surrendered a two-goal lead.
A full debut was handed to the Brazilian Oscar and he responded in style with a two-goal haul inside two minutes, first beating Gianluigi Buffon with a deflected, looping shot and then curling an absolutely glorious second goal home from outside the box.
Arturo Vidal pulled one back before half time and Fabio Quagliarella scored the equaliser with just 10 minutes left, though it could have been even worse for Chelsea with the Italian forward hitting the crossbar just a few moments later.
Here are six things we learned in the 2-2 draw.
Fernando Torres Needs to Have More of an Impact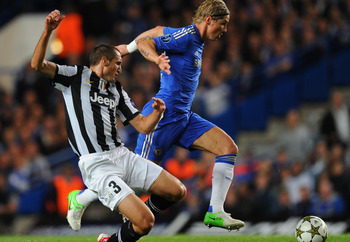 Mike Hewitt/Getty Images
Fernando Torres mentioned after his recent strike against QPR that it was natural for him to be playing well and scoring goals, since he was in the team more often.
The £50 million striker has scored two goals in four games this season, but rarely threatened against Juventus despite playing the entire 90 minutes following his post-substitution theatrics at the weekend.
Torres has wanted a starting role at Chelsea and now he has got one. He needs to start providing goals in the biggest games to show that he warrants keeping it.
Oscar Announces Himself to Chelsea Fans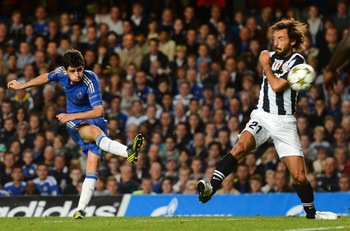 Mike Hewitt/Getty Images
After a few cameo appearances off the bench, Brazilian playmaker Oscar announced himself big time to the Stamford Bridge support with two fine goals, the second of which was as good as anything you'd see from the world's best players.
Oscar flitted in and out the game for the first half hour or so before his two-minute brace, but he did show neat touches, good movement and on several occasions linked up with Ramires on the right and Eden Hazard down the left.
Overall, though, it will be the second of his two goals which lives long in the memory. Chelsea will be hoping that's just the start, with plenty more to come.
Defensively, Problems Still Circulate for the Blues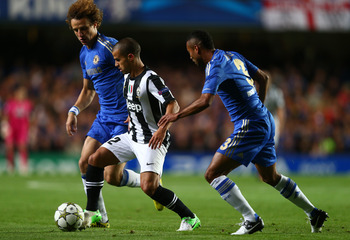 Clive Rose/Getty Images
Build up a two-goal lead at home in the Champions League and you would expect most good sides to see out the victory. Chelsea would certainly consider themselves a good side, what with being the reigning champions and all.
But defensively, they were exposed a number of times by Juventus despite having a majority of possession in the game.
In the first half, Sebastian Giovinco found himself in plenty of space on a number of occasions and used the channels well, though his end product was woefully lacking.
Mirko Vucinic should have made Chelsea pay for their lax marking just a moment before Oscar opened the scoring. Claudio Marchisio made a mockery of the relatively high back line with a fine run, unmarked, from deep.
The equalising goal came 10 minutes before the end of the game, and it probably says everything about Chelsea's defensive inadequacies that at that stage of a tight game, against quality opposition, Fabio Quagliarella had time to control the ball and run around it to open himself up for a right footed shot, without any defender getting close enough to put in any kind of a challenge.
Much better is required if Chelsea are to have an impact on this year's edition of the Champions League.
Jon Obi Mikel: Not Good Enough?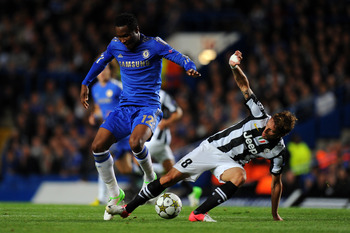 Mike Hewitt/Getty Images
Let's clear something up before we go any further: nobody should suggest Jon Obi Mikel is, in general, not a good holding midfielder. He is. He's a good tackler, plays simple passes and has a good engine.
But is he good enough for a side with an awful lot of attacking flair, needed in position to balance out that natural attack-minded half of the team?
Arguably not, or at least he isn't showing it. Mikel's positioning is somewhat suspect at times and he lacks consistency to be considered anywhere near a great defensive midfielder.
He was thoroughly left in the dark by the alternating runs of Marchisio and Vidal and has definitely got the look about him at present of a player who has been left behind by his own team's recent upgrades in personnel.
Chelsea Should Have Enough to Get out of the Group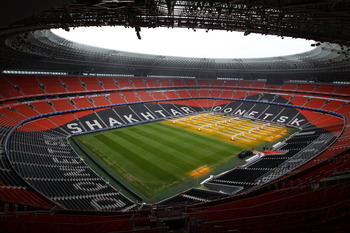 Alex Livesey/Getty Images
Despite only taking a single point at home in their opening group game, Chelsea should have enough in their squad, particularly in the final third of the pitch, to make it through the group and into the knock-out stage.
Juventus will certainly be the strongest team in the group aside from Chelsea themselves, though they will now have to get something out of at least one of their away games.
Shakhtar Donetsk will be no easy fixture, home or away, and the Ukranians are top after defeating Nordsjaelland 2-0.
The blues will have to win their remaining two home fixtures. An away win in Denmark will likely be enough to see them through, with even a draw in either Italy or Ukraine a big step towards qualification if they manage it.
Defending Their Title Is Going to Be Extremely Difficult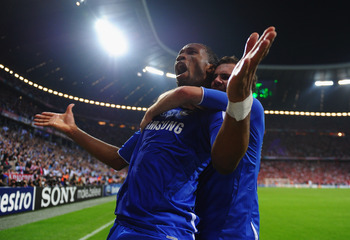 Laurence Griffiths/Getty Images
Getting out of the groups is one thing. Becoming the first side to defend their title since the format changed to the Champions League is quite another.
Chelsea are good enough and have enough depth to go on a decent run—though of course the effects of the draw cannot be predicted—but sides such as Barcelona, Bayern Munich, Manchester City, Manchester United and Real Madrid all appear stronger, and considerably so in some cases.
Then again, it is not always the strongest side which wins the title, as was showcased by Chelsea themselves last year.
It will be a long and difficult road for them to even come close to emulating last season's success—but Roberto di Matteo and his team should enjoy it and provide good quality football every step of the way.
Keep Reading

Chelsea: Like this team?