10 Bold UFC Predictions for 2013
Ron Chenoy-US PRESSWIRE

2012 has been a rough year for the UFC.
It seems that every main event fight has been cancelled, champions Georges St-Pierre and Dominick Cruz haven't been able to fight once all year and a couple of the most polarizing fighters the promotion has on its roster in Nick Diaz and Alistair Overeem found themselves on the wrong end of suspensions in the early part of the year.
However, with the last few months of the calendar year stacked with great fights, the organization should be in great shape heading into 2013.
As long as everyone stays healthy (and drug-free), 2013 should be one of the most exciting years in the history of the UFC, and here are a few bold predictions that could make next year even crazier than the insanity that was 2012.
Begin Slideshow

»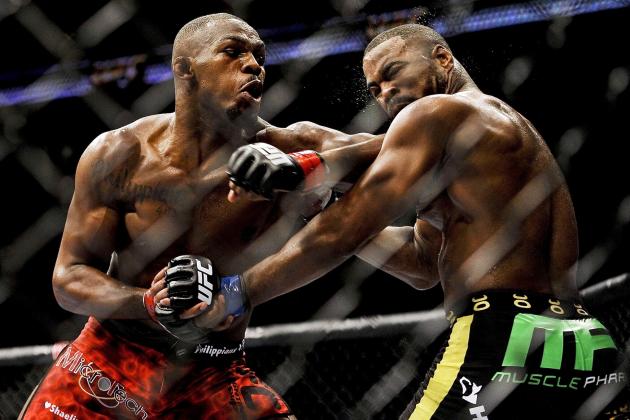 Paul Abell-US PRESSWIRE

Over the course of Anderson Silva's dominant reign over the middleweight division, we've seen the middleweight champion forced to move up in weight numerous times, and the same is going to happen to Jon Jones at some point in 2013.
Jones is going to beat Vitor Belfort this weekend, and once he does, he's going to be forced to wait a long time without defending his title.
Top contenders Dan Henderson and Lyoto Machida are reportedly due to fight each other at some point later this year, but that would leave Jones on the sidelines for nearly six months if he were to fight the winner of that bout, and there aren't many options at 205 that will be ready in the same time frame.
A heavyweight bout against someone like Frank Mir or Antonio Rodrigo Nogueira in early 2013 would be a great free TV main event for Jones to fight in, and a win over a top 10 heavyweight would be another great name on Bones' resume.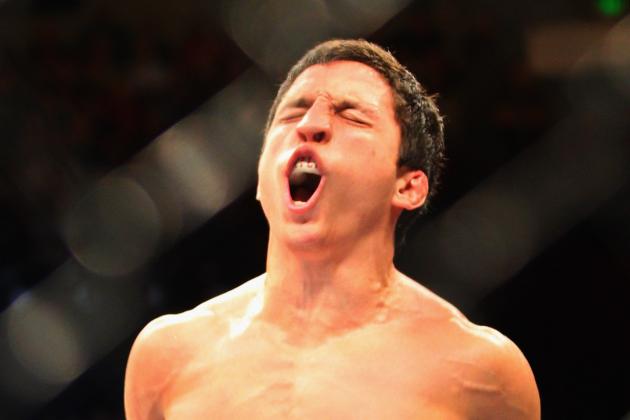 Mark Kolbe/Getty Images

A lot of this prediction hinges on Joseph Benavidez defeating Demetrious Johnson for the UFC flyweight belt this weekend, but once he does, Benavidez should dominate the 125-pound division for at least the next 12 months.
The Team Alpha Male fighter has been called the uncrowned flyweight champion for a few years now, and once he defeats Johnson, he'll have far less trouble when he fights other top contenders like Jussier Formiga and John Dodson in the future.
Holding on to a UFC title is one of the toughest jobs in sports, but Benavidez is about to start a lengthy title reign this weekend.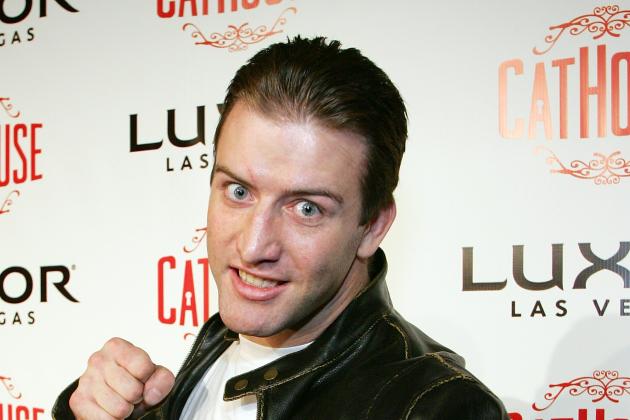 Ethan Miller/Getty Images

We can talk about the incredible opportunity that Stephan Bonnar has against Anderson Silva at UFC 153 all we want, but the truth is that Bonnar is basically throwing himself to the wolves because the UFC asked him to.
Unless Bonnar somehow pulls off a miracle and defeats Silva, he'll likely be right back in the situation he was in before the UFC 153 debacle, but this time, I think the UFC will reward him by giving him exactly what he wants.
Bonnar has been campaigning to be a coach on The Ultimate Fighter for a long time now, and his dream matchup with Forrest Griffin to bring the show full circle actually makes a lot of sense at this point.
Ratings have been slightly decreasing over the last few seasons, and perhaps a bit of nostalgia with Bonnar and Griffin trading one-liners would be enough to gain some interest back.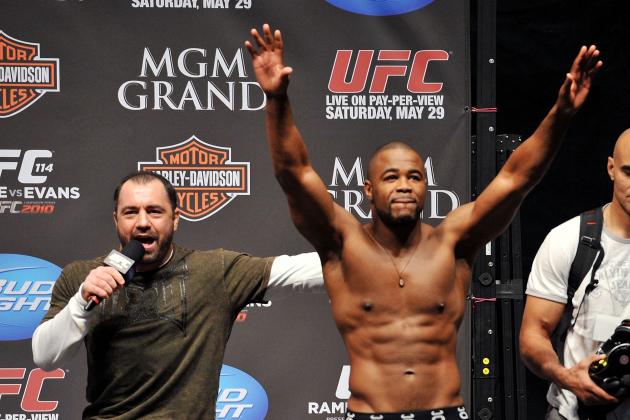 Jon Kopaloff/Getty Images

While it seems that every other top contender at light heavyweight has found himself an opponent for the end of the year, Rashad Evans is sitting on the sidelines with no logical dance partner.
With no one on his radar at 205, and a long road back to that title as long as Jon Jones is on top anyway, Evans is in need of a change of scenery that the middleweight division could provide.
The UFC would love to have a big-name opponent for Silva to defend his belt against next year, and if Michael Bisping is unable to earn his way into a title bout soon, Rashad could be the last viable option for the organization to make some PPV dollars.
He may need a win over someone like Jake Shields, or even a 185 lb. Vitor Belfort to make it happen, but "Suga" will find himself in another title fight in 2013.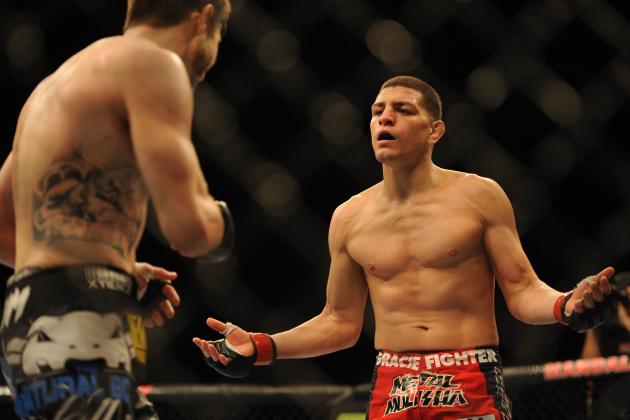 Kelvin Kuo-US PRESSWIRE

One of the UFC's most popular and controversial fighters is set to make his return in February, and when Nick Diaz finally steps back into the Octagon, he'll be a fighter to keep an eye on in 2013.
A rematch with Carlos Condit seems likely, especially if Condit falls to GSP in November, and if Diaz is able to adjust his gameplan and perform better than the first time they fought, he could easily find himself on the winning side of the judges scorecards.
A win of any sort at welterweight is going to put Diaz in prime position to fight Georges St-Pierre, and a summer matchup between two of the most polarizing fighters on the UFC roster would be a lot of fun for everyone involved.
Let's just hope the UFC assigns someone to keep Diaz on a leash so he doesn't take off prior to any media appearances.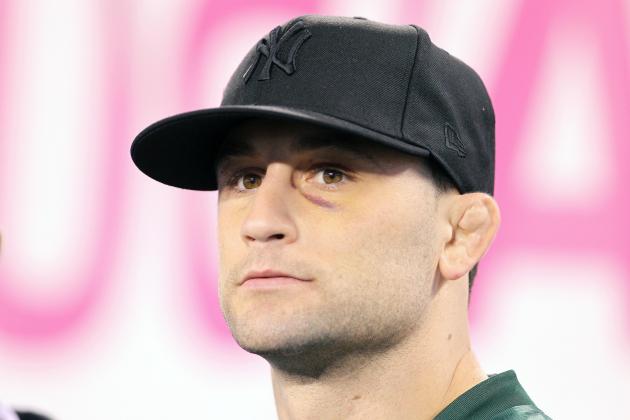 Ed Mulholland-US PRESSWIRE

To be completely honest, I'm not 100 percent sure how Frankie Edgar is going to pull this one off.
Jose Aldo is one of the best fighters in the world, and he's earned that title, but for some reason, I feel like it would be a huge mistake to pick against Frankie Edgar when the two finally compete for the UFC's featherweight belt.
Maybe I've just been burned by Edgar one too many times, as he was able to prove me wrong multiple times against both BJ Penn and Gray Maynard, but I just can't seem to bring myself to pick against Edgar in a big fight, and I believe he's going to get the win here.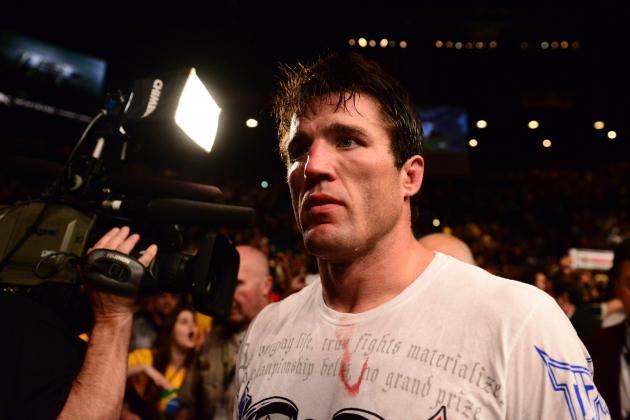 Mark J. Rebilas-US PRESSWIRE

It seems crazy that MMA fans are going to let him do it again, but the seeds have already been planted for Chael Sonnen to use his WWE style promo skills to jump to the front of the pack at light heavyweight.
Sonnen has been going after Jon Jones since the day he announced he was moving up to the 205 lb. weight division, and following the well-publicized UFC 151 fiasco, he seems to be within range of earning himself a title shot soon.
A December bout against Forrest Griffin will go a long way in proving if Sonnen is ready to fight one of the best in the world again, but a win for the "Gangster from West Linn" would pretty much instantly throw him into the mix.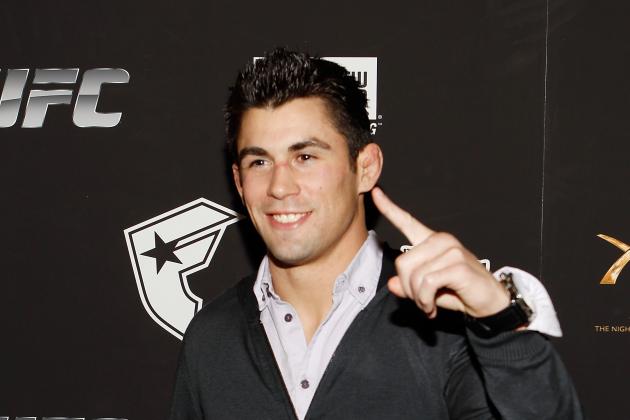 Isaac Brekken/Getty Images

No bantamweight has looked as scarily dominant as Renan Barao over the last couple of years, but the young Brazilian is going to have his hands full when he attempts to shed the interim tag from his title against Dominick Cruz next year.
Cruz has defeated some of the best fighters under 145 lbs. in the sport over the last few years, including the two men fighting for the flyweight title this weekend in Joseph Benavidez and Demetrious Johnson, and his streak will continue when he fights Barao in early 2013.
Despite Barao's high-level skills and monstrous win streak, he is going to have a hard time dealing with the speed and footwork that "The Dominator" brings to the table, and the champion should cruise to an easy decision win.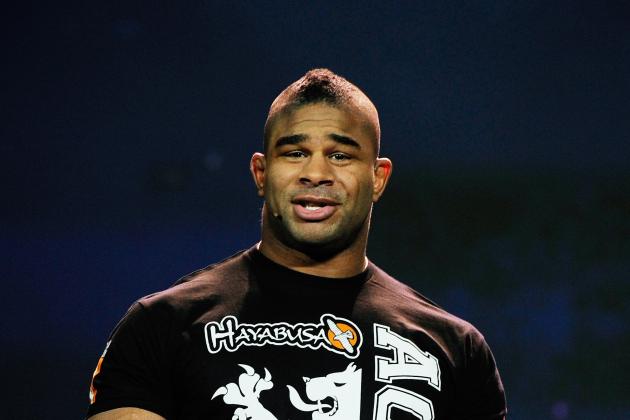 Kevork Djansezian/Getty Images

Despite the fact that he has only won a single bout inside the UFC octagon, many fans consider Alistair Overeem to be the best heavyweight in the world.
I'm not one of those fans.
Due to his popularity and a physique that makes him look like he's been created in a lab somewhere, there's little doubt that Overeem will get a title fight when he returns to the cage next year, but he won't win regardless of whom he fights for the belt.
Junior Dos Santos may be the only fighter in the heavyweight division that could stand and bang with the former K-1 kickboxer, and "Cigano" has the power to end the night early if he puts his hands on Overeem.
If Dos Santos loses his belt to Cain Velasquez in December, then Overeem is in even more trouble.
Velasquez has some of the scariest wrestling and ground-and-pound the heavyweight division has seen in a long time, and it wouldn't take long for him to drag Overeem to the mat.
Regardless of who he gets to fight for the belt, Alistair Overeem will not become a UFC champion in 2013.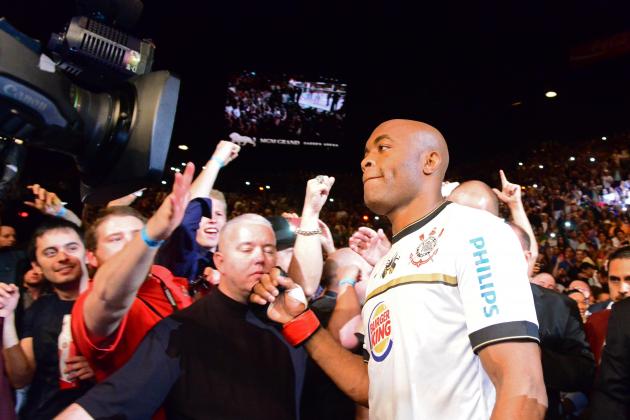 Mark J. Rebilas-US PRESSWIRE

We've been teased with this potential super fight roughly a dozen times, but I think 2013 may actually be the year where we get the biggest fight in the history of the sport.
As Silva waits for the UFC's middleweight title scene to sort itself out, he's been thrown into a short notice bout against Stephan Bonnar at UFC 153 in the 205-pound weight class, and as long as "The Spider" takes care of business against Bonnar, we should be in prime position to get this fight.
St-Pierre is in a slightly tougher situation, with a title unification bout against Carlos Condit on the horizon, but if GSP is able to leave UFC 154 in Montreal with his belt, there's no bigger fight for him to take than one against Silva.
While both the middleweight and welterweight divisions have a few fighters within striking distance of a title shot, no one in either weight class has truly separated themselves from the pack, which should lead to the fight fans have been begging for to finally be made early next year.