Liverpool FC: 6 Most Famous Wins over Manchester United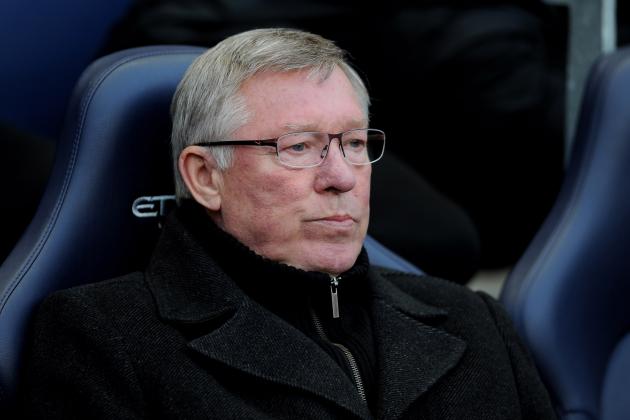 Michael Regan/Getty Images

Liverpool welcome Manchester United to Anfield this Sunday in what is one of the most anticipated derbies in the English Premier League.
Following the events of the past week, courtesy of the Hillsborough findings, the game at L4 promises to be an emotional encounter.
Certain sections of Manchester United supporters, with their unsavoury chants, managed to escalate tensions coming into this weekend, leaving executives from both clubs hoping for a spotless game.
On-field, however, Brendan Rodgers' nightmare just got bigger.
As of this writing, the boss is probably praying for a good result in the tricky Europa League opener against Swiss side Young Boys tomorrow.
A scratchy draw against Sunderland did nothing to reinstate confidence in the supporters' minds, but many consider it to be a sign of better things to come and that the team are finally underway this season.
Sir Alex Ferguson will come face-to-face with the seventh Liverpool manager in his time at Manchester United.
And the Anfield folks would absolutely love it if Rodgers could land a telling blow as a token of appreciation.
Blows like the ones that follow…
Begin Slideshow

»
Dirk Kuyt scoring a hat trick was the highlight of this game, as Liverpool, powered by Luis Suárez, ran riot at Anfield.
A late consolation from United striker Javier Hernandez was all that Fergie could savour from this outing.
Although this result did little in stopping them from knocking Liverpool off the perch, as the Red Devils went on to clinch title number 19, a brilliant Luis Suárez irritating the knickers off of Rio Ferdinand and Patrice Evra was classic!
This match was the high point in Liverpool's epic title chase under Rafael Benítez during the 2008-09 season.
United went ahead courtesy of a Cristiano Ronaldo penalty, but Fernando Torres soon brought parity to the scores.
What followed next was a barrage of embarrassing Old Trafford moments—only bettered by Man City's 1-6 drubbing—as Liverpool rallied from behind to absolutely decimate their foes.
The result, however encouraging, went in vain, as Manchester United once again thwarted the threat to their crown at the end of the season.
What a memorable day it was!
Alex Ferguson's boys came down to Anfield following three previous defeats at the hands of the Merseysiders.
His misery was not yet over as Michael Owen's brace and an absolute thunderbolt from John Arne Riise condemned the Red Devils to a defeat.
That season remains the only time since the Premier League's inception that Liverpool managed to finish above Manchester United.
Alex Ferguson, who was on course to retire at the end of the season, did a U-turn and opted to stay at the club, perhaps spurred on by this defeat!
Before Dirk Kuyt broke it, it was Peter Beardsley who held the record for scoring a hat trick in a league match versus Manchester United.
Beardsley and Barnes tore through the Manchester United lineup in this game and Fergie's boys left Anfield with their tails firm between their legs.
Kenny Dalglish's resignation closer to the end of the season, however, ensured that Liverpool lost the momentum, thus conceding the title to Arsenal.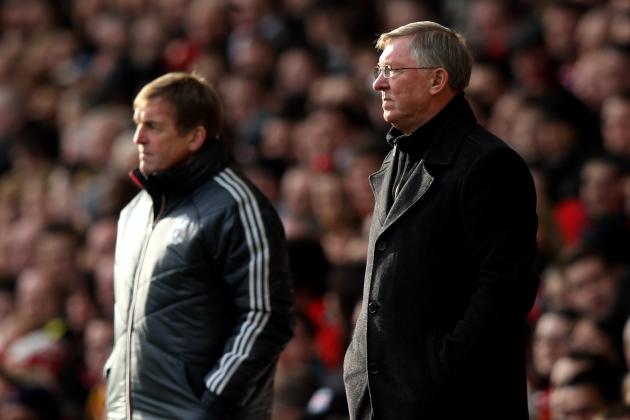 Alex Livesey/Getty Images

Manchester United has never had it easy when at Merseyside.
The 1994-95 season, which saw the Kenny Dalglish-led Blackburn Rovers emerge as competition to Ferguson's United, was no different.
United went into the game trailing the Rovers and needing a victory to keep their title hopes alive. Liverpool, buoyed by a vociferous Anfield crowd, however, scuppered any chances of that by comfortably defeating their fierce rivals.
To add insult to injury, Liverpool's second goal was, in fact, an own goal by United's Steve Bruce.
If the previous entry on this list only partially hampered United's title chances, this victory here directly forbid them from glory.
A rejuvenated Manchester United had led for most of the season, with close rivals Leeds United behind them. After a string of uninspiring results, United lost the lead to Leeds United, who led by a threadbare margin.
In the penultimate game of the season, United traveled to Anfield in a must-win encounter, but as it turned out, it wasn't to be.
Ian Rush and Mark Walters condemned Ferguson's side to a 2-0 defeat, which resulted in Leeds winning the last old Division One Championship.
Ferguson had to wait another year before league success dawned on his time at Manchester United.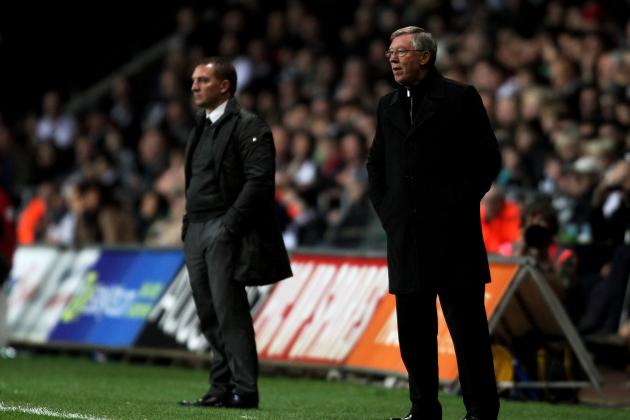 Scott Heavey/Getty Images

Brendan Rodgers needs to win in order to justify the hope that Liverpool supporters have placed on him.
Rodgers must win this encounter, not because it hurts our Champions League ambitions, but because there are only a few things that Liverpool fans take light of.
Defeat by Manchester United certainly isn't one of them.