49ers vs. Vikings: 10 Keys to the Game for San Francisco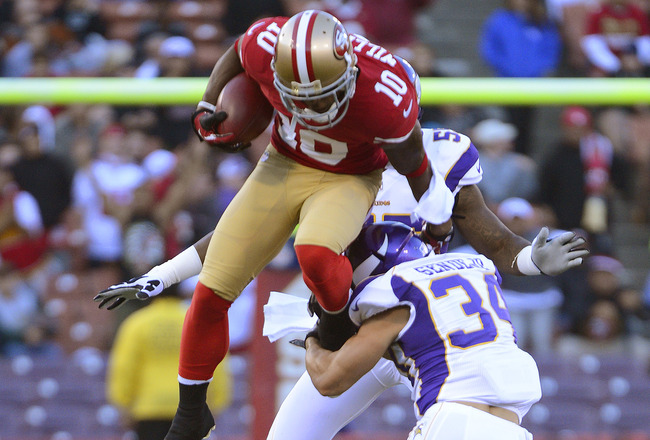 Thearon W. Henderson/Getty Images
Lo and behold, the San Francisco 49ers are undefeated—2-0 to start the 2012 regular season.
It's been such an exciting start to the season. The Niners are performing with confidence and swagger, and thus their fans can watch with the same mindset. This team must be on a high, ranked No. 1 in NFL and ESPN.com's most recent Power Rankings.
It's unanimous: The 49ers are currently the best team in professional football.
But it's early, and the Niners need to maintain focus and keep forging ahead. Next up on the schedule, the Minnesota Vikings will play host to the 49ers in Week 3. This game will mark the third straight NFC North opponent for San Francisco this season.
The Vikings currently sit at .500, looking to get a big win that two of their top divisional opponents could not secure. It will be quite a test for both teams, as San Francisco kicks off a two-game road trip at a noisy Metrodome in Minnesota.
For San Francisco's keys to victory, proceed through the following slides.
Expect Their Best Shot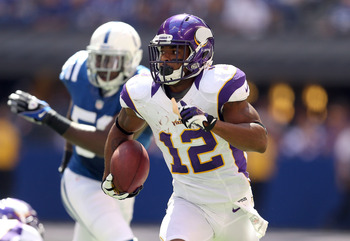 Andy Lyons/Getty Images
The 49ers (2-0) versus the Vikings (1-1) definitely qualifies as a trap game.
San Francisco just prepared for two title contenders in Weeks 1 and 2, and now they're facing a team that a lot of people are dismissing. The 49ers could be setup for failure entering Week 3, so they must not be complacent.
The Vikings are battle-tested because they play in a competitive NFC North division. And as we know, iron sharpens iron. This team is capable of sneaking up on non-divisional opponents.
I'm not suggesting the Niners will relax, but the worst thing they could do is overlook this team. With the two wins they've accumulated thus far, they will want to carry that momentum deep into the season. If the Niners get caught off-guard here, it could put a serious damper on the energy this team is playing with.
Contain Jared Allen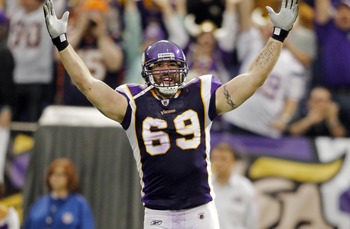 Bruce Kluckhohn-US PRESSWIRE
Along with Adrian Peterson, Jared Allen highlights this team's roster.
In 2011, Allen led the NFL in sacks with a whopping 22 takedowns. He is fast and relentless off the edge, and immediately provides a huge challenge for Pro Bowl tackle Joe Staley.
Staley can expect a high-motor, blue-collar effort by Allen, as he is one of the league's premier pass-rushers. The Vikings can be down 20 points and Allen will keep coming, so the offensive line can't sleep on him even for a moment.
The 49ers have had issues with protection, and in at least two of their three losses in 2011, protection was a noticeable issue. Against Baltimore and Dallas, elite pass-rushers like Terrell Suggs and DeMarcus Ware were able to cause disruption and keep their team in the ball game.
If the Vikings are going to have an edge in this game, it will be provided by Allen. The 49ers cannot allow him to do that.
Rattle Christian Ponder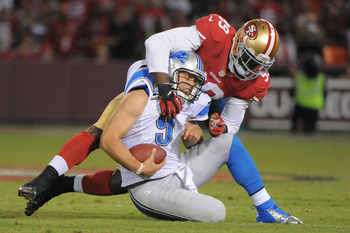 Kyle Terada-US PRESSWIRE
Christian Ponder has had a sharp beginning to the 2012 season, already leading the Vikings to one-third of their total victories from last year. He is boasting a 110.6 passer rating, which is currently good enough for sixth in the NFL.
Thus far, Ponder is completing 75-plus percent of his passes, for 515 yards, two touchdowns and no interceptions.
San Francisco is a unique defense, however, and they're prepared to rattle his cage.
The Vikings aren't really a spread offense, so the 49ers should have plenty of opportunities to come out of their base formations and blitz. And because of that, this has the makings of a very physical game up front.
Aldon Smith has an opportunity to be let loose in this game. The 49ers will come out of that 3-4 base often, and with Minnesota being a balanced team offensively, Vic Fangio won't hesitate to send Smith into the backfield. Justin Smith will be working rookie blindside protector, Matt Kalil.
San Francisco can put themselves in some advantageous positions to open up free hits on Ponder. The Vikings have had drastic offseason changeups among the offensive line, while the 49ers have stability and growth on their defensive line.
Destroy Their Running Game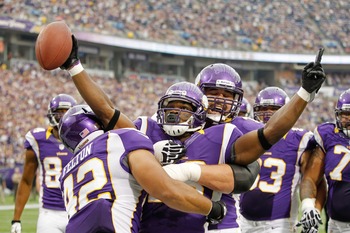 Bruce Kluckhohn-US PRESSWIRE
We're going to get back to basics with this one.
The battle that a lot of fans are looking forward to is the one between Adrian Peterson, Toby Gerhart and the 49ers defense. The unstoppable force versus the immovable object.
Peterson is the cream of the crop when it comes to running backs, as part of a rare breed. However, despite his greatness, only one player (Marshawn Lynch) has run for a 100 yards on this defense in the past three years—it just doesn't happen often.
The Niners are historically great against the run.
It's a rarity to see a run go for more than five yards against the Niners, when, honestly, most of them seem to be around one to three yards. The 49ers are sound in their assignments, play the gaps impeccably and tackle extremely well.
San Francisco will be able to slow this game down, get the Minnesota offense out of sync and likely have them playing from behind before they knew what hit them.
Though, it must be noted, the challenge that Minnesota brings with their ground attack will be the first real test for the Niners this season. They can move the ball efficiently on the ground and score points with their rushing attack. It's a dependable source for this team's offensive surges.
The 49ers can break the will of the Vikings by rendering their best offensive weapon as irrelevant.
Take Control of the Tempo Early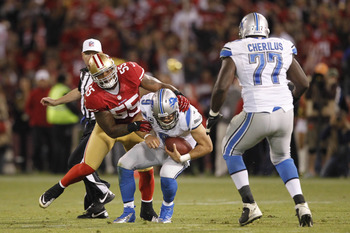 Cary Edmondson-US PRESSWIRE
While it's always important to take control of the tempo, it's particularly difficult to do on the road. This Week 3 matchup will mark the first of back-to-back road games for the 49ers. For them to be effective during these games, they need to set the tone early.
The 49ers need to assert themselves out of the gate, and make the Vikings feel out of their element, even though they're home.
San Francisco naturally does that because one of the ways teams can accomplish this feat is by being physical. The Niners are such a physical team in all aspects of the game that it aids them in taking control of any given contest.
An early score by San Francisco to take the wind out of their opponent's sails would be beneficial as well. If the 49ers can generate a big play early—maybe dial up something to ol' No. 84—they can find their rhythm and get the Vikings down on themselves.
Overall, this will be about the San Francisco 49ers imposing their will in three phases.
Gang Tackle, Swarm the Football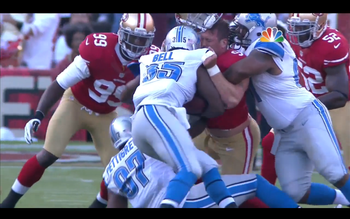 These are more expectations by the 49ers, but they are keys to the game that are no doubt being addressed.
The style-runners that the Vikings have, in Peterson and Gerhart, are the kind that fight for extra yards. These guys keep their legs churning well after first contact; they make you really tackle them. A particular runner that carries this style that's had success against the Niners is Marshawn Lynch.
Lynch kept it going against San Francisco, fighting hard through traffic and earning extra yardage. Peterson and Gerhart are capable of doing the same, so the 49ers defense must get multiple helmets on the ball-carrier and not miss tackles.
This is hardly a concern since the 49ers' identity is partially based on how fast they are to the football. This game should be physically demanding of linebackers Patrick Willis and NaVorro Bowman, but certainly nothing they can't handle.
Keep Tabs on Percy Harvin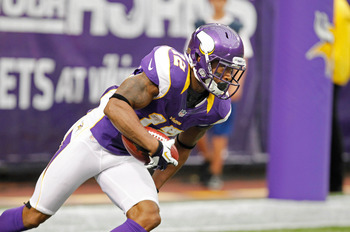 Bruce Kluckhohn-US PRESSWIRE
Percy Harvin is also one of the few Minnesota Vikings that demands respect on game day.
He has big-play ability and is one of the league's more dangerous players in open space. Harvin is the team's best offensive weapon in the passing game; he has had a strong start to the season.
He is a triple-threat, as a returner, receiver and runner.
The Vikings will use Harvin similarly to the way the 49ers use Ted Ginn Jr. on offense. The 49ers can expect Harvin to be running high-percentage routes and taking handoffs on fly-sweeps.
With Percy Harvin, it's about knowing where he is, understanding the play and pursuit to the ball-carrier. He can be contained, but he must be respected. The 49ers will need to keep tabs on Harvin all day long in Minnesota.
Get Helmets on Their Linebackers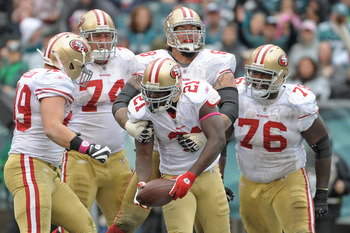 Eric Hartline-US PRESSWIRE
Beyond Jared Allen, Kevin Williams and Brian Robison, the Vikings have a couple of hard-hitting linebackers.
Their strong-side and weak-side linebackers—Chad Greenway and Erin Henderson—are exceptional tacklers.
The 49ers need to counter their front seven by second-level blocking in the run game and chipping their linebackers in the pass game. The guards, full backs and tight ends can all contribute in isolating the Vikings linebackers.
The three players to watch in that aspect would be Mike Iupati, Bruce Miller and Delanie Walker.
San Francisco should also be on alert for the inside blitzes from the linebackers. The tailbacks and interior linemen will need to be on their game, and cannot allow this line to hemorrhage from inside. Overall, getting helmets on their linebackers will ultimately help the 49ers win passing and running downs.
Win the Turnover Battle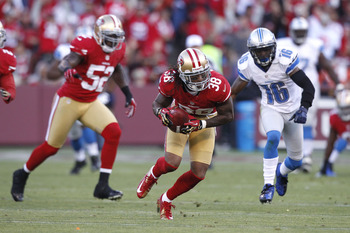 Cary Edmondson-US PRESSWIRE
Even though it's early, defensively, the San Francisco 49ers haven't been all over the football like they were last year.
Dashon Goldson and NaVorro Bowman each have an interception this season, but that's about it for takeaways. The 49ers were getting multiple per game in 2011, but that should pick up as the season progresses. Since Minnesota will be running the ball often, it would be nice to see San Francisco's defenders attacking the football on each play.
The team dedicates an entire practice day to turnovers, called "Takeaway Thursdays."
One of the things they've done extremely well is taking care of the football, on offense and defense. They desire to possess the football, and they play the game with that mentality. The turnover margin is crucial to any game, and it will apply once again in Week 3.
Make the Vikings Play from Behind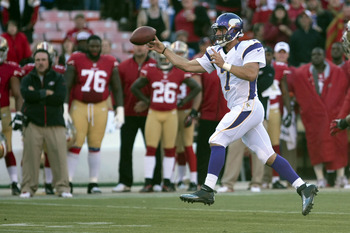 Kelley L Cox-US PRESSWIRE
In the past two games, the San Francisco 49ers have acquired early leads and have not relinquished them. The offense has shown pretty significant improvement, to the point where fans can count on them to put points on the board early.
Early in 2012, they have been one of the most efficient teams scoring the ball.
This was a team that battled third down and red-zone woes, consistently. The upgraded personnel and continuity within the offensive system have allowed this team to move forward. If the 49ers can get an early two- or three-score lead, San Francisco might be able to run away with this one.
And truthfully, San Francisco's coaching staff probably does not mind putting the game in Christian Ponder's hands against this defense.
Keep Reading

San Francisco 49ers: Like this team?