Philadelphia Eagles: Michael Vick's Wild Ride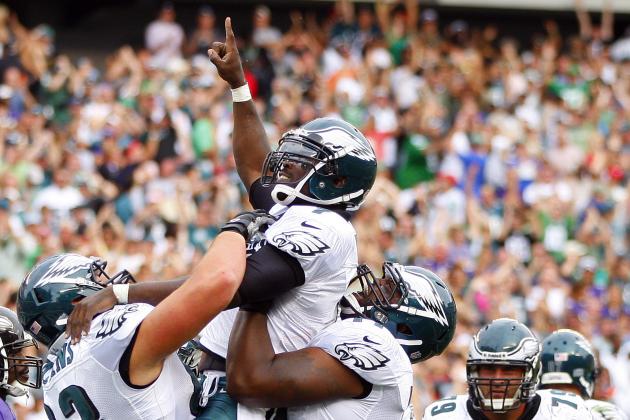 Rich Schultz/Getty Images
Eagles celebrate victory over Ravens
Two weeks. Two games. So far, a 2-0 record. Add it all together and you get one wild Philadelphia ride.
If you're an Eagles fan, you've winced watching the first couple of this season's games, fallen over when the defense fails and held your head when Michael Vick has thrown yet another interception (in the end zone no less).
Fasten your seat belts, Eagles nation.
If these first two weeks are any indication, this is going to be one heart-pounding ride, complete with thrilling play peaks and terrifying turnover plunges. Just hang on and keep your arms, legs and dissenting opinions inside until this Vick-driven vehicle comes to a full and complete 16-game stop.
For those on board the Eagles team trip, it's clear that Vick has his hands on the controls, sometimes making decisions that cause even seasoned analysts to offer advice. Like the remark made by a CBS commentator after a rough hit Vick sustained during the Ravens game: "You can't get your body bent in half like that! I mean, God love ya, Michael, for trying to make a play."
Watching Vick make seemingly risky plays in the midst of the fast-paced action, observers frequently wonder aloud: What is he thinking? Although we can't replay the mental steps behind a winning play, we can examine some of the optimal situations for him finding success in the red zone. Based on his seasons as a starter in Philly, here is an overview of conditions where Vick and the Eagles are apt to be hottest.
Begin Slideshow

»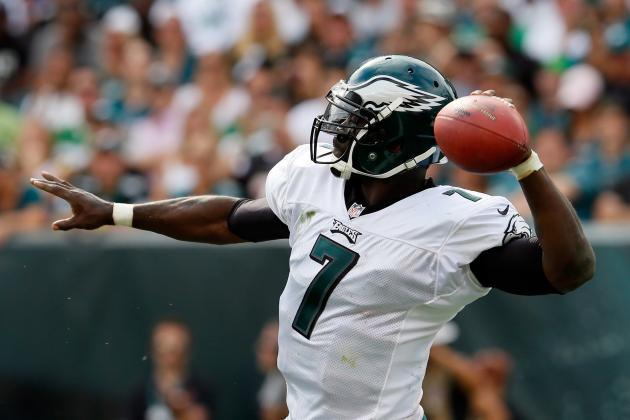 Rob Carr/Getty Images
Vick fires
By Quarters. In terms of quarters, in 2010 and 2011, Vick had the most passing completions in the third quarter. So far this season, his completions are best in the first quarter by a significant margin, 78.9 percent to the next-nearest second and fourth quarters (tied for 54 percent). His completion percentage soaring high from the first whistle and remaining steady for the final three quarters bodes well for the Birds.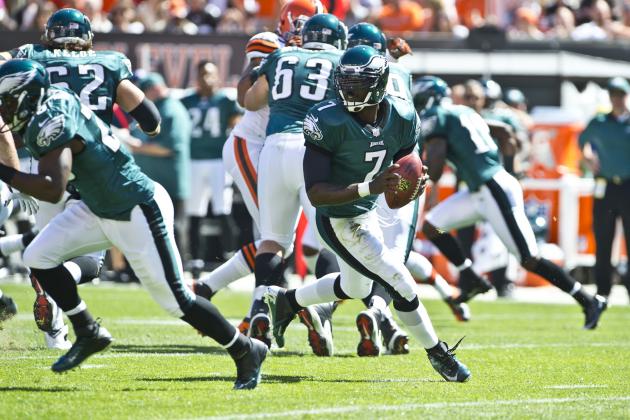 Jason Miller/Getty Images

By Downs. In 2011, Vick's passing completions were best on first downs by a margin of 8-14 percent. In 2010, he performed best on fourth down—100 percent completion. His next best performance in 2010 was on second down, at 65 percent. This season, he excels in third down completions at 68 percent. This illustrates the variable combinations that Vick and the offense can assemble to get the job done.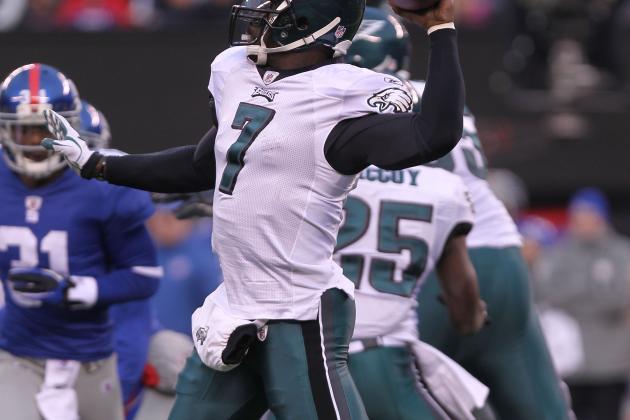 Nick Laham/Getty Images

By Days. In 2010, he was more likely to complete a pass during a Monday game than any other day of the week, by a margin of nearly 10 percent. Last year, Vick produced his best work on Sundays, with only a 4-5 percent difference from other days. The two Sundays he has played this year, he has a completion rate of 59.1 percent. Bottom line: Pick a day, any day. Vick is coming to play.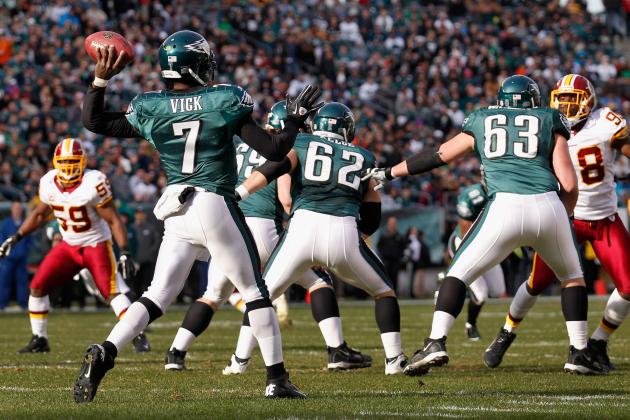 Rob Carr/Getty Images

By Direction. Would it surprise you to know that Vick completed the most passes from the left side of the field in 2010? Last year, his largest number of completions came when he played on the right side, at a whopping 80.4 percent. The numbers for this lefty quarterback prove he is ambidextrous.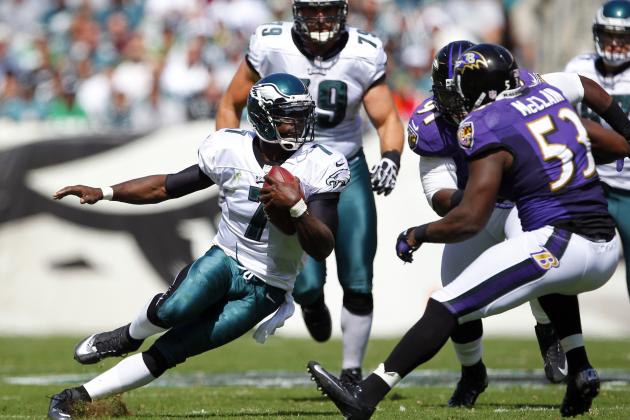 Rich Schultz/Getty Images

By Circumstance. This is one of the best indicators of the dizzying spins yet to come. This season, when the Eagles were winning, Vick completed just below 31 percent of his passes. But when the team trailed or was tied, his determination propelled him to a 61 percent and 67.6 percent completion. In 2010 and 2011, when winning, Vick recorded just shy of 60 percent in passing completion in both seasons, and rose to nearly 65 percent when the Eagles fell behind. No question about it. The Eagles holding the low score is fuel in Vick's hands.
Rich Schultz/Getty Images

Perhaps the best indicator of what lies ahead for Philadelphia is what lies behind in Vick's career history. In his new autobiography Finally Free, Vick tells a story about the third game of his college career at Virginia Tech. In it, he threw to a tight end against a cover 3 defense with an out-of-place linebacker. Vick describes the play:
"Typically, throwing to your tight end against that type of defense is a no-no. But I saw it, went against my rules, made the throw with confidence and completed a first down."
Virginia Tech went on to beat Clemson. For Vick, the win and his coach confirmed that his unpredictable "against the rules" play style pays off.
So strap in, Eagle diehards. 2012 is gonna be one crazy, stomach-churning ride.