Why the Nets Not Living in Brooklyn Could Hurt Their Credibility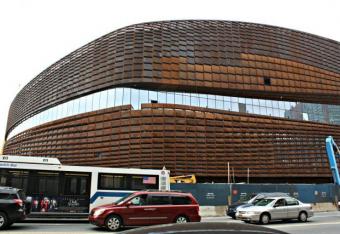 A photo of the Barclays Center while under construction. www.thegothamist.com

Just how "Brooklyn" are the Brooklyn Nets is an acrimonious and hotly-debated subject for borough residents, particularly those who live near the Barclays Center.
However, whether the Nets' players represent the Brooklyn lifestyle is not up for argument. That's because none of them will be living in Brooklyn this season (via The New York Times).
A Colossal Stadium for a Brownstone Borough
Of all the franchises in NBA, the NFL, the MLB and the NHL combined, the Brooklyn Nets are the only one that specifically represents a borough. The Nets are named not after a city, but a city district: one of five others in New York.
With such a unique position in professional sports, the Nets should mirror their borough's culture. However, that just doesn't seem to be what Barclays Center majority share owner Bruce Ratner is looking to accomplish.
With an arena that purports to give fans year-round gladiatorial-scale entertainment, the resulting noise pollution and traffic will inevitably transform parts of the idyllic neighborhood into a burgeoning metropolis in its early and most uncomfortable stages.
The inconsistent pairing of the humongous, rust-colored national bank arena versus the surrounding neighborhood's aged brownstones and small stores is a testament that Brooklyn's ethos is being changed, perhaps forcibly, by outside property owners.
As a result, surrounding neighborhood residents have and will continue to protest the stadium's presence in Park Slope, Brooklyn.
The Brooklyn community at large has spent years establishing a unique mixture of city landscape with a bedroom neighborhood repose. Now, this cultural approach promises to be severely affected by the new arena.
Brooklyn Has to Live with the Stadium, but the Players Choose to Live Elsewhere
Several players from New York sports teams live outside the city, either in Westchester County or even in New Jersey.
However, if the Brooklyn Nets organization pledges to bring a local flavor of professional sports to the borough, one would think that at least a small fraction of the Nets' lineup would live in the neighborhood.
As for now, that's just not the case. According to the Times, while the Nets are considering building a practice facility in Red Hook, Brooklyn, that is just one of many possible sites. Moreover, it is projected that construction would take two years to complete.
One can speculate that millionaire professional athletes either want to live it up in Manhattan, where the party scene is luxurious and deep into the night, or, in suburban towns secluded from city sprawl, and in some cases, excessive media and fan based attention.
The general stigma against Brooklyn is that does not sufficiently meet either desire. In several Brooklyn neighborhoods, bars and clubs are small, local, and relatively mellow compared to the Manhattan scene. As it stands, many of these night-spots close at around 2am, right at the peak of the "after hours" scene.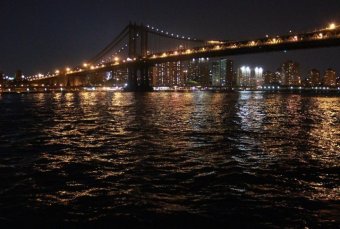 At the same time, there is a distinct city ethos in Brooklyn. There may be many quiet residential side-streets, but that blanketed feeling of isolation and serenity unique to suburbia cannot be found in Brooklyn.
The upside to all this is that Brooklyn provides a little bit of both worlds without either one becoming overbearing. The borough provides a feeling of spirited moderation, which can be good for the soul.
One just has to wonder how at least one Net couldn't give Brooklyn a chance.
After all, what is the point of the Nets billboards draped across the Atlantic Avenue train terminal—those that personalize Deron Williams as being a family man and Gerald Wallace as having a life long love of fishing?
Why should Brooklyn care about the personal backgrounds of "their" team when none of its players will be a regular part of the neighborhood?
Granted, it can be argued that if the Brooklyn Nets have a winning season, they will be representing Brooklyn by helping to put it "on the map," as it were.
However, there is still a big difference between being a genuine "Brooklyn" team that feels close to the neighborhood and a nationally-renowned private franchise based in Brooklyn.
Ultimately, the Nets may don the name "Brooklyn" with a logo attached. However, from the Barclays Center to the entire team's ambivalence to living in the borough, Brooklyn residents shouldn't expect the Nets to have very much else to do with the neighborhood.
This article is
What is the duplicate article?
Why is this article offensive?
Where is this article plagiarized from?
Why is this article poorly edited?

Brooklyn Nets: Like this team?