2013 NFL Mock Draft : A Way Too Early Mock Draft for the Green Bay Packers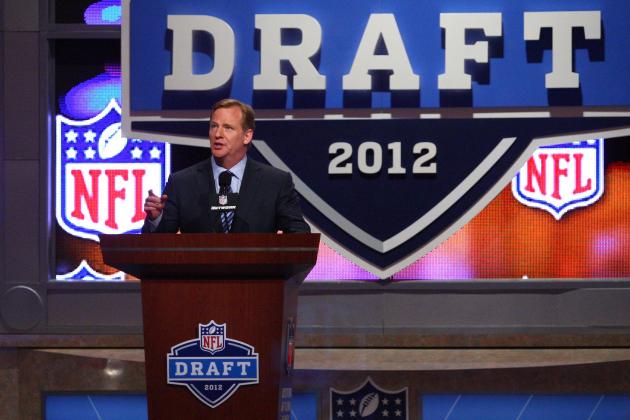 Chris Chambers/Getty Images

The first time I had an actual opinion in the draft was 2006. Mario Williams looked like he was going to be available at fifth overall (where the Packers picked) until the last couple of days when the Texans made a play for him and let the "once in a generation" talent of Reggie Bush fall to No. 2 and the New Orleans Saints.
Since then, I've followed the draft pretty closely and become a "draftnik." I even took the steps to fly from Oregon to New York last April so I could see the NFL Draft in person with other fans.
Side note: If anyone was wondering who Packers fans in attendance wanted in the first round, it was Courtney Upshaw. After the Jets passed on him and the place exploded, we all just got together and talked about him slipping. When Nick Perry was picked, there was a shoulder shrug and a mumbled, "In Ted we trust," before we started to think about the second round.
Here's how I see 2012 breaking down for Green Bay:
Green Bay probably goes 14-2 or 13-3 and loses in the Super Bowl. If Rodgers doesn't get hurt, then they should be favored every single time they step on the field for the rest of the season. They've already played their toughest opponent in San Francisco. No matter what, though teams drop random games. Remember the Chiefs last year?
Players the Packers re-sign: Tom Crabtree, Brett Goode, Greg Jennings and Sam Shields.
Tom Crabtree has to be one of the biggest "I can count on you" guys the Packers have had in the McCarthy Era. He's pretty much the only tight end that actually blocks in the Packers corps. Also, his Twitter account alone should be the reason he stays in Wisconsin.
Brett Goode? Who? He's our long snapper and the less you hear about him means the better the job he's doing.
Greg Jennings is a huge debate right now among Packers fans. The way I see it, we have to tag him no matter what next year, and he means more to us than he would to any other team. The dude is perfect for the Packers' offense and Ted Thompson doesn't usually let Green Bay-bred players leave without a fight. No promise about 2014, but he's back for 2013.
Sam Shields, barring a Pro Bowl season, will be back with Green Bay also. He's regressed since his rookie year so that should bring his price back down as he signs to be the starting corner until House or Hayward take over in a year or two. I mean he's got a damn Packers Super Bowl ring tattooed onto his neck, no way he can leave.
Players the Packers let go: Cedric Benson, Donald Driver, Brad Jones, Phillip Merling, and Erik Walden.
Remember, Benson was only signed because James Starks went down with an injury. He's a textbook example of a guy that is a "stop gap" for a year. Benson really showed up last week, but I doubt he's going to be in green and gold next season.
Donald Driver just has to retire next year, right? The league minimum for a player his age isn't even a fair price for a player like him anymore. He did have the touchdown catch last week, but he's so buried into a deep WR corp that if Jennings wasn't hurt, than he wouldn't have even been on the field.
Brad Jones, Phillip Merling and Erik Walden are pretty much the same story. Guys that are good, but not much upside. I don't think any will be back next year, although I do have a special place in my heart for Jones. Merling might not even make it past the Neal addition to the roster and I'm surprised Walden is on the 2012 team after the on- and off-field stuff that happened last season.
Now we can go on to the draft:
Begin Slideshow

»
The biggest need on offense next year will most likely be a replacement for Jeff Saturday. Although he hasn't done bad in 2012, he looks like he's lost a step since he was snapping to Peyton. Throw in Saturday's age and the fact that his last year on contract is 2013, and you have a need.
The thing about centers is there is usually one standout in every class, but they aren't taken too high. Dan Lebatard claimed this past week on his radio show that Pouncey was the highest center ever taken in the draft and he was picked 15th overall.
Ted Thompson trades one of his fourth-round picks—Matt Flynn compensatory pick being the other—flips firsts, and gives a sixth-rounder to move up in the draft and take an elite center from Alabama in the first round.
Barrett Jones pretty much has all you ask for from a center and more. I mean, how many center prospects can say if they don't pan out you can just try them at left tackle? He has great size with a 6'5" and 31-lb frame and was coached by some of the best at 'Bama. Looks like a dude you can plug and play from the get go, but it's never a bad idea to hold rookies from the fire a bit.
I know the value of running backs is getting lower by the day, but if anyone watched the Boise State vs. Michigan State game to start the year, their eyes and hearts immediately fixated on Bell.
If the 6'2" junior makes it out of MSU with both knees intact, he'll be a top three rounds talent. His workload is probably his biggest knock at this point.
James Starks doesn't look like he's been progressing much since his breakout in the 2010 playoffs, and Alex Green hasn't shown much since coming back from injury. If nothing else, Bell could just be insurance to make sure someone is able to carry the ball for a full year on the team.
The Packers love to pass through running backs and Bell is not new to the concept. In 2011 alone he had 35 receptions, not including all the pass blocks he laid down that year.
The Bishop injury showed a lot about the Packers' inside linebacking corp. Unfortunately, it also exposed the lack of depth.
D.J. Smith was one of the flashout rookies last year, but somehow no one noticed how terrible he was in pass coverage. This year, half of the pass attempts are to him or Hawk, including the first four against the 49ers.
Skov brings a little Bishop All-Pro level play into the game combined with perfect reads as a linebacker. The Stanford product did have an off-the-field flag last summer with a DUI, but that's something he's said is behind him.
After missing all of 2011 with a knee, Skov slips to the third where Thompson packages a fifth rounder to take him.
With Finley possibly leaving and all the other TE's pretty much being role players, outside of maybe Williams, Thompson does what he does best.
He stacks tight ends like rappers do money in music videos. Lutzenkirchen doesn't have great size, but he can line up anywhere on the field. Tight end, fullback, even wide receiver if need be and unlike a certain "diva" tight end he actually blocks. Hallelujah!
Cory Grissom is a project DT/DE from South Florida (USF) that has real potential to play either position in the NFL. That's saying something because there are less than a dozen decent nose tackles in the world right now.
With Ryan Pickett ready to leave, and Wilson not being the long-term starter, there will be a starting DE position next to Raji and Worthy open in the near future. Also, with Pickett leaving there will be a lack of rotation depth at nose tackle for Raji. This pick is an upside to be able to fill either of the positions.
He will either have to bulk up to play nose tackle, or lose some to play as an effective defensive end in the 3-4.