The Tour Championship: Why Phil Mickelson Will Win the 2012 FedEx Cup Title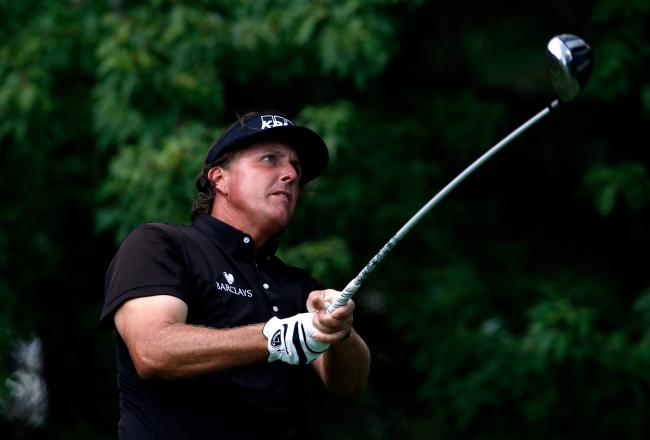 Chris Chambers/Getty Images
It seems as if every week on the PGA Tour analysts sit around and discuss how the site of that week's tournament is a "bombers paradise." And, although analysts are often wrong in their predictions, in this case they are correct more often than not.
Each week the PGA Tour shows up at 7,200-plus yard courses which are long to begin with; add in a little weather, be it wind, rain or a just soggy course and those 7,200-plus yard courses begin to play even longer.
Golf has become a power game where if you're not consistently driving the ball over 300 yards you will have a very difficult time wining at 90 percent of PGA Tour events…and this week will be no different.
If you look at the 30-man field for this week's Tour Championship, only five players can legitimately be classified as "short hitters" (Zach Johnson, Luke Donald, Matt Kuchar, Jim Furyk and Steve Stricker).
East Lake Golf Club maxes out at 7,154 yards and will play every bit that long this week after two days of torrential rain in the Atlanta area which, much to the delight of Hunter Mahan will most likely have created a FULL lake to the left of the 17th green.
These course conditions produce a huge advantage for the longer hitters in the field who will not have to worry about their drives rolling through fairways and into the rough.
The bombers will also have short irons into extremely soft greens which will allow them to throw darts at the pins all week.
So, you can certainly call East Lake a "bombers paradise," and this week, as with most weeks, you'd be completely correct. But, a better name for East Lake this week may just be "Phil Mickelson's Paradise."
With all the talk surrounding the developing (albeit more hopeful than anything else) Tiger Woods/Rory McIlroy rivalry, Mickelson has been largely overlooked throughout the FedEx Cup playoffs despite entering this week's Tour Championship ranked fourth in the point standings.
Anyone entering the Tour Championship within the top five in the point standings can automatically secure the FedEx Cup title and a $10 million payday with a win at East Lake.
Mickelson has four top-10s in his past five appearances at East Lake including a win in 2009. Aside from Woods, no one else in the field has experienced even remotely close to as much success at East Lake as Mickelson has over the past five years.
East Lake is a course that clearly fits Mickelson's game with or without ideal scoring conditions.
Add in soggy conditions where Mickelson can unleash his driver without fear and while going flag hunting all week, which essentially constitutes Mickelson's dream scenario, and the stars may just be aligning for Lefty this week while everyone else has been almost solely focused on two other stars up there in the FedEx Cup sky.
Mickelson has always been a player that tends to get hot for a short stretch and then disappear. And Mickleson has created an incredibly successful career out of capitalizing on those hot streaks.
So, we have a player who seems to be peaking at just the right time at a course that suits his game under ideal scoring conditions for his style of play.
It's golf's perfect storm.
After a month dominated by talk of Woods and McIlroy, at 42 years old, "Old Man" Mickelson may just swoop in and secure the biggest payday of his career this week at East Lake Golf Course.
Check out The Tour Report for Golf's Top Five 19th Holes.
This article is
What is the duplicate article?
Why is this article offensive?
Where is this article plagiarized from?
Why is this article poorly edited?