NFL Week 3 Picks Against the Spread for Every Game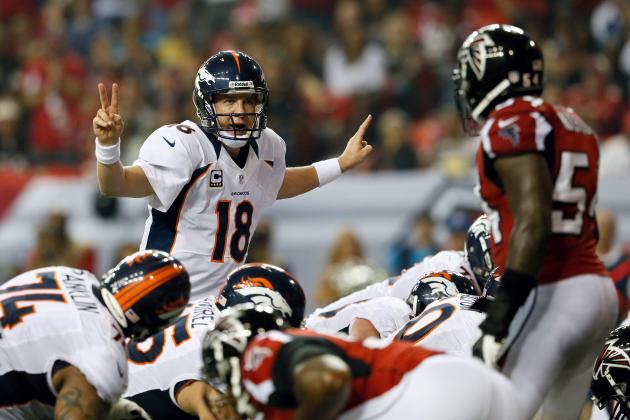 Kevin C. Cox/Getty Images

The NFL punishes those who fit the definition of insane. Refuse to evolve, and Vegas will take your lunch money. So keep in mind that home-team underdogs have gone 8-3 while we go through the Week 3 NFL picks against the spread.
Few games went as expected last week, as upsets abounded from the desert to the swamp. I still managed to pull out a 6-9-1 record. Not terrible, but that leaves plenty of room for improvement.
The casinos didn't get into the business to make it easy on us. The path to the cash will require research, analysis and gut calls.
Click through to discover the picks that will continue my quest to .500.
Current Record: 13-18-1
All point spreads via www.bovada.lv.
Begin Slideshow

»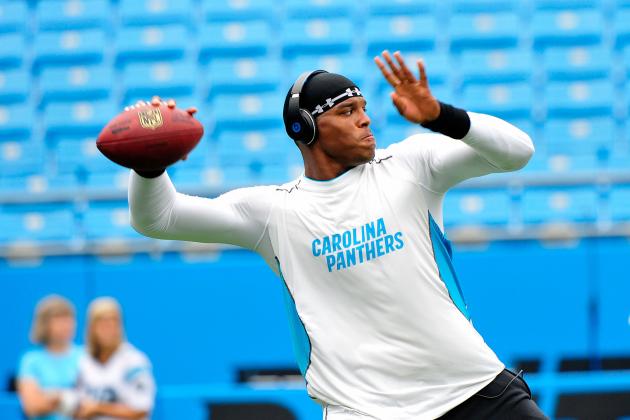 Grant Halverson/Getty Images

The Thursday night game provides some serious confusion for bettors.
Last week's battle between the Chicago Bears and Green Bay Packers did not fit the script for two offensively talented teams. The short turnaround from Sunday affected the offenses more than expected.
Hopefully, those problems were more team specific as opposed to a league-wide trend.
The New York Giants are coming off a wild comeback victory in which Eli Manning threw for 510 yards after struggling with three first-half interceptions.
Similarly, the Carolina Panthers found their offensive rhythm after a rough first week, with Cam Newton sprinkling in only 20 pass attempts to assist a dominant run game (219 yards).
Both offenses are ridiculously explosive, and neither secondary brings much to the table. Steve Smith and Victor Cruz should enjoy their evenings, but the Giants will be lacking weapons.
I'll take Newton at home rather than rely on the erratic Giants, who will be without Ahmad Bradshaw and Hakeem Nicks. Newton's mobility combined with the running game helps neutralize New York's biggest strength.
Plus, has any team had a crazier schedule to begin a season than the Giants? Wednesday night, then Sunday and now a Thursday night game.
Apparently so many people have faith in the Panthers that they were moved from a 1.5-point underdog on Wednesday to a three-point favorite on Thursday. The value was much better the other way around, so hopefully you were able to strike before the change.
If not, I'd still roll with the Panthers.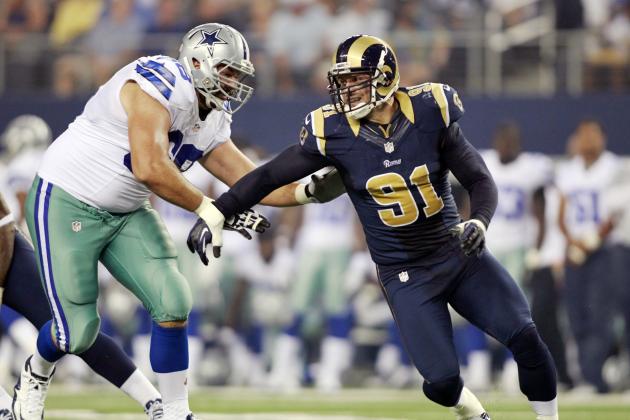 Tim Heitman-US PRESSWIRE

On paper, giving eight points to the St. Louis Rams wouldn't normally be a problem for Chicago Bears backers. If only Jay Cutler and his offensive line did what they were supposed to do last week, how much easier this would be.
The Bears looked like the much-improved team they can be against the Indianapolis Colts, but they fell flat on their collective face against the Green Bay Packers. Are they just capable of beating up on the bottom feeders, or are they a good team that had a bad week?
There are too many variables for the Bears to lay so many points. But that doesn't mean the Rams are without problems of their own.
The Steven Jackson injury could leave the Rams without their best player. However, St. Louis has Chris Long, James Laurinatis and two talented corners.
Again, eight points is more than I'm comfortable with giving when the team charged with covering such a spread is the Bears. Even Denny Green isn't sure of who they are yet.
Line via www.espn.go.com, since www.bovada.lv did not have a line at the time this article was published.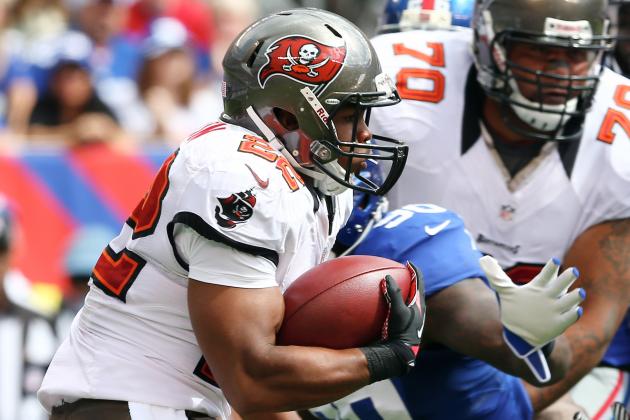 Elsa/Getty Images

A vast majority of the Vegas oddsmakers must have been raised in Texas. That's the only rationale I can see for favoring the Dallas Cowboys by eight against the Fightin' Schianos.
DeMarco Murray will have trouble finding running lanes against the tough-minded Bucs, who earned some respect after shutting down the Carolina Panthers' rushing attack.
That will put the game squarely in Tony Romo's hands. That may be laughable to some of you, but he's as capable as Eli Manning, who hung 510 yards on the Tampa Bay secondary.
Both teams will be hungry for a win after humbling losses on the road, so this one will be close regardless of who wins.
With that in mind, I'm going to spring for the eight points and put my faith in Doug Martin to pound the Bucs to a close loss.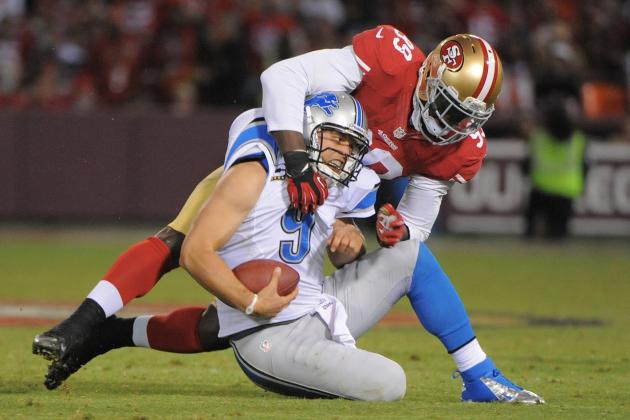 Kyle Terada-US PRESSWIRE

The San Francisco 49ers beat the Detroit Lions, a better team than the Minnesota Vikings, by eight points. They also beat the Green Bay Packers, a better team than the Lions, in Lambeau Field by eight.
See where I'm going with this?
The Vikings might score 10 points if they block a punt or Percy Harvin finds a seam on a kick return. Otherwise, the NFL might want to invoke a running-clock mercy rule.
Please don't bring up the Metrodome crowd. I agree that they're proud and loud, but playing the Niners is demoralizing.
This is one road favorite I have no problem endorsing.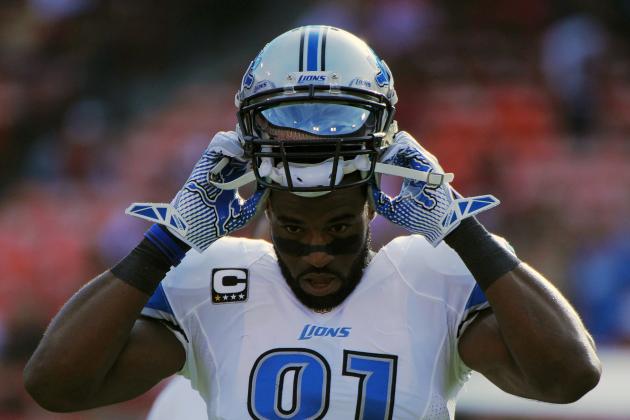 Kyle Terada-US PRESSWIRE

Hopefully the lessons learned from taking on two stout defenses will start to pay dividends for the Detroit Lions. If not, they're playing the Tennessee Titans, so it doesn't really matter.
Tennessee has decided defense isn't a priority in 2012, having allowed an average of 36 points through two games. Matthew Stafford should finally start hooking up with Calvin Johnson in such an encouraging environment.
The Titans will also provide a great opportunity for Detroit's defensive line to get on track.
It really isn't all Chris Johnson's fault, because his line allows him to get hit prior to the line of scrimmage more than any other back. The always-rushing-up-the-field Lions should be able to exploit this problem consistently, but the linebackers will have to ensure they clean up any messes.
Regardless, the Titans shouldn't be able to stop Megatron or score enough points to keep up with the Lions.
I know. I'm bucking the trend again, but this one seems easy. Almost too easy.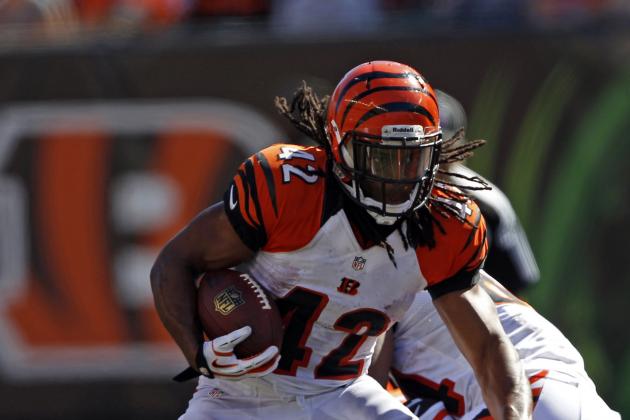 Frank Victores-US PRESSWIRE

Don't pay the Robert Griffin III tax. It's expensive.
Both teams are still unknown values and dealing with injuries.
The Cincinnati Bengals haven't looked that great in either contest, getting pummeled by the Ravens and barely escaping against the Browns. However, they aren't likely to be challenged deep, and Alfred Morris, while a solid player, is not Trent Richardson.
If Adam Carriker and Brian Orakpo were able to go for the Washington Redskins, laying the points wouldn't be so terrifying. Especially we knew for sure whether Pierre Garcon was playing.
No taxation without representation, and there is no guarantee that the Redskins backups will show up.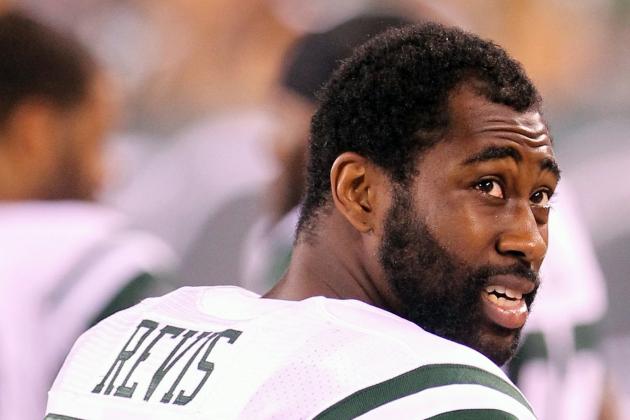 Ed Mulholland-US PRESSWIRE

If you feel 100 percent confident about picking either team, you're either clairvoyant or delusional. Although, both go hand in hand.
The New York Jets might have Darrelle Revis back in time, which is enough to make things extremely difficult for Ryan Tannehill.
Besides, are you willing to put money on a rookie quarterback having two solid performances in a row?
The Jets still have a decent enough run defense to slow down the freight train named Reggie Bush. Did I really just say that?
Another home dog spurned. This evolution thing is hard.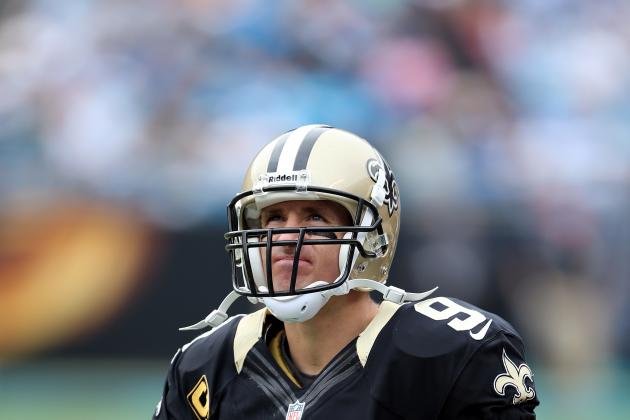 Streeter Lecka/Getty Images

Two weeks ago, I could have been easily convinced that this would be the game of the week. Although, that might be just because I've bet on them both every chance I've had.
The most likely scenario has one of these teams finishing the game with a win, but it isn't guaranteed. Ask Donovan McNabb.
Enough stalling. There isn't a reason to believe that one of these teams is that much better than the other, and definitely not nine points better.
Drew Brees has looked lost. He's making dumbfounding mistakes. He's always been a little too aggressive, but without Sean Payton there to guide him, it's gotten much worse.
If you're looking for me to give reasons about the Kansas City Chiefs and why they'll win, I don't have any. I'm just not willing to pick the New Orleans Saints giving up nine points. Neither should you.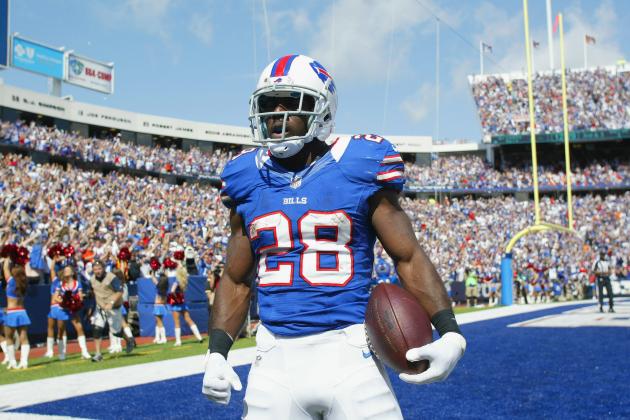 Rick Stewart/Getty Images

Do not lay a large sum of money on this game.
We are dealing with two teams that apparently have multiple personalities, or at least ADHD. There is no telling which players are going to play well and which aren't.
Except C.J. Spiller.
He has torched through the first two weeks, finally living up to his first-round selection hype. The Cleveland Browns should recognize his talent, as Spiller is the first player since Jim Brown to average 10 yards per carry after two games.
The rest of the bunch are toss-ups.
Both of the Browns rookies struggled through their debuts. Then Trent Richardson rushed for 109 yards and Brandon Weeden threw for 322 in the follow-up performance.
As for Ryan Fitzpatrick, he wasn't great in either week. But he has Spiller, and the Browns don't have Joe Haden.
Therefore, the Buffalo Bills are the pick.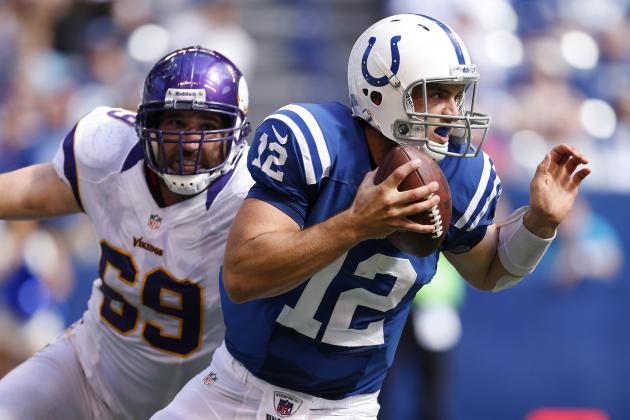 Joe Robbins/Getty Images

Regardless of who starts at quarterback for the Jacksonville Jaguars, I'm not buying.
The momentum behind the Blaine Gabbert-is-a-real-quarterback movement has been quelled after a typical Gabbert performance in Week 2. He led the offense to a total of 117 yards.
Just to clarify, the Jaguars did play a full four quarters last week. There wasn't inclement weather that forced the referees to call the game early. The Jags amassed 117 yards.
I don't care how good the Houston Texans defense is (and it's good), that's ridiculous.
Therefore, I won't be taking Jacksonville on the road only giving three points to a team that has actually won its last three home games.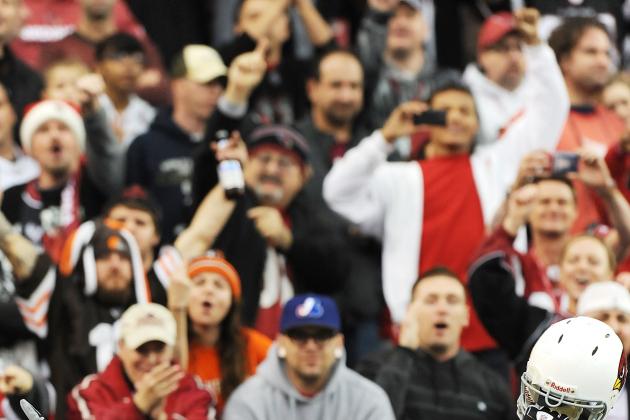 Norm Hall/Getty Images

If I had picked the Arizona Cardinals in either of the last two weeks, I would have been mocked relentlessly. Or at least more than usual.
Now, I will probably still be mocked, but there may be a small contingent that will agree with the pick.
The Philadelphia Eagles have barely scraped their way to two victories. They could just as easily be 0-2 if a phantom pass interference flag and a Brandon Weeden interception wasn't thrown.
The same argument could be made for the Cards, but there isn't any fluke in their defense. I'm not willing to bet that they would win outright, but I'm just not comfortable picking the Eagles on the road giving up four points.
Philly will be playing a tough, talented defense led by Ray Horton, the next hot head coaching candidate. It will also be without its starting center and possibly multiple wide receivers.
If you're going to lay a couple dollars, grab the home dog. See? I'm starting to learn.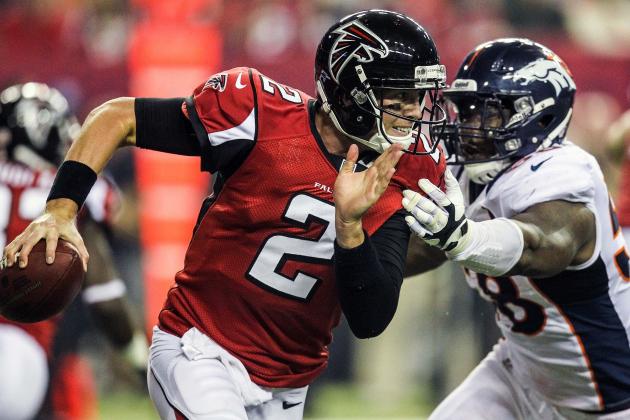 Daniel Shirey-US PRESSWIRE

I'd be lying if I didn't mention that the San Diego Chargers were quite tempting. They're 2-0 with a defense that has been silently deadly through the first two weeks.
However, their wins have come against the Oakland Raiders and the Tennessee Titans. That's a problem.
I can't put money on a team that has yet to actually beat anybody. At least with the Atlanta Falcons, we saw them take care of a Denver Broncos team that people believe is good.
Additionally, it's hard to imagine Julio Jones having two terrible weeks in a row. He'll rebound after his four-catch, 14-yard performance on Monday Night Football.
If San Diego was a home dog, this pick would have been different. I've seen what the Falcons can do, I'm just not sure about the Chargers.
This line was provided by www.espn.go.com, as www.bovada.lv did not have a line for this game at the time this article was published.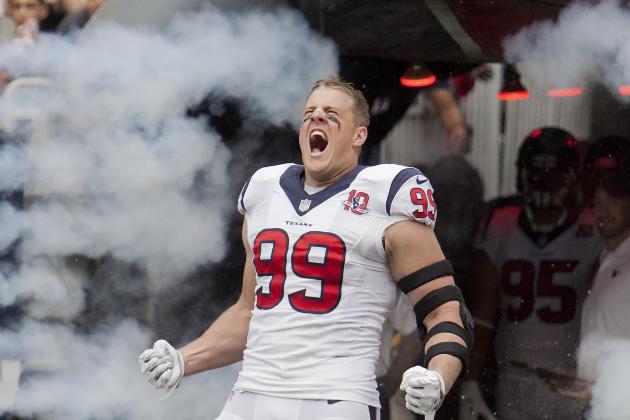 Bob Levey/Getty Images

Peyton Manning struggled against an injury-stricken secondary in a dome.
He'll have neither of those advantages against the Houston Texans. In fact, the odds will be stacked even more against him.
The Texans have a physical and talented defense led by the indomitable J.J. Watt. He has three sacks and five passes defended while playing as a 3-4 defensive end. The 3-4 end isn't expected to put up numbers, just take up blockers. Yet, he does both.
The Denver Broncos defense is built to play with a lead with corners Tracy Porter and Champ Bailey supporting pass-rushers Von Miller and Elvis Dumervil. That isn't likely to happen.
In addition, Arian Foster and Ben Tate are much better than Michael Turner.
The Broncos are one home dog that I am confidently staying away from.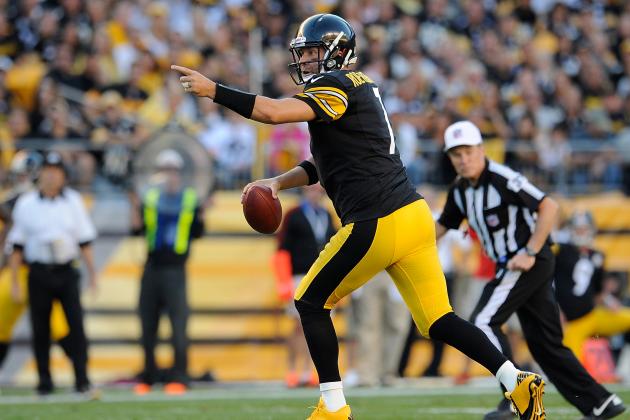 Joe Sargent/Getty Images

If you've followed along over the past couple of weeks, you know what I think of Carson Palmer. If you haven't, it isn't flattering.
I did pick the dink-and-dunker last week, but that was based on a misplaced faith in the Oakland Raiders defense and Darren McFadden.
So I'm going back to the well this week.
The Pittsburgh Steelers only laying 4.5 points in Oakland? Fine, I'll go against the home dog again.
If Troy Polamalu and James Harrison are healthy enough to play this week, I'm drooling over this line.
Rich Schultz/Getty Images

There is no hate gained in this rivalry! Sorry, I had to try something different.
This game will be more about the people who aren't there, than those who are.
The Baltimore Ravens are still missing Terrell Suggs, but they've adjusted adequately.
I'm not sure the New England Patriots will have it all worked out before their Sunday night matchup. Losing Aaron Hernandez is a difficult proposition made much worse because of Bill Belichick's standoff with All-Pro wide receiver Wes Welker.
The Pats recently signed Kellen Winslow (per the Associated Press, h/t Fox News), who won't be able to fill Hernandez's shoes. The scarier signing was Deion Branch.
The whispers surrounding Welker have been growing, culminating in his benching last Sunday. Bringing in Branch only adds to the speculation.
With all of the above surrounding the Pats, I'll take the Ravens, who seem to be chugging along just fine.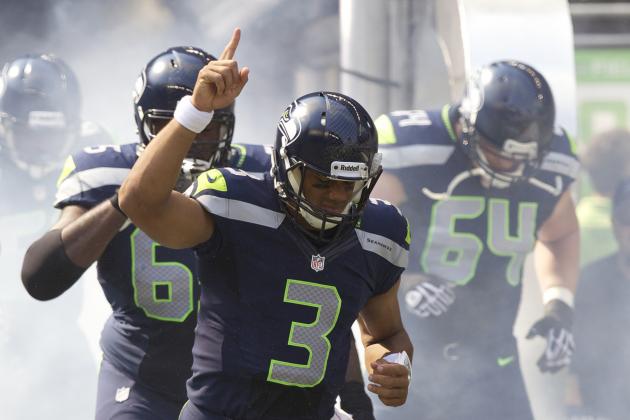 Stephen Brashear/Getty Images

The theme comes full circle: Don't be scared of the home dog.
The Seattle Seahawks have more of a home-field advantage than most with the 12th Man. However, they haven't been able to convert that energy into a ton of wins.
No matter. We don't need them to win, and this game has the makings of a close one.
The Green Bay Packers haven't established much on offense this season, and things don't get easier against a tough Seattle defense.
Additionally, the Seahawks' offensive line is better than Chicago's, so it'll keep Clay Matthews from racking up 3.5 more sacks.
Which coincidentally is the number of points by which we need the Seahawks to limit the lead.