Football's Most Famous Celebrity Fans and Who They Support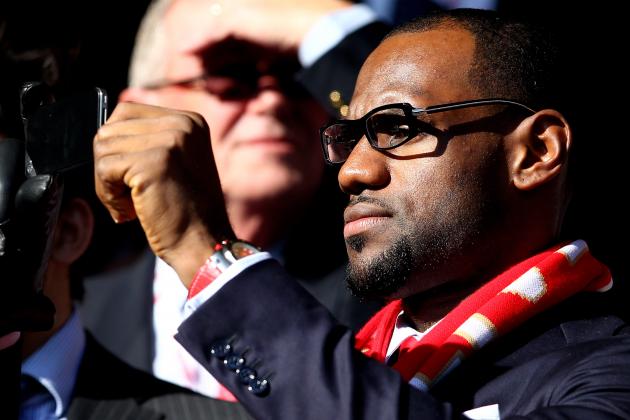 Clive Brunskill/Getty Images
Star Turned Fan? LeBron James
Soccer's cultural renaissance, led by the advent of the Premier League, Champions League and ever more stylish footballers and glamorous WAGs, world football has become the sport of hipsters.
It's hard for celebrities (and wannabes) to resist the allure of such a popular pastime. They are virtually guaranteed to be photographed at grounds, and the merest hint that they support a particular team can open up a whole new world of fans.
That makes following football a publicist's dream. But there are some celebrities who aren't just in it for the column inches.
Here are some of football's most famous real celebrity fans—contrasted with a few whose dedication is perhaps more questionable.
Begin Slideshow

»
Christopher Lee/Getty Images
Elton John at Vicarage Road
It's one of the great odd couple pairings of all time—outrageous, flamboyant popster Elton John and dyed-in-the-wool football man Graham Taylor.
But as president and manager respectively of Watford in the '70s, they formed a great partnership.
As a dedicated supporter of one of the football league's less glamorous teams at a time when the sport was still seen as a frankly disreputable haven for hooligans, there can be no doubting Elton's passion was real.
He put his money in the club—no doubt putting a sizeable dent in his bejewelled sunglasses and fur coat budget—as an act of love and faith, not as a business proposition.
You don't get quite the same feeling when Jay-Z talks about Arsenal, saying "I'm a businessman, and I will always look at an opportunity."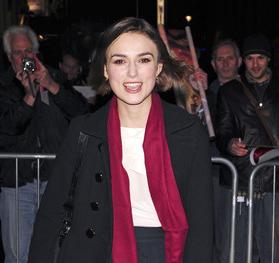 Keira Knightley, Image Courtesy coolspotters.com
It's Battle of the West Ham babes!
Actress Keira Knightley has long been a fixture at Upton Park.
Singer Katy Perry was once photographed wearing a provocative outfit in West Ham colours, presumably at the behest of then-husband (and genuine Hammers fan) Russell Brand.
Score one for Keira.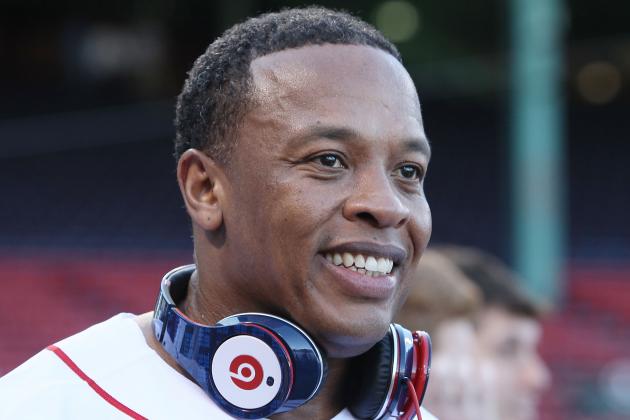 Elsa/Getty Images
Dr Dre
Sometimes Americans jump on the soccer bandwagon without quite grasping it properly.
Exhibit A could be LeBron James, whose interest (both financial and otherwise) in Liverpool turns out to be the product of some peculiar marketing deal dreamt up by the club's American owners, Fenway Sports Group.
Not so for another prominent American Liverpool fan.
Dr. Dre fell for the Reds while touring the UK with his former group NWA in 1988. Like many a global Liverpool fan of a certain age, he was converted by the silky skills of legendary winger John Barnes.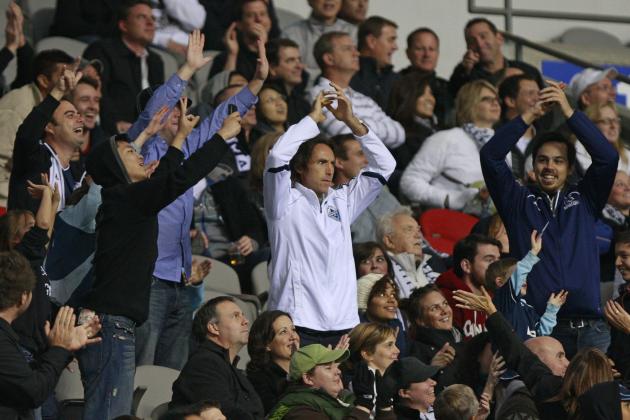 Jeff Vinnick/Getty Images
Steve Nash
Another NBA star with a financial stake in soccer is Steve Nash.
Nash is one of the principal owners of his hometown team, MLS side Vancouver Whitecaps.
Nash, whose brother Martin spent a successful career in the lower leagues and with the Canadian national team, has a long-standing association with football.
Fellow basketballer Kobe Bryant has more questionable links to the game, having been photographed in both AC Milan and Barcelona gear.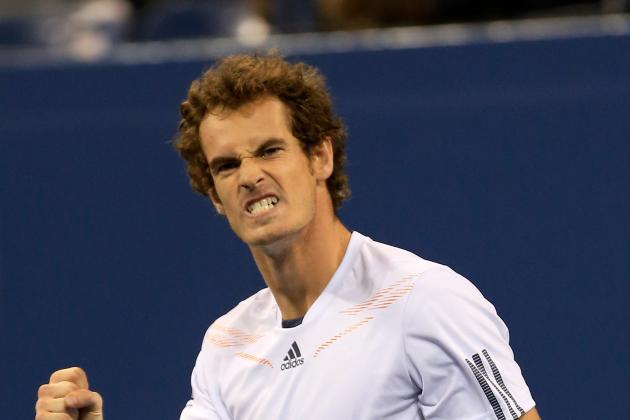 Chris Trotman/Getty Images
Andy Murray
It's always great to see athletes as fans. The detached career focus that distances professionals from their own team's fans doesn't apply outside their own sport, where they're free to indulge in the simple uncomplicated pleasure of supporting a club.
Several tennis players are notable football fans, including Rafael Nadal (Real Madrid) and Roger Federer (FC Basel).
But Andy Murray has a special bond with Edinburgh's Hibernian FC—his grandfather played for Hibs in the 1950s.
That's a connection that couldn't be broken even when Murray himself was offered a trial at Glasgow Rangers as a teenager.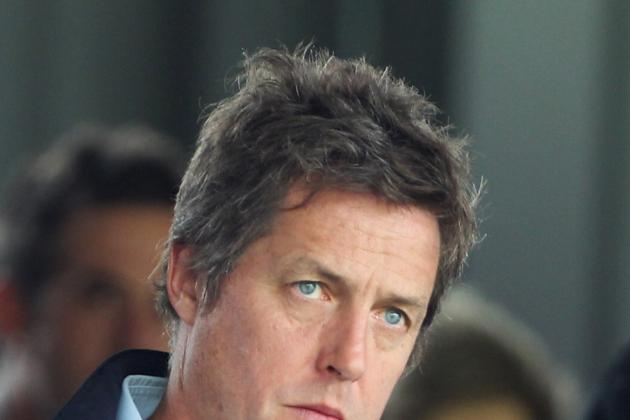 Phil Cole/Getty Images
Hugh Grant at Craven Cottage
It's the quintessential West London love story.
Floppy-haired boy meets club, starts relationship, suffers repeated disappointments borne with a pained grimace as star-struck neighbours snap reaction shots on their phones.
It's not quite Notting Hill, but there's a certain low-key appeal to actor Hugh Grant's support for Fulham.
Contrast with Tom Hanks, who purportedly supports Aston Villa because the name sounds like a lovely spa. Or something.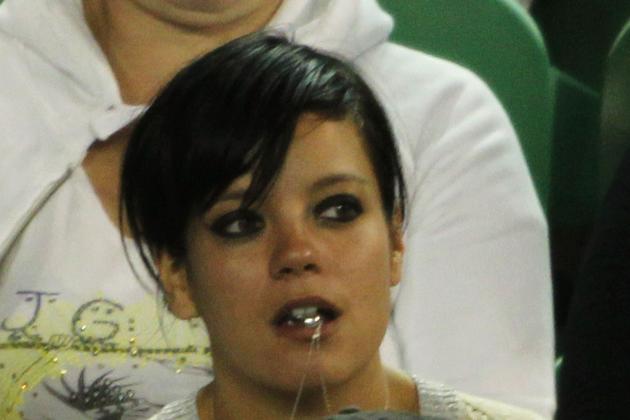 Lucas Dawson/Getty Images
Lily Allen
Another Craven Cottage regular is singer Lily Allen, who was reduced to tears when Atlético Madrid ended Fulham's unlikely European run in 2010.
Allen presumably caught the football bug from her dad, Keith Allen of Fat Les' "Vindaloo" fame.
By contrast, there are tenuous rumours linking Kate Winslet with Reading FC based pretty much solely on the fact that the family lived close to the ground when she was growing up.
For Winslet, it hardly seems to be a publicity stunt—more a case of wishful thinking on the part of Royals fans.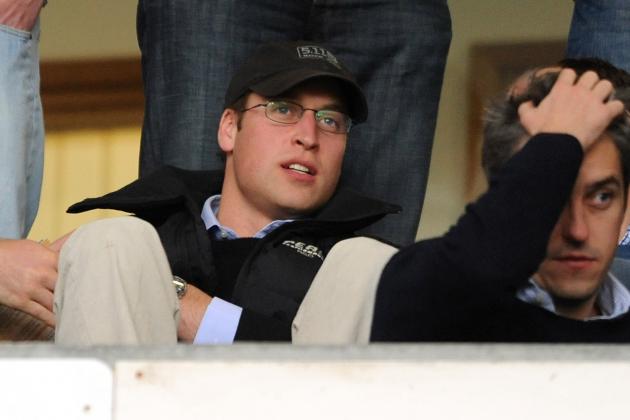 Chris Brunskill/Getty Images
Prince William
Highly public figures sometimes happen to be natural fans, sometimes seek out the publicity gains of football support, and sometimes have fanship thrust upon them.
Prince William seems to be a genuine Aston Villa fan, in contrast to former Prime Minister Tony Blair's much maligned "support" for Newcastle.
And then there's Barack Obama, who somewhat inexplicably has been claimed as a West Ham fan.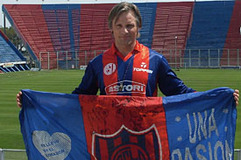 Viggo Mortensen, Image Courtesy simplamentesanlorenzoweb.com
There are plenty of things to contrast between brooding art-house staple Viggo Mortensen and big-budget blockbuster king Sylvester Stallone.
But perhaps most intriguing is their status as celebrity football fans.
Stallone proclaimed himself an Everton fan for no discernible reason other than to attract publicity.
Mortensen, on the other hand, is a die-hard fan of Argentine side San Lorenzo verging almost on the psychotic.
Having spent part of his childhood in Argentina, Mortensen remains dedicated quite literally to his boyhood club, bringing their banner with him to the Academy Awards and even writing a regular column for the official San Lorenzo website.
In one of his columns, he recounts how he recently attracted the attention of airport security in the States for an over-the-top goal celebration while watching San Lorenzo on his laptop.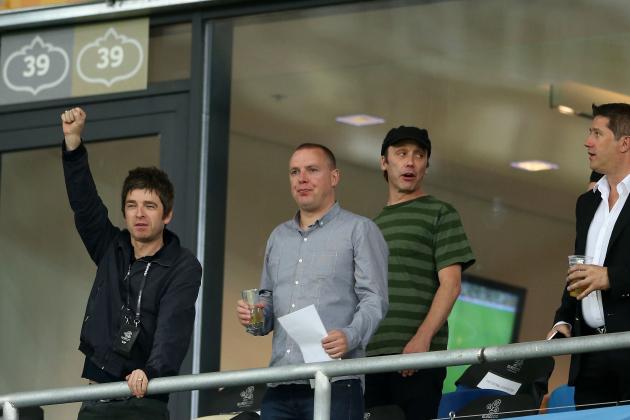 Scott Heavey/Getty Images
Noel Gallagher, Professional City Supporter
Genuine Fans:
Hugh Laurie, Arsenal
John Lydon (aka Johnny Rotten), Arsenal
Hugh Jackman, Norwich
Rod Stewart, Celtic
Noel and Liam Gallagher, Man City
Questionable Fans:
Shakira, Real Madrid
Angelina Jolie, Liverpool
Will Ferrell, Chelsea
Usain Bolt, Man United
Natalie Portman, Real Madrid