NFL Predictions: Who Will Own the Big Apple This Year?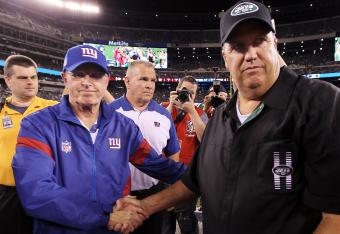 New York Giants head coach Tom Coughlin shakes the hand of Jets coach Rex Ryan.
Jim McIsaac/Getty Images
The ongoing battle between the New York Giants and New York Jets for supremacy in the Big Apple is everlasting. In a city that possesses more ruthless fan and media expectations than any other market in the country, owning New York City is no easy endeavor.
The Giants won the Super Bowl last season. However, the Jets' offseason acquisition of Tim Tebow has vaulted Gang Green back into the media spotlight for the 2012 campaign. Despite being a two-time Super Bowl MVP, Eli Manning is now the third-most talked about quarterback in his own city.
Both the Giants and the Jets are entering 2012 with talented squads. While the Giants are likely the more complete team on the field, the Jets are the more talked-about team in the media.
Let's take a look at five factors that will determine who will reign supreme over New York City at the conclusion of the 2012 season.
Quarterback
New York Giants' Eli Manning's miraculas pass to David Tyree in Super Bowl XLII.
While Mark Sanchez's perceived regression over the past year may have been blown out of proportion, there are still no guarantees that he is capable of being the Jets starting quarterback for the long term.
Sanchez's decision-making is generally sound, and he has underrated mobility in the pocket, but he lacks the arm strength to ever vault himself into the elite echelon of NFL quarterbacks.
His counterpart, Eli Manning, can be described in the exact opposite manner. Eli has at time portrayed questionable decision-making skills, but his arm strength allows him to make throws that few in the NFL would even attempt. His accuracy is deadly, and his pocket awareness enables him to operate efficiently behind questionable offensive line play. When Eli is on, the Giants generally don't lose.
While nobody in New York would ever argue that Sanchez is better than Eli, the difference is not as pronounced as some make it out to be. If we go back and compare Eli's numbers after his first three full years to those of Mark Sanchez, you'll find a relatively similar comparison.
| | | |
| --- | --- | --- |
| Category | Eli Manning | Mark Sanchez |
| Touchdowns | 71 | 59 |
| Interceptions | 55 | 51 |
| Pass Attempts | 1,608 | 1,414 |
| Total Yards | 10,342 | 9,209 |
| Completion Percentage | 54.5 | 55.2 |
| QB Rating | 75.6 | 74.0 |
While Eli's two Super Bowls may forever vault him ahead of Mark Sanchez, the stats don't lie. Sanchez is not too far behind where Eli was after his first three full seasons. With that, these statistics leave out Eli's first nine games of his rookie season, in which he gained valuable experience. If Sanchez can get an adequate offensive line to protect him, he can win in this league.
However, for now, the Giants undoubtedly have a better quarterback situation than the Jets. The acquisition of Tim Tebow has caused an unnecessary quarterback controversy, which will remain a distraction for Gang Green for the duration of the season. On top of that, Eli has two Super Bowl MVPs in his back pocket. Although Mark Sanchez is talented, he's not on Eli's level yet.
Defense
Darrelle Revis 2011 highlights.
The Giants defense is a tough group to judge. If the pass rush shows up to play, Big Blue has one of the most formidable defensive units in the NFL. If the pass rush can't get to the quarterback consistently, the secondary normally collapses on itself and the team struggles. While the Giants have more potential to be dominant, the Jets have been more consistent in recent years.
Not only does Gang Green have Darrelle Revis and Antonio Cromartie at corner, but the defensive line has improved in the offseason. With such a dynamic duo in the secondary, the Jets can be extremely aggressive in how they blitz.They are continually ranked in the top five defenses in the NFL, and there is no reason to expect 2012 to be any different.
While the Giants defense has been an integral aspect of the team winning two of the last five Super Bowls, the Jets defense has been a more consistent force over the last few years.
Special Teams
Although special teams players do not always get the recognition they deserve, the Giants made the Super Bowl last season after Devin Thomas recovered two fumbled punts by 49ers returner Kyle Williams. Without the Giants' elite special teams units, the outcome of last years NFC Championship game would have been different.
Giants recover Kyle Williams lost fumble in 2011 NFC Championship game.
The Giants' Steve
Weatherford
and Lawrence Tynes are two of the more consistent and effective players at their respective positions. With that, Nick Folk and Robert Malone have in no way proven they can be relied upon in high-pressure situations.
The Giants clearly have the edge in the special teams department.
Coaching
The New York Giants and New York Jets have two completely different coaching philosophies. While Giants head coach Tom Coughlin rarely speaks his mind to the media, Jets head coach Rex Ryan has no problems running his mouth to reporters.
Both styles have their benefits and drawbacks. While Coughlin's businesslike approach to the game has helped him win two Lombardi Trophies, he turns off his players at times with his strict, regimented style. On the other hand, Rex Ryan's bravado can be intimidating when the Jets win but humiliating when they lose.
That all said, this topic does not need much discussion. Both are knowledgeable football coaches, but Coughlin has had much more success as a head coach. His two Super Bowl victories speak for themselves.
2012 Schedule
Whether fans like it or not, a team's schedule plays a major factor in whether it has a successful season or not.
The Giants have the hardest schedule in the NFL this year. On top of playing each team in an improved NFC East twice, Big Blue will play seven playoff teams from 2011. Other than the Cleveland Browns, there is no game on the Giants' schedule that can be looked at as an easy win.
On the other side of the coin, the Jets only play five playoff teams from last season. With that, they have home matchups with the Indianapolis Colts, Jacksonville Jaguars, Arizona Cardinals, Buffalo Bills and Miami Dolphins. None of those teams are scaring anyone this year.
If the Jets wind up with a better record than the Giants in 2012, the schedule will be a major factor in that result. While on paper Big Blue is the better team, the Jets could attain a better record with their easy schedule.
Final Prediction
New York Giants win 2011 Super Bowl
The Giants own New York. They really always have, and it's never been a debate until recently. Rex Ryan's antics have vaulted the Jets into the media spotlight, but they have no championships to show for it. With that, the Giants pummeled the Jets last season in a Christmas Eve matchup that sent these two franchises in drastically different directions.
The results of this season will have a significant impact on which team gets more respect in the Big Apple. New York is a "What have you done for me lately?" kind of town, and past accomplishments don't carry as much credence as they used to. If the Jets shock the pundits and win a Super Bowl in 2012, this becomes a discussion.
Until then, New York is a blue city.
This article is
What is the duplicate article?
Why is this article offensive?
Where is this article plagiarized from?
Why is this article poorly edited?