Fantasy Football: Breaking Down the Top 10 Potential Point Generators for Week 3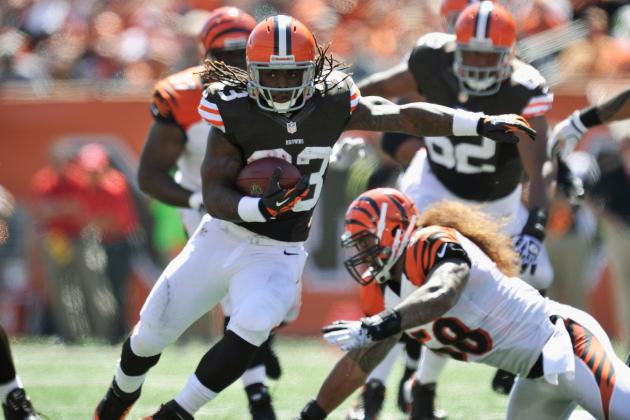 Jamie Sabau/Getty Images

So you're 0-2 and your fantasy season feels like a total loss...You're still doing better than the replacement officials.
You can be at the top of the standings or bringing up the rear, but a lot will change between now and Week 17. Don't believe me? Here is a look at some of the most befuddling fantasy stories of the young season
-C.J. Spiller leads all running backs with 292 rushing yards through two weeks. He's averaging 10.1 yards per carry and has four runs longer than 20 yards.
-Meanwhile in this alternate dimension in which we're living, Chris Johnson is averaging 1.1 yards per attempt and has fewer rushing yards (21) than Brandon Weeden (31) and Ryan Fitzpatrick (42).
-Eli Manning passed for 510 yards against the Bucs. Peyton Manning threw three interceptions in his first three drives against the Falcons.
-Danny Amendola leads the entire league in receptions with 20. Dante Rosario (filling in for Antonio Gates) has four receptions and three touchdowns. Even Matt Stafford has a catch.
-Oh, did I mention Andrew Luck and Robert Griffin III have each thrown for over 500 yards and three touchdowns? They each also have a win under their respective belt.
If you like to gamble on NFL games, you may be better off doing something else with your money. Anything else. The NFL is as crazy as ever this year, and it's not going to get any more stable.
But no matter how bleak your fantasy season looks, there's always next week. Be vigilant of the waiver wire. Pay attention to injury updates. Read my columns.
Here is a look at my "fantasy studs" projections for last week:
Studs:
Arian Foster- Projected: 28 touches, 115 total yards, one touchdown
Actual: 34 touches, 147 total yards, one touchdown
Roddy White- Projected: Eight catches, 113 yards, one touchdown
Actual: Eight catches, 102 yards, one touchdown
C.J. Spiller- Projected: 21 touches, 107 total yards, one touchdown
Actual: 18 touches, 170 total yards, two touchdowns
Robert Griffin III- Projected: 286 passing yards, 36 rushing yards, three touchdowns
Actual: 206 passing yards, 82 rushing yards, three touchdowns
Duds:
Brandon Marshall- Projected: Eight catches, 112 yards, one touchdown
Actual: Two catches, 24 yards
Darren McFadden- Projected: 26 touches, 136 total yards, two touchdowns
Actual: 13 touches, 41 total yards
Alfred Morris- Projected: 26 touches, 104 total yards, one touchdown
Actual: 16 touches, total 89 yards
You can't win them all. Just win more than everyone else.
Week 3 will no doubt hold surprises for every fantasy owner. Right now, we're faced with far more questions than answers. Can C.J. Spiller and Reggie Bush continue their fantasy dominance? How high can Andrew Luck and RG3 soar? Will Chris Johnson trade his flip-flops for football spikes and break the century mark at any point this year?
The answers to those quandaries will be revealed by the end of the year. But you're concerned about right now, and on whom you can rely in Week 3. Read on to find out.
Begin Slideshow

»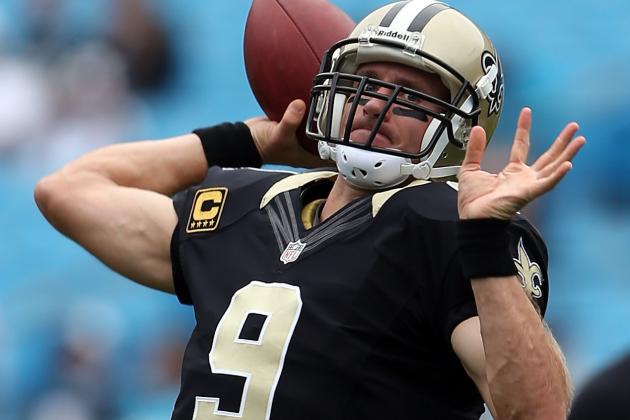 Streeter Lecka/Getty Images

Brees has shown this year just how human he really is.
But he's also thrown for over 300 yards in nine straight games dating back to last year, and he's still a top fantasy option.
Kansas City gave up 470 yards and five touchdowns to Matt Ryan and Ryan Fitzpatrick in the first two weeks of the season combined, and you can expect the Chiefs to continue sputtering against the Saints in Week 3.
Brees will bounce back from his two-interception performance last week, and he'll lead the 0-2 Saints to a win over the Chiefs this week.
Production prediction: 32-47, 344 yards, three touchdowns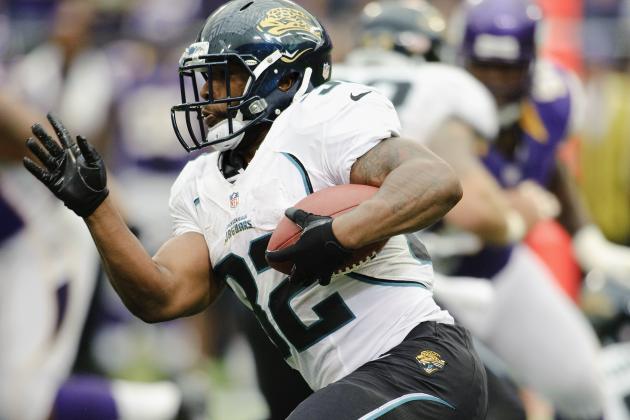 Hannah Foslien/Getty Images

MJD didn't do himself any favors by holding out until the start of the season, but he's already shown he is still a top fantasy option.
The Jags have faced a couple stout rushing defenses through the first two weeks of the season, and Jones-Drew still managed to put up serviceable numbers. He's going to break out in Week 3.
The Colts' defense has a long way to go. They've given up 209 rushing yards so far this season, but don't be surprised if they allow more than 100 to just MoJo on Sunday.
Rashad Jennings may not be available due to a knee injury he sustained in Week 1, and even if he's active on Sunday, don't expect Jennings to be a factor. Jones-Drew is back in football shape, and he's primed to go off against a bad Indianapolis defense.
Production prediction: 26 touches, 134 total yards, two touchdowns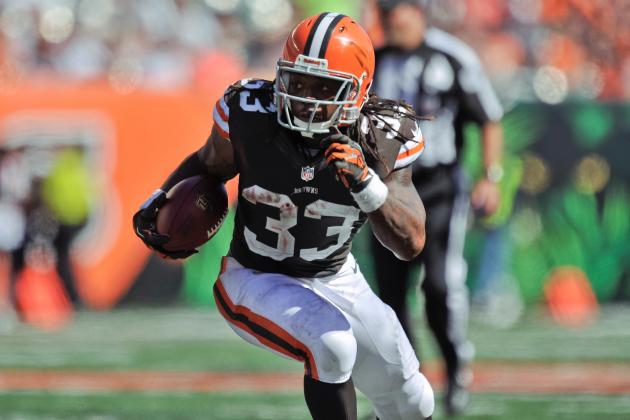 Jamie Sabau/Getty Images

Richardson rebounded from a disappointing Week 1 performance in a big way against the Bengals on Sunday. He pounded and tip-toed his way to 145 total yards and two touchdowns, proving why he was worthy of being the No. 3 pick in the 2012 NFL Draft.
Richardson's knee does not appear to be a concern at this point. At full strength, Richardson is a special talent. The Browns' offense is inexperienced, and will rely heavily on its rookie running back to set the tone this season.
Richardson faces a more than favorable matchup this week against the Bills. Buffalo has given up 268 yards on the ground so far this season (4.5 YPC), and will struggle again this week against Richardson and a Cleveland team hungry for its first win.
Bank on Richardson. He has the potential to be the top fantasy scorer at the running back position this week.
Production prediction: 27 touches, 152 total yards, two touchdowns
Jonathan Daniel/Getty Images

Matt Forte is already listed as questionable with an ankle injury and, even if he suits up Sunday, he probably won't see much action.
Bush is as underrated as any running back in the league. Relegated to short-yardage duty much of his career, Bush has still put up good fantasy numbers when his number has been called. Last season, Bush filled in for injury-prone Darren McFadden and saved a fantasy season or two.
It's likely Bush will get the start this week, and he faces a very favorable matchup against the Rams. St. Louis has surrendered 5.5 yards per carry and four rushing touchdowns so far this season.
Given a bigger workload, Bush can do some damage. He's not just a short-yardage back—he's also surprisingly adept at catching the ball out of the backfield.
Look for Bush to carry to workload and put up top-five fantasy numbers at the running back position this week.
Production prediction: 24 touches, 106 total yards, two touchdowns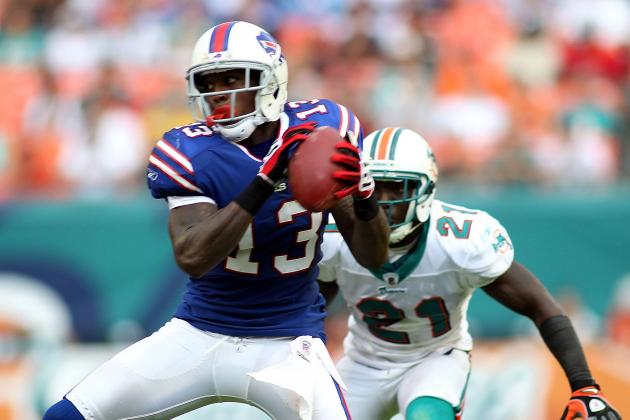 Marc Serota/Getty Images

Johnson posed the question, "Why so serious?" with his humorous t-shirt antics in 2010. The answer: His fantasy statistics.
Johnson has only caught six passes for 111 yards this season—far from the numbers fantasy owners were used to in 2011.
But the Bills play the Browns this week, who are without their star cornerback Joe Haden. Cleveland has given up 601 passing yards in two games this year, and allowed a combined 251 receiving yards and three touchdowns to four Bengals receivers last week.
If Johnson is going to have a big game this year, it's going to happen this Sunday.
Production prediction: 6 catches, 119 yards, one touchdown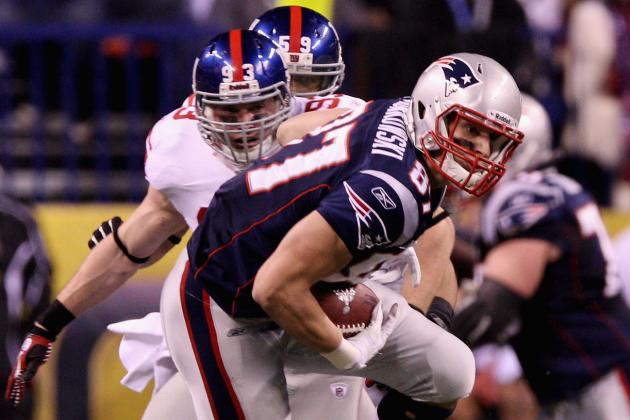 Elsa/Getty Images

Aaron Hernandez suffered a right ankle injury this week against the Cardinals, and is expected to miss at least a few weeks, making Gronkowski an even more valuable asset for Brady and the Pats.
Gronkowski saw more attention from the Cardinals' defense with Hernandez sidelined, but he still managed six catches for 75 yards and a touchdown.
New England faces a tough test in Week 3, traveling to Baltimore on Sunday night. But Gronkowski has shown his worth in big contests. Poor matchups rarely have a negative effect on his production.
Gronkowski will step up this week. Look for him to notch his first 100-yard receiving game and find the end zone against the Ravens.
Production prediction: Eight catches, 104 yards, one touchdown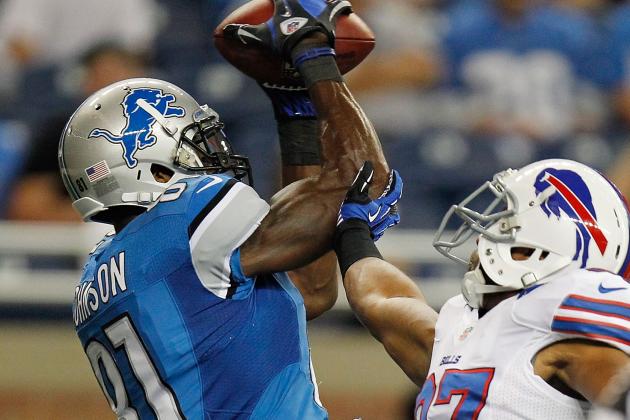 Gregory Shamus/Getty Images

Megatron has been atrocious this season…by his fantasy owners' standards.
But let's be honest, a bad week for CJ is 90 yards without a trip to the end zone. He's hauled in 14 passes for 205 yards so far this season and, although he's failed to score, you can't expect that to continue.
Megatron caught multiple touchdown passes on five occasions in 2011, and he'll do the same in Week 3 against the Titans. Tennessee has allowed nearly 500 passing yards and five touchdowns in two games this year. They've also given up 8.3 yards per passing attempt.
Johnson is ready to break out, and he'll do it in a big way Sunday. Look for him to get behind the Titans' defense early and often en route to a multi-touchdown game.
Production prediction: Eight catches, 122 yards, two touchdowns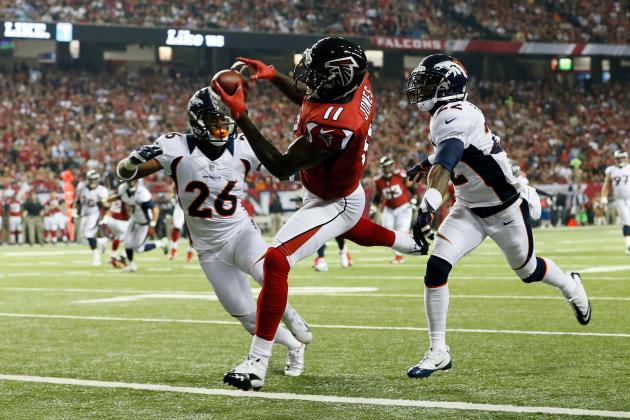 Kevin C. Cox/Getty Images

Jones' disappointing performance in Week 2 was bittersweet. I had him on my fantasy team, but I projected Roddy White to have a much bigger game than Jones. There are lessons to be learned here.
Regret aside, I'm still very confident in Jones. He has all the tools to be a superstar in the NFL, and he has an exceptional quarterback to get him the ball.
Atlanta is a pass-first team this year, and that's good news for Roddy White/Julio Jones owners. They're each going to see their share of targets, and with Tony Gonzalez still stretching the field, commanding extra coverage and dunking over goal posts, both are must-starts every week.
It's Jones's turn to have a big game in Week 3. The Chargers have too many playmakers for which to game plan. With Jones' talent and big-play capability, it's more likely he puts up numbers similar to Week 1 on Sunday against San Diego.
Production prediction: Seven catches, 121 yards, one touchdown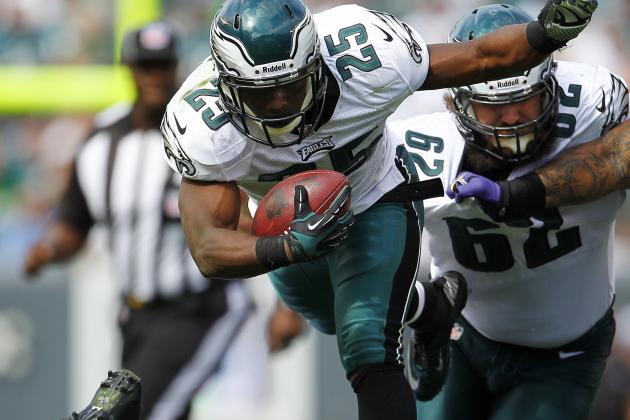 Rich Schultz/Getty Images

Shady McCoy has seen his share of touches this year, but he's also faced two good AFC North defenses in the first two weeks of the season.
Arizona has been tough against the run, but that's going to change in Week 3. Michael Vick has thrown six interceptions in 88 attempts this year—far too many passes for a quarterback not known for his accuracy.
The Eagles needs to get back to establishing the run early and often if they are to be effective against the Cardinals. McCoy is an explosive running back with big-play ability, and Philadelphia will likely utilize him more efficiently this week.
Anticipate an elevated workload for McCoy on Sunday, and bank on Shady making the most of it.
Production Prediction: 30 touches, 140 total yards, two touchdowns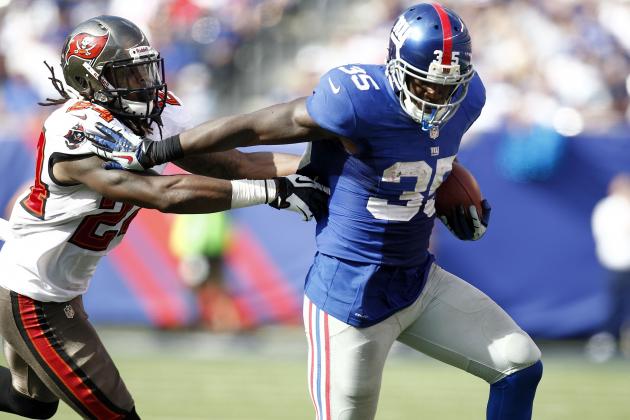 Jeff Zelevansky/Getty Images

Ahmad Bradshaw is questionable this week against the Panthers, and with rookie David Wilson in coach Tom Caughlin's doghouse, Brown will likely get the bulk of the carries on Thursday.
Brown capitalized on his 15 touches last week to the tune of 90 total yards and a touchdown. He also averaged 5.5 yards per carry, and could be looking at similar numbers this week.
Carolina has allowed an astounding 293 rushing yards in two games this season. After Eli Manning's 510-yard performance last week, the Giants will want to establish the run early to open up the passing game again in Week 3.
As long as Brown can hold on to the football, he's in line for 20-plus touches and a big game against the Panthers this week.
Production prediction: 22 touches, 119 total yards, one touchdown