Akron Zips vs. Tennessee Volunteers: Complete Game Preview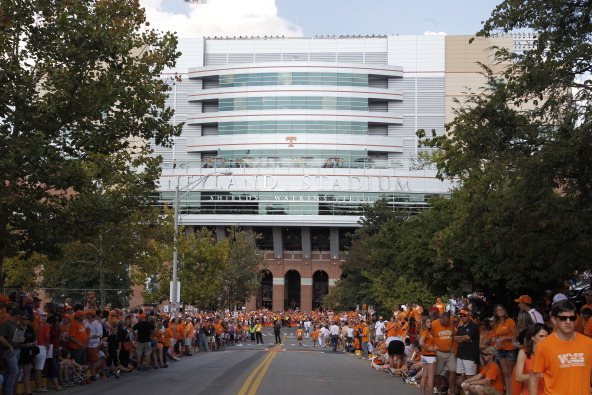 John Sommers II/Getty Images

The Tennessee Volunteers fanbase has dropped several rungs down the excitement chart after last week's loss at home to the Florida Gators. However, there are still three quarters of the season left, and there is still plenty to gain for the Volunteers.
Following the loss, the Vols get a bounce-back opportunity with the Akron Zips coming to town.
With plenty of things still to work on and a brutal schedule upcoming, it's an important week for Tennessee.
Begin Slideshow

»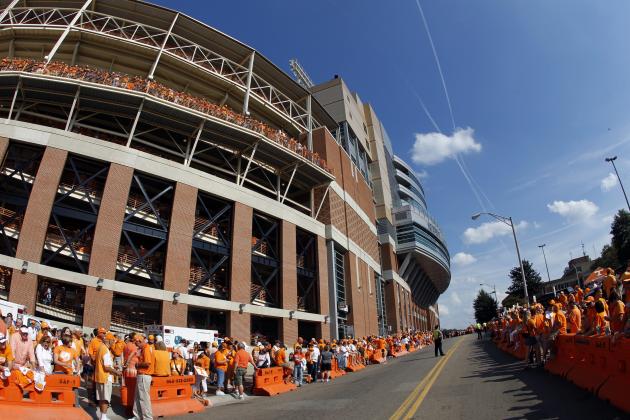 John Sommers II/Getty Images

Who: Akron at Tennessee
When: Saturday, 7:30 p.m. (EDT)
Where: Knoxville, Tenn.
Stadium: Neyland Stadium, (102,455)
TV: CSS
Radio: Vol Network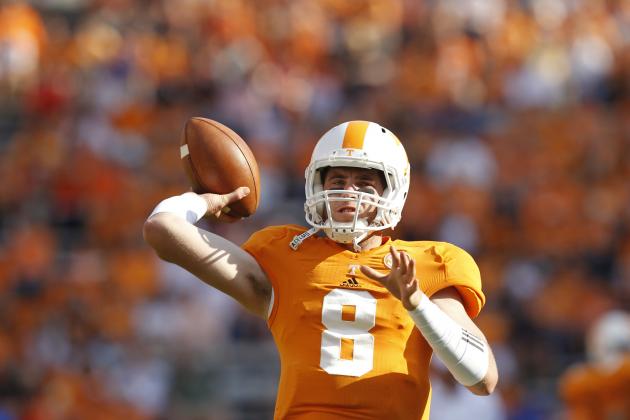 John Sommers II/Getty Images

Offense
QB: Tyler Bray, Justin Worley
RB: Raijon Neal, Devrin Young or Marlin Lane
FB: Ben Bartholomew, Justin King
WR: Cordarrelle Patterson, Zach Rogers
WR: Justin Hunter, Cody Blanc
TE: Mychal Rivera, Ben Bartholomew
LT: Antonio Richardson, Alan Posey
LG: Dallas Thomas, Marcus Jackson
C: James Stone, Mack Crowder
RG: Zach Fulton, Alex Bullard
RT: Ja'Wuan James, Kyler Kerbyson
Defense
DE: Darrington Sentimore, Corey Miller
NG: Daniel McCullers, Daniel Hood
DE: Maurice Couch, Marlon Walls
Jack: Jacques Smith, Jordan Williams
SLB: Curt Maggitt, Willie Bohannon
MLB: A.J. Johnson, Channing Fugate
WLB: Herman Lathers, Dontavis Sapp
LCB: Marsalis Teague, Justin Coleman
FS: Byron Moore, Rod Wilks
SS: Brent Brewer, LaDarrell McNeil
RCB: Prentiss Waggner, Eric Gordon
Special Teams
K: Derrick Brodus or Michael Palardy
P: Matt Darr or Michael Palardy
KR: Devrin Young, Cordarrelle Patterson
PR: Devrin Young, Justin Hunter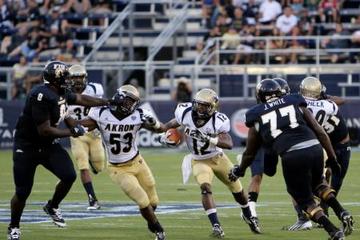 Offense
QB: Dalton Williams, Kyle Pohl
RB: Jawon Chisholm, Conor Hundley or Quentin Hines
FB: Will Fleming, Broderick Alexander
X: Keith Sconiers, Tyrell Goodman
H: Tyler Williams, Dee Frieson
Y: Marquelo Suel, Dylan Potts
Z: L.T. Smith, Imani Davis
TE: Rhyne Ladrach, Anthony Ritossa
LT: Jarrod Pughsley, Quaison Osborne
LG: Vinnie Rizzo, Dylan Brumbaugh
C: Travis Switzer, Vinnie Rizzo
RG: Mitch Straight, Micah Lio
RT: Adam Bice, Joe Petrides
Defense
DE: J.D. Griggs, Connor Seeman
DT: Nico Caponi, Isaiah Williams
NG: Cody Grice, Mike Davis or James Price
DE: Albert Presley, Alfonso Horner
SLB: Justin March, Dylan Evans
MLB: Kurt Mangum, Gary Ransom
WLB: Troy Gilmer, Jatavis Brown
CB: Avis Commack, Malachi Freeman
CB: Micklos Blake, Bill Alexander
S: Johnny Robinson, Josh Richmond
R: Anthony Holmes, Bre' Ford
Special Teams
K: Robert Stein
P: Zach Paul
KR: Tyler Williams, Malachi Freeman
PR: Imani Davis, Dee Frieson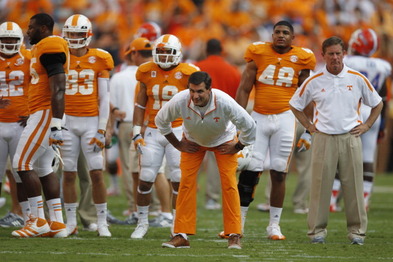 John Sommers II/Getty Images

Tennessee was in control for two-and-a-half quarters at home against Florida. The Vols led 14-10 at halftime and extended the lead to 20-13 midway through the third quarter.
From that point on, though, it was all Gators. Trey Burton exploded for a long touchdown to tie the game, and the dam burst from there.
Florida steamrolled Tennessee over the final 20 minutes en route to a 37-20 victory.
Tyler Bray and the offense struggled to get anything going during that final 20 minutes, and the defense gave up big play after big play down the stretch.
The loss was a massive hit to the Vols, who were expecting a much better performance. Instead, people are once again asking questions about how good they are.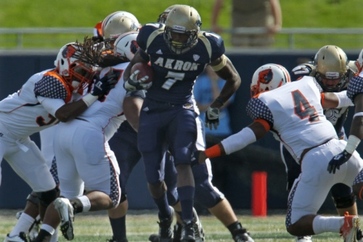 Terry Bowden's Zips dropped the opening two games of the season and took out their frustrations on Morgan State last week.
Akron led just 21-6 at halftime but outscored Morgan State 45-0 in the final 30 minutes to take home a 66-6 victory.
The Zips put up 753 yards of total offense, including 565 through the air.
Quarterback Dalton Williams threw for 446 yards and three scores. Even backup quarterback Kyle Pohl passed for three touchdowns.
Akron should be very fresh when it rolls into Neyland Stadium on Saturday.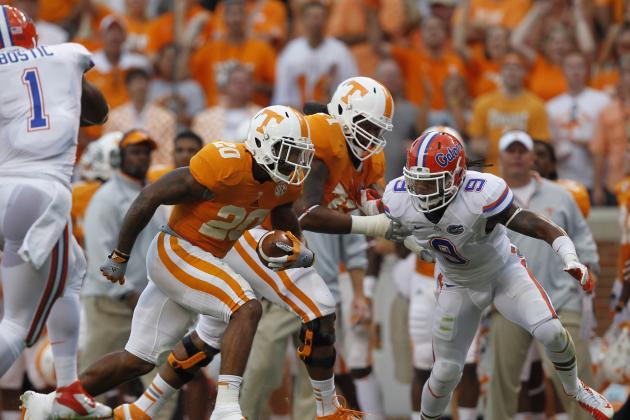 John Sommers II/Getty Images

For the Vols, obviously a loss here would be a disaster. However, there's no need to act like this game carries major weight for the season.
Tennessee needs a strong showing in this game for nothing more than confidence purposes. Following Saturday's game, the Vols will play at Georgia, at Mississippi State, against Alabama and at South Carolina over a five-week span.
There are still things for the Vols to work on, and Saturday is a much better opportunity than are the following four games.
For the Zips, it will be an opportunity to take on one of the big boys. They won't care that Tennessee has been down.
Terry Bowden would love to make a statement in his first season as the Akron coach, and a win in Knoxville would definitely accomplish that.
As Tennessee prepares for the brutal upcoming schedule, there are some major things that need to be improved.
Last Saturday, Florida was able to expose some miscommunications on the Tennessee defense and exploit them with big plays. Ultimately, it played a major factor in the loss for the Vols.
The time to fix those miscommunications is now, not in one week when Tennessee travels to Georgia.
For those reasons, Brent Brewer will be the key player to watch on Saturday night. Brewer slides in and will replace Brian Randolph, who tore his ACL against the Gators.
Here is a quote from Patrick Brown's article in the Chattanooga Times Free Press:
Dooley has referred to [Randolph] as "the quarterback of the secondary" in the past, and has praised him numerous times for his leadership and consistent play.
How will the defense handle missing the "quarterback of the secondary"? That's to be determined.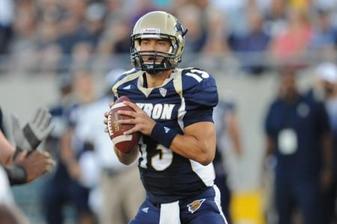 Akron quarterback Dalton Williams currently ranks fourth nationally in passing yards. With 1,004 to this point, the senior is averaging well over 300 per game.
The Akron defense doesn't figure to offer a ton of resistance against a potent Tennessee offense. Therefore, if the Zips want to stay in the game, they must score points of their own.
Williams is the man that can make that happen.
As was previously mentioned, Williams threw for 446 yards in the victory last week, and he didn't even play the entire game.
The Zips will rely heavily on his arm to help keep them in the game.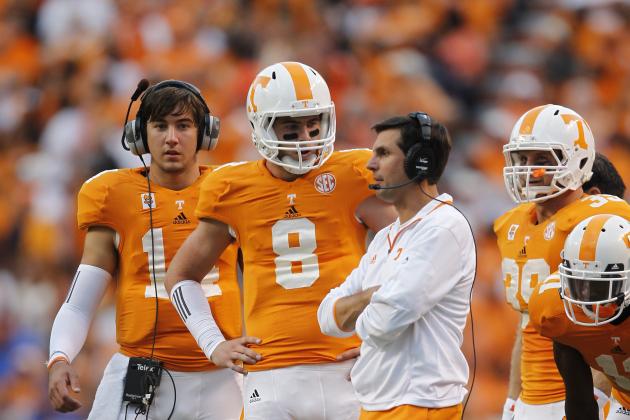 John Sommers II/Getty Images

It stays focused and plays its own game.
The Vols are clearly the better team in the matchup, but this is a game that screams letdown.
It's a nonconference game sandwiched in between huge showdowns with Florida and Georgia. It will be real easy for the Vols to come out flat and not be completely focused on Saturday.
If the Vols stay focused and come out with a purpose, there should be no issues in Knoxville.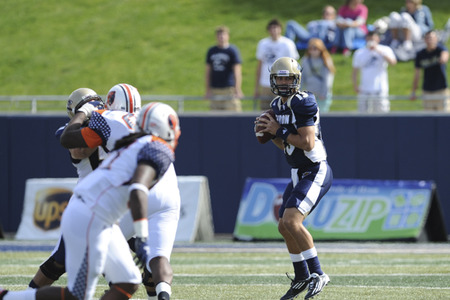 The Vols aren't focused offensively, have major communications issues defensively and turn the ball over several times.
That's a lot of ifs, but that's what it would take for Tennessee to lose this game. There's a reason the Vols are a 35-point favorite.
Akron's best hope is for Tennessee to completely overlook the Zips and fall apart on both sides of the ball.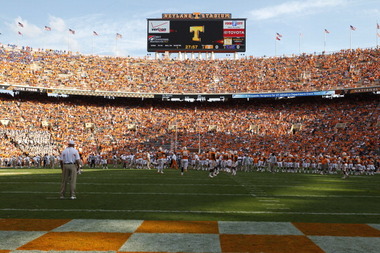 John Sommers II/Getty Images

Tennessee 44-17
Akron will get a couple of scores, but it won't matter, as Tennessee will have its way against the Zips defense.
Tyler Bray and company will look sharp, as they did during the first two weeks. The Vols will also get a chance to put up good numbers on the ground.
Tennessee has to get the easy wins when they are presented, because the road after this one gets very rough.